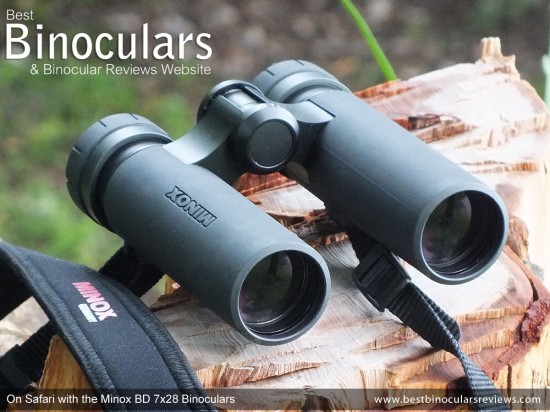 I recently answered this question on an optics forum where a raft guide was looking for suggestions for some mid priced, waterproof & compact binoculars for birding and wildlife that he would be using whilst white water rafting:
Question:
I work as a raft guide and am after a good compact binocular in the price rage of between $150 (£120) and $300 (£280), which I am going to be using on a whitewater raft.
I need to be able to identify small birds as well as larger wildlife in the distance. They have to be small, durable and of course waterproof.
Whilst I would like a more powerful magnification, I know that because I will be on a boat, image stability will be a factor. However the amount of light will not be a problem – any suggestions?
Answer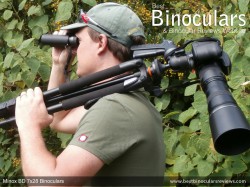 My suggestion to him was the Minox BD 7x28 Binoculars for a number of reasons which I will go over below:
I actually carried a pair of these Minox binoculars with me on a recent boating & safari expedition up a river in the Matusadona National Park in Zimbabwe.
Because I was also carrying quite a lot of other camera equipment with me (see image on the right), the main reasons for this choice were because of their ease of use and small size. You can read more about my thoughts and findings here: On Safari with Minox and Swarovski Binoculars.
Whitewater Rafting Binoculars
Because of my experience in using them, below are the main reasons as to why I think they would be perfect for your needs:
The Minox BD 7x28 is fully sealed and waterproof.
The slightly lower 7x magnification makes them just that bit easier to keep still and thus prevent any image shake than a more powerful bin, which on a moving platform like a raft or boat is very important.
Whilst the single bridge design with the exposed barrels makes them appear a little delicate, after using them in my opinion they are about as strong and rugged as pretty much any other compact bin out there.
Their small size makes them perfect for tucking away almost anywhere and will be easy to fit within your life jacket or vest.
After you have adjusted them for your particular vision, fixed focus binoculars like these are so easy to use and finding and locking onto a target is about as fast as it gets as there is no adjustment of a focussing wheel needed. Like me with my camera gear, this will probably be very useful to you if you have something like a paddle in your other hand.
Useful Links:
Other Suggestions
As well as my thoughts, below are a few other really good recommendations and tips from some of the other experts writing on the forum:
---
With 32mm objectives, these are not full compacts, but are one of the smallest and lightest mid-sized bins on the market.
If the 10x magnification is going to be too unsteady, Opticron also make 6x and 8x models.
These also have a hinge lock design, which means you do not need a second hand for changing the focus.
The author of this suggestion also went on to say that whilst he thought that these could be bettered optically in this price range, overall they would be his first choice at this price.
---
The author of this suggestion mentioned that in his experience on the river, he thought a waterproof bin with a magnification in the 6-7x range, with an exit pupil of about 5-6mm would be ideal.
He also thought that the perfect bin for white water rafting would be the Fuji 6x30 FMTR SX. But as they are currently very difficult to find, the next best option would be the 6x32 Vortex Viper HD's which he was hugely impressed with the build quality as well as the optics, however this model is a little over the intended budget.
---
Another expert suggested the Pentax 9x28 DCF LV Binocular for the following reasons:
Not only are they waterproof, but also submersible, which on a raft is a real bonus. They are also pretty compact and very lightweight
They produce a good quality image and are very rugged.
He also said that observing birds and larger wildlife will be no problem for these binoculars and that he has had his own for a few years that they perform well enough for a beginner to intermediate birder and beyond.
---
More Info & Further Reading:
Need Some Bino Advice?
If you have a binocular or optics related question, or if you can't decide which is the ideal bin for your particular needs, I would love to try and answer it for you – Ask Here