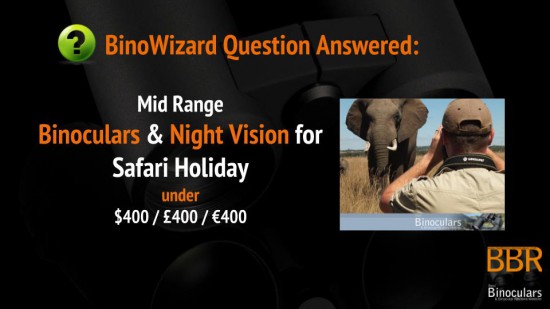 The following BinoWizard question was sent into be by Rodrigo from Brazil who is in the early planning phase for a safari in South Africa next September and is looking for ideal mid range safari binoculars and night vision for the trip:
Question:
I am looking for a solution that helps me during my stay on a South Africa safari (Kapama reserve, near Kruger park). I was tempted to get a single solution for night vision expedition, as well for day-light game drives.
However, as far as I could research, there is no solution that packs it together with acceptable quality (sort of "all-purpose" binocular looks all but good). So, I am already expecting that you would probably point me out 2 different models, dedicated to each situation (but, still… Would be great to get it all in one gear…). Of course, I am not rich enough, so I was expecting to spend about US$200-300 on Daily binocular, and about US$300-400 on Nightvision. So, an all-in-one device about $700 is also totally acceptable.
More Info
Upon what I have said before and using your own experience with Safaris, I also would like to ask between daily binoculars and Nightvision, what would maximize my experience there (supposing scenario where I would buy just one of the 2 gears). Also for Nightvision, whether it would be better to invest on a monocular (maybe it has better config for the same price) vs regular binoculars.
Answer
Low Light vs Night Time
Firstly you are right, in my experience and at any sort of reasonable budget and to the best of my knowledge there really is not a single solution for both night and day time observation.
Sure you will often see some very cheap binoculars on places like Ebay, Walmart and Aliexpress advertised as being both Day and Night binoculars and which usually have red or gold tinted objective lenses (click on the image on the right for some examples).
But in reality these claims are false and are all just gimmicks, which in my opinion should be avoided at all costs Indeed you will most certainly get a better low light performance from a good quality "normal daytime" binocular.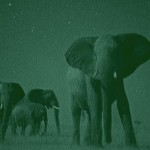 Here it is important to understand that true night vision devices that amplify the very small amounts of light available at night to produce an image (that is often green or grey) by using either intensifier tubes and phosphor screens or achieve it digitally are very different to your optical only binoculars (even those that have very good low light capabilities). If you are not sure what I mean here, take a look at this guide to Night Vision Binoculars, Monoculars & Other Devices.
Ok, so now that we have established that we are looking for a separate pair of bins for the day and up to and just after sunset and a night vision device for when it is completely dark, let's first take a look at the night vision options:
Night Vision for Safaris
Whilst the very best NV devices cost many thousands of dollars, you don't need to spend huge amounts to get good results and your budget of $300-$400 is enough… so long as you know what to look for:
NV Binocular / Monocular
My advice would almost certainly opt for a monocular as not only are they much less bulky and more lightweight and thus easier to take on holiday, but like for like, are also considerably cheaper than binoculars as well.
So rather than getting a fairly low standard night vision binocular, I would opt for a higher quality monocular instead.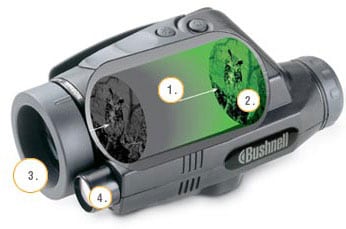 Digital or Conventional Night Vision?
Here my suggestion is that you should narrow your search down even more and restrict it to digital night vision monoculars:
Conventional NV devices that use intensifier tubes and phosphor screens have been around for a long time and whilst it is true that the very best Gen 2 and 3 devices still use this system, to get a really high quality image and one that performs to a high level in very dark conditions (remember there are no street lights etc in the bush), you need to spend quite a bit more than your budget allows.
However I have found that many newer digital devices at lower price levels like $300 – $400 can and do perform as well and often better than most Gen 1 devices and will even equal most Gen 2 devices, whilst costing far less.
You also get the added advantage in that many digital NV monoculars come with recording capabilities.
Further Reading
Suggestions
Based on your budget and what we have already discussed, below are a couple of devices that I would highly recommend that I have fully tested and reviewed and which I feel would be perfect for your needs:
Less Expensive Option
If you decide you want to go for a cheaper option, try the Luna Optics LN-DM5 Night Vision Monocular at only around $250, I found that that the level of performance was way above what i would have expected in this range. However you don't get any recording capabilities.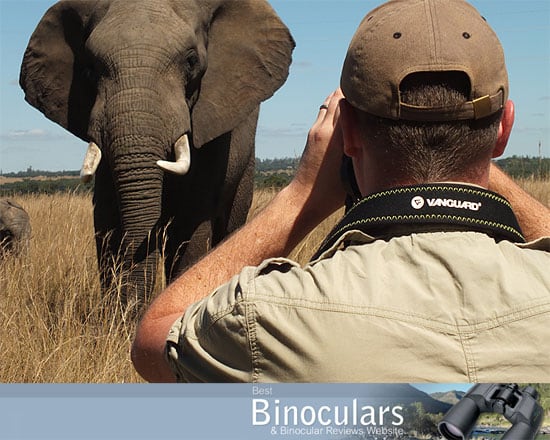 Safari Binoculars
I would like to emphasise that a good pair of standard "day time" binoculars is far more important on safari than a NV device as you will almost certainly be using them a whole lot more often. Thus if I had to choose only one device it would most certainly be the normal binoculars.
The right pair with good quality optics will also offer better low light performance than cheap bins and thus not only are they good for during the day, but you will able to effectively use them just before sunrise (when many game drives start) and for some time sunset when there is still some light about.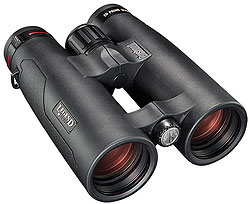 Which to choose?
Rather than repeating myself, I have written a number of articles that you can take a look at which I feel will point you in the right direction and which contain a number of reccomendations with comprehensive comparison charts:
If you are looking for excellent low light performance and are willing to sacrifice a little in terms of size and weight (which is not always ideal for travel), then I would opt for a full sized bin (usually with a 42mm objective):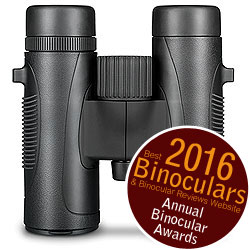 Otherwise my personal preference for safaris would be to opt for a mid-sized binocular that balances a more than decent low light performance with a slightly smaller body size and weight
I hope that at least some of this advice helps. If you have any further questions, please do let me know
Further Reading & General Advice:
Need some BinoWizard Advice?
If you have an optics, night vision or binocular question and have not been able to find what you are after by going through the BBR website, then please do feel free to ask me, the BinoWizard Here and I will see what I can do to help.