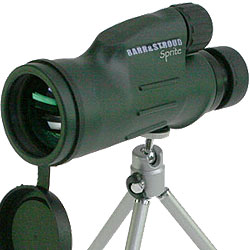 It is not often that I review monoculars but when the Barr & Stroud 10x50 Sprite arrived in the post I was intrigued:
For those of you who don't know, Barr & Stroud started making optics for the Royal Navy over 100 years ago and since then they have played a leading role in the development of modern optics. The Sprite is based on the popular Bresser monocular of the same name. The 10x50 Barr & Stroud Sprite Monocular is basically a binocular cut in half and is therefore ideal for those people who still want the performance of a larger objective lens binocular, but where space is at a premium.
It has been designed to be used single handed, which works really well or with a tripod using the standard tripod thread, meaning that it will work with most tripods. The Sprite does come with a small table-top tripod that works really well, so well in fact that during my review I had mine set up on the windowsill in my office, perfect for taking a quick glance at that Great spotted woodpecker feeding on some peanuts that I left out in the bird-feeder!
The Sprite monocular is ideal for anyone looking for a powerful and bright optic, where space is at a premium. I can see it being used by anyone going travelling, but especially those going camping, backpacking or cycle touring. It would also make a great optic to take to most sporting events or for anyone wanting to view birds or nature, where you either have to carry other equipment, like a camera or just want to keep at least one hand free. I also feel that combined with the table top tripod, it is perfect for leaving on pretty much any windowsill that has a view.
Full Review
Waterproof, fog-proof, a tough exterior and with good quality optics, this compact piece of kit, that weighs only 420g and is available for around £50. You can read my full review of the Barr & Stroud 10x50 Sprite Monoculars here.