An in-depth review of the heavy-duty Carbon Fiber Double Gimbal Tripod Head from Movo.
Tested with Cameras, Spotting Scopes and Binoculars
Like any tripod head, a good Gimbal is not only able to hold your equipment completely still when needed, but the whole setup will also be perfectly balanced.
It is this unique 'balancing' arrangement that makes even the heaviest camera, spotting scope or binocular feel almost weightless and enables the simultaneous movement in both the vertical and horizontal axes using just a single finger and is what really sets a Gimbal apart from just about any other tripod head design.
Main Specifications
Materials: Carbon Fiber and Aluminum

Dimensions: 38.3 x 15 x 27.6cm / 15 x 5.9 x 10.8″
Weight: 3.97 LBS (1.8 KG) 
Maximum Load: 15kg / 33lbs
Platform Width 15.25cm / 6″
Scope of Use
I think it is fair to say that the Movo GH1000, like most Gimbal heads, has been specifically designed with photography in mind and in particular the use of heavy DSLR cameras using large and also heavy lenses.
However, as well as for photography with a camera, I wanted to see how well one would work with other optical equipment and in particular spotting scopes and binoculars.
For a while now I have been using a Pistol Grip Ball head to great effect, but on occasions, especially with heavy scopes and especially when digiscoping, I have found that aiming with the pistol grip can be a little jerky.
Thus with a new Gimbal head, I was hoping that not only could I use it with my camera, but also with scopes and even some binoculars for both observation and digiscoping/digibinning. 
Setting Up
Attaching the GH1000 to a Tripod
As this is a large tripod head and you are potentially going to be supporting a reasonably heavy load, a large and robust tripod is also a necessity.
I used my Vanguard ABEO Pro 283CGH Tripod that I can highly recommend, but any good quality large tripod should accept the GH1000 without a problem.
Like most Gimbals, the GH1000 is designed to accept a 3/8″ mounting screw on the top of your tripod. Mine, like many others, has a smaller 1/4″ mounting screw, but this is reversible and thus can be changed to the larger 3/8″ size very easily. Once this was done, it was simply a matter of tightening the pan knobs on the Movo Gimbal head and then screwing it onto the mounting screw of my tripod.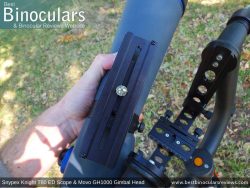 Attaching the Quick Release Plate
Firstly I would like to mention that the quick release plate that comes with the Movo GH1000 Gimbal head is fantastic. 
Made from aluminium with a couple of hard rubber tracks for extra grip, it is a full 15cm long x 4.1cm wide and thus offers plenty of scope for you to be able to position it in such a way so that you are able to get a completely balanced setup. 
It also has a couple of screws that prevent it from sliding off the rails of the platform below and the mounting screw has a foldaway arm that enables you to screw it securely into the receptor on your camera or tripod adapter without the need of a screwdriver or coin.
Spotting Scopes
To start with, I decided to test the Movo GH1000 with a couple of spotting scopes, with both straight and angled eyepieces and with different lens sizes:
Large Spotting Scope (80mm+)
Similar to DSLR camera and telephoto lens combination, a large spotting scope with its high magnifications, long barrel, and relatively heavy weight, needs a tripod setup that can keep it all steady and a head that makes it as easy as possible to adjust both the horizontal and vertical axis. 
This is especially true if you want to combine your scope with a camera for digiscoping.
Here more than ever you not only need a rock steady platform to achieve a shake-free image but at the same time, it is essential (especially with birding and wildlife) to be able to quickly maneuver the scope about so that you don't miss the view/shot. Indeed this is the main reason why I wanted to get a Gimbal head for myself.
Weighing over 2kg (73.5ozs ) and with a maximum magnification of 60x,  my 80mm Snypex Knight T80 ED Spotting Scope was certainly going to be a good test for the Movo GH1000.
It is here when you are using such long and heavy equipment where you really appreciate the very large mounting plate as I found that it makes it possible to easily locate the balancing point. This is especially true should you add a camera to the eyepiece when digiscoping where the extra weight at the rear really messes with the natural balancing point of the scope. 
Weightless
From this point, the weight of your scope is completely forgotten and by unlocking the respective knobs, you really can pan and tilt the view with just the tip of your finger.
For me, this is exactly what I was looking and hoping for and the importance of which, I really cannot overstate. For years I have been using a ball head and even though the pistol grip version of it makes it easier, you are always fighting against the weight of the scope when you have to make adjustments. This is not only annoying, takes extra time to pinpoint the but the juddering movement is a real problem when you are shooting video.
Locking in the View
The Movo GH1000 Double Gimbal Tripod Head has four locking knobs in total. All are made from aluminum (cheap Gimbals will often use plastic), are large and with a finely etched surface offer a good level of grip and are easy to find and operate.
Whilst these may not seem like major points, they can be important if you are wearing thick winter gloves. Being able to easily locate them is also important if you are making adjustments whilst at the same time looking through the eyepiece or in the case of using a night-vision binocular or scope, easy to find in the dark.
The top two knobs are for the tilt adjustment, whilst the two at the bottom of the Gimbal lock or release the pan base. Having one on each side of the Gimbal for each adjustment is perhaps overly luxurious, but it does mean that you can use whichever hand comes naturally to you be you left or right handed. 
I also found that it was both helpful and time-saving to be able to look through my scope and at the same time alter the focus knob on it with one hand whilst also having the ability to quickly lock the tilt knob with the other when I had located the bird I was aiming for. 
All four of these on my GH1000 operated very smoothly, although one of the tilt knobs did squeak when adjusted, which for uses like wildlife observation is not ideal. But a quick squirt of WD40 on the thread quickly remedied this very minor issue.
Small Lightweight Travel Scope
As I had it with me under review, I thought it would be fun and somewhat interesting to fix the tiny 50mm Hawke Endurance ED to the GH1000.
Usually, I would probably opt for a more lightweight tripod head like my Vanguard pistol grip ball head and tripod combo, but as it turned out, I was really impressed with how well this combination worked together: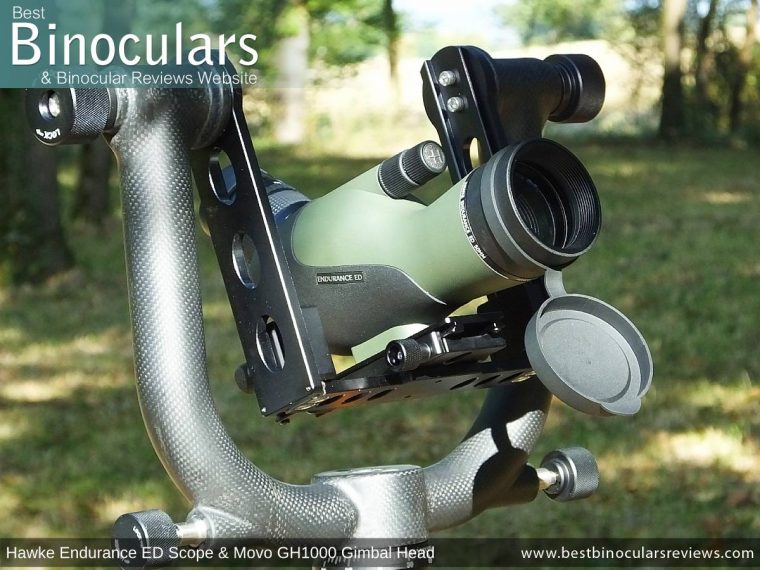 Whilst nowhere near as important when using a large heavy scope, the freedom of movement that the Movo Gimbal head offers is really liberating and I really enjoyed being able to pan and tilt the view about in the canopy above searching for birds of interest without having to take my eye away from the eyepiece.
Binoculars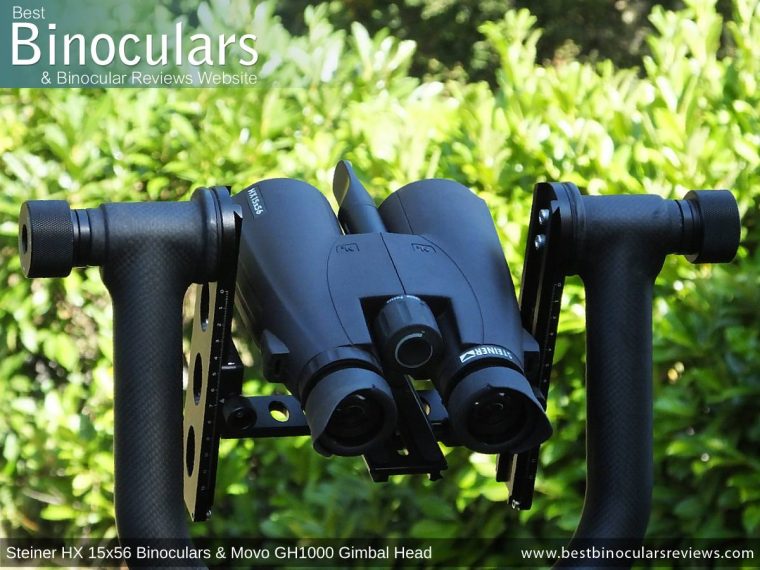 Large 56mm Roof Prism Binoculars
As you can see from the photos above and below, the large Steiner HX 15x56 Binoculars had no trouble at all fitting into the U-shaped cradle of the Movo GH1000. 
Therefore you can be safe in the knowledge that pretty much any roof prism binocular under 56mm will also easily fit. 
Setup was very straightforward as all I had to do to attach these binoculars to the Gimbal head was to use a standard tripod adapter fitted to the end of the Steiner binoculars, which in turn was fixed to the mounting plate of the Gimbal.
As you can see in the photos, I also decided to raise the binoculars within the side plates. Once again this is really easy to achieve as all you have to do is loosen the two side plate locking screws and slide the base platform upwards. 
With so much room to maneuver and the long mounting plate, balancing was no problem at all and as with the scopes, I really enjoyed using this setup.
Now perhaps you could say that using a Gimbal head like this is perhaps a little overkill, but I have to say that having these reasonably heavy binoculars almost floating really made it a joy to use and in terms of the ease of movement is certainly better than using a ball or pan and tilt head.
However on the negative side, this setup will obviously not be ideal for roaming about, but from a static location like a hide, porch or balcony it really is fantastic.
Very Large 70mm Porro Prism Binoculars
Next I tried the very large 15x70mm Levenhuk Bruno Plus Binoculars. 
Once again, I just used a standard tripod adapter with these binoculars and as you can see from the photo below, they did fit.  But it was very tight and to be honest not ideal because I was not able to get the balance correct due to the fact that I could not pull the binoculars right through the U-shaped cradle formed by the two swing arms and the platform underneath.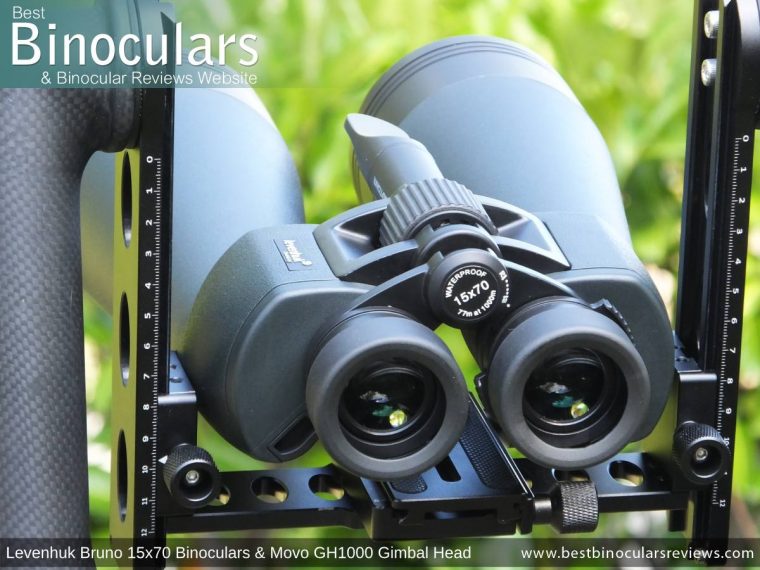 However keep in mind that this is a Porro prism binocular, which are usually much wider than the equivalently sized roof prism instruments. 
Also if I really wanted to, I could have made some adjustments to the setup by unscrewing and then placing the two side plates underneath the platform, which would have added more room and enabled these binoculars to easily fit in-between the two swing arms. 
If you are concerned with this, just note that the gap between the two swing arms is 16.7cm, whilst the space between the two side plates is 15cm.
Giant 80mm Porro Prism Binoculars
As these giant binoculars have pretty much the same sized main body as the 70mm ones, I was also able to fit them into the Movo U-Mount Gimbal Head. Once again, I could have inverted the plates on the base plate to make it fit better, but for my purpose this was sufficient.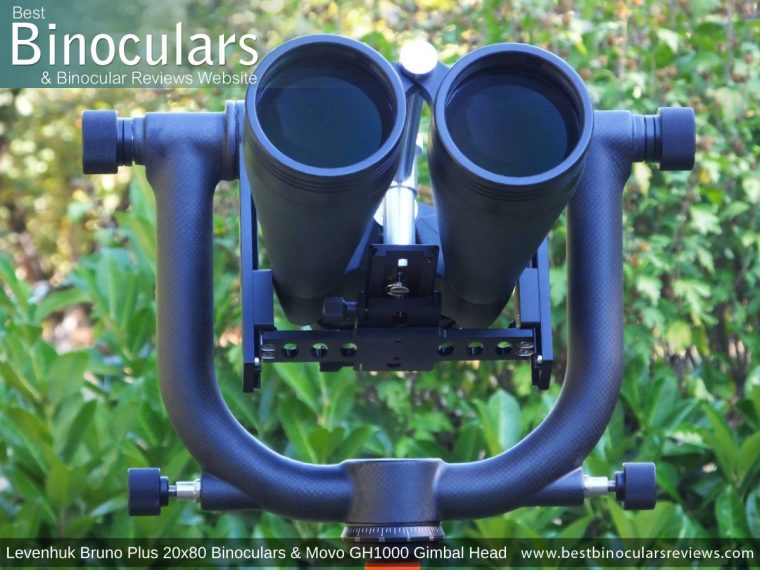 Conclusions
Strengths
On the whole, the Movo GH1000 Gimbal head is a fantastic piece of kit, the materials used and the build quality are exceptional. 
Without exception, all the locking screws are well positiond, turn smoothly and are easy to both tighten and loosen when needed.
Likewise, once the appropriate locking screws are loosened, the swing arms and the pan base turns very smoothly, even when carrying a heavy load.
This is an important point to emphasize as I have a bad experience when using a cheaper gimbal in the past. It obviously had lesser quality bearings (or none at all) in these key areas because when it was carrying a heavy camera or spotting scope, it did not turn freely even when I fully released the locking screws. This completely ruined the "one finger" experience" and made smooth panning pretty much impossible.
Whilst the double U-shaped design certainly adds extra size and bulk to the Gimbal when compared to the single arm design, it also makes the whole structure far more rigid. This is especially important when mounting a heavy camera or scope as it is able to hold it better and swing far more easily/smoothly. 
Weaknesses
Even though it is made mostly out of lightweight carbon, it is still not the lightest piece of kit and it is certainly not compact, so unless you have an unlimited baggage allowance, this and indeed most U-Mount / Double Gimbal Tripod Heads are not the ideal choice for travelers.
Likewise, when on long walks out in the field, it's bulky dimensions and weight makes it not the best option unless you specifically need the advantages that a double U-mount Gimbal head offers.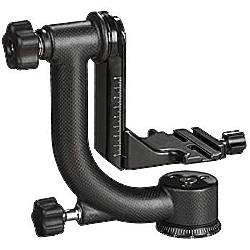 Alternative: Movo GH800
For a more compact and lightweight solution, the more conventional Movo GH800 with its single arm is also a very good option as it is still capable of supporting up to 30lbs (30.6kg) in weight, which for most of us will still be more than enough.
What's more, with only one arm, it is basically half a GH1000 and thus it not only smaller and more lightweight but is considerably less expensive as well. 
However, as good as these single-arm Gimble Heads are and speaking from experience, the complete feeling of weightlessness does not quite match that of the complete U-Mount design when using heavy gear.
So whilst you gain in terms of price, weight, and dimensions, there is a trade-off.
Ultimately both are excellent and the choice you make will depend on your specific preferences.
Cost & Where to Buy
Whilst not the cheapest option on the market, I believe that for a high-end, carbon fiber Gimbal head, the GH1000 is competitively priced when compared to other brands at this same level.
I also feel that considering the extremely high level of materials, used, components and exceptional build quality as well as its functionality, it does offer good value for money and is why I have no hesitation in highly reccomending it for use with photography, spotting scopes and some binoculars.