From the days when I was working as a safari guide, to now running Best Binocular Reviews, I have been asked many times over the years if you need binoculars for a safari and my answer has never changed:
A good pair of binoculars is one of, if not THE most important pieces of gear that you can have with you on safari.
As a guide, I noticed that many of my clients would prioritize their camera and capturing photos above everything else and whilst I also enjoy the hobby, if you think about it this is a little strange.
Sure, it is great to capture the memories for you to look back on or share with your friends when you get back home, but I would argue that it is much more important to be in the moment and simply enjoy what you are witnessing. Besides, unless you are a professional photographer, chances are the photos you get will never match or do justice to what you can actually see.
The best way to do this, especially on safari usually means being able to get as close to the action as possible…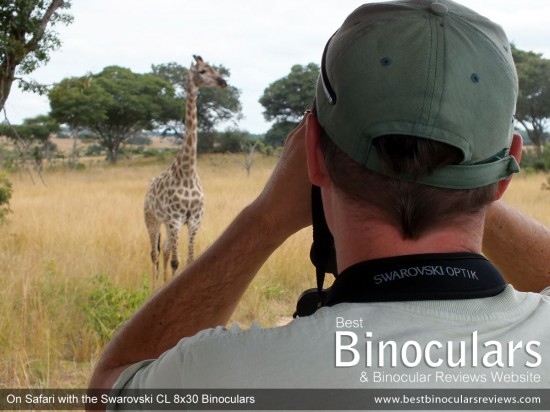 Wilderness, not a Zoo
Whilst there is no doubt you can get lucky and have elephants or lions surround your safari vehicle (both have happened to me many times), you need to remember that most wildlife sightings whilst on safari will probably be a little further away and this is why binoculars are essential.
It is also important to remember that whilst the iconic and generally larger safari animals like elephants, lions, giraffe, and zebra are what most people go to see, there are also many, many other much smaller mammals, birds, reptiles and even flowers to observe that are every bit as interesting.
The larger mammals are not only easier to spot but are often far less afraid of us humans (or anything else!), so you can usually get much closer to them.
However, the smaller critters are far more wary of us and thus will have a much wider comfort zone. So not only are they smaller and harder to see, but you will usually be viewing them from greater distances.
So here a pair of binoculars can really be essential as they can take an experience from being "oh look at that orangeish cat-like creature way over there in the long grass" to "wow, I never knew that a Serval Cats had white markings on its ears"! (As a side note, these distinctive white markings are thought to assist their kittens by making it more easy to follow through long grass. Many animals have similar such markings, for example, lions have black markings on their ears and ends of their tails).
Anyway so you get my point, you most certainly Do need binoculars for safaris.
Further Advice
How to choose the Best Binoculars for Safaris – My complete guide to help you select the best safari binoculars at your budget and with your particular preferences. Also contains links to full binocular reviews, comparisons and where to buy.
I would always keep an extra pair of binoculars in my safari vehicle for clients who did not have any and many safari lodges will loan or rent you out a pair.
However, it is far better to have your own instrument that suits your particular preferences. But which one should you get and what makes the best safari binoculars for your needs and budget?
Just about any "standard" binocular will most likely be better than none at all, but there is definitely a number of features and specifications to look out for that will make it easier for you to travel with and enhance the viewing experience whilst on safari even further.
What to look for in good binoculars for safari:
Size
Minimizing size, weight is obviously important on any object that you carry on your safari holiday.
Thus it is tempting to restrict your search to really small compact safari binoculars. For some travelers, this will indeed be the right choice.
But then again, the size of the objective lenses play a very important part in gathering light and thus largely dictate the quality and brightness of the image produced, so perhaps a mid-sized instrument will better suit your needs.
Magnification & Field of View
As I have already emphasized, getting closer to the action is why you need binoculars on safari, then surely it makes sense to get the highest power (magnification) possible?
Wrong, what you want is a good compromise between magnification and the field of view.
Too much power and it can become difficult to locate what you are looking for, impossible to keep the image still (image shake) and severely restricts the width (and height) of the view, meaning you can easily miss out on something on the periphery.
So to make sure you get the right instrument at your budget and for your specific needs, please refer to my article on How to choose the Best Binoculars for Safari Holidays.
Price & Quality
How much to spend is always a tricky question for me to answer. There is no doubt that expensive high-end binoculars are better and perform at a much higher level than cheap models, so it would be easy just for me to just recommend them. However, I think in the end the right choice for you and your particular situation comes down to a number of factors that you need to take into account before making your price range choice:
How much you can or want to afford
Extremely cheap binoculars are almost always a bad idea
How often you will use your binoculars after your safari holiday is over
Recommendations
Below are some binoculars that I have tested, reviewed and which I can wholeheartedly recommend: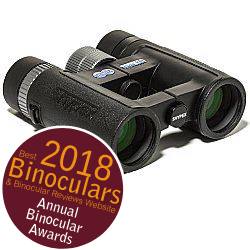 Winner of this award for the Best Safari & Travel Binocular 2018, the 8x32 Snypex Knight D-ED is an excellent mid-sized binocular and ideal for safaris, although there will be some that may prefer the slightly higher powered 10x32 version, especially if you safari will be taking place on open plains locations like that you often find in Kenya or Tanzania or Namibia.
Either way, these 32mm Snypex Knight D-ED binoculars are both seriously impressive and include many high-end features like apochromatic lenses with ED glass elements, as well as phase and dielectric mirror coatings on the BaK-4 roof prisms.
Other highlights for me include the fantastic level of accessories that they come with as well as an excellent attention to the details like the all aluminum focus wheel, ratchet diopter adjuster and more.
Main Details:
Mid-High End – approx $430 / £500 / €500
Mid-size, Open Bridge Body
Fiberglass Reinforced Chassis

Dimensions: 4.25in (10.8cm) x 4.64in (11.8cm)
Weight 13.4ozs (380g)

Fully Multi-Coated Optics

32mm APO Objective Lenses
ED Glass Elements
Phase Corrected Roof Prisms
Dielectric Coated

Field of View: 351 @ 1000yds (129 @ 1000m)
Close Focus: 3.9ft
16.8mm of Eye-relief
This quality does not come cheap but having said that, they are still far less expensive than the "alpha" level optics that you get from the famous European brands, yet in my opinion come very close and indeed in many cases match them in just about every way.
Buy & Compare Prices: Snypex Knight D-ED Binoculars
Highly Commended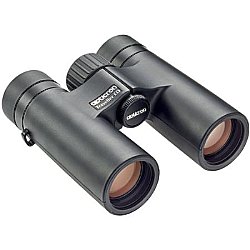 Scoring a fantastic 82% and just 1% less than Snypex above, the Opticron Traveller BGA ED 10x32 came about as close as you can get without winning the award and so I feel they are also well worth considering for your trip.
In terms of their optical stats, these really excelled and for a 10x32 have a really wide view and great quality image.
Compared to the Snypex Knight D-ED, they just lack a little in terms of their accessories and some other small details, but the difference is minor.
Past Winners:
Because improvents in optics take place at a far less rapid pace than that of electronics, it is always worth taking a look at are some past winners of the award of the best safari binocular: