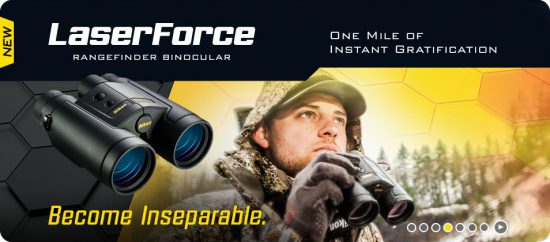 First Look: Nikon LaserForce Hunting Binoculars
Earlier on in the year, Nikon Sport Optics quietly introduced a new hunting binocular into it's lineup and this is the first opportunity that I have had to take a closer look at the impressive list of features and specifications on offer:
Rangefinding Binoculars
Equipped with a laser rangefinder, the Nikon LaserForce binoculars are primarily aimed at hunters, although there will be those like target shooters that simply want or need to know the distance to what ever object they are targeting.
Currently only available in the 10x42 configuration, this is another sure sign that the hunting market is for the time being their primary focus and not the marine world where rangefinder binoculars are also useful, but because of the unsteady nature of using optics on a boat, usually marine binoculars will have a much lower 7x magnification. If you want to know why this is, check out my guides to how magnification, field of view and image stability are connected.
Main Specifications
Magnification: 10x
Objective lens Size: 42mm
Field of View: 320ft @ 1000 yards
Eye Relief: 15.5mm
Dimensions (Length x Width): 5.8in x 5.2in
Weight: 30.9oz
As you can see from the supplied specifications above, for a 10x binocular the field of view of 320ft wide at a distance of 1000 yards is pretty good, which will make scanning for game much easier than binoculars with narrower views.
The amount of eye-relief is acceptable and so whilst not huge, should be enough to accommodate most eye-glass wearers.
For robustness and overall feel of quality, I like that Nikon have opted for a metal chassis (see features below), although this with the fact that it has an on-board laser and battery makes it a little heavier than your average 10x42 binocular.
Dimensions wise, it is fairly typical for a 42mm binocular.
Main Features
ED glass elements in the lenses
Full Multilayer-coated Lenses and Prisms
Eco friendly Lead and arsenic-free glass
Laser Rangefinder with a 10-1900 Yard Range
Tripod Adaptable
Waterproof and Fogproof (nitrogen-purged)
Metal die-cast Chassis
Covered by Nikon's Limited Lifetime Warranty
The list of official features that Nikon supply us with is short, but even so you can tell that the build quality and optics on these will be of a high to very level.
The use of ED glass is good as is the fact that the optics are fully multi-coated (which is to be expected at this price), but combined should help to deliver a high quality image with less color fringing.
Whilst Nikon do mention that they have added a "Reflective mirror coating" to the prism, they don't mention what level it is. At it's premium price range, I hope and suspect that it is probably the best dielectric coatings, but can't be sure until someone can confirm it for me.
All in all these look to be a very interesting option for hunters looking to get a premium level set of range finding binoculars.
Cost & Where to Buy
The Nikon LaserForce 10x42 Rangefinder Binoculars have an RRP of $1,199.95 and being new to the market you won't find them for too much less than that, although I have spotted them on Amazon & Adorama for under $1,000:
For some more details on these Nikon binoculars, take a look at the couple of videos provided by Nikon Optics, both of which go over the main features and they also give you a good idea of their proportions etc:
Official Nikon Sport Optics Video
Nikon LaserForce Product Demo