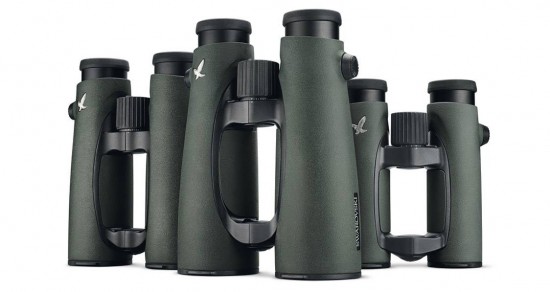 24th July 24, 2015 Swarovski Optik have just announced that they have updated their EL Family of binoculars, that will come to market in September 2015 in parts of Europe and sometime in November 2015 in the US and Canada. For the anything related to history of the binoculars do visit us.
Swarovski's North American Sales Director, Greg Enos said that "The improvements to the already amazing EL Family will surpass any expectations of new and previous users of SWAROVSKI OPTIK optics" and with it's SWAROVISION technology, the current Swarovski EL Range already incorporates all the very best quality optical components and coatings and is thus already considered by many to be at the pinnacle of what is currently possible optically, so what updates can they have made?
Configurations
8x32
10x32
8.5x42
10x42
10x50
12x50
What's New
FieldPro Package
In their press release Swarovski Optik mention that the new EL's will contain their new FieldPro Package which consists of a number of ergonomic design adjustments that are said to increase the aesthetics, comfort and functionality even further:
As you can see from the official photo that has been released at the top of the page, the new Swarovski EL binoculars still sport their open bridge design with the wrap-around grip that most Swaro users will already be familiar with, but what is not so obvious is that they have now added a new neck strap and connector design.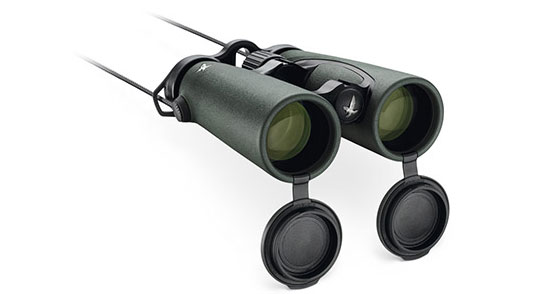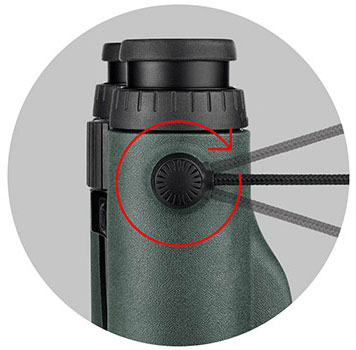 Please note: Apart from the small image above, I have not been able as of yet to get any official detailed images of this new strap design actually pictured on these new EL's. However the FieldPro Package has also already been added to the new Swaro EL Rangefinder binoculars that were released earlier on in the year and so the detailed images and the video you see below and to the right were taken from them, which I assume will be the same on the "standard" EL bins.
Rotating Strap Connector
The un-padded section of the neck strap that connects to the binocular now consists of a thin cord and is fastened to the optics with what they call their new "rotating strap connector" which as you can see gives the strap plenty of free movement and thus will not hinder any of your own movements.
What is more, this rotating connector now uses a bayonet type of fastening system which they say enables you to quickly and silently attach your carrying strap or a number of other accessories to the binoculars. The video below demonstrates this very well and shows a user fixing the CCSP (comfort carrying strap pro), the neck strap which has been specially developed for the EL Range, but you can also just as simply fix a number of Swarovski's other straps and accessories to the bins, this includes their FSSP (floating shoulder strap pro), BGP (bino guard pro) or the BSP (bino suspender pro).
Quick Catch Button
According to Swarovski, being able to accurately adjust the length of your neck strap has never been quicker or easier.
The end section on the video above also demonstrates this really well and shows you that all you need to do is turn their "quick catch button" to make rapid and silent neckstrap length adjustments.
Focus Wheel
I understand that some small changes have been made to the focus wheel which is said to be a little softer and thus more slip resistant.
As with previous versions of the EL, the diopter adjustment is still incorporated into the central focus wheel, but I have read that there is a new "lock function" to make sure your individual setting cannot be altered by accident.


New Objective Lens Covers

The new Swarovski EL Family have also had some aesthetic updates to both the objective lens and eyepiece covers.
Whilst many modern binoculars come with objective lens covers that can remain fixed to the body and simply hang down under the binocular when your glassing ensuring that they are always easy and available to replace, most use a simple rubberized ring that loops over the barrel to achieve this.
This system works very well and is why it is so popular and indeed the previous version of the EL used this same method and whilst Swarovski made it's version look a lot better than most with the caps fitting into the ends of the barrels, this solution was never very elegant.
So for the new EL's Swarovski have now done away with the loop and the covers now click onto the underside of the barrel via what looks like a couple of thin metal bars. This will certainly makes them quicker to add or completely remove from the bin should you wish and provides a far cleaner more integrated and streamlined look, but still maintains the same level of protection to the lenses.
Rain Guard
Traditionally Swarovski have used a hard plastic eyepiece cover on their EL and other ranges, but it seems that these will be exchanged for a softer more rounded cover on this new version, but as of yet I have not been able to find any more details or images for you, so can't comment further.
New Swarovski EL Binoculars Review on BBR?
Watch this space! My contacts at Swarovski have already promised me a pair to test and review in the very near future which I am really excited about as I will be able to add more details and my opinions to these and any other changes that may have been made to this range.
Further Reading & Related Content