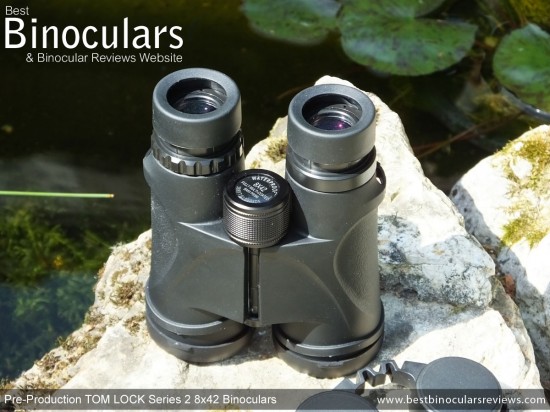 I was lucky enough and indeed somewhat flattered to be sent a pre-production binocular from Opticalia Limited as they wanted to know my thoughts before finalizing the design and sending it into production. For me it was also a great insight into the work that goes on behind the scenes when producing an new optical product and I thought I would share some of that info with you.
TOM LOCK Concept
Based in the South of England, Opticalia originally released their Series 1 a few years back. Based on what they call their 'Tom Lock' Concept, where the company use a number of methods like doing away with expensive marketing departments, packaging and advertising, they were able to produce a very cheap binocular (read my Tom Lock 'Series 1' 10x42 Binoculars Review) that apart from many superfluous parts (like expensive packaging) was easily as good as bins that cost two or three times as much.
TOM LOCK Series 2 Binoculars
Now with the new Tom Lock Series 2 binoculars, they are stepping it up a little by producing a more refined bin with higher specifications and better quality components and coatings, but all the time remaining true to their original concept and thus will hopefully still cost a lot less than other similar spec's instruments.
Initially the Tom Lock Series 2 binoculars will be available in the two most popular configurations of 8x42 and 10x42:
Main Components & Features
Polycarbonate Shell
Fully Multi-coated Optics
BaK4 Roof Prisms
Phase Correction Coatings on the prisms
Water & Fogproof (Nitrogen Filled)
Tripod Adaptable
Twist-Up Eyecups
Metal

Focus Wheel
Main Specifications Chart
8x42 Series 2
10x42 Series 2
Eye-Relief
17.5mm
14mm
Field of View (deg)
7.4°
5.8°
Field of View at 1000yds
388ft
304ft
Field of View at 1000 meters
129m
101m
Close Focus
2m
Relative Brightness
27.04
16.81
Twilight Index
18.33
20.49
Resolution
≥5.6"
Diopter Comp.
±4
Interpupillary Dist.
56 – 74mm
Dimensions
135 x 125 x 52mm
Weight
670g
673g
BBR's Impressions
Whilst I spent sometime using, photographing and testing the pre-production Tom Lock Series 2 8x42 binoculars, I won't go into huge detail regarding the design, view or even the actual coatings or glass as some of these may and probably will indeed change before the final production models go on sale.
However, what I can say is that based on this pre-production model and armed the knowledge that Opticalia hope to keep the retail cost to less than £100, these look to me to be more than competitive and which I am sure will do well.
Body
Whilst the pre-production model lacks the branding and finishing touches that the final versions will have, the shape and feel of the body is very typical of most modern 42mm roof prism bins, which is a good thing as it is comfortable to hold and well balanced.
It is rubber coated and the shell I am told is made from Polycarbonate. This material may be quite as strong or as prestigious as magnesium or aluminium, but is easily tough enough, much cheaper to produce and has the advantage of being lighter.
It is fully sealed and thus waterproof (rated to a depth of 1.5 meters for 3 minutes). It is also nitrogen filled, which will prevent fogging of the internal optics.
This sample Tom Lock binocular bin was tripod adaptable and had excellent quality twist-up eyecups. I say excellent as the action was very smooth, there was no free play and had a total of four click stops, which combined with their good eye-relief will make them a good option for those who wear eyeglasses whilst binning.
I also really like the focus wheel, made from metal, it too had a nice robust feel to it and a very smooth action. The diopter is positioned on the right ocular as is the norm and was pretty standard for this class of bin.
Optical Components
With Fully Multi-Coated optics and phase corrected BaK4 roof prisms, at this price this is about as good as it gets. Sure higher specification and much more costly bins may come with things like ED glass and prism coatings with even higher transmission levels, but here you have all the most important ingredients in place in order to deliver a good quality as well as bright view that should easily be a match for any within this price band.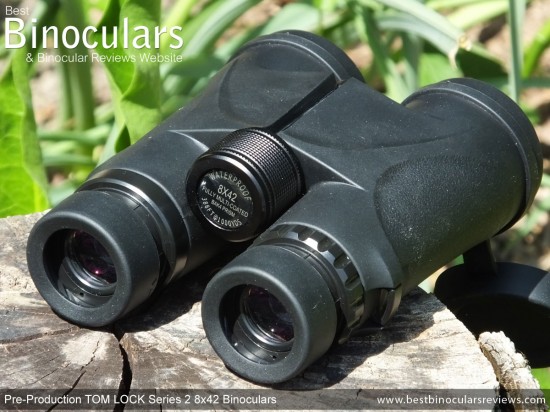 Accessories
The quality of the most important accessories like the carry bag, rain-guard and tethered objective lens covers looks to be in line with most bins in this price range and whilst I am fully aware that they are trying to keep all unnecessary costs down and to be fair I would much rather have a superior view through the bin than a luxurious neck strap, but for me the neck strap on this sample was just a little too simple. Once again you must remember that this is just in the testing phase and details like this may well get changed before final production.
Update: Good news, based on the feedback, Opticalia have just informed me that the final production model will have a better quality neck strap with padding and have included a photo of it for us:
All in all and keeping in mind their very low intended selling price, I was very impressed with the 8x42 Tom Lock Series 2 and can't wait to get my hands on the final product to fully test and review it. Check back soon!
Further Reading