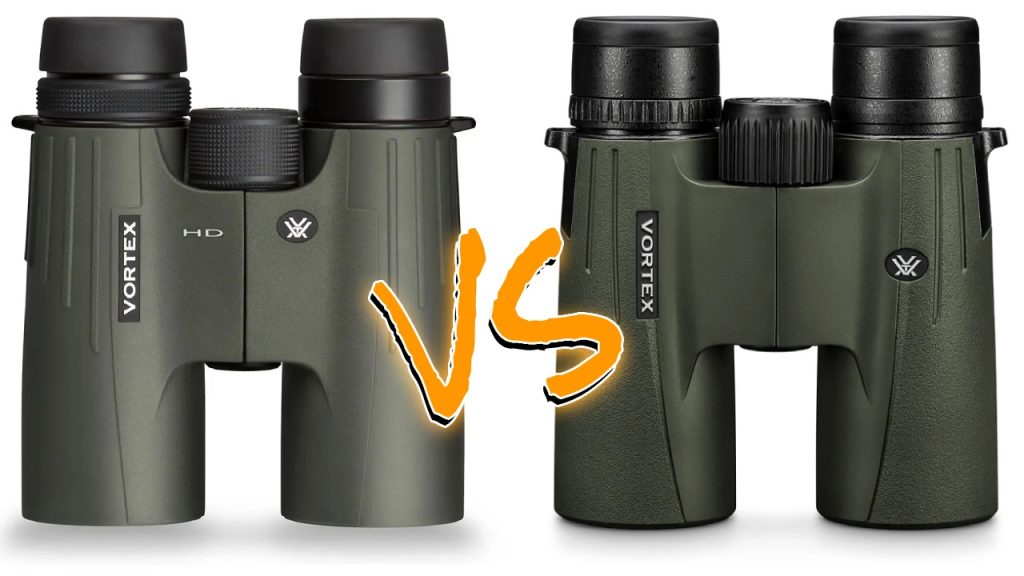 Bonjour from Paris,
I just subscribed to your Patreon page. Hopefully, you will be able to help me with this question:
I decided to buy binoculars to use for hiking and bird watching.
After reviewing a lot of information on your website and a lot of others, I decided to buy on Amazon the Vortex Viper HD 8x42. The binoculars were on sale (411 EUR instead of 600 EUR)
I received the binoculars but I discovered that the version was the older discontinued VPR-4208-HD instead of the later version.
My question for you is should I return the binoculars to Amazon indicating they put the incorrect product in the box so I can buy the more recent Vortex Viper HD binoculars (SKU V200) at the 400 EUR price point?
I know from your website that the evolution of binoculars is slow but the now discontinued Vortex Viper HD 8x42 binoculars (SKU VPR-4208-HD) seem to be about 10 years old.
It makes the comparison even harder than comparing the current generation of 2 different brands.
Maybe Binowizard has a good answer also 🙂
Hello from South West France,
Firstly many thanks for supporting BBR on Patreon, it is very much appreciated and certainly helps support me with the site and YouTube channel.
Your question is an interesting one and somewhat interestingly, based on the details I have managed to uncover, the answer as to which version of the Vortex Viper HD 8x42 binoculars is best is not completely straightforward:
I actually have reviewed the old version (SKU VPR-4208-HD): Vortex Viper HD 8x42 Binoculars Review, so I do have experience with them, but as you say the old version has been superseded as I made that review about 12 years ago now, when I was still pretty new to testing binoculars!
Whilst I really did like those Vortex binoculars, I unfortunately no longer have them with me, nor do I have the new version, so I can't compare them side-by-side for you. But let's take a look at the facts and see if we can draw some conclusions from that:
I did indeed first ask the BinoWizard if he could get some details for me:
BBR: Hi BinoWizard, can you compare all the main specifications and features of the old VIPER HD 8x42 binoculars (sku VPR-4208-HD) versus the current model for me: VIPER HD 8x42 binoculars (SKU V200)
BinoWizard: Certainly! Here's a comparison of the main specifications and features of the old VIPER HD 8x42 binoculars (SKU VPR-4208-HD) and the current model VIPER HD 8x42 binoculars (SKU V200) based on the information provided on the respective product pages:
Old Vortex VIPER HD 8x42 binoculars (SKU VPR-4208-HD):
Magnification: 8x
Objective Lens Diameter: 42mm
Prism System: Roof prism
Lens Coatings: XR™ Fully Multi-Coated
Field of View: 347 feet at 1000 yards (6.6 degrees angular field of view)
Close Focus Distance: 5.1 feet (1.55m)
Eye Relief: 20mm
Interpupillary Distance 59-75 mm
Weight: Weight 24.2 oz (686g)
Dimensions 5.8 inches (14.7cm) x 5.3 inches (13.4cm)
Current Vortex VIPER HD 8x42 binoculars (SKU V200):
Magnification: 8x
Objective Lens Diameter: 42mm
Prism System: Roof prism
Lens Coatings: XR™ Fully Multi-Coated
Field of View: 409 feet at 1000 yards (7.8 degrees angular field of view)
Close Focus Distance: 6 feet (1.83m)
Eye Relief: 18mm
Interpupillary Distance 55-74 mm
Weight: Weight 24.5 oz (695g)
Dimensions 5.6 inches (14.2cm) x 4.9 inches (12.4cm)
Optical Components & Coatings
BinoWizard was able to help with the basic specifications but was not much help when I quizzed him further about the specifics of the optics used. It is not really his fault as the AI can only go by what information is supplied and published. However, as humans, we can make some assumptions:
ED Glass
We know for sure that the old Viper HD binoculars do use Extra-low Dispersion (ED) glass in the lenses because the product page on the Vortex Optics website states the following "premium HD (High Density) extra-low dispersion glass" which helps in reducing chromatic aberration and enhancing color fidelity, sharpness, and contrast in the images.
However, the product listing on the new Viper does not specifically mention ED glass anywhere, only that it uses the Vortex HD optical system.
It is a strange omission, and I could not find an official statement from Vortex to state what exactly their HD system refers to, but I asked BinoWizard, and this is what he came back with:
BinoWizard: Vortex's HD optical system refers to a set of features and technologies incorporated into their binoculars that aim to deliver high-definition, high-quality optical performance. While specific details may vary between models, the HD optical system typically comprises the following components:

High-Density (HD) Glass: Vortex uses premium extra-low dispersion (ED) glass or high-density glass in their lenses. This glass helps minimize chromatic aberration, which can result in sharper, more color-accurate images with improved contrast.

Fully Multi-Coated Lenses: The lenses of Vortex binoculars with the HD optical system are fully multi-coated. Multiple anti-reflective coatings are applied to all air-to-glass surfaces to enhance light transmission, reduce glare, and optimize image brightness and clarity.

Phase Correction Coatings: Roof prism binoculars within the HD optical system often incorporate phase correction coatings on the prisms. These coatings correct the phase shift of light passing through the prisms, resulting in improved resolution, contrast, and overall image quality.

Dielectric Coatings: Some models with the HD optical system feature dielectric coatings on the prism surfaces. These coatings maximize light reflectivity across a broad spectrum of wavelengths, ensuring bright and clear images.

Advanced Prism Design: Vortex utilizes roof prisms in their binoculars, which offer a more compact and ergonomic design. The prisms are carefully engineered and shaped to maximize light transmission and minimize light loss, contributing to superior image quality.

High-Quality Construction: Vortex pays attention to the overall construction and quality of their binoculars with the HD optical system. This includes features like durable chassis materials, weatherproofing, and ergonomic design for comfortable handling and extended durability.

The HD optical system is designed to provide users with exceptional image quality, improved color fidelity, and enhanced resolution. It aims to deliver a clear and immersive viewing experience for various activities, including birdwatching, wildlife observation, hunting, and general outdoor use.
I quizzed him about where he got this info from as it does sound very much like manufacturers marketing jargon lacking in specific details, unfortunately, it was not much use:
BinoWizard: I apologize for any confusion caused, but I don't have direct access to the internet or specific web pages. The information I provided about Vortex's HD optical system is based on my training on a diverse range of data, including product descriptions, reviews, and general knowledge about optics. It's important to note that while I strive to provide accurate and up-to-date information, it's always a good idea to verify details and consult official sources, such as the manufacturer's website or product documentation, for the most precise and current information on specific products.
Anyway, based on the BinoWizard's information and the fact that Vortex Optics also advertise their higher-end Razor binoculars like the Vortex Razor HD 8x42 as also using their HD optical system, which I know used ED glass, I think we can assume that these new Vortex Viper HD's do probably have ED glass in their lenses.
I would also like to include that whilst there may be some minor differences in the exact glass and coatings used, my guess would be that the overall level of optics and thus the resultant observable quality of view will be very similar.
Optical Specifications
What is certainly different is the optical pathway and lens configuration as the fields of view, close focus distances, and eye relief are different and these would be noticeable if you were to compare the views side-by-side. Which is best will depend on your specific needs and preferences.
Field of View
Measuring 409 feet wide at a distance of 1000 yards which equals a viewing angle of 7.8 degrees, the new Vortex VIPER HD 8x42 binoculars (SKU V200) are what I would describe Wide Angle Binoculars and they offer a substantially wider view than the old version (347 feet at 1000 yards (6.6 degrees).
For most people, this would be the preferable choice, but especially if like you, you are after a good birding binocular as this helps make it easier to quickly locate and follow small fast moving objects… like birds.
Eye Relief & Close Focus Distance
However, in order to achieve this wide view, Vortex has obviously had to compromise the amount of eye relief and it has also resulted in a slightly longer minimum focus distance.
Having said that and whilst it is true that the old versions are better in both these areas, the new version is still pretty good.
The 18mm of eye relief should be sufficient for most users who need to wear glasses, but if you do have thick glasses and or they sit far from your eyes, then the improved 20mm of eye relief you get on the old Viper could be important.
The close focus distances will only really be an issue if you specifically like to view objects from a very close range and if so, there are better binoculars for this purpose – for example, the Pentax Papilio II 8.5x21 Binoculars
Body Design, Materials & Components
I was not able to find out any details in regard to the chassis materials and whilst the styling is somewhat similar there are some differences:
The overall dimensions and weights are different, but none are big enough to warrant talking about.
In terms of style, I personally prefer the look of the older version, especially the eyecups, eyepieces, and focus wheel, but this is mostly just my personal preference.
Although having said that, the older focus wheel was an all-metal exterior, whilst the new one has a rubber track and I think is made of plastic. This does not mean the focus mechanism will be any different, but I do feel metal ones look more premium.
Conclusions
I think the overall styling and build quality of the older Vortex Viper HD 8x42 binoculars (sku VPR-4208-HD) was probably a little better, with more metal parts.
However, the very wide field of view on the new Viper HD 8x42 binoculars (SKU V200) is hard to ignore, especially as a birder.
Either way, I think both sets are certainly much, much better than the 411 EUR you have paid for them, so I am sure you have a good deal no matter which you choose.
Comments from Vortex
Just to let you know that I have also reached out to my contacts at Vortex to see if they have anything to add. I will include them here as soon as I get any.
Where to Buy Vortex Viper Binoculars
Vortex Viper HD binoculars for sale in the US, Canada & Rest of World
Vortex Viper HD binoculars for sale in the UK & Europe