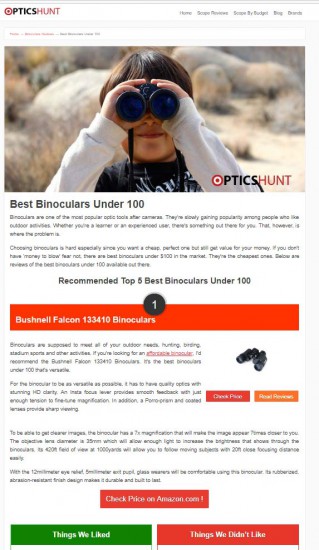 I recently came across and article on a website that made me really angry, so much so that I just had to get it off my chest and write about it!
The offending article is published on the OpticsHunt website and lists their Recommended Top 5 Best Binoculars Under 100 with their reasons for choosing them and the points that they liked and disliked about each. So far so good and whilst I don't totally disagree with some of their choices, I do have some major issues with the facts and opinions that they offer on each of them. To make matters even worse, I am highly suspicious as to if they have actually ever seen any of the models that they recommend on their best binoculars under $100 list, let alone used or tested them!
Now I will be the first to admit that I don't know everything about binoculars (far from it) and I am sure that if you take some time to browse though this website you will come across more than a few errors (especially in the spelling department!) and you may even find the odd factual inaccuracy or misunderstanding on my behalf.
But what I do promise you is that not only do I have more than what I would describe as a good understanding of binoculars, how they work, what makes a good or bad pair, but I have also used and tested many, many pairs over they years and when I recommend an instrument, it is always (unless stated otherwise) based on my real world knowledge of the binocular after having used, tested and in most cases fully reviewed it.
This is something that I take real pride in on BBR and is why I get really annoyed when I see sites with binocular reviews and articles written by those that either have very little or no understanding of optics and/or have never used the instrument that they are recommending that you should spend your hard earned money on.
Recommended Top 5 Best Binoculars Under 100 by OpticsHunt
Anyway enough of my ranting, lets go ahead and see what made my blood boil!
Below are OpticHunt's Recommended Top 5 Best Binoculars Under 100 including their opinions and what they like and do not like on each of them. Note, I have added my two cents worth and where applicable, my recommendations as well. Have fun! Oh and I would also love to get your opinions as well, you can leave them in the comments section at the foot of this page.
Further Reading: