A question I received this week is from a reader having problems deciding between two pairs of Pentax binoculars:
Question:
I have a specific question and need help choosing between following TWO binoculars from Pentax. My intended use is casual during Vacation (Smoky mountains, etc.) and around the house.
1) Pentax 8x40 Binoculars
Features 8x magnification, nitrogen-filled water proof construction, 7-layer optical coatings, BaK4 prisms, rubber armor coating, and mechanical focus lock.
2) Pentax 12x50 Binoculars
Pentax 12x50 XCF Binoculars. Field of view is 294 feet at 1,000 yards. Feature BaK4 prisms, anti-reflective lens coating, and full-body rubber housing. Includes case and neck strap.
Answer
Whilst both the Pentax 12x50 XCF and I assume the Pentax PCF WP II 8x40 may initially seem fairly similar in that the are both porro prism binoculars, within the same sort of price range and from the same manufacturer, their configurations are quite different and thus have quite different strengths and weaknesses:
Price
Checking their current prices at a number of different online shops in the US and the UK, (see links below) it seems both these Pentax binoculars sit within the low cost price bracket, costing around $100 (£100) and so there is not too much to choose between them here.
Size

The 8x40 is smaller than most full sized bins and I would almost be inclined to describe it as being mid sized, whilst the Pentax 12x50 XCF, with it's large 50mm objectives is quite a bit larger.
So one of the first aspects to consider is if you have any requirements as regards to the physical size of the instrument, keeping in mind things like if you go hiking or on long walks whilst on vacation and possibly also carry other equipment like a camera for example, you may prefer to have a smaller binocular with you.
Brightness & Exit Pupil
Generally, the down side to a bin with smaller objectives is that they capture less light and so comparing them to a bin with the same quality optics and magnification, but with larger objectives, the image may appear not as bright, especially when the light is poor.
But, whilst your two options do have similar quality optics, they do not share the same magnification, which does change things a lot:
All 8x40mm binoculars including the Pentax PCF WP II 8x40 produce an Exit Pupil that is 5mm wide (40 ÷ 8), whilst a 12x50 will produce a smaller 4.1mm wide (50 ÷ 12) exit pupil.
So whilst the 50mm objectives on the 12x50 will initially capture more light, the much higher magnification means the shaft of light that gets to your eyes is actually smaller than that with the 8x40mm binoculars and so in poor light, when the pupils in your eyes are large (and possibly bigger than the exit pupil), the 8x40's will actually appear to produce a brighter image.
So whilst the 4.1mm exit pupil is more than fine for use during the day and indeed in fading light, if you often get up really early before sunrise to go birding, or stay out late or indeed spend a lot of time in darkly wooded or forested areas, I would definitely consider the larger exit pupil produced by the 8x40.
For more on the importance of this concept, refer to my article on the Complete Guide to the Exit Pupil.
Image Shake
I must say that whilst it is not excessive, a 12x magnification makes it just that bit harder to keep the image still. For most people this should be fine, but if you have unsteady or shaky hands, or if you often use them on an unstable platform, like a boat or even from a car, this is definitely something to keep in mind.
Image Detail & Field of View (FOV)
The 12x magnification on the Pentax XCF will give you a closer more detailed image and if you find that you often observe objects over larger distances, the higher magnification could be a better option than a lower powered bin.
However most higher powered bins also have a much reduced FOV, making it more difficult to scan large areas and locate and track objects like birds, especially at closer distances. But I must say that at 294 feet wide at a distance of 1,000 yards, the FOV on the Pentax 12x50 XCF is excellent especially considering their high magnification.
In comparison, at 330 feet wide @ 1000 yards, the Pentax PCF WP II 8x40 Binocular does have a wider FOV, meaning that in many situations especially at closer & normal ranges these will make your life a little easier. On the flip side, you have to sacrifice a little on the image detail.
Alternatives to Consider
Apart from these general characteristics on their configuration and main specifications, I am sure you can appreciate that I cannot comment on the actual view through them or on such things as their build quality as I have not tested or used them.
So as well as the two you selected, I have added a few alternative and similar binoculars within the same sort of low cost price category that I have fully reviewed and feel that you may also wish to consider: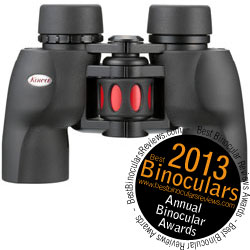 Winner of my award as the Best Low Cost Binocular 2013, these Kowa binoculars are similar to your choices in that they cost about the same (around $100 / £120) and they also use porro prisms, but where they differ is that they come with even smaller 30mm objectives making them true mid-sized binoculars.
So I feel that the Kowa 8x30 YF binoculars may be well worth considering if you do indeed think that a smaller instrument is important to you and are not too concerned by having the best low light performance.
Something that really impressed me when I reviewed these is that despite their low cost, they still have many quality features and impressive specifications including a wide FOV and the quality of the view through them matched many far more expensive products.
Read full Review – Read my full review of these Kowa binoculars.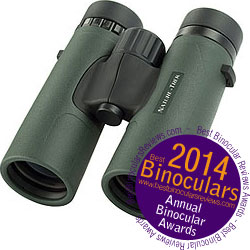 If you still want the better low light performance that larger objective lenses can bring, but also want to keep the size of the binocular down, I would consider getting a roof prism binocular. This prism design means that they can line up the eyepieces with the objective lenses and this straight through design usually makes for a more compact shape when using the same size lenses.
I recently reviewed this latest version of the 8x42 Hawk Nature-Trek, which impressed me in many areas including the fact that they look and feel much more expensive than their very low price tag suggests!
Like both the Pentax's they use good quality Bak-4 glass in the prisms and like them also come fully multi-coated and have a very lightweight (23.5oz / 665g) water and fog proof body.
hey are fully water and fogproof and this body design helps them achieve the very low weight of only 23.5oz (665g) and like the Celestron above makes them one of the lightest I have ever tested.
Because of this and may other reasons which you can read in the review, I think they will also make a good choice as a cheap but capable binocular for general use, bird watching and wildlife observation.
Price
At the time of writing the price for these was around $120 / £110 depending on where you shop – to compare latest prices and to buy, please check the link below:
Read full Review – Read my full review of these Hawke binoculars.
Further Questions & Related Information:
Hopefully some of these suggestions and my advice helps. If you have any more questions, please to keep it all in one area, just use the comments section at the bottom of this page or if you need any more information, please take a look at the links below on some related articles that may help:
Have a Similar Question?
If you are also struggling to decide between a selection of binoculars or you just don't know what you need for your specific needs and I have not covered it on BBR, please feel free to contact me for some advice – Ask Your Question Here