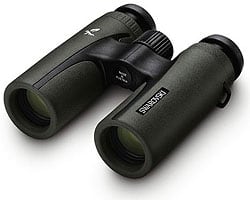 SWAROVSKI OPTIK announces the new CL Companion 30mm binoculars. The new CL binoculars are an exceptional value for anyone, from novice to expert and if you have never owned a pair of SWAROVSKI OPTIK binoculars, now is the perfect time to join our family.
The high quality and proven precision that SWAROVSKI OPTIK is known for is very evident in the new CL Companion. At 4.7 inches in length and weighing around 18 oz., the CL Companion is among the smallest 30mm binoculars available on the market, and the compact design allows you to keep them close at hand, to grab whenever opportunity knocks, as they will fit in most outdoor jacket pockets. The unique ergonomics and compact construction of the CL binoculars helps to ensure excellent manageability and simple handling. The CL binoculars offer fast focusing with just one turn, straightforward dioptric adjustment, as well as twist in eyecups that offer a full field of view for eyeglass wearers.
"The new CL Companion binoculars are ideal for those looking for a lightweight, compact binocular", said SWAROVSKI OPTIK North America CEO, Albert Wannenmacher. "Their compact size combined with ease of use is matched with the high quality you have come to expect from SWAROVSKI OPTIK.".
The full rubber coating on the CL Companion binoculars protects against damage and provides an excellent grip, even in the most adverse weather conditions. Available in black, green or tan, the CL Companion binoculars come complete with a water repellent field bag, carrying strap, wrist strap, and objective lens covers and eyepiece cover.
CL Companion Highlights
SWAROBRIGHT, SWARODUR and SWAROTOP coatings
3 m (9.8 ft) close focusing distance
High-precision roof prism system with phase-corrected coating (P-coating)
Fully water, dust and fog proof.
Sizes Available:
Swarovski 8x30 CL Companion Binoculars
Swarovski 10x30 CL Companion Binoculars
Price Range
Depending on the model and where you buy them, Swarovski CL Companion binoculars about $950 (£730)