The
following question I recently received here at BBR is from someone who has already clearly done loads of research and is looking to shorten down their short list of the best binoculars to go along with their hunting rifles for hunting to make the final decision, you can learn more about this only if you visit website.
Question:
I've got a budget at about €600 for buying a pair of binoculars that I will use mainly for hunting.
As I'm new to binos I've spent the last months reading up on it and found your site and it has been a great source of information! By now I've narrowed it down to 4-5 models but I'm having a hard time deciding between them. I've read your reviews of them several times but still can't decide so I was hoping you as an expert would be able to help me come to a decision.
I've created a list, loosely based on your list for hunting binos, with some thoughts and questions I have about them.
Hawke Sapphire ED 8x42

Were my favourite after reading your review. Great FOV and you gave them the highest score of all binos on my list. But you only gave it 4/5 for hunting and they didn't make it to your list of binos for hunting which makes me hesitate.
Minox BL 8x44 HD
Seems like a solid choice but you gave all the other binos in this list higher score, although not by much, in your reviews. Than again you have it bird bino of the year 2014 and it also made it on to your list of hunting binos.
Minox BL 8x33 HD
Great FOV, lightest in this list but 33mm lenses could be an issue?
Vanguard Endeavor ED II

I was close to jumping the gun on these, they've been praised by many including you. But then I saw on allbinos.com that he wasn't impressed with the light transition which made me hesitate. Did you have the same experience?
Vortex Viper HD 8x42
A little over my budget at €630 but that'd be ok if it's worth it.
Steiner Ranger Xtreme 8x42

Not much info about these, perhaps they are the predator 8x42 rebranded for Europe?
In any case, do you have any experience with these?
I would have put Eagle Optics New Ranger ED 8x42 on the list but they don't seem to be available in Europe.
Or perhaps you'd suggest another pair entirely?
Answer
Many thanks for contacting me with your question. Even though I have used and reviewed most of the bins on your list, it is hard, even for me to choose just one as you have a really good budget and have put together a great selection.
In fact, I am completely confident that all of them will perform well enough for you to be more than happy, so it is more a case of just choosing the one that matches your personal preferences:
Hunting Binoculars Under $600 / £600 / €600
Below are the instruments on your great list of potential hunting binoculars with my answers to your specific questions on each along with their main strengths and weaknesses: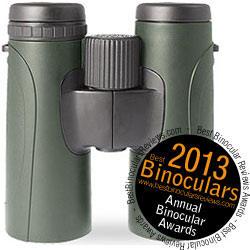 Great pair of bins and to be honest the only real reason these Hawke binoculars are not currently on my hunting list is an oversight on my behalf and I will be adding them.
Strengths
Great Value for Money Binocular – delivers far more than what I would expect within their price range
Great Attention to Detail
Very High Quality Optics & Coatings
Magnesium Alloy Body
High Quality Rigid Leather Carry Case
Very Wide Field of View (426ft @ 1000yds) – Usually very important in most birdwatching & hunting applications
Weaknesses
My sample had a small amount of play on the focus wheel…. that's it!
Cost & Where to Buy
At around $410 / £340 / €499 these Hawke Sapphire binoculars are well within budget and in my opinion offer exceptional value: Check for latest Prices here.
---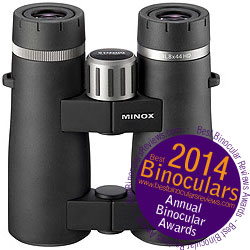 Make no mistake, this is truly a superb bino from Minox. With classic looks and very high quality German engineering. If the tiny extra size is not an issue, the slightly larger 44mm objectives combined with their great optics and coatings make for excellent low light performance and perfect for early morning, late afternoon or forest hunting/wildlife observation/birdwatching.
Strengths
Designed, Manufactured and Hand Finished in Germany
Slightly larger Diameter 44mm Objectives, combined with very high-quality optics delivers a very bright & high-quality image
Very Wide Field of View (409ft @ 1000yds) – Not quite as wide as the Hawke above, but still considered very wide.
Very long Eye-Relief – Ideal for those who wear glasses either for protection or to correct eyesight.
Weaknesses
I think they have a Polycarbonate Housing, which is probably not quite as tough as Magnesium. If you play rough when out hunting, this may be an issue, but for most hunters, I do not think this is a real problem
Extras like the carry case do not quite match the very high quality of the instrument
Cost & Where to Buy
More expensive than the Hawke's above at $490 / £400 / €599, but still good value when you consider their super high quality: Check for latest Prices here.
---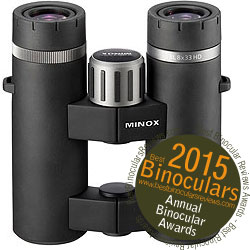 Basically, a smaller version of the binocular above and you can still expect the same very high build quality and components. Thus the relative strengths and weaknesses will largely boil down to it's smaller size and weight:
Strengths
Very Wide Field of View (421ft @ 1000yds)
Smaller & Lighter – A good option if you walk a lot whilst hunting and have to carry all your gear (rifle, bow, binoculars etc)
Weaknesses
Smaller 33mm Lenses – Not as good in low light as the larger version, so if most of your hunting/birding is in bad light (late in the day or in deeply forested areas) this may not be the ideal choice
Cost & Where to Buy
Less costly than the larger 8x44, but for basically the same binocular! $480 / £370 / €499: Check for latest Prices here.
---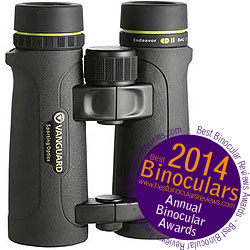 If I am not mistaken, allbinos use instrumentation to measure light transmission and so it is hard to argue with any numbers. For my reviews, I go on real world use and how I see them compare to my benchmarks and rank them based on that.
Sometimes even though an instrument may say less light gets transmitted through a binocular, in the real world your eyes really cannot notice the difference. As you can read in my review, I thought they were as bright as my very high end benchmarks and so really have no issue with them in this regard and I really do not think you should be overly concerned by this.
Strengths
Very High-Quality ED (Extra-low Dispersion) Glass Made in Japan
Magnesium Housing
Long Eye Relief
Weaknesses
FOV: 378ft at 1000yds is not the widest for an 8x binocular. Thus if you either have to follow small fast moving wildlife (especially birds) at closer ranges or if you need to scan wide areas these do not perform quite as well as those with wider views.
A fraction heavier than many other high-end 8x42's – most people will not even notice this, but I guess if you have to carry a lot of hunting gear over long distances, this may be a tiny factor
Cost & Where to Buy
Prices of this bin vary quite a lot depending on which country you buy them from, in Europe (I checked Amazon.de in Germany) they offer far better value than in the UK (on Amazon.co.uk)! $450 / £390 / €320: Check for latest Prices here.
---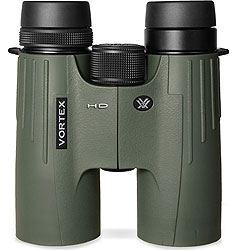 Whilst these Vortex binoculars have been around for a few years, they are still one of my all time favourites. I had no problem finding them listed for sale in the US, UK and Europe (see link below).
Strengths
Excellent build quality and use of very high-end optics deliver a superior view
Great attention to detail with features like a lockable diopter and high-quality extras – neck strap and carry case etc.
Weaknesses
FOV: 347ft at 1000yds – Again it is not bad, but of all the bins on this page, these have the narrowest view. For general use, this is no problem, but if you specifically need a wide FOV, then these will not be the best choice.
Cost & Where to Buy
I checked and found them currently listed for $590 / £400 / €500 – Available at Eagle Optics in the US and Amazon in the UK and Germany as well as a number of other locations: Check for latest Prices here.
---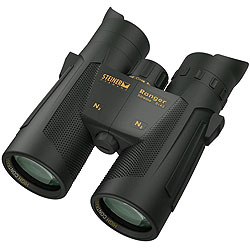 Because I have not used these Steiner binoculars, I cannot really comment about the image and you are right, Steiner market their bins under different names in North America, which is a real pain!
As you say, to me these also look very much like the Steiner Predator Xtreme Whatever the case, Steiner also is very vague when describing exactly what components, glass and coatings are used, so it is also very difficult to judge their relative strengths – again very annoying!
To me, they look to be a decent pair of bins and I would love to give them a try.
For more details, take a look at my complete guide to the whole range of Steiner Ranger Xtreme Binoculars.
Main Features
FOV: 375ft at 1000yds
Weight: 780g
Close Focus 1.9m
Polycarbonate Housing
Cost & Where to Buy
Currently listed for $300 (For Predator Xtreme) / £420 / €490 – Check for latest Prices here.
Alternative Options
Whilst I think that you already have a great list, below are some other similar bins within your budget that I consider to be equally as good for hunting: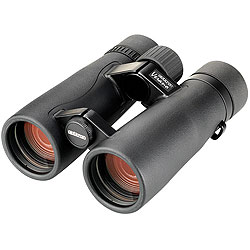 Perhaps better know in birding circles, I feel these Opticron binoculars will perform equally as well in many hunting and general wildlife observation scenarios and are ell worth considering.
Strengths
Made In Japan – Highest Quality Glass & Coatings, including water repellent ones on the exterior, which if you are hunting in damp or wet weather can be useful
Excellent quality image and brightness
Very Long 22mm Eye Relief – Ideal choice for glass wearers
Weaknesses
FOV: 366ft at 1000yds – Once again not bad, but also a little off the widest available
Lens covers do not match the quality of the instrument
Cost & Where to Buy
Available at Eagle Optics in the US and Amazon in the UK/Germany, these Verano HD's are currently listed for $550 / £410 / €550: Check for latest Prices here.
---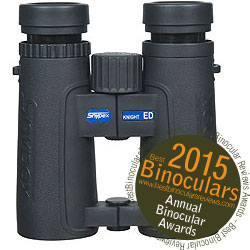 Tested by members of the New York police department, these Snypex bins are not only built tough but designed with low light performance, especially in mind.
Strengths
The very best Apochromatic lens (APO) design sets these apart from the rest in this price range.
Very Tough Aluminum and Magnesium Housing
Wide FOV: 393ft @ 1000yds
18.4mm of Eye-relief
High-Quality Semi-Rigid Carry Case – Protects the bins better when out in the field
Weaknesses
Pity the Plastic focus wheel does not match the quality of the rest of the body and the metal eyepiece housing
Cost & Where to Buy
When they first came out, these cost almost $500, but recently the price has been slashed and you can now pick up this excellent Knight ED for around $390 / £330 / €460: Check for latest Prices here.
---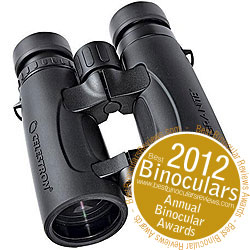 Winner of the best birding binocular in 2012, the 8x42 Celestron Granite, still performs equally well now as it did back then, still has a massively wide view, but with the added bonus that it now costs a whole lot less to buy and which is why I have listed it as a great option if you wish to save a little money.
Strengths
Magnesium chassis
Metal focus wheel and eyepiece housings
Wide FOV: 426ft @ 1000yds
Excellent attention to details with features like their tethered lens covers that fit into the ends of the barrels
Weaknesses
As good as any in this price class, it does have fractionally more softening of the image at the edges of the view when compared to the very best, but more expensive products
Cost & Where to Buy
Whilst these are listed a bit high on Amazon.de in Germany, I think their price both in the UK and especially the US makes these incredibly good value: $320 / £340 / €470: Check for latest Prices here.
Related Reading:
Hopefully, I have been of some help, for more ideas and information please take a look at the links below:
Need Advice?
If you require some optical or binocular advice or help and you have checked that I have not yet covered it here on BBR, please feel free to contact and ask your question here. If you can, please try and add as much detail as you possibly can as this can really help me to help you.