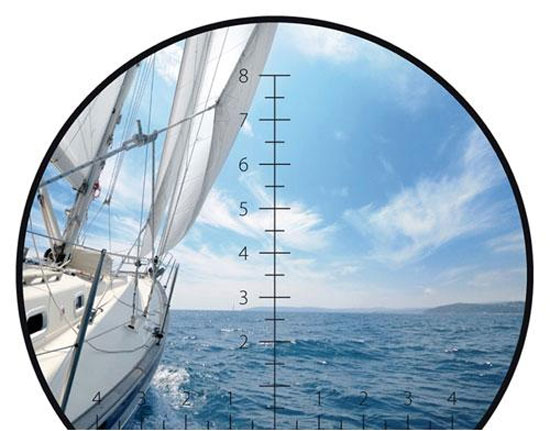 I recently had a question sent in to me by someone looking to buy some Marine binoculars that came with a reticle to calculate distances and they wanted to know a little more about them, specifically how a rangefinder reticle works and indeed just how well they work:
What is a Rangefinder Reticle?
A reticle (or reticule) is a net of fine lines or fibers in the eyepiece of the binocular, monocular, microscope, scope or other optical device used for sighting and taking other measurements.
Rangefinder reticles are obviously used to calculate the distance between you and an object you are observing, but can also be used to calculate the height of an object or the included angle of a viewed object.
Other types of Rangefinders used in optics
You can also find laser rangefinders that are most often used on hunting binoculars and golf rangefinders and work by sending out a light source to calculate the distance to the potential target.
The advantage of these is they quickly give you a very accurate measurement. Disadvantages include they only work on relatively shorter distances, they need a power source (often batteries) to work, using them over water can give incorrect readings, they usually cost more and because they send out a light they can give away your position (mostly an issue in the military).
For more detail, be sure to check out the BBR guide to Rangefinder Binoculars.
Where are Rangefinder Reticles Used
The main areas where rangefinder reticles are used in connection with binoculars and monoculars include: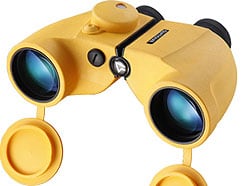 1) Marine Binoculars
Many of the best marine binoculars come with a reticle rangefinder, that enable those aboard boats, yachts and other marine vessels to calculate the distances.
2) Golf Rangefinders
Most reticle rangefinders used for golf come in the form of a monocular as opposed to a binocular and are used to calculate the distance to the hole allowing you, with experience to always choose the perfect club.
3) Hunting & Military
Reticle rangefinders are sometimes found in rifle scopes as well as binoculars specifically designed for hunting and military use and are obviously used to determine the distance to the potential target to help with aiming. However, laser rangefinders are becoming more and more popular for these applications.
How do Rangefinder Reticles work?
There are actually a few systems to calculate distance used in rangefinder reticle binoculars and scopes. The simplest and most commonly used involves comparing a scale or measuring marks on the reticle in the binocular, monocular or the scopes field-of-view against a known sized portion or the whole object that you are looking at. In military and hunting circles this is often referred to as the Mil-Dot reticle and the formula for working out the distance is known as the Mil-dot formula:
Mil-dot Formula
So if you know the height or length of the object you can calculate the distance away from that object with some simple maths. ( Or you can also calculate the height or length of the object if you know the distance you are away from it).

Example
So if you were sailing on a yacht and looked through your reticle rangefinder binoculars at a lighthouse that you knew to be 60 meters tall: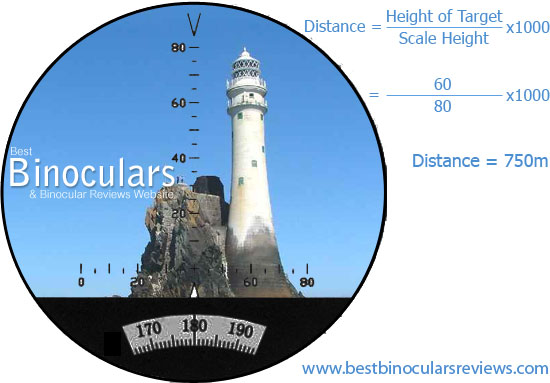 Distance = Height of the Target/Scale Height * 1000
Distance = 60 / 80 * 1000
Distance to the lighthouse = 750m
Do Rangefinder Reticles Work?
Yes, but in terms of providing an exact distance, they aren't as accurate or fast as laser rangefinders, but they can give you a good idea and work over long distances.
How accurate they are depends on the user lining up the target and of course how accurate you are when estimating the height or length of the target. If you know the exact height of the target and line it up very carefully on the reticle, they will be very accurate.
So as boating binoculars and other marine uses, reticle rangefinders are in most cases the best solution, but because laser rangefinders have become more compact and affordable they are often now more commonly used for most golf rangefinders and hunting binoculars and scopes.
Reviews: Marine Binoculars with Rangefinders
Other binoculars with Rangefinding reticles
Further Reading & Related Articles