Today's question comes from someone looking for Mid Priced Binoculars ($130 – $300 / £130 – £300) that are ideal for plane spotting near the runway as well as for taking on safari:
Question:
I am looking for binocular for near runway (~600-800m) aircraft viewing as well as wildlife safari, with good low light performance.
My short list is :
1) Nikon Action Ex 7x50
2) Nikon Action Ex 10x50
3) Celestron Skymaster 9x63
Which would you recommend ? Any other suggestion around same price range is welcome.
Answer
As of yet, I have not actually reviewed any of the choices on your short list, so cannot comment on their actual performance, but based on their specifications, I would probably go with the Nikon Action Ex 10x50's as they have a little more power and the 50mm objective lenses will definitely let in plenty of light.
Sure the Celestron Skymaster 9x63 has the potential to work better in low light conditions, but for me, they would be just too large to take with on safari.
Alternatives
I have just done a search using the Feature Search facility on my site that makes it easier to find and compare binoculars that I have reviewed with specific constraints:
What we need is a binocular that:
Has good low light performance – so large objective lenses (>=42mm) and quality glass and anti-reflection coatings
Fairly Powerful – I would say, a magnification of 10x or more
Price: Mid Priced Binoculars ($130 – $300 / £130 – £300)
Click here To take a look at my search results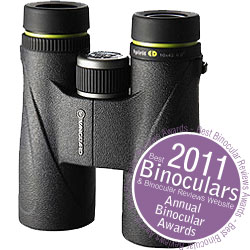 Vanguard 10x42 Spirit ED Binoculars
Form that list of binoculars that I have reviewed, I can highly recommend the excellent Vanguard 10x42 Spirit ED Binoculars – especially if you want a binocular that is a little more compact than the Nikon Action Ex 10x50 and therefore will be easier to carry with you on safari.
Yes, they may not have the large 50mm objective lenses, but the quality of the anti-reflective coatings and the fact that they use higher quality ED (low dispersion glass) means that they perform very well in low light.
Minox 10x42 BV BRW Binoculars
The next option for me would be the also very good Minox 10x42 BV BRW – the newer models may be righ at the top of your budget, but sometimes (especially on Amazon) you can still find the older (green models) that perform as well, but cost a whole lot less.
I hope that this helps.