In the UK, Minox have a voucher offer where throughout November and December you can get yourself a free gift when purchasing a number of their products.
For example:
Minox BL HD Binoculars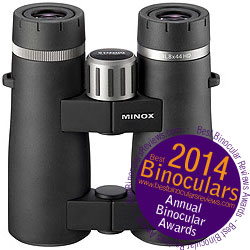 You can get a free pair of Minox BF 8x or 10x25 compact binoculars worth £99 when you buy either the Minox BL 8x44 HD Binoculars or the 10x version from a participating dealer before the end of December 2014.
When I tested the BL HD 8x44, I thought they were outstanding and up there with the very best binoculars I have ever reviewed in this price range.
Optical features include ED lens elements and phase corrected BaK-4 roof prisms as well as fully multi-coated optics, which all play their part in ensuring that the view you get through them is about as good as it gets in this class.
On top of this, with the slightly larger than "standard" 44mm objective lenses, you get a noticeable improvement in image quality and especially brightness in low light, however there is almost no noticeable difference in terms of increased size and weight.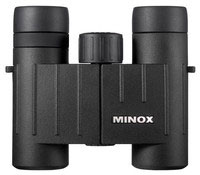 With these Minox binoculars, you can also be secure in the knowledge that they are entirely designed and manufactured in Germany using their world famous precision, finest components and their second to none expertise and quality controls. All these highlights as well as a nice wide wide field of view meant that they were in my opinion completely deserving of the Best Birding Binocular of 2014 award..
As well as this offer you can get free gifts on a number of their other products:
BV 8x42 & BV 10x42 Binoculars – Free Cleaning Kit worth £25
DTC 400 / 600 / 650 & 1000 Trail Cameras – Free set of Ansmann Batteries & Charger for the camera worth £50
More details of these offers can be found on this Document (PDF 124kb) supplied by Minox.
---
Past Offers:
Minox BL Binoculars on Sale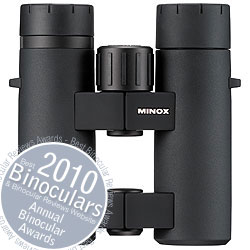 It was recently brought to my attention that one of my favorite binoculars and Winner of the Best Safari & Travel Binocular for 2010, the excellent Minox 8x33 BL Binoculars was being offered at a hugely discounted price at a number of optics retailers. In fact many of the models within the Minox BL range are now on sale, making this a great time to get your hands on a quality pair of German optics at a very reasonable price.
For example the Minox BL 8X44 BR Comfort Bridge Binocular is currently for sale at Eagle Optics for only $401:
Sale Price: $409.99
List Price: $559.00
You Save: $149.01 (26%)
Check Prices and where to buy
You can check the sale prices at Eagle Optics or Amazon in both the US and UK below:
Minox BL in the USA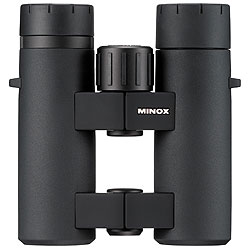 Minox BL Sale on Eagle Optics
Minox Binoculars on Amazon.com
Minox BL in the UK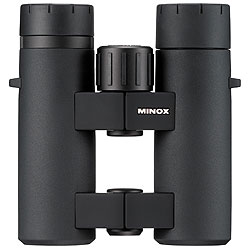 Minox Binoculars on Amazon.co.uk
More about Minox BL Binoculars
One of the stand out features of Minox's BL binoculars is their open bridge design, or as they like to call it, their "Comfort Bridge". This design ensures that your grip on them, even with one hand is just that much more secure. This is really important when for example you are walking through dense vegetation the chances of them being knocked out of your hand is greatly reduced.
This body is also fully waterproof and because it has had all internal air replaced with dry nitrogen gas filling, you won't get any fogging of the internal optical surfaces, even under severe temperature fluctuations and places with very high humidities.
Other Minox Comfort bridge highlights include fully multi-coated optics and phase-correction coatings on the roof prisms.
More Information & Further Reading