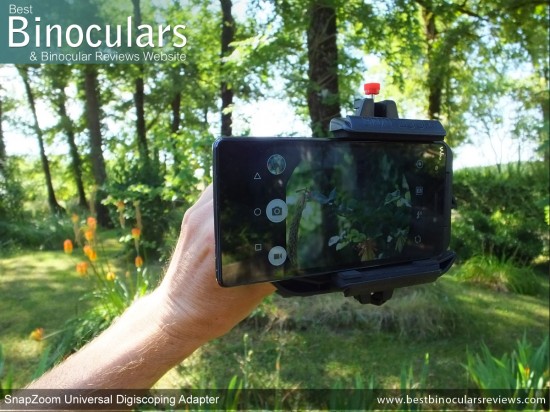 The popularity of smart phones and thus the increase in competition has meant that they have improved almost infinitely since they first came into almost universal usage a decade or so ago.
The great news for us is that this has also meant that the cameras on most of them now easily match the quality that you can get through most standard point and click cameras.
However the main issue with most camera phones is that whilst they have a digital zoom (which reduces image quality as you zoom in), they don't usually have an optical zoom, which most 35mm cameras do.
Where they do have the advantage is they are less bulky and thus not only are you more likely to always have it on your person, but it makes it easier to fix most phones to the back of your spotting scope or binoculars as there is less weight pulling down on the eye-piece.
All you need is a digibinning / digiscoping adapter, of which there are now a number on the market of which I have now used quite a few. Some ok, some good and some excellent.
SnapZoom Universal Digiscoping Adapter
One of the latest is the SnapZoom Universal Adapter, that I was recently sent to me test out and then review:
Main SnapZoom Body
The first thing I noticed on unboxing which in in my experience is a little unique is that it has twin eyepiece grippers and thus makes it more specifically designed with binoculars in mind although the manufacturers stress that it can also be used just as effectively on instruments with a single eyepiece like spotting scopes, telescopes and microscopes.
Designed in Hawaii and manufactured in China (like most things these days), most of the SnapZoom Adapter is made from a polycarbonate plastic with a few metallic parts and details.
On the whole I was impressed with the initial look and build quality on the SnapZoom universal adapter , sure polycarbonate may not be quite as robust had it been all made from a metal like machined aluminium, but then it has the advantage of being more lightweight.
I feel this point is important as a heavy adapter pulls down on your eyepiece more and so to counter this force you have to tighten the fixing more making it more difficult or time consuming to take the adapter off and put back on, not to mention the potential damage you may do to the rubber covering on your instruments eye-piece.
What Phones can be used with the SnapZoom Adapter
In simplistic terms, the SnapZoom will work with with pretty much any phone that is less than 3.67 inches / 9.3cm wide that has it's camera lens placed on the rear face. Which to my knowledge covers most of the smartphones currently on the market.
Setup Instructions
I found that fixing my phone to the adapter and then attaching it to my binoculars and scope to be fairly simple. As with all adapters, there is always a small amount of tweaking that needs to be done, but the SnapZoom is to date the easiest adapter that I have used in terms of setting up.
Rather than me trying to explain the whole procedure, take a look at the excellent video below that SnapZoom have put together that goes through all the setup steps in a simple way and I will add a few points that I feel are worth noting under it:
Phones with Side Mounted Power Buttons
If like me, your phone has side mounted buttons, then these can quite often be problematic when trying to fix it to an adapter.
In the past I have had to cut out sections on the mounting jaws of the adapter I am trying to use in order to prevent it from switching my phone off when placing my phone in it (see my Carson Adapter Review). However with the SnapZoom Universal Digiscoping Adapter, this is not something that you have to worry about as they have come up with a very simple solution to this common problem – you will find a strip of padding included in the box that you can add to the jaws around your buttons on your phone and thus easily prevent it from pressing them. Very simple, yet completely effective.
Secure
Once you have set up the adapter to match your equipment, placing your phone within the two jaws is really simple and it has a very secure hold on it. I found this to be true even once I had added the two small extra bits of padding (see image below) to make way for the buttons on my phone.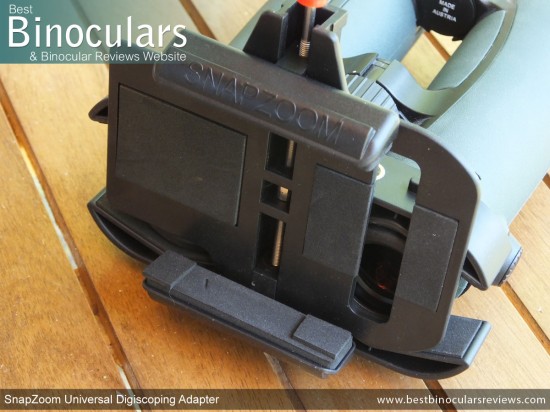 Attaching the Adapter to the Eyepiece(s)
Binoculars
For me the ease with which you can fix it to your device and just how secure it attaches, is one of the real highlights of the SnapZoom adapter. This is especially the case if you are using it with a pair of binoculars as unlike most digibinning adapters, this one fixes to both eyepieces for added grip.
As if this was not enough the adapter also comes with a safety cord, so should your adapter get knocked off the eyepieces, there is a cord that will prevent it from falling to the ground. This is a nice touch and shows a good attention to detail.
At first I did think that this design would make it impossible to take portrait photos, but of course you can easily turn the binoculars and the adapter on it's side, rather than orientating the phone 90° around the eyepiece. So in actual fact it is really simple.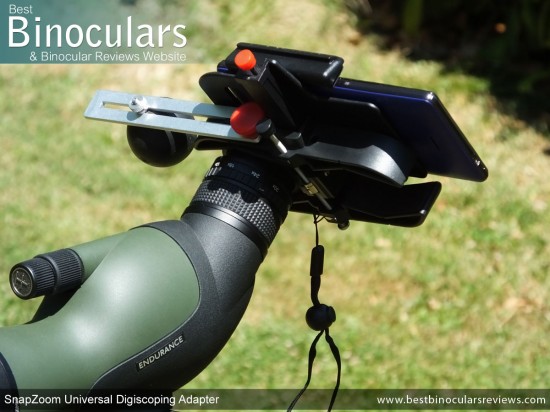 Spotting Scopes
When you first open the box you will also find a rather heavy ball and a small aluminium strip. The use for these extra bits can seem puzzling at first, until you realize that put together and screwed into the adapter they act as a counter balance when using an optical device with only a single eyepiece like a spotting scope, telescope or perhaps a microscope.
This super simple solution to a common problem is genius and really does make a huge difference to finding and keeping a setup up that works.
I am the kind of guy that like to get going before reading instructions and so I first used the adapter on my scope without the balance bar and like most other adapters, I struggled to get the whole setup working with the correct amount of eye-relief on the twist-up eye-cup of the scope as the unbalanced adapter would just twist the eye-cup around.
I struggled with this and eventually got it working, but like many other adapters, it was a little hit and miss.
Then I read the instructions! After very quickly mounting the balance bar to the adapter, I found that achieving a balanced setup that would work very quickly with a minimal amount of messing about was really simple.
This simple solution to a common problem is fantastic and whilst it is true it does add a certain amount of weight to your overall gear, as long as you have a decent tripod this is no issue at all.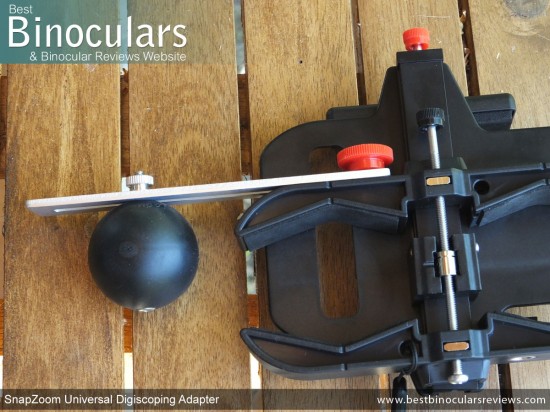 Included Accessories
As well as the SnapZoom adapter itself, inside the box you will also find:
Soft Carry Pouch with extra pocket for storing the accessories
Counter Balance and Aluminium Arm
Extra Padding for the Grippers
Small Screwdriver
Compare Current Prices & Where to Buy
Advice on Equipment
Size & Quality of Optics
There is no doubt that along with talent, practice and patience, the best way to get better photographs is to use good quality optics – this goes for standard photography using just a camera and a lens, but also for digibinning/digiscoping.
This does not mean however that you have to go out and spend a fortune getting the best pair of binoculars / spotting scope on the market, but a really cheap optical instrument will do you no favours all all. There is no doubt that optical instruments that use quality optical components and coatings are not only better to look through, but you will get better photographs through them.
Aside from that, it is important to get as much light as possible, so whilst it is possible to use this adapter with a pair of compact binoculars, you will find that your images will be brighter and more vivid using a bin or scope with large objective lenses. This point is even more important in low light conditions and if you want to take images at night of the moon an stars, it is vitally important. For more on why, please take some time to read my guide on the Exit Pupil.
Using the ABEO Pro 283CGH Tripod & GH-300T Pistol grip with the Vanguard Endeavor HD 82A Spotting Scope, which I would highly recommend as a good mid-high range scope for digiscoping
Tripod
I got incredibly good results that I was actually really surprised with by simply hand holding my 8x binoculars as still as I could. this is great news for anyone who wants to travel light or for that more spontaneous shot.
However there is no doubt that you get better results with a tripod, be that with your bins or when digibinning with a scope. In fact with the latter, I would say that it is imperative.
To attach most bins to a tripod is really easy these days as most will accept a standard tripod adapter, which in turn are designed to be attached directly to a tripod, or a tripod head.
For those who are interested my setup, which I really like and always recommend is firstly a pistol grip type tripod head that makes it really quick and easy to aim the scope or bins, I currently use the Vanguard GH-300T along with the matching tripod – you can read my full review of both here: Vanguard ABEO Pro 283CGH Tripod.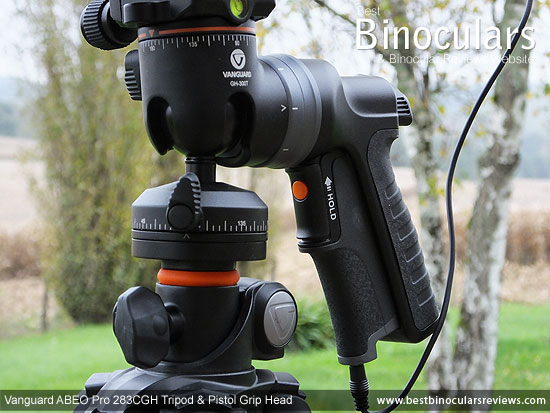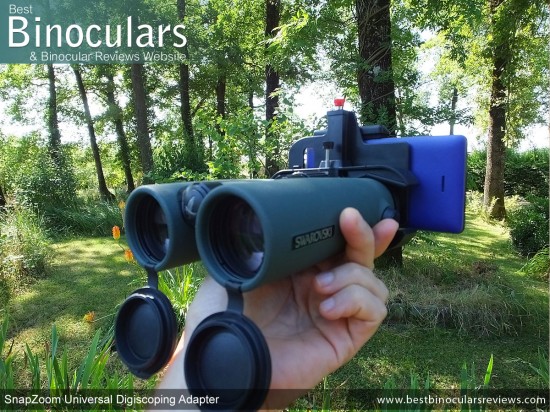 Sample Digibinning Photos
Please note as and when I get more photos using the SnapZoom, I will be adding them to this gallery as of now, these are the ones that I have taken that are either of interest for a particular reason, or ones that I deem to be worth to be posted!
Swarovski EL 8.5x42 Binoculars
Below are a sample of photos that I took using the SnapZoom adapter and a pair of Swarovski EL 8.5x42 binoculars. As this is up there with the very best binoculars that I have ever used, there is no doubting the quality of the optics. So the only excuse I have is with my skill level!
I have included this first image below as an example of what you get before you use the zoom on your phone. As you can see the edges are very sharp and this is important to achieve when you set up your equipment.
It is also interesting as this photo was taken without the use of a tripod, in a quite thickly wooded area (see image above) and as such I would describe the available light as being moderate and far from ideal, yet I was still able to take what I think is a fairly decent photo.
This second image is interesting as there was plenty of light and this photo was taken of a flower right at the top of an Acacia tree that I have in my garden. Once again I was not using a tripod when I took this.
Example Digiscoping Photos
Hawke Endurance 12-36x50 Spotting Scope
I took the sample photo using the SnapZoom attached to the incredible little Hawke Endurance 12-36x50 Spotting Scope that I was also reviewing at the time.
Whilst there is little doubt that a scope with a larger objective than the 50mm version will let in more light, I really like having lightweight equipment and being able to move about more freely and I do think that the results I managed to get in the short time I had both the scope and adapter together were more than satisfactory.
The photo below was taken in good lighting at about 25x magnification with the digital zoom on my camera set to about 2x: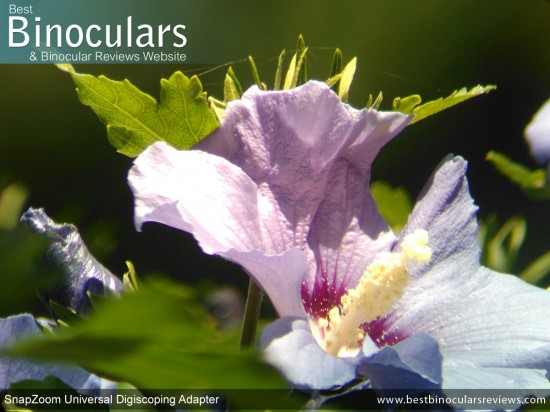 The image below was taken at full 36x magnification and with the phone's digital zoom at about 2x. As you can see there is a little color fringing, but keep in mind this photo is really pushing the boundaries of combining a small scope and a reasonably high magnification: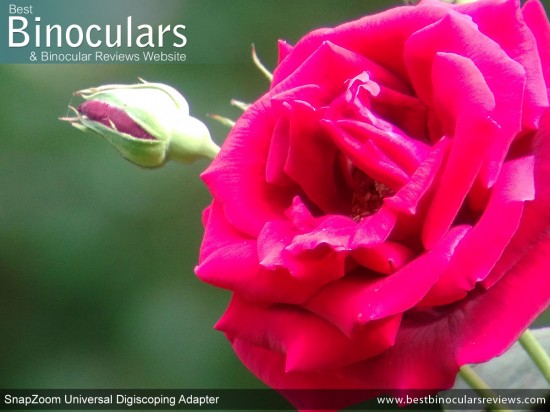 Conclusion
The SnapZoom Universal Adapter is now without question my favorite digibinning adapter and one which I have absolutely no hesitation in recommending to anyone who is interested in taking photos through their binoculars.
This well built and simple to use adapter takes a lot of the frustrations out of digibinning that I have experienced in the past and for me is now a real and viable way of taking good or even great (if you have talent) photos through your binoculars.
As a digiscoping adapter for use with a scope, it is perhaps not the clear leader, but is about as good as any other one that I have used in the past.
Main Strengths:
For use with binoculars, the double jaw that latches onto both eyepieces is superb and most certainly is by far the best and most secure fixing method that I have so far come across. It also is incredibly simple to set up and take on and off the bins, but at the same time quickly get to the point at which you can take photos.
Whilst not quite as secure, using the SnapZoom Adapter on a scope for digibinning is also good and I do like the included counter balance weight that really does make a difference to getting a balanced setup that remains exactly where you want it!
One of the major strengths of this adapter in comparison to many others is just how quick it is to set up to match your gear and then how quickly and easily you can put it on and take off your binoculars or scope when out in the field to take good pictures. This point cannot be understated as there is nothing worse than coming across that once in a lifetime opportunity to photograph a bird or animal and it moves off as you struggle to get all your gear to work together.
Issues:
As of yet, I have really not found any major issues or problems with the actual SnapZoom adapter itself and is currently without doubt the best universal adapter that I have used with pair of binoculars.
I did however have one of the Zippers on the carry bag get stuck and as I tried to get it free, it broke apart. I was however able to fix it, but just be aware that the metal used on the Zip is very lightweight and can easily bend.
Where to Buy & Prices
At the time of writing, I found the SnapZoom Adapter available on Amazon in both the UK (£70) and the US ($74), for the latest prices and to buy, follow the relevant link below:
Further Reading