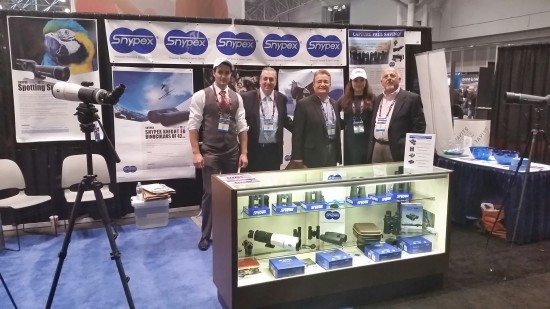 November 2014
About SNYPEX, LLC
Operating from Long Island in New York, SNYPEX describe themselves as a Tactical and Sport Optics Company. They have a rapidly expanding portfolio of Sport Optical Products that includes high end ED and HD Binoculars, ED Spotting Scopes, Digi- Scopes and Binocular Laser Range Finders designed for law enforcement and the military. More Info: About Snypex Optics & their Binoculars.
All optics brands, but especially the newer ones like Snypex Optics have to get their name and products out there as much as possible and that is why it was great to see them exhibiting at the recent PDN PhotoPlus International Conference + Expo in New York.
The largest imaging and photography expo in North America, PDN PhotoPlus has over 220 exhibitors and attracts over twenty thousand people that includes professional as well as amateur photographers and enthusiasts.
Snypex were showing off their entire range of products at the show including their impressive Knight ED 10x32 binoculars, that recently won the 2014 Best Safari & Travel Binocular award and which was proudly displayed on the banners at their stand.
They also announced a couple of exciting developments including the introduction of the new laser range finder binoculars that they say have a range of 1800 meters as well as their smallest ED binoculars (10x20 and 8x20mm). More information on these instruments will follow shortly.
Related Articles
Where To Buy Snypex Products
As well as directly from the company, Snypex Bins, Scopes and their other gear is now available from a wide range of retailers in the US, Canada and the UK: