Rather than using a standard camera, one of the most convenient and easiest ways to get into either digibinning or digiscoping is to use the camera on your smartphone – as you will most certainly already have a phone and probably always carry it about, all you need is an adapter to connect it to your optical device.
When this idea first became popular, most adapters were designed to only accept the current iPhone, which at the time was by far the most dominant smartphone on the market and so many makers of adapters just ignored the rest of the market.
As the dominance of Apple's iPhone diminished, we started to see more and more adapters come onto the market that were now designed to accept any phone. Some like the Carson Universal Optics Adapter were and indeed are still excellent and others, not so good!
SNYPEX X-Wing Adapter
One of the newer players in this market is Snypex Optics and their X-Wing SP1 Universal Smart Phone Adapter, that is advertised as being able to accept any smartphone currently on the market.
I recently got hold of one to review and indeed for my personal use. Below are my thoughts and the full review:
Main X-Wing Body
Colored black (see parts diagram below), the main body section of the X-Wing adapter is made from what looks to me to be a hard polycarbonate material.
The aluminium X-Wing Panel that you use to fix your phone to then attaches to this body using a high quality machined aluminium Blue Alignment Knob.
Whilst it is not the lightest universal smartphone adapter that I have used, it does look and feel far more rugged and better made than much of it's competition that are usually have far more plastic parts.
X-Wing Main Parts Diagram
Attaching & Aligning your Phone
When you first read the instructions on how to attach the phone to the adapter, it looks to be a little complicated, but in reality it is really straightforward and basically all you have to do is screw the 4 Rubber Posts into the correct Positioning Threads for your size of phone, so that they keep it securely locked in place when pushed down onto the X-Wing Panel.
That's it! The fit is very secure, but without being difficult to attach or remove your phone.
Phones with Side Mounted Power Buttons
The customizable placing and small contact points of these four Rubber Posts is one aspect of the Snypex X-Wing SPA1 Adapter that I really like and appreciate when compared to some of the other fixing methods I have used in the past.
I say this because my phone, like many has it's on/off and volume control buttons on the side of the phone, which often get in the way of the fixing apparatus, which leads to your phone being switched off every time you try and mount it. With the Rubber Posts on this device, you can simply play about with which Positioning Threads you use to ensure that they miss the buttons on the phone. Genius!
Attaching the Adapter to the Eyepiece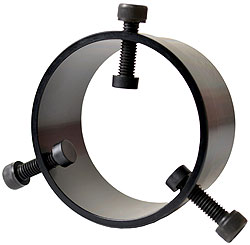 Unlike many adapters that fix directly to the eyepiece, Snypex have separate Connecting Tubes that fit into a recess on the main body of the adapter and is held in place by simply tightening the Axial Locking Knob on the top of the X-Wing.
The X-Wing comes included with the Snypex Universal Eyepiece Tube (SNY-EPT1) (image right) and if you need, you can also get another tube designed to work specifically with the Snypex Digiscope.
I really like this arrangement as it firstly makes it easier to fit to your eyepiece as you do it before attaching the rest of the adapter.
Secondly it is then far easier to change the orientation of your camera from landscape photography to portrait by simply loosing the Axial Locking Knob and turning adapter around the eyepiece tube. With other adapters you have to loosen the grip on the eye-piece, which usually means that you have to the re-adjust the adapter to the correct eye-relief again so as to get the full field of view, which at times can be a little tricky to do, so is not something you want to have to do too often.
Compatibility
Phones
The Snypex X-Wing Adapter is designed to accept any smartphone with a screen size from 3 to 6inches (phone width of 2.16 to 3.46inches) and with a thickness of between 0.19 and 0.59 inches, which should cover most conventional modern phones
Spotting Scopes and Binoculars
The universal tube (SNY-EPT1) with it's clamping screws that forms part of the X-Wing is designed to accept eyepieces with a diameter of between 30 and 60m, with a minimum eye-relief of 4.5mm, which once again should easily encompass most binoculars and scopes.
I had no problems at all setting up the X-Wing on any scope, however I did find a problem one some binoculars that have a focus wheel positioned very close to the eyepiece as this made it hard to fit the adapter so that it lined up centrally with the ocular lens.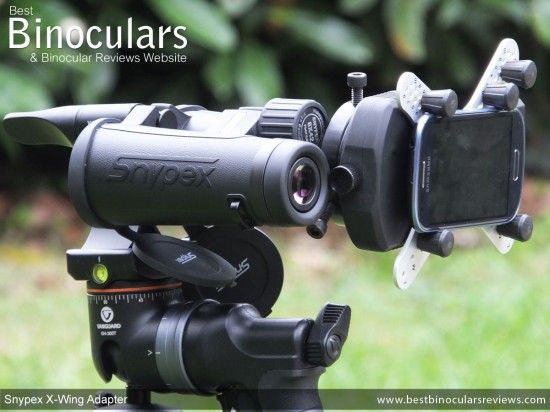 Using the Snypex X-Wing Universal Adapter
Once I had my phone positioned securely in the X-Wing panel and the Universal tube fixed to the eye-piece of the scope at the right distance and lined up with the eyepiece, using it to take photos was really simple.
Portrait & Landscape
Changing the orientation of the shot is also really simple as all you have to do is loosen the "Axial Locking Knob" located on the top of the X-Wing, which frees up the Universal tube enabling you to rotate it about the eyepiece. Then when you have decided on the framing, you just tighten it again.
This is a far better solution than on some adapters where you have to loosen the grip of the adapter from the eye-piece to turn it because you then also have to make sure you do not change the eye-relief.
Advice on Equipment
Size & Quality of Optics
As with all photography and indeed optics in general, the better the quality of the optics you use, the better the quality of image you can produce.
Thus if you want to take better quality images you are far better off by firstly using a larger scope or binocular that can capture more light.
Then those with better quality glass and coatings will not only transfer more light through the device, but the image that exits the eyepiece will be of a better quality (with less distortions) as well.
Tripod

As with any form of high magnification photography where you are using a telephoto lens or something similar, a tripod is highly recommended (for binoculars) and pretty much essential when using the adapter with a spotting scope.
Whilst scopes have a mounting foot that is designed to fit onto the head of your tripod, if you are using binoculars, you will need to first make sure that the optics you are using are easily tripod adaptable and then get yourself a tripod adapter. Most modern full sized binoculars are tripod adaptable and the adapters are easy to find and fairly inexpensive.
As for a tripod, I would suggest getting one that is both easy to carry about, but also offers the most stable and secure base possible, especially when using a scope. I use the Vanguard ABEO Pro 283CGH Tripod , which I can highly recommend.
To make aiming the scope or binocular far easier and more quickly, which can be super important when trying to capture birds or insects, I also highly recommend (if your budget allows), that you get something like the Vanguard GH-300T or GH-100 pistol grip ball head.
Sample Digiscoping Photos & Video
Snypex Knight T80 ED APO Spotting Scope

The photos below were taking using the X-Wing attached to the very high end Snypex Knight T80 ED APO Spotting Scope.
As you would expect, I found this combination work particularly well. The large 80mm Snypex scope with it's very high end optics deliver a superior quality and bright image that makes it much easier for your phone camera to capture a half decent photo.
Fitting the adapter to the eye-piece of the scope was also very straight forward:
Opticron MM3 60 GA ED Travelscope

I took the sample photo's and video footage below using my Samsung Galaxy Mini phone, the Snypex X-Wing adapter and the compact
Opticron MM3 ED Travelscope whilst I was testing the scope for review.
Whilst the 60mm objective on this Opticron is a much smaller than that of the 80mm on the Snypex, I was still really impressed as to the quality and brightness of footage that I was able to capture. Once again I had no issues and it was straight forward to fix the X-Wing onto the eyepiece of the Opticron scope:
Included Accessories
Carry Case
The X-Wing comes with it's own soft carry case that is both well made and well padded.
Whilst the adapter does not really require the padding, it is important if like me you decided to keep the phone fixed to the adapter, stored within the case whilst moving about in the field.
The case has a flip over lid that is held closed with a strip of Velcro on on the rear a spring-loaded and metal karabiner (mountaineering hook) that makes it really easy to attach to may objects including a belt loop on your trousers.
Instructions
Within the box you will also find a reasonably detailed and comprehensive user manual that contains a number of diagrams and photos to helps with setting up and using the X-Wing.
Warranty
Also included is a Snypex LLC Optical Registration Warranty card that you can fill in and post back to Snypex.
Conclusion
I am not sure if it is possible to make an adapter that will work perfectly across every single combination of smart phone and pair of optics, but for my money, along with perhaps the Carson Universal, the Snypex X-Wing SPA1 Universal Adapter is about as good as it gets.
It is really well made, very robust and usually only takes a few moments to connect to a variety of instruments and then you are ready to take video or photos.
I also really like the fact that once setup to cradle your particular phone, all you need to worry about is to then align it up with the eyepiece on what ever optical device you are using. This process gets even easier and quicker if like most you will only be using it with one binocular or scope, because once it is set-up, that's it. From then on adding or removing the adapter is super quick and easy.
On the whole, I highly recommend the Snypex X-Wing adapter, especially for the use with spotting scopes. If you plan to use it with your bins, just make sure that your binocular has a reasonably good amount of space between the focus wheel and eye-piece.
Strengths:
Other than this being a "universal" adapter which can thus be used with almost any phone and binocular/spotting scope combination, the other main strengths are:
1) It is incredibly well made from high quality materials. The aluminium X-Wing panel, eyepiece tubes, knobs and fixing screws are excellent and whist not the lightest product on the market, it more than makes up for this with it's robust construction.
2) The method of fixing them phone to the X-Wing panel with the rubber posts is pure genius. Sure it may take a little longer in the beginning, but once you have it set-up for your particular phone, this setting remains in place and will not have to be adjusted again and from then on putting your phone into or taking it out of the cradle is very quick and simple.
3) I also like that the way the rubber posts hold the phone very securely in place (better than any I have used before) and because the contact points are small and customizable, you can position them so that they don't press any of the buttons on the phone (like the on/off switch), which has been a major issue for me in the past.
Problems:
As with any "one size fits all" product, there will inevitably be some combinations that won't work or at least require some sort of tinkering to make them compatible, even within the limits that they specify. Indeed I am yet to use any adapter for digiscoping that has truly been universal.
With the Snypex X-Wing, the main issue I have come across is not with the fitting of the phone to the adapter, but with attaching the adapter to the eyepieces on binoculars for digibinning in particular.
In order for the adapter to work with as many eye-pieces as possible, the diameter of the universal eyepiece tube is large (6.5cm) and quite deep. This can cause a problem when you have a binocular with a focus wheel that is designed in such a way so that the central focus wheel is very near to the eyepieces as there is not enough room to position and centrally fix the eyepiece tube.
I had this problem on a number of mid sized binoculars and indeed was the case with Snypex's own Profinder HD 8x42 Binoculars.
So if you plan on using the adapter for digibinning, I would just be aware of this issue, otherwise as a digiscoping adapter to be used with a spotting scope I have yet to come across any compatibility issues.
Cameta Camera's Review of the X-Wing
I discovered this video review from Cameta Camera of the Snypex X-Wing Universal Adapter, that I thought was pretty good and goes many of the main points and is well worth watching to get another perspective on the device:
Where to Buy & Prices
In the US and Canada, you can easily find the Snypex SPA1 X-Wing adapter on sites such as Amazon.com where they currently set you back around $99. In the UK they are harder to find (at the time of writing), but you may still want to check the following links below:
Further Reading