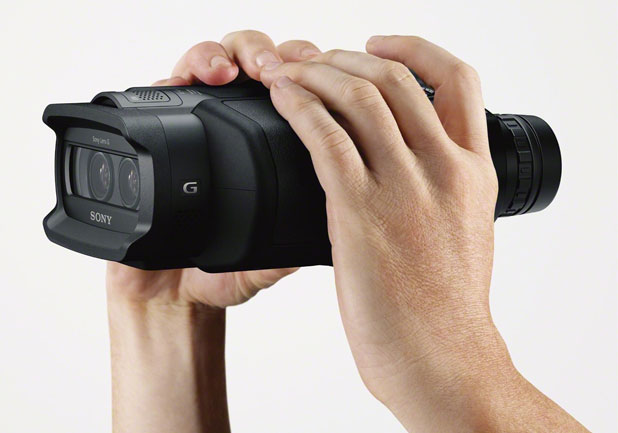 Sony aims to bring binoculars into digital age with their digital binoculars with HD video recording in both 2D and 3D
Digital camera binoculars have been around for a long time and many of you will know from my past posts that whilst they sound like a really good idea, they just don't work, are a bit of a gimmick and you are far better off getting yourself a separate pair of binoculars and a digital camera.
Actually the biggest improvements to the standard binocular over recent times has been the quality of the optics and their coatings that produce images far superior than what our grand parents would have seen. Electronically-controlled image stabilization is also available on a few binoculars like the range of Canon IS Binoculars, but for the most part, binoculars remain the same basic product they were decades ago.
Sony hopes to change this and have launched the 'world's first' digital video binoculars that records video in Full HD at 1080p.
Aimed at the sports, nature and bird enthusiasts, there will be two models, the DEV-3 and the DEV-5. Both of which use the AVCHD 2.0 format to record footage in both 2D and 3D and unlike traditional binoculars, they will have an electronic autofocus to keep moving objects in focus at all times.
0.5x – 10x Optical Zoom
The Sony Digital Video Binocular/camera capture separate images for left and right eyes using a pair of precision G Lens optics (dual f/1.8-3.4, 0.5-10x optical zoom) and which capture images using a pair of Exmor R CMOS sensors and Sony's BIONZ processors.
You can select the variable zoom to scan a wide area at low magnification and then zoom in on a subject, such as birds in a field. This maximum 10x optical zoom is about the same as most conventional binoculars, but you have the advantage of being able to reduce the magnification, which you can't do on standard binos. In 3D mode, the binoculars' maximum magnification is 5.4x optical. The DEV-5 also has a digital zoom of up to 20x digital, but remember image quality will be reduced when digital zoom is on.
Unlike traditional binoculars where you look through the lenses, on these Sony's you will be viewing the images on a pair of 1,227 dot resolution viewfinders. Which has to be one of their main keys to success as in the world of cameras, there are many people who loathe them, so I just hope that they work well.
Their minimum close-focus distance of less than a half inch when recording 2D imagery and 32 inches when recording 3D looks to be impressive.
Image Stabilization
The DEV-3 and DEV-5 digital binoculars will also feature Sony's Optical SteadyShot image stabilization which should help to keep the view stable even when viewing at full magnification. This is the same optical stabilization system that is found on their Handycam camcorders and their Cyber-shot cameras.
Body Design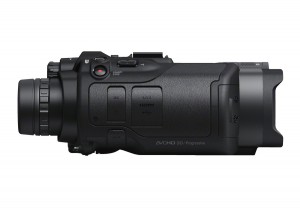 From the pictures that came with the press release, they look great and rather similar to Canon's Stabilized Binoculars. Sony say that this "stealth" design without any distracting buttons or external details has been made to help conceal your position from birds and other wildlife.
Other than that they are coated with an elastomer material for a more secure grip and all controls are mounted on the top to allow easy operation with gloved fingers. There are also dual record buttons to enable you to start recording instantly with either hand.
Sony DEV-3 vs DEV-5
There is actually not a huge difference between the Sony DEV-5 and DEV-3. The DEV-5 has a few extra features including a GPS that automatically geo-tags video clips and photos. It also has an extra x10 digital zoom mode for a total of x20 zoom in movie mode (x10 optical), and double the optical zoom in photo mode to up to x15/x20 vs x7.5/x10 on the DEV-3. You also get a few more accessories that includes a faster charging adapter and higher capacity battery.
Availability
The new Sony DEV-3 and DEV-5 digital binoculars are expected to be available in November 2011 with a price of around $1400 and $2000 USD.
So there you have it, it is now time for Digital Video Camera Binoculars to be released onto the world and I just wonder are they set to be the next big thing or just like digital camera binoculars, basically a gimmick? All I know is I will reserve judgement and can't wait to get my hands on a pair to review… (big hint Mr. Sony!)