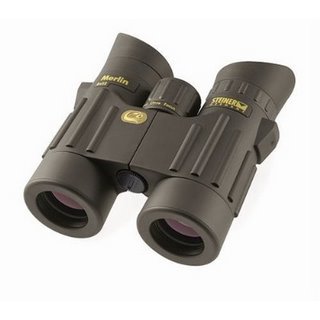 The whole series of Merlin Binoculars from Steiner have been designed with Birdwatchers in mind and these Steiner 8x32 Merlin binoculars will not disappoint as a great pair of bird watching binoculars.
The have a slightly smaller ocular lens diameter (32mm) when compared to the Steiner 8x42 Merlin Binoculars that I fully reviewed earlier. Which mean that they will let in slightly less light but they still have an excellent exit pupil factor of 4 (you can work this out by dividing the ocular lens diameter by the power of the binocular, so with these Merlin binoculars divide 32 by 8 giving you 4. See my Binocular Glossary for more on the exit pupil) The advantage of a smaller ocular lens when compared to the 8x42 Merlin's is that they are lighter and smaller, ideally suited for longer walks or hikes as well as being easier to pack away in a bag. It also means that these Steiner 8x32 Merlin binoculars are slightly cheaper than the 8x42's, which is always welcomed.
Another feature to all Merlin binoculars, including this set is the unique earth tone dark brown colour that they are coloured in, it may seem trivial but according to Steiner this colour was specially developed to be the colour least noticeable by birds and many other species of wildlife. Important for not scaring away that rare sighting of a Dusky-Capped Flycatcher with a sudden flash of binoculars.
The Steiner optics are made with usual precise German engineering with only the best optical glass. They are coated with Steiner's own natural colour transmission multi-coating which is said to yields extraordinary clarity resolution and colour fidelity as well as boost light transmission a lot more than similar binoculars in the same price bracket.
Another important feature for wildlife and especially birdwatching binoculars which these Steiner Merlin 8x32 binoculars have is the ability to focus on the object fast. Steiner's "Fast-Focus" system allows you to go from close focus to infinity with only two full turns of the focus wheel.
The Steiner 8×32 Merlin Binocular are also water resistant and are guaranteed not to fog up or leak and come with Steiner's great 10-year guarantee.
US Shoppers
Steiner 8x32 Merlin Binoculars on Amazon.com
UK Shoppers
Please note that in the UK, Merlin binoculars are branded Steiner Skyhawk binoculars:
Steiner 8x32 Merlin Binoculars on Amazon.co.uk