Steiner Optics position and market the Ranger Xtreme in Europe as high performance, mid-price range hunting binoculars (eg: view this article on the Best Hunting Binoculars for Under $600), but after taking a look at their features and specifications, I have to say that there is also no reason why any of the Steiner Ranger Xtreme binoculars would not also make a great option in a wide range of other uses including most general outdoor sporting activities like wildlife observation, birding and depending on the model, travel, safaris and for watching outdoor sporting events.
Not available in the USA?
Due to differences in the US and European markets, Steiner does not offer the Ranger Xtreme in the USA (although it is possible to find them if you look hard enough). However, they do have the HX series. Whilst, not an exact clone of the Ranger Xtreme, it is close, with many similar features and a few different configurations -> Steiner HX Binoculars.
In this mini review, we will go over what I believe are their main highlights, weaknesses, features and specifications. We will also briefly review each model within the Ranger Xtreme series and see if they do indeed offer a good price to performance ratio and which models you should choose for your specific needs.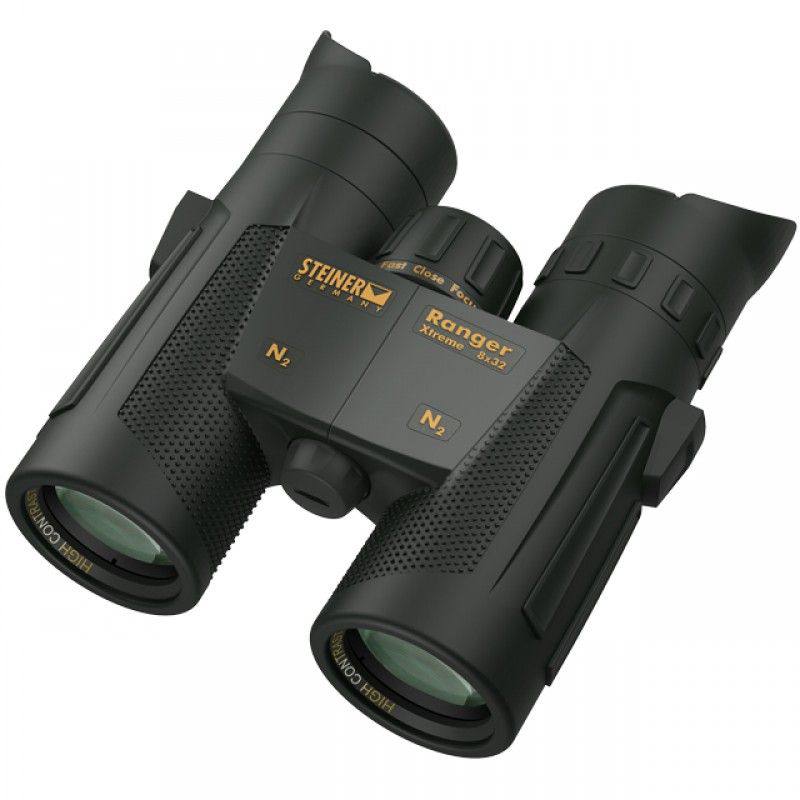 Models
Steiner Ranger Xtreme Binoculars are currently available in a mid-sized 8x32 version that really caught my eyes, two full-sized models (8x42 and 10x42) as well as a large 8x56 model. All binoculars within the series use roof prisms.
Exterior Features
Makrolon Housing
The chassis on these mid-range instruments are made from Steiner's extremely tough Makrolon polycarbonate which is the same material that they use on their high-end instruments. It is lightweight and can famously survive large impacts.
Water & Fogproof
As you would expect at this level, these chassis is fully sealed making it waterproof and then nitrogen gas is used to prevent the internal lenses from fogging.
NBR-Longlife Rubber Armour
Most of the outer surface is covered in Steiner's NBR-Longlife rubber armouring which once again is also used on the high-end instruments.
This special rubber adds a further layer of protection to the optics and is also more resistant to the hardening and perishing caused by the sun as well as the oils and acids that often get transferred onto your binoculars via your hands.
Fast-Close-Focus System
Steiner has opted to use a high geared focus mechanism on these instruments. Marketed as their "Fast-Close-Focus System" it means that the focus wheel requires fewer turns to go from one extreme to the other and as such ensure you are able to focus onto your subject more quickly.
The downside to this is that it in theory makes fine tuning the focus a little more difficult.
Side Shield Eyecups
Another excellent feature on these Ranger Xtreme binoculars and which Steiner use on may of their instruments are the shields on the sides of the twist-up eyecups. Made from a soft, but hard-wearing silicone, they are not only comfortable, but they also block out light and any distractions from the periphery of your view. I really like this as it not only enables you to better focus on your subject, but it helps maintain a better view no matter what direction the light is coming from.
Optical Features
Produced Inhouse
The optics (lenses and roof prisms) on these Steiner binoculars are produced in Germany in their own facility. Steiner sources their optical glass from Hoya in Japan and Schott in Germany, both of which are considered to make the finest available.
For more on how they make their binoculars take a look at my Factory Tour article: BBR Visits Steiner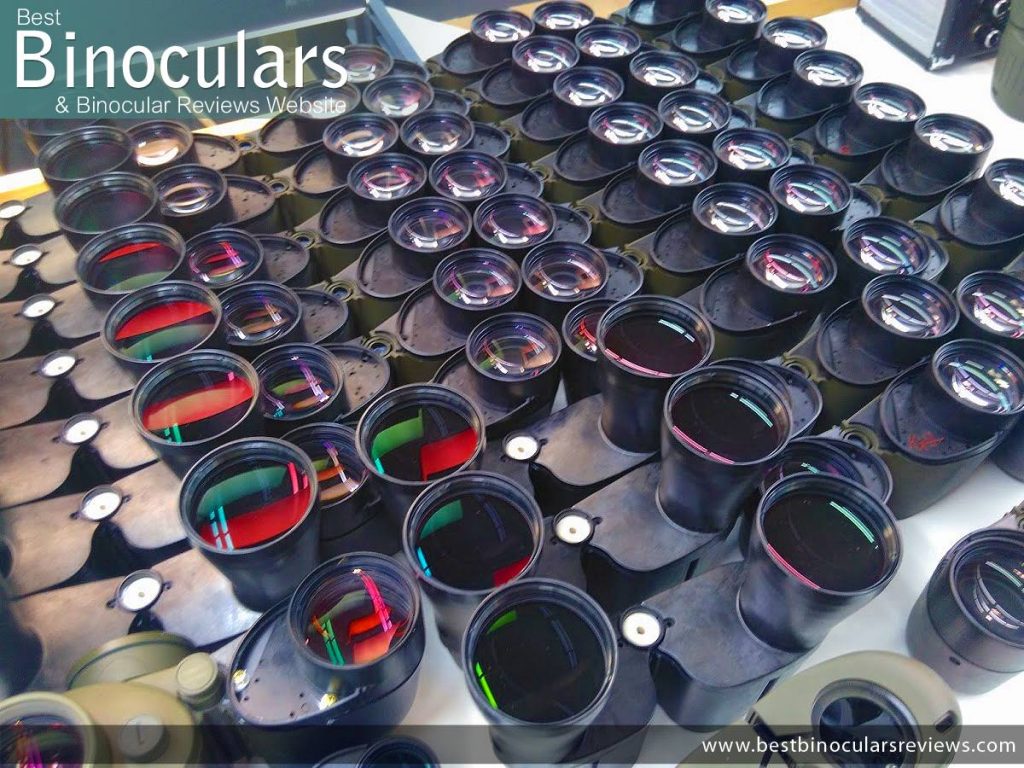 Steiner High-Contrast-Optics
As for the coatings, the optics system is fully multi-coated with Steiner's High-Contrast-Optics that they say provides "bright, brilliant views, accurate colour and clear images with high contour sharpness", but no further details are supplied.
Steiner Ranger Xtreme 8x32 Binoculars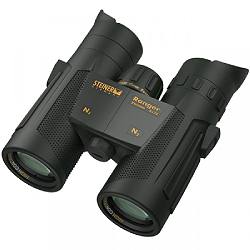 In my opinion, a real highlight within this series is the 8x32
Ranger Xtreme:
Wide FOV
Firstly these Steiner Ranger Xtreme 8x32 Binoculars have an impressively wide field of view (399ft @ 1000 yards / 133 m @ 1000m).
For hunting, this is certainly an important feature making it easier to scan areas looking for wildlife, but a wide FOV is also highly cherished for general nature and wildlife uses and in particular bird watching. This is because it enables the user to more rapidly get the bird in view and makes it much easier to follow them at closer ranges.
Ideal Travel, Safaris & Outdoor Sports Binoculars
Their more compact shape and this wife FOV mean that as well as for lightweight hunting, these make great binoculars to take on most travel adventures, including birding holidays and safaris (especially for those who also appreciate birding).
Another excellent use for them would be to take them along to most outdoor sporting events like football, cricket, golf and horse racing. Once again the size makes them easy to store in your daysack and the wide view means you can take in more of the action without having to pan the view about and so get a fuller picture of what is going on and ensuring that you never miss out on any critical off the ball plays.
Steiner Ranger Xtreme 8x56 Binoculars
On the opposite end of the spectrum to the mid-sized, easy to carry 8x32 model above are the fairly large 8x56 Steiner Ranger Xtreme Binoculars.
Here the emphasis is not on portability, but rather on low light performance and offering the user high-quality views even in very poor light conditions.
Here larger 56mm lenses are used because, just like the larger windows in your house, they are able to collect and let in more light than smaller ones. This, working in combination with Steiner's fully multi-coated, High-Contrast Optical system means that more light gets to your eyes for you to percieve a brighter image.
Ideal Uses
These main characteristics make them an ideal option of the hunter, wildlife observer or birder operating from a more static position like a hide or even your front porch and who often is out before dawn or just after sunset, or indeed if you are positioned in a thick forest or woodland where good available light is an issue.
Bino Harness
However these really are not that much larger than the standard 42mm options and by using a good binocular harness they can most certainly be carried very comfortabl over long distances even whilst carrying other gear like a rifle, bow or camera.
For hunters, this can be especially important and I recommend taking a look at my guide to the Best Binocular Harness for Hunting that includes a number of options capable of accepting larger sized instruments.
Steiner Ranger Xtreme 10x42 Binoculars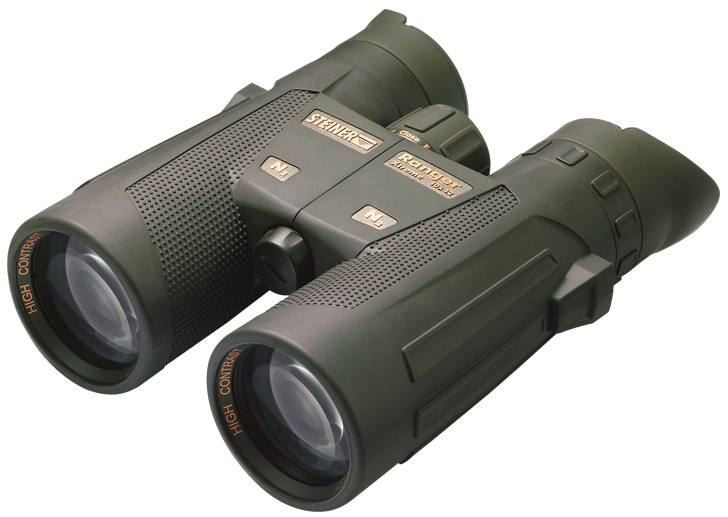 The 10x42 Steiner Ranger Xtreme binocular is most likely going to be the model that most hunters opt for because most people assume a higher power must be better…
This can be the case, but Not always because unless you are specifically viewing wildlife or hunting (or indeed birding) over longer distances and wide open spaces, the 8x42 will be a better option for most users:
Field of View
It is true that by increasing the power you get a greater image detail at longer ranges, but at the same time, you reduce the field of view which is also really important. and it must be said that at (108m @ 1000m / 324ft @1000 yards), the FOV on this 10x42 Ranger Xtreme is reasonable for a 10x instrument, but nothing special.
Exit Pupil & Low Light Ability
Another downside to the higher power is that it reduces the size of the exit pupils, which in turn makes for an instrument that is less capable in low light, which for many users who follow wildlife at its most active (at dawn or approaching sunset), this is important.
Ideal Applications
So if you take these main characteristics into consideration, I would recommend that these 10x42 Steiner Ranger Xtreme binoculars are best for the hunter, wildlife observer or birder who is largely working at longer distances and in open spaces where there is plenty of light. So open fields, plains or at the coast are good examples.
Steiner Ranger Xtreme 8x42 Binoculars
These 8x42 Steiner Ranger Xtreme Binoculars are the most versitle and probably the best all-rounders withion the series.
The 8x magnification is able to achieve a good level of image detail at short to mid ranges, but at the same time is not too powerful so as to reduce the field of view or exit pupil by too much.
Adding to this are the reasonably large 42mm lenses that are able to gather a good amount of light, but at the same time are not so large as to make the instrument difficult to pack away or carry over long periods of time or distances.
Field of View
At 375ft wide at 1000 yards (125m @ 1000m), the view that you take in whilst looking these binoculars is pretty good which is great for scanning wide open areas at longer ranges but is most important at close range where it makes it easier to quickly lock onto your subject and then follow it. In the case of things like fast-moving wildlife and birds, this is an extremely important attribute.
Excellent Close Focus
These Steiner Ranger Xtreme 8x42 binoculars can also focus on an object at just 1.9 meters away. For a full-sized binocular this is excellent and certainly adds to their versatility as it allows you to observe things like butterflies or flowers from very close range.
Ideal Uses
As well as hunting, these make an excellent choice as a general use instrument and a good birdwatching binocular.
Latest Prices & Where to Buy
Whilst not marketed in the US, you can still find them on some online retailers where they will set you back between $400 and $600 depending on the model. In the UK they currently cost around £350 and £500, whilst in Europe, prices range between €530 and €760: