Whilst the very similar Steiner Ranger Xtreme binoculars are marketed with hunting as the main focus, the Steiner SkyHawk positions itself as more of a general wildlife, nature loving and birding binocular.
That being said, like the Ranger Xtreme, there is no real reason why you could not use the correct model within the SkyHawk series in a wide range of other uses:
In this guide, I will first review the main features on the Steiner SkyHawk 4.0 binoculars, discuss what changes and upgrades have been made from the SkyHawk 3.0 series and then review each of the four models taking a look at their main specifications to discover which uses and type of user they are ideally suited for.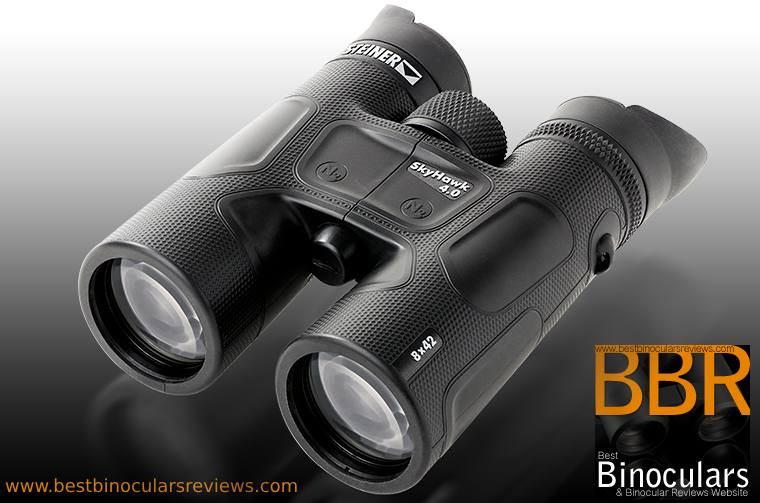 Models
There are currently four models within the Steiner SkyHawke 4.0 series two mid-sized 32mm options and the standard 42mm versions in 8x and 10x magnifications:
Steiner SkyHawke = Steiner Peregrine in North America
Because of how Steiner sees the different markets in Europe and North America, they do not officially sell these in the US and Canada (although you can sometimes find them) – Instead, the Steiner Peregrine binoculars are the equivalent/similar series to the SkyHawke.
Main Features
Design
Steiner SkyHawk 4.0 binoculars have a modern roof prism body design with a single bridge connecting the two barrels.
NBR-Longlife rubber Armour
Designed to increase grip and add another layer of protection to the optics, these days you will struggle to find a binocular that does not have a rubber coating on the exterior surface, so nothing new here.
However, Steiner Optics have once again gone further than most of the competition:
The NBR (Nitrile butadiene rubber) that they use has more resistance to oil, fuel, and other chemicals tat can often get transfered to the instrument from your hands and which causes many alternatives to soften or perish over time.
Another important advantage in this application is that NBR rubber has a very good resistance to heat aging and thus does not harden or lose its damping capability like natural rubber does.
Makrolon Housing
Whilst most manufacturers use polycarbonate plastic housings on their budget-friendly models and either aluminium or magnesium on their high-end models, Steiner buck the trend and use polycarbonate most of their instruments, even their top of the range ones like the Steiner HX 15x56 Binoculars for example.
However, the polycarbonate they use is a little special, known as Makrolon, it is made for them by the Bayer company and which has a number of properties that they believe makes it a better choice than magnesium:
It is lightweight, resistant to corrosion, resistant to high and low temperatures and is extremely strong. Indeed some models are able to take a force of 11 G's and survive.
Nitrogen-Pressure-Filling
The two N2 markings on the top of the body indicate that the housing has been filled with Nitrogen gas. Here again, Steiner goes a little further than most of their competition with their 2-way-valve technology that replaces the air with the dry nitrogen gas and keeps it at a higher pressure. This means that not only are the optics better protected from fogging (Temp range: -20°C to +70°C) but should you need to, more can be added in the future.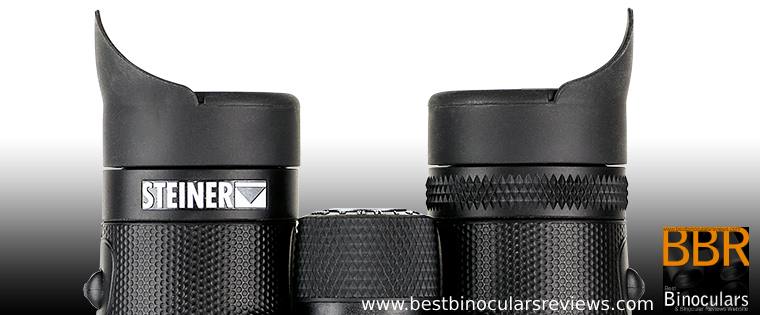 Twist-up Eye-cups with EyeShields
On a good quality modern roof prism binocular, twist-up multi-position eye-cups are what you would expect, but what I really like are the SideShields that Steiner uses on just about all of their instruments.
To me it is incredible that more manufacturers don't follow Steiner's lead here as this small modification really does make a difference by blocking out any light entering from the sides which is both distracting and if it reflects off the ocular lens can affect the view.
Note: If you already have a pair of binoculars, but would like to have this feature, it is possible to add them to your existing eye-cups. Take a look at my review of the EyeShields by Field Optics Research.
Fast-Close-Focus System
Essentially what this means is that Steiner uses a focus mechanism that is geared in such a way so that you require less turning of the focus wheel to go from one extreme to the other.
The advantage here is that you are able to lock onto your subject in less time, but as with most things there is also a downside. In this case, it, in theory, means that fine-tuning the focus may be a little more tricky.
Further Reading
About Steiner Optics & their Binoculars – Guide to Steiner and links to all the binocular reviews that I have written on their instruments.