Paul posted this excellent question to me on the BBR Facebook page:
Question:
Are all Swarovski 8x32 EL the same (whether the buyer sells it as WB or Traveller??)
Is there a difference whether these specific binoculars are 2010 / 2011 or 2012?
If you had to choose between this binocular or Kowa 10x33 Genesis XD (mainly for bird and game viewing) what would your personal preference be.
Answer: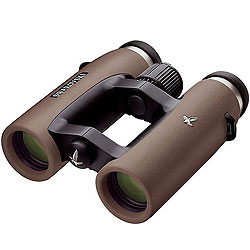 Many thanks for the excellent questions, I will try and answer them the best I can and to the best of my knowledge:
1) Yes and No
The "W B" in the name stands for two things, the "W" indicates that Swarovski describe these as having a wide viewing angle. The "B" indicates that they use twist-up eyecups. All Swarovski 8x32 ELs use twist-up eyecups and all from the same year have the same width of view. So they are all the same binocular and it is just different people using a different name for it.
However, I think the green version is simply called the Swarovski 8x32 EL and the sandy-brown is known as the Swarovski 8x32 EL Traveler … but I might be wrong here.
2) No they are not the same.
Swarovski released an updated version of the Swarovski EL 8x32 in May 2012 that essentially look the same, other than the newer one being a little more streamlined.
It is also a little lighter, the eye-relief has been increased from 15mm to 20mm and it now has what they call Swarovision. This basically means that they use all of the following: Field Flattener Lenses, HD (High Density) optics, long eye relief and what they describe as "optimised coatings"
The 2012 8x32 EL also has a slightly wider field of view than the older version – 141m vs 140 at 1000m and a closer minimum focusing distance of 6.2ft vs 7ft on the older version.
3) Wow that is a tough one – they are both really great binoculars and both would work well as a game and birding bin, so to help make a more informed decision, lets compare a few of their main features and specifications:
| | | | |
| --- | --- | --- | --- |
| | Swarovski 8x32 EL 2011 | Swarovski 8x32 EL 2012 | Kowa Genesis 10x33 XD |
| Price (approx): | $1639 (£1360) | $2000 (£1600) | $1250 (£900) |
| Weight: | 21.5oz (610g) | 20.5oz (58g) | 20.8ozs (590g) |
| Length: | 5.4in (13.7cm) | 5.3in (13.5cm) | 5.2in (13.3cm) |
| Width: | 4.5in (11.4cm) | 4.3in (11.0cm) | 4.1in (10.3cm) |
| Eye Relief: | 15mm | 20mm | 15mm |
| Close Focusing Distance: | 2.1m (7ft) | 1.9m (6.2ft) | 1.5m (4.9ft) |
| Field of View at 1000yds: | 420ft | 423ft | 357ft |
| Exit Pupil | 4 | 4 | 3.3 |
| Twilight Factor | 16 | 16 | 18.2 |
| Phase Correction | Yes | Yes | Yes |
| Lens Coatings | Fully Multi-Coated | Fully Multi-Coated | Fully Multi-Coated |
| Waterproof | Yes | Yes | Yes |
| Fogproof | Yes | Yes | Yes |
The first thing to mention is that whilst the 2012 EL 8x32 is a little better in a number of areas than it's older version, you will have to pay a higher price for it. Both of these are also quite a bit more expensive than the Kowa Genesis, which is something to keep in mind.
8x32 vs 10x33
If for a moment we just assume everything else is equal and just look at what differences the configurations will mean, this may help with your decision.
Low Light Performance
The slightly larger (by 1mm) objective lenses on the Kowa, will collect more light, but because of the more powerful magnification, they end up producing a smaller exit pupil and thus will not seem as bright in low light conditions when your eyes pupils dilate to a size larger than the exit pupils. For more on this take a look at my Complete Guide to the Exit Pupil. Something to consider if you will often be using your bins in poor light, like in thickly wooded areas or before sunrise/after sunset.
Image Detail
The 10x magnification will get you just that bit closer and thus give you just a tiny bit more image detail than an 8x.
Field of View
The width of the image that you see through the 8x Swarovski binoculars is quite a bit wider than that of the 10x Kowa, but to be fair to the Kowa, this is because we are comparing an 8x binocular verses a 10x one. (The Kowa 8x33 Genesis is 420ft @1000ft and so is the same).
A wider view can be important in may situations, especially for many types of birding. But depending on just how you use your bins, the larger 10x magnification, with a narrower field may be better – it will depend on your preferences. For more, take a look at the following articles: Wide Angle Binoculars, which lists the benefits of a wider FOV and 10x42s for Birding, which explains why a wide FOV is not always needed.
Eye-Relief
The newer 8x32 EL comes with a full 20mm of Eye-Relief and 4 fixed stops – if you wear glasses whilst binning this is a definite advantage over the others
If I had to Choose…
I like the open bridge design on the Swarovski, that looks great.
I like the cheaper price of the Kowa
I like the 20mm of eye-relief on the 2012 8x32 EL – If I wore glasses this would be a big plus point
The Kowa has an excellent minimum focussing distance – important if you are often observing things at closer ranges.
As you can see they both have their own particular strengths and it must be said none are really weak in any area.
So if money was not an issue and a wide FOV was important I'd opt for the 2012 Swarovski 8x32 EL, if the extra money was important and the extra detail was more important than a wider view, then the Kowa Genesis would still really put a smile on my face.
I hope this has helped a bit and I am sorry that I can't say for definite which I would choose, but it really does boil down to your personal preferences and circumstances – so I would just go with which ever ticks the most boxes for you.
Do you need some personal advice?
If you have a question regarding a pair of binoculars, or want to know about a particular technical term or feature that I have not already answered or written about, I would love to try and answer it for you: Ask Your Question Here