Swarovski Digiscoping Camera Adapters
Taking photographs with a Swarovski Spotting scope using their DCA (Digital Camera Adapter) to attach your camera to the scope makes for a very light and elegant digiscoping system: The DCA digital camera adapter joins your camera and spotting scope together into a sturdy single unit.
Compatible Spotting Scopes
The DCA fits to all Swarovski ATM/STM 65/80 (HD) Spotting Scopes as well as their ATS/STS 65/80 (HD) spotting scopes.
Compatible Eyepieces
Swarovski eyepieces are usually sold separately from their scopes, but any of their three 30x, 25-50x and 20-60x eyepieces will work. The 30x and 25-50x wide-angle eyepieces in particular make excellent choices for digiscoping. The adapter fits in such a way that a zooming the eyepiece still works with the adapter fitted.
Compatible Cameras
The DCA adapter will fit almost all still digital compact cameras or video digital camera that have a filter mount. This means that your camera must have a threaded objective lens or threaded adapter and maximum 4x optical zoom. Digital SLR cameras can also be used in combination with a fixed 50 mm objective lens and a suitable intermediate ring if necessary. Your Swarovski telescope thus becomes a telephoto lens with a focal length ranging from 1,500 – 4,000 mm and supports all the advantages of an SLR camera.
Connecting your Camera to the Scope using the DCA
The inner tube attaches to the spotting scope eyepiece, whilst the outer tube attaches to the camera and is then slid over the inner making mounting and removing your camera fast, accurate and easy.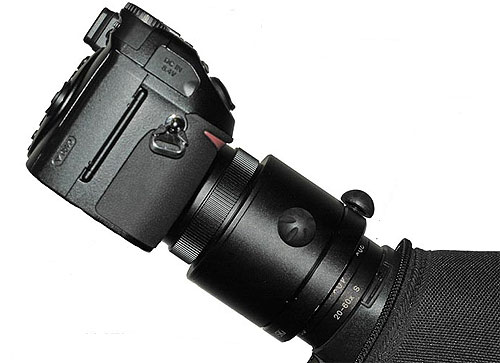 For more on how to use the DCA (Swarovski's Digital Camera Adapter) take a look at the video below:
Features
The use of a zoom eyepiece remains unrestricted
Rapid switching between observation and photography with a few small adjustments
Low weight and stable connection
The adapter comes complete with the most common connection rings to fit 52, 43, 37 & 28mm filter mounts. Other sizes can be fitted via step up/down rings which are widely available.
Accessories include a spotting scope rail, spotting scope base, balance rail and DCA adapter sleeve.
---
More Information
Example Photographs
Photographs
Below are a few example digiscoped photographs taken using a Swarovski DCA (Digital Camera Adapter) and Swarovski Spotting Scope

The above photo of a White-crowned Sparrow – Zonotrichia leucophrys was digiscoped with Swarovski 80 HD, with a Nikon 8400 camera and mounted using the Swarovski DCA Adapter. Photo Credit: Len Blumin