Swarovski Digiscoping Camera Adapters

With the Swarovski Optik DCB digital camera base not only is it possible to connect your Compact Digital Camera to your Swarovski Spotting Scope, but with one simple pivoting movement (see animation on the right), it is possible to switch between digiscoping and observation mode in a matter of seconds.
Compatible Spotting Scopes
The DCB fits to all Swarovski ATM/STM 80/65 HD spotting scopes, as well as their ATS/STS 80/65 (HD) spotting scopes
Compatible Eyepieces
Swarovski eyepieces are usually sold separately from the scope itself, but any of their three eyepieces (30x, 25-50x and 20-60x eyepieces). If you don't know which eyepiece is right for digiscoping, Swarovski Optik recommend the 30x and 25-50x wide-angle eyepieces as excellent choices for digiscoping.
Compatible Cameras
The DCB adapter works with almost all digital compact cameras that have a tripod thread and a maximum 4x optical zoom with the 20-60x eyepiece or a 5x optical zoom when using Swarovski's wide-angle eyepieces. It is ideal for cameras that do not have the facility to attach filters as this mount allows fitting via the tripod screw. The camera can be adjusted in all directions to ensure that it is correctly aligned to the eyepiece and fitted as close as possible to reduce vignetting of your photograph.
Features
The use of a zoom eyepiece remains unrestricted
Works with all Swarovski Optik eyepieces
Simple, quick fitting of the DCB to your telescope
You can switch between observing and photographing or filming in a single movement – When not in use, the camera can be swung upwards out of the way, allowing for normal use of the telescope.
Suitable for nearly all digital cameras with tripod connection thread.
The camera position remains fixed once adjusted
You can transport the complete digiscoping unit (tripod, telescope, DCB, camera) securely in a fixed photography position with out having to dismantle the digiscoping setup
Low weight (15,4 oz/430 g), stable and vibration dampening
The Digital Camera Base comes supplied with a balance rail, pouch and combi-key and is available in 2 designs – DCB-A for Angled scopes & DCB-S for Straight Spotting scopes.
---
More Information
Example Photos and Videos
Photographs
Below are a few example photographs taken using a Swarovski DCB and Swarovski Spotting Scope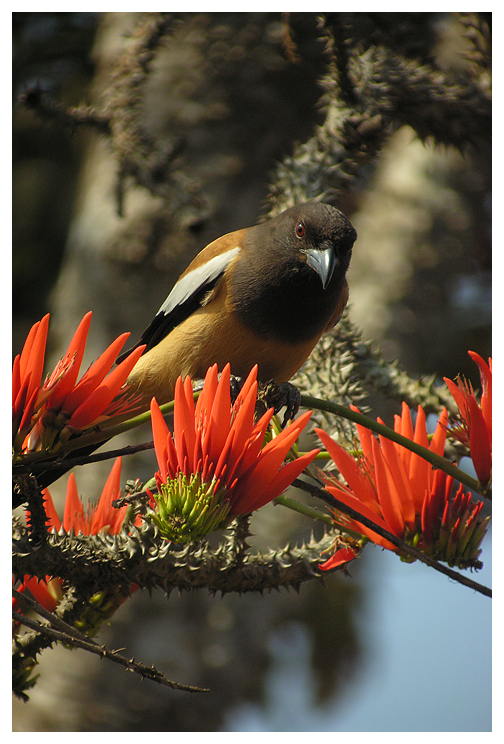 The above photo was taken at Kulagi Nature Camp, Dandeli Wildlife Sanctuary – Digiscoped with Swarovski ATS 65 HD, with the 30X eyepiece, Nikon Coolpix 8400 and mounted using the Swarovski DCB. Photo Credit: bv_madhukar
Video
The video below of an Oriental Turtle-Dove was taken by digiscoping with a Swarovski ATS80 and the DCB system with a Canon Ixus 95 IS digital camera. Video Credit: Maarten W. Kaales