Question:
Early next year (2013) I am going on a safari holiday, and I hope to obtain new binoculars before I go. After reading your reviews my current favorite is the Swarovski 8x32 EL WB but would I be better with a 10x25 set. I have no specific budget, but do appreciate good value for money.
Hi there, many thanks for your question, which I will try to answer to the best of my knowledge below:
Swarovski EL 8x32 Traveler Binoculars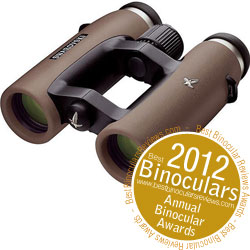 Firstly I think your current favorite choice of the Swaro EL 8x32 as a safari binocular is a very good one, so much so that they are going to be very hard to beat.
As you may have already seen, I gave them the award as the Best Safari & Travel Binocular this year and so won't repeat myself here by going over their qualities and features that make them in my opinion one of the best binoculars for this intended use.
In your email to me, you mention that you wear glasses so I would just like to point out that they come with an eye relief of 15mm which is good and to my understanding should be enough for most people who do wear glasses.
8x32 vs 10x25
I am not sure which 10x25 you have in mind, but let us just assume things like coatings and build quality will remain equal and just compare the 8x32 setup (mid-sized bin) to the 10x25 (compact bin) and discuss their relative strengths and weaknesses, specifically in relation to their suitability as a safari binocular.
Just for fun and as a very unscientific way of comparing the two combinations, I have also decided to keep a scorecard, which is highlighted in orange after each section below:
Size & Weight
There is no question that if you want to travel as light as possible, the 10x25 is a better option. They will easily fit into your coat, or even shirt pocket if you use a roof prism design with the double hinge design. This can be especially useful on safari if you also want to carry other gear like a camera with you.
However, if you are not going to be carrying other equipment and rather than walking safaris you will be in a vehicle, then the slightly bigger and heavier 32mm binoculars are still easily compact and light enough so as not to be a problem even in your hand luggage when in transit.
Size & Weight Score: 8x32 (0:1) 10x25
Magnification
Obviously, the 10x power will give you an image with just that little more detail, but as you will see below a higher power means a few compromises have to be made in some key areas.
Magnification Score: 8x32 (0:1) 10x25
Field of View (FOV)
The higher power on the 10x25 will most certainly mean that the image that you see will not be as wide than that of the 8x32. Depending on your main interests and in what situations you mostly use the binoculars, it may not be a problem.
I assume that on safari your main interest will be larger mammals, which for the most part are relatively slow and predictable in their directions of movement. Thus the slightly narrower view should not make finding and then following them noticeably different than on a bin with a slightly wider FOV.
If however, you will also be doing quite a lot of birding, especially that of smaller, faster and erratic moving ones, then sticking with an 8x for the wider FOV may be the best option.
For more info on this take a look at an article I wrote on 10x42 Binoculars for Bird Watching which explains in detail the pros and cons of a wide vs narrow FOV.
FOV Score: 8x32 (1:0) 10x25
Exit Pupil & Image Brightness


8x32 bins have an exit pupil that is 4mm wide
10x28 bins have an exit pupil that is 2.8mm wide
This is a big difference and there is no doubt that with all else being equal, in low light conditions you will see a brighter image through the 8x32 binocular.
For more on this please take a look at my complete guide to the exit pupil.
Exit Pupil Score: 8x32 (1:0) 10x25
Eye Relief: I mentioned at the start that the EL Traveler has 15mm of eye-relief, which for most eyeglass wearers is described as being enough, as this will depend on how far your glasses sit out in front of your face. I don't wear glasses, but have just tried out a few different pairs with my sunglasses on and after twisting down the eyecups, 15mm was enough for me to get the full field of view and was as good as when I removed my glasses and twisted the cups back up again.
Eye Relief on 10x Compacts: In general, the higher the magnification the shorter the eye relief tends to be (assuming you still want to maintain a good wide field-of-view), so many compacts, especially those with 10x magnifications will have less eye-relief than larger binoculars with a lower power, which is something that you may just want to keep in mind.
Eye-Relief Score: 8x32 (1:0) 10x25
Final Score: 8x32 (3:2) 10x25
So as you can see, my very unscientific scorecard gives the result to the 8x32, but as you would have noticed, along the way the score could have gone either way, or at least been equal depending on your particular wants and needs.
In Summary
If a very size and weight is very important and FOV and image brightness in low light is not that important then the 10x25 is the best
If however size and weight are important but not critical but producing the best view even in low light is, then go with the 8x32
Alternative
However the is another option that I think you may be very interested in exploring. Especially as you mentioned that you appreciate good value for money: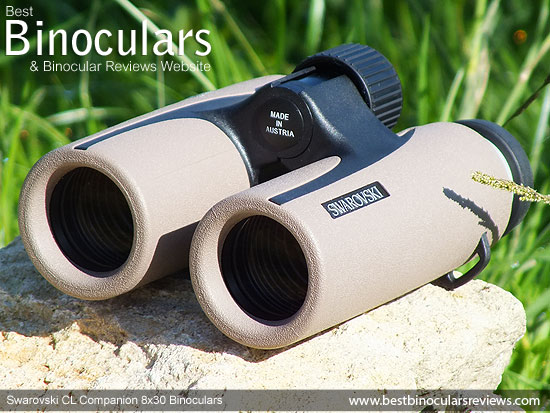 I have recently just finished testing and reviewing the Swarovski CL Companion 8x30 which, with its 30mm objectives, sits in-between your two options in terms of size and performance.
It is just that bit smaller than most 32mm bins and thus can now just fit into larger jacket pockets. Yet it also easily outperforms any compact that I have ever used.
Value for money
What is more, they are quite a bit cheaper than the ELs as Swarovski Optik, introduced the CL Companion into their line-up with the stated aim of making a compact, lightweight bin at a lower price in order for it to attract a broader range of people than their top spec models.
Interestingly and not that you need to follow my lead, but in less than a month I am actually going on a wildlife and birding trip to Zimbabwe, and have decided to take the CL Companion with me, for just the reasons that we have discussed above.
I hope that at least some of this has helped and would love to know what your final choice is and just how well you get on with them on your holiday.
Need Some Bino Advice?
If you would like to know more about a optical term or a particular binocular or can't decide what type of binocular is best for your specific requirements, then I would love to try and help you: Send Me Your Question