Binoculars are for me an essential piece of equipment needed on just about any Kayaking & Canoeing trip and so in this guide, I go through all the features that make for a good or even the best pair of Canoeing / Kayaking Binoculars as well as offer my recommendations based on my own real-world testing and in-depth reviews.
Whilst by no means an expert, I have been on my fair share of Canoeing and more often Kayaking (yes there is a difference) trips in a wide variety of locations: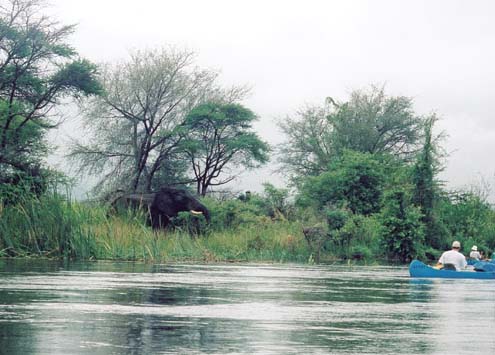 One of the most memorable was way back in 2001 when both my wife (Sharon) and I went on a truly unforgettable 4-day kayaking/canoeing and camping trip down the mighty Zambezi river in Africa from Kariba to Mana Pools… for our honeymoon!
This trip was completely wild, camping "rough" along the route, and twenty years later we still subject our friends to stories of hippos, crocs, buffaloes, elephants, and much else!
We have also done some rather frightening whitewater canoeing in Swaziland as well as more leisurely kayaking and camping trips down the river Wye in Wales in the UK as well as the Chassezac river in Southern France.
So the inspiration for this article comes from the fact that I am busy planning for my latest 4-day camping and kayaking trip that we are going on with my daughter on the Dordogne river (also in France) and so I thought I would share the thought process I go through when looking for and selecting which binoculars we will take with us, which I hope will be of use:
Essential Features & Specs
Waterproofing
Making sure that the binocular(s) that I take on any canoe, kayak, raft, or indeed just about any boat on the water is fully sealed and 100% waterproof is for me a no brainer.
The good news is almost all well built mid-to-high level instruments will be o-ring sealed and thus both air and watertight.
But if you are shopping on a budget, you do need to be a little careful as many instruments will be advertised as being "water protected" or "weatherproof" and other similar marketing terms. This does not mean they are fully waterproof and in my opinion, should be avoided for canoeing, kayaking, rafting, and most other boating uses.
Fogproof
A way to make sure that the binocular you are looking at is waterproof is to check if they are advertised as being fogproof and thus filled with either nitrogen or argon gas. This dry gas prevents the inner glass surfaces from misting up, but more importantly, for uses on the water, it means that they are completely sealed to prevent the gas from escaping which will also mean they are waterproof.
Steady Image
Even on the most clam waters, a canoe or any small boat is nowhere near as steady a platform as which you get when on the ground.
Magnification
The problem is that the any movement gets amplified by the magnification of the binocular you are looking through and thus on an unsteady surface like a kayak, it can become very difficult to keep the image still enough to get a decent view.
This is one of the main reasons why most dedicated marine binoculars have a fairly moderate magnification of 7x.
So whilst for some it may be tempting to go higher, personally I only consider binoculars with an 8x power or less for kayaking, even when on tranquil rivers or dams.
If you are sea kayaking on choppy water then keeping the magnification down becomes even more important.
Image Stabilization Binoculars
A possible way around this if you really do want or need to have a higher-powered instrument is to get one that has some sort of image stabilization built into it.
Whilst you do get some that don't rely on electronics, most modern/readily available image stabilization binoculars are digital and thus making sure they are waterproof is even more important that an optical on,y device.
Canon Image Stabilization (IS) Binoculars
The lower costing ($499.99 – $549.99) instruments like the new Canon 8x20 IS & 10x20 IS binoculars are neither waterproof nor weatherproof and thus would be unsuitable. Indeed, only one model withing the Canon IS Binoculars range is fully waterproof, the There is only one model within the Canon IS range that is fully waterproof (Canon 10x42L IS WP ) and a couple of others that are for "all-weather" conditions (Canon 18x50 IS AW & Canon 15x50 IS AW).
Fujinon TECHNO-STABI Image Stabilized Binoculars
Fuji, on the other hand, makes a wider selection of water-resistant and waterproof image-stabilized binoculars and they would be my preference for use on a canoe, however, they are not what I would class a being low cost, for example, the new FUJINON TECHNO-STABI TS-X 1440 binoculars will set you back about $1099.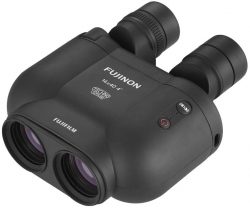 I did actually reach out to Fujinon asking them for a sample for this trip for me to test and they were happy to help out, however, due to the current COVID-19 situation, they have not been able to get me a test set in time which is unfortunate as I do feel they would make a good high-end option for the more serious/professional user like a canoe or kayak guide etc.
Shape, Size & Weight:
Not only is the available space fairly limited in most canoes and kayaks, but I think the combination of even a fairly large and heavy binocular in a tight space on an unsteady platform when you are sitting down with awe in your hands is not a good idea and will just become a pain.
At the same time, I don't think it is absolutely necessary to go for the most compact and lightweight options, that is unless you are combining your canoe trip with some hiking or something like that where your carrying space is very limited.
The Porro versus Roof Prism Shape
In most cases, binos are available in two main designs/styles that is largely down to the type of prism they use inside them to correct the inverted image – either a Roof Prism or a Porro Prism. Here there is no right or wrong choice but both have unique advantages over each other.
So here I encourage you to take a look at the video below as not only do I go over some of the main features of the roof prismed Hawke Endurance ED Marine 7x32 binoculars, but I also compare them to the Porro prism-shaped Steiner Navigator Pro 7x30 binoculars and discuss them main differences between them and what this brings to the table. Both of which I also suggest as being ideal binoculars for taking on a canoe, but as to which is best for you, this will depend on your personal needs and preferences:
Mid-Sized Binoculars
In the past, I have most often used a compact binocular (usually an 8x26), but this time I have decided to also include mid-sized binoculars (30mm – 32mm binoculars) into my search criteria because even though we are camping, most of our gear will be carried downstream for us and will be waiting at each nights destination and thus I would prefer the improved brightness and image quality that you get from an instrument with larger lenses.
Besides, many mid-sized binoculars are quite similar in size and weight to a compact and thus if space is not of an absolute premium, it opens up some very interesting options which I will get to in my list of recommendations below.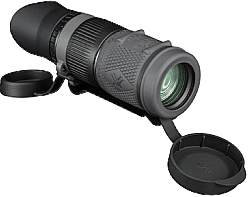 Monocular
Another way to ensure that you still achieve a good quality and bright image, but maintain a small, lightweight, and easy-to-hand instrument is to opt for a monocular, which is essentially half a binocular.
This is something that I am very much looking forward to testing (see my recommendations below), but until then you can also take a look at my guide to the Best Monoculars which includes a number of suitable options.
Nice to Have Features
Robustness
No matter how careful you are, it is more than likely that whichever binocular we choose, will eventually get knocked about at least a little in a canoe or kayak and thus I certainly keep an eye out for instruments that are well built using quality materials (magnesium and metal chassis and parts instead of cheap plastic ones), have a good level or rubber armoring, perhaps a toughened outer coating on the lenses and generally look like they can handle a bit of rough!
Sun, Water & Salt
Remember even if you are very careful, your kayak/canoe binoculars will probably spend a fair bit of time in the sun getting wet and then dry again. Those going sea kayaking will also have to throw salty sea spray into the mix.
All of this can drastically speed up the time it takes for the rubber armor, rubber eyecups, and the seals to perish. Thus if you are going to be using your binoculars a lot on the water, I do feel it is important to invest in an instrument that has been specifically designed to handle these conditions.
Water Repellent Lens Coatings
Another really nice, but non-essential feature that I look for are instruments that have what is often described as oil and water phobic outer lens coatings.
These are often combined with toughened layers that ensure not only are the lenses less likely to get scratched, but any water that falls on them simply rolls off, maintaining a better view even when there is sprey.
On top of this these coatings help ensure no water marks are left behind when the water dries, which means less often having to clean the lenses and when you do less force is required.
The downside to this is that these specialist coatings are usually only found on higher tier binoculars, meaning if you are on a tight budget they will be out of reach.
How Much To Spend?
As always, my answer to this question is …it depends! And in this case, it depends on a number of factors, but chiefly I would say never spend more than you can afford to lose! (..or replace).
I would also like to add that you should always keep things in perspective: If you are planning on a once in a lifetime trip where you are only ever going to use your kayaking binoculars once, you probably should not invest as much into the instrument as someone who will be using them far more often, be that just for boating or indeed for a wide variety of other uses as well.
Having said that also keep in mind why you want the instrument in the first place: to get a better view and there is no doubt that better quality binoculars will most usually outperform lower quality ones (in the same configuration) and some of the very worst binoculars (usually very cheap) will completely fail in this aim. For more, take time to read and watch my video on the differences between cheap vs expensive binoculars.
So there is definitely a balance to be had here and I can't say what is right for you. But what I can do is list what I feel are the Best Binoculars for Kayaking & Canoeing in a variety of price levels, which I hope will help:
BBR's Recommendations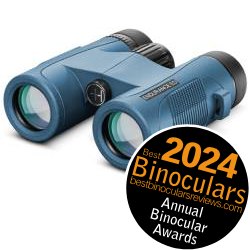 This instrument from Hawke Sport Optics is not your typical Porro prism-shaped marine binocular and it is many of these differences that in my opinion make it an excellent option as a mid-sized kayaking or canoeing binocular:
7x32 Configuration
Not the most powerful binocular out there, but combining the 7x magnification with 32mm lenses it produces exit pupils that are almost 4.6mm in diameter (32÷7) which is ample for a mid-sized instrument, which in combination with their good quality optics and coatings helps ensure you are presented with a bright image, even in poor light conditions.
As I have already mentioned, the slightly lower 7x magnification also makes it easier to maintain a more steady, shake-free view, which on a moving platform like a canoe is very important.
Mid-Level – approx $299 / £230
Mid-Sized, Single Hinge Body
Water (IP67) & Fog Proof (Nitrogen Filled)
32mm Objective Lenses with ED elements
Phase Corrected BaK-4 Roof Prisms
7x Magnification for more stable images & wider views
Current Price & Where to Buy: Hawke Endurance ED Marine Binoculars
Binoculars I actually testing on a Kayaking Trip
The three instruments listed below are the ones that I chose to take with me to test and use on a kayak trip and all of which I would recommend. As to which is best for you, this depends on your specific needs and thus I recommend you take some time to go through each and read the full reviews first before deciding.
Update: I have just finished my full review of this Steiner Navigator Pro (see link above) which includes feedback on how they performed on my kayaking trip.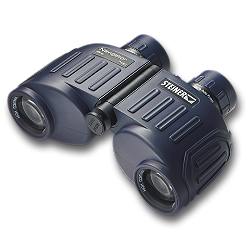 The ultimate binocular for Kayaking and Canoeing?
We'll have to wait and see, but from my first impressions, I am very excited to test them out and have extremely high hopes for them.
 7x Magnification for image stability on the water
Steiner's Sports-Auto-Focus system: once set up no further focal adjustments are necessary with images sharp and in focus from 20 meters to infinity which is great for when you are also juggling about a paddle etc.
Nitrogen pressure filling: 100% waterproof (up to 5 meters) and fog proof
Always sharp images from 20m to infinity
Steiner's Hydrophobic "Nano-Protection"  on the outer lenses making water sheet off them
Steiner's Legendary toughness: Makrolon housing that withstands 11G of impact and a Floating Prism System to absorb severe shock without damage
Steiner's NBR Long-Life Rubber Armouring is designed to withstand sun and saltwater environments without perishing
Comfortable & compact shape for a 30mm binocular
Prices & Where to Buy
At their RRP of $350 / £350 / 350€, I think these make good value, but having just looked, they now sell for under $250 / £250 / 250€, which really is excellent value for money and thus these Steiner binoculars are my high-end choice and would be suitable for the more serious or professional Kayaker or canoeist looking for a high performance, long-lasting binocular that will not only withstand, but relish whatever you throw at them:
Buy & Compare Prices: Steiner Navigator Pro 7x30 Binoculars
Opticron Savanna WP 6x30 Binoculars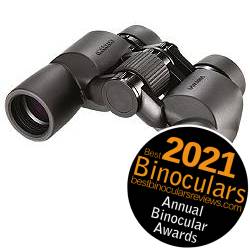 Priced at around $130 / £120, these Opticron binoculars are my lower cost/entry-level choice.
I really like the low 6x power and am interested to see how much of a difference this makes on the water.
With its comfortable Porro prism shape, narrow minimum Interpupillary Distance setting, and lightweight body, I also feel this will make a great option for children and will be letting my 9-year-old daughter use it on our kayaking trip.
Low 6x Power – very steady on the water
Extremely wide field of view: 420ft @ 1000 yards
Lightweight body, which when taking into account the low power makes it suitable for kids as well as adults
Nitrogen filled, so both fog and waterproof
A fully multi-coated optical system
Buy & Compare Prices: Opticron Savanna WP 6x30 Binoculars
Opticron WP 8x30 Monocular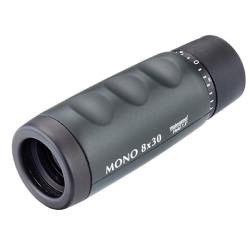 When I contacted Opticron inquiring as to if they would send me their binoculars above in order for me to test out on our camping and canoeing trip, they were actually the ones who suggested to me that I should also try out this monocular as they were sure it would fit my requirements perfectly:
Smaller shape than a 30mm binocular that can easily be used with one hand which is ideal when you are also paddling
As small as a compact binocular but with a larger lens – better in low light
Nitrogen gas filled with a fully waterproof construction
A fully multi-coated optical system
Field of View: 393 ft@1000yds
Costing about £110 / $140, this could well be the ideal option for those who want a small easy to use instrument at a budget-friendly price:
Buy & Compare Prices: Opticron WP 8x30 Monocular
Fully Reviewed Binoculars ideal for Kayaking / Canoeing
The following table contains recommended binoculars for Kayaking below are ones that I have actually used, tested, and fully reviewed:
Open the table below in full screen mode
.
Joker in the Pack and also well worth considering: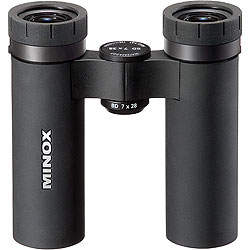 Unfortunately, I don't think Minox makes this excellent little instrument anymore, but I have still included it as I have used it in the past and I would highly recommend it or indeed anything similar if space is at a premium, so keep an eye out.
Highlights
7x power – easy to keep the image still
Fixed focus binoculars – no need for focal adjustments – ideal for when you also have a paddle in one hand
Small and lightweight
Great design – easy to hold onto
Water & Fogproof
Wide Field of View: 384 feet at 1000 yards
Buy & Compare Prices: Minox BD 7x28 Binoculars