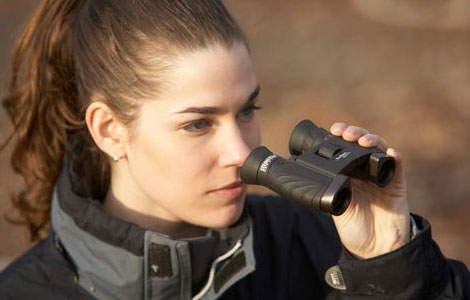 The question this week comes from someone looking for some tough, inexpensive binoculars with plenty of eye-relief that are ideal for travelling with:
Question:
I would love some assistance in selecting a compact binocular. I'm going to be spending some time in the jungles of Central America. I also do a fair amount of hiking and backpacking in the US. This will be mostly for spotting wildlife, birds, identifying characteristics of trees, etc. I might be riding on a riverboat in the jungles looking for birds and monkeys, hiking a ridgeline in the Rockies, or whatever.
I'd like something rugged and waterproof. While I realize the most compact binoculars will be double-hinged with roof prisms, those won't be deal breakers.
I'm not too concerned with minimum focus distance.
I wear glasses and eye relief is important. I am leaning towards 10x25, but I'm wondering if 8x25 might be better for quicker target acquisition. I do not have much recent experience with either. Larger FOV would be nice, especially while on a river boat, tracking a bird, or trying to acquire a target, but getting closer is also really nice.
I have looked at two binoculars you recommended.
The Steiner Safari Pro 10X26. I like the durability, the looks, the eyecups. I think I think I have to eliminate it due to 11mm eye relief and the fact that it is not waterproof.
The Nikon 10X25 EcoBins. I was actually thinking the Prostaff 10x25s might be better. While a little more expensive, the FOV (field of view) is 330 ft as opposed to the 226 of the EcoBins. I was concerned because of the few reviews out there, I saw two that mentioned they were fragile. One had a piece fall off and the other reported that it was easy to run into alignment problems. They don't have the widest field of view out there, but these seem OK. Currently the Prostaff 10X25s are where I am leaning.
The Pentax UCF WP. I do not know much about these. I don't know if they're any good. They look a little larger in size. Waterproof, Eye Relief looks good. FOV is in the middle at 261 ft.
Eschenbach 10x28 Farlux B Silver. Your review makes them very tempting. They seem to meet every criteria. They don't post eye relief specs, but you mentioned it was fine. My concern with these is the price. They're just too expensive.
When I'm out having fun in the field, I want to spend time thinking about fun, not breaking my gear. I don't want to be worrying about breaking an expensive camera or expensive pair of binos. I'd be crushed if I spent $400 on these babies and then broke them. The $100 Nikons seem like a more reasonable amount to "worry" about. Plus I guess they have a lifetime no-fault warranty.
Are there any other binoculars I should consider? Should I expand my list?
Any recommendations on the ones I've got on my list? I'll eagerly listen to any advice to give me.
Answer
You seem to have a really good idea of what you want which is a great start.
Water & Fogproofing
Whilst I have not yet been lucky enough to visit any part of Central America, I am pretty sure that because you will be spending some time in a jungle environment, it may be wet and most probably humid, so I would definitely ensure that the binocular that is both water and fogproof.
As for field of view, there is no doubt that a wider field of view makes it easier to scan a terrain and spot objects, especially faster moving small ones like birds. I also feel that if you are in an area with lots of close, thick vegetation like a jungle, the extra bit of zoom that a 10x magnification would give you would not be that important and so yes, in this environment and for your intended uses, I would opt for an 8x over a 10x binocular.
8x binoculars are also often a little brighter than a 10x (8x32 binoculars have an Exit Pupil of 4mm, whilst 10x32 binoculars have an Exit Pupil of 3.2mm), which will help in poorer light conditions like what you may find under the thick canopy of the jungle.
Which Binoculars?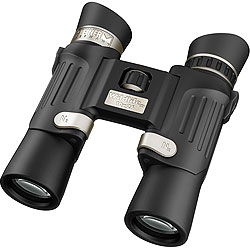 I am a big fan of Steiner binoculars, especially their range of compacts as as in general they are tough, well made and don't cost the earth.
All most all of them use roof prisms and feature a duel hinge design and so fold up into a much more compact shape, making them true pocket binoculars.
All of their ranges, come with full multi-coated optics, even their entry level Safari Pro's which cost around $100 / £100
However if you need or want a longer eye-relief and you want them to be fully waterproof you may need to stretch your budget a little and get the higher spec Steiner Wildlife XP 10x26's that cost about $250 – $300 / £250 – £300
For more on which ones to get, take a look at this article I wrote on the Best Compact Steiner Binoculars for Walking Safaris.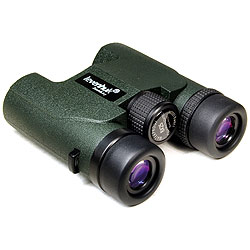 With a price tag of about $70 / £80 these very inexpensive compacts from Levenhuk really impressed me when I reviewed them and for me are up there with the best within this price class.
For example most compacts within this level will only come with single or perhaps multi-coated optics, whilst these Energy PLUS bins have been fully multi-coated. What this means is all glass surfaces throughout the bin have multiple layers of anti-reflection material added to them and not just on some like most others, which really does make for a noticeable improvement to both the quality and brightness of the view.
These Levenhuk binoculars also possess a really wide field of view (FOV) which has a number of benefits, including making it far easier to spot and follow things like birds and wildlife.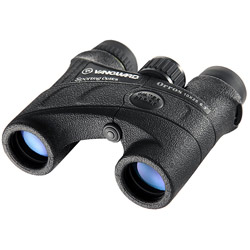 Another great option for you may be the really cheap Vanguard Orros binoculars that at the time of writing cost about $90 / £90 which means they should easily fall within budget.
What is impressive at this price range is that they are fully water and fog proof with a tough rubber coated body protecting their good quality BaK-4 roof prisms and multi-coated lenses.
Whilst they don't have a duel hinge design, I really like their somewhat unique offset hinge that almost enables them to fold up into a smaller package than other single hinge roof prism bins and almost as small as duel hinge ones like the Stainer's above.
In my review, I thought that they were far better than their price tag suggests, which is reflected by the high score that they received.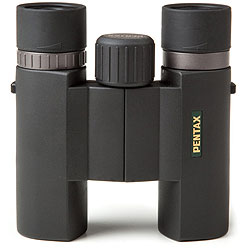 With a price tag of around $200 / £200, these compact Pentax binoculars may be just above your budget, but if you can stretch to it, you get a number of improvements to the quality and quantity of coatings used when compared to cheaper bins.
This includes highly reflective mirror and phase correction coatings on the roof prisms and their optics are fully multi-coated which ensures that as much of the potential and then collected light gets to your eyes as possible for a better and brighter image and improved low light performance, which in a dark jungle or rainforest could be important.
The Pentax 9x28 DCF is also fog and waterproof and like the others comes with a rubber armored body for protection and better grip.
Other Options
The Eschenbach 10x28's that I tested were excellent and the image quality was very impressive and I would highly recommend them, but as you say I also understand your need not to worry about breaking or loosing an expensive pair of optics.
If I had to choose between the Pentax UCF WP's and the Nikon Prostaff 10X25s, I'd probably go for the Nikon – I haven't actually tested them, but the Nikon's that I have looked at in the past are generally pretty good considering the amount they cost.
You did not mention if you live in the UK, but I am guessing that because you quote all the prices in dollars, that you don't. If you do you may also consider the Barr & Stroud 10x25 Sahara Binoculars. The have a FOV (field of view) of 314ft, 14mm of eye relief and a nice tough body. For the money (under £60) they were really good, but only currently available in the UK as far as I know.
Vortex binoculars may be another brand that you should have a look at, they produce a huge range of binoculars, with many in the lower price brackets. Whilst I have not actually reviewed them yet, the Vortex Crossfire 10x32 or 8x32 Binoculars look to have most of the features that you are looking for and are available for around $100.
Further Reading