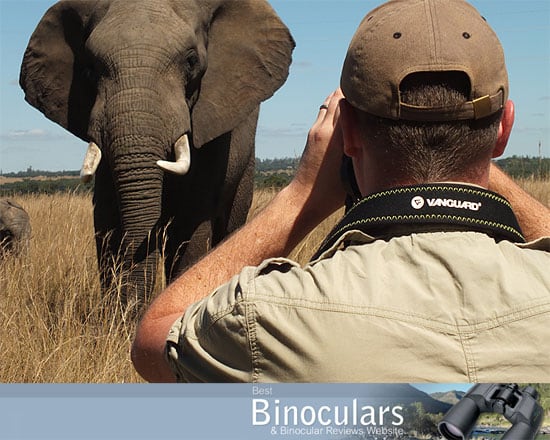 I recently wrote about me taking a pair of Luna Optics Night vision binoculars with me on safari that worked incredibly well. But as well as these, I also obviously took a pair of "standard day-time" binoculars with on that trip as well.
My usual choice and my general advice for a good pair of safari binoculars is to take a fairly compact and tough pair, something like the Steiner 10.5x28 Wildlife Pro or the excellent Minox 8x33 BL Binoculars that actually won my award for the Best Safari & Travel Binocular back in 2010. The main reason I recommend and usually take a compact or mid sized binocular is because when travelling, I like to keep my luggage as light and compact as possible. Then once you have arrived and whilst actually on safari, especially when walking in the bush, I also usually have my camera with me as well and so in this situation, the more compact my equipment is, the better.
For this trip however, I knew that as well as all the big stuff like elephants and lions, I would also be doing a lot of birding, often very early in the mornings. So this is why for this trip I decided that I wanted to focus more on the binoculars performance and in particular their low light performance than their physical size and weight.
Therefore a "full sized" 8x42 binocular would be ideal, but which ones should I take on safari? For me the decision was not very hard, I had just finished a review of the Vanguard 8x42 Spirit ED Binoculars and I was so impressed with their performance that I decided that these would be my choice of binocular to take with me on safari.
My Findings
As with my initial review, overall I was really impressed with the 8x42 Vanguard Spirit ED and they performed really well for me.
As far as full sized binoculars go they are about as light as you can get, meaning even though I had decided upon a full-sized binocular, they were still pretty lightweight. This combined with the very good neck strap that they come with made carrying them in the field as hassle free as possible.
And as expected, their performance, especially when the light was not optimal like on the few occasions when I got up before sunrise to go out on safari was excellent.
It also felt really good to know that the view through them was just that much better than what I would usually have got from a fully compact binocular. On top of this, because they use ED glass and other quality optical components like Bak-4 prisms and anti-reflection coatings meant that even if I was to compare them with other 8x42's, the quality and brightness of the image produced would be superior.
This however does not mean that I have now changed my tune and will no longer use compact binoculars on safari – for most situations I do still feel that when travelling a compact or Mid-sized binocular is the way to go. But for this particular trip I really enjoyed having the Vanguard Spirit ED 8x42 binocular with me
Not always for looking at things in the distance
The main photo above of me looking at the elephant through these Vanguards was taken by my wife. Being so close to an elephant, you may be forgiven in thinking that binoculars may not be necessary, but what I find really interesting is to look at all the details of an animal like this at close range. Things like the eyes and the skin of an elephant are so incredible and a quality pair of optics like the Vanguard 8x42 Spirit ED can really help you to to appreciate them in very fine detail. (I must confess however that my heart was in my mouth, but I knew that from their body language, we were not really in that much danger and it was far safer for us just to remain calm, moving slowly away.)
Tough Waterproof Body
It never rained during this trip, but water is not the only thing that a fully sealed binocular like these Vanguard's protect against. I was visiting Zimbabwe in the dry season, and in places it can get very dusty. Having a binocular that is fully air-tight means that it will prevent any fine pieces of dirt from entering the system and ruining your view and is for me an important consideration when choosing a good safari binocular.
For more, please read: