I recently had the opportunity to test the Vanguard Alta Pro 263AT tripod that came included with the Vanguard SBH-30 Ball Head, which at first glance looks like the ideal tripod for all optical equipment not only binoculars. But because of it's adjustable central column, I was very interested in it as it just may be the answer to those that want a tripod that can be used comfortably with astronomical binoculars.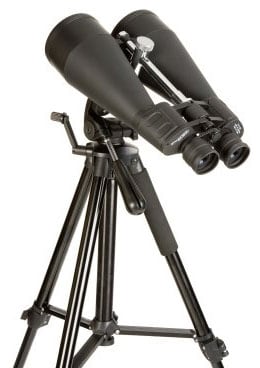 Tripods for Astronomy Binoculars
The problem with looking at the stars or indeed anything in the sky with a tripod is that it places the eye-cups in an awkward position making it hard to look through unless the tripod has very long legs or you place the tripod on an elevated position (see image on the right). An alternative is to sit on a chair, but because of the tripods legs getting in the way, it can often be a little awkward. This is where I think that Vanguard's Alta Pro Series come into their own as you can position the central column at an angle and effectively moving your binoculars away from the centre of the tripod and the legs:
Vanguard Alta Pro Tripods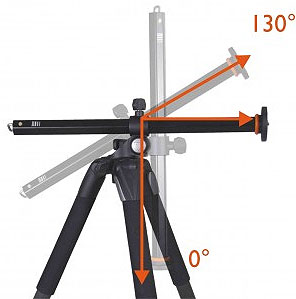 The Alta Pro Series of tripods are available in lightweight carbon fiber and aluminum alloy models and are for many people far more flexible and therefore useful than traditional tripods. Why do I say this? Well the biggest innovation is in what Vanguard call it's Multi-Angle Central Column (MACC) System that enables you to move the central column of the tripod in pretty much a complete circle around the legs – from 0 to 360-degrees.
This not only has huge benefits for photographers, enabling them to position their cameras in al sorts of positions never previously possible, it also has many benefits to those that use their tripod for binoculars as well as spotting scopes. Rather than trying to explain this further and confusing both myself and you on just how it works, below is Vanguard's advertising video that demonstrates it far better that I can put into words:
Ok, so now I hope you get the concept, but what about the rest of the Vanguard Alta Pro 263AT Tripod?
Well, as with many tripods, the feet can be adjusted to be either rubber or spiked to ensure a good grip in a variety of terrains and the Legs of the tripod lock into three angles (25°, 50° and 80°), that will help to ensure a steady base on uneven ground.
I also like their attention to detail, for example at the top of the legs there are foam grips to help with carrying and an anti-shock ring prevent camera or even spotting scope vibration damage.
The aluminium versions, like the 263AT use levered locks on the legs to tighten and loosen them and almost lock into place making you feel confident that they are secure.
On the negative side, it is a little heavy, but then again the tripod is as sturdy as and I have used and will easily takes the weight of a the heaviest binoculars, spotting scopes or even DSLR cameras and telephoto lenses. If weight is a big issue for you, I would suggest you get the carbon fiber model that is far lighter, but unfortunately more expensive too!
I really like the latch that locks and releases the central column, which is easy to use and you can quickly set up the tripod to the exact position that you need. Another difference to most tripods I have used is that the central column is hexagonal shaped, which Vanguard say is less vulnerable to accidental slippage. I am not sure if it is better than the more traditional round tube shape, but I can say that it never once slipped during my test.
Best Tripod for Astronomy?
I was able to quickly set it up to use it two ways ideal for looking at the stars (see images below).
In the photo on the left I have opened the legs to their 50° position, positioned my chair almost under the tripod and then rotated the central column to a position that was comfortable for me to look through the small scope I was using whilst sitting in the chair. I must add that the SBH-30 Ball Head is also ideal in this instance as you have complete flexibility as to the angle you wish your binoculars or scope to moved to.
In the photo on the right, I have again opened the legs to their 50° position, but have shortened the legs and then placed the scope on my picnic bench meaning that I could once again quickly, easily and most importantly comfortably look through the optics whilst sitting on the chair of the bench.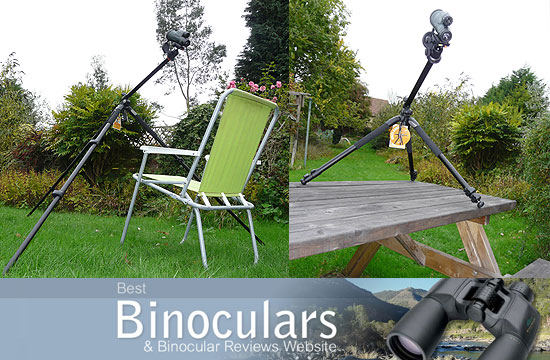 Other Uses
Not only is this a great general use tripod for a camera, spotting scope and binoculars that is ideal for astronomy, I think the adjustable central column makes this an excellent base for plane spotting binoculars. For those who often view raptors and other high soaring birds, the Vanguard Alta Pro 263AT Tripod is also ideal. What was interesting is that I found that the more I used the tripod, the more creative I became and the more uses I found for it and I have to confess I am a big fan.
Main Specifications
Height (Extended): 1m 65cm (65 inches)
Folded Height: 63cm (25 inches)
Weight: 2kg
Maximum loading capacity: 2kg (16lbs)
Number of Leg Sections: 3
Feet: Rubber & Spiked
Conclusion
Overall I was very impressed with the Alta Pro 263AT Tripod, the quality of it's construction is excellent and when you take into account it's very competitive price, I would say that for a top end tripod it is very good value for money. You could easily spend this or more on a standard tripod of a far lesser quality. It has all the features that you expect to find on a tripod and then you have the "Multi-Angle Central Column" that is fantastic, giving you far more flexibility as well as uses for the tripod. Brilliant.
Cost & Where to Buy
The Vanguard Alta Pro 263AT on it's own costs around $120 in the US and about £120 in the UK. As mentioned earlier you can also get it with a number of different heads. With the SBH-30 Ball Head, the bundle costs about £150 or about $200 with the SBH-100 Ball Head in the US.

Vanguard Alta Pro Tripods for sale in the USA

Vanguard Alta Pro in the UK