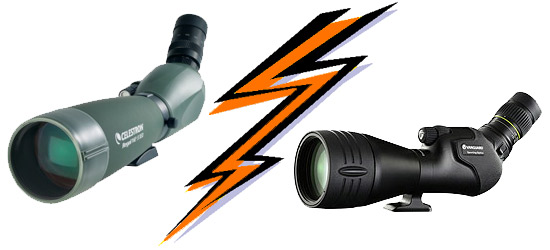 The question this week comes from a reader looking to get their first spotting scope, which they want to use for both wildlife observation and for digiscoping, but cant choose between two:
Question:
I´m going to buy my first scope for wildlife watching and digiscoping, after reading hundreds of reviews, including yours. I´m considering buying one of these two, the Vanguard Endeavour HD82A or the Celestron Regal M2 80 ED.
I know they are very similar but I will really appreciate if you told me which one you considerate best, thank's for your advice and time.
Answer
Great question and it can always be difficult to decide which to get once you have narrowed your shortlist down to a few options, but I have found the best way is to go through and compare the main features and specifications of each side by side:
Right Spotting Scopes for Digiscoping?
First off, I would just like to add that you have narrowed your choices down to two great scopes, both of which should work very well for both wildlife observation and for digiscoping.
Indeed both Vanguard and Celestron make digiscoping adaptors specifically for use with these scopes:
For vanguard, look out for their PA series of camera-spotting scope adapters that can be purchased separately. The PA-202 Digiscoping Adaptor works with the Endeavor HD (65A/65S/82A/82S) & Endeavor XF (60A/60S/80A/80S) Spotting Scopes.
Whilst Celestron include a T-adapter ring with the Regal M2 80 ED that you can easily attach to a 35mm or DSLR camera.
Another thing I would like to mention is that whilst I have fully tested and reviewed the Vanguard Endeavor HD 82A Spotting Scope, I have not had the opportunity as yet to use the Celestron Regal M2 80ED Spotting Scope, but I have used and written a full review on the similar Celestron Regal 100 F-ED, so in this instance, I will assume that the overall quality is about the same.
| | | |
| --- | --- | --- |
| | | |
| | Celestron Regal M2 80ED | Vanguard Endeavour HD82A |
| Objective Lens | 80mm | 82mm |
| ED Glass Lens | Yes | Yes |
| Anti Reflection Coatings | Fully Multi-Coated | Fully Multi-Coated |
| Prism Glass | Bak-4 | Bak-4 |
| Body Material | Magnesium | Magnesium |
| Dual Focus Wheel | Yes | Yes |
| Interchangeable Eyepiece | Yes | Yes |
| Included Eyepiece | 20-60x Zoom Eyepiece | 20-60x Zoom Eyepiece |
| FOV @ 20x | 110ft wide @ 1000yds | 110ft wide @ 1000yds |
| FOV @ 60x | 52ft wide @ 1000yds | 52ft wide @ 1000yds |
| Eye Relief | 20mm | 19mm – 20mm |
| Weight | 56.7oz (1607g) | 63.8ozs (1809g) |
| Dimensions | ? | 38cm x 18cm |
As you can see for the table above, these two scopes are very, very similar in almost all aspects, making it very difficult to choose between them.
Objective Lens Size / Aperture
One difference between the two is the size of their objective lenses.
Other than increasing the size and weight (an to a lesser extent the price), a bigger diameter objective lens diameter is usually a good thing.
This is because this larger aperture can capture more light and thus potentially deliver more light to your eyes and thus produce a brighter image. During the day and in good light the difference between the two will probably not be at all noticeable, especially as the quality of the optics and the coatings between the Vanguard Endeavor 82A and Celestron Regal 80 is very similar.
However in poor light and especially when using the scope for digiscoping, the slightly larger lens on the Vanguard will be a very slight advantage, but as the difference is so small, I would not worry too much about this.
Body Size & Weight
Celestron don't list the dimensions of their Regal M2 ED Spotting Scopes, but as they weigh a little (approx 200g) less than the Endeavor 82A and as they have a smaller objective lens, I would guess that it is a little smaller or at the most the same size as the Vanguard. What ever the case I these two are very similar again and there really is not much to choose between them.
Price
The Vanguard Endeavour HD 82A
had an original price of around $860 in the US, but can now be found for around $530. Whilst in the UK they now cost about £650:
The Celestron Regal M2 80ED
has a list price of $899.95 in the US, but is now available for about $700. Whilst in the UK they were initially sold for £750 and now cost about £650:
Conclusion
It is unfortunate that I have not used the Celestron Regal M2 Spotting scope, so I can't comment on the view through through them, but even if I had, my guess is that it would be very similar to that of the Vanguard Endeavor HD, which was excellent.
I would say the only ways of choosing to these two very evenly matched optics is either by choosing which you like the most of, which brand most appeals to you or if it was me, I would go with which was selling at the best price where you are.
Further Options
Whilst I know that you are already having a tough time deciding between these scopes above, I have decided to add a spanner into the works by pointing out a few other similar ones that I feel may also be worth considering. Like the others, if you spot any at a discount or on a special deal that may be what swings it for you: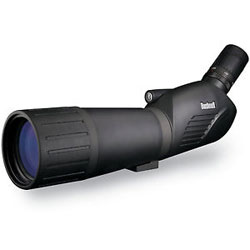 The Bushnell Legend Ultra HD Spotting Scope matches many of the optical components and coatings as that of the scopes above and because of this, they may also be worth taking a closer look at.
Main Features
80mm Objective Lenses
2-speed dual focus wheels
ED prime extra-low dispersion glass
RainGuard HD water-repellent lens coating
Fully Multi-coated Lenses
BAK Prisms

Price Range
With an RRP of of over $830, they are now available in the US for around $450 and as such these Bushnell Spotting Scopes offer American shoppers excellent value for money. In the UK they are currently available from about £580 with the 50mm version for just under £500 – Check Amazon for latest prices – link below: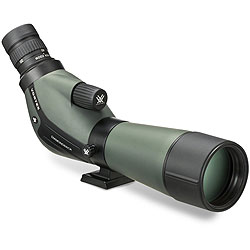 To me the Vortex Diamondback looks to be very similar to the Vanguard & Celestron above and like those two Vortex have a great reputation of producing an excellent value for money product which is why this looks to be one of the best mid range spotting scopes about there at the moment.
Available with either 60mm or large 80mm objective lenses they come in either a straight through or 45° angled eyepieces with a 20 – 60x magnification.
Main Features
60mm or 80mm Objective Lenses
Water & Fogproof
Vortex Proprietary XR Anti-Reflective coatings

Price Range
As I mentioned, I have not yet seen these in the UK, but in the US, the 60mm Vortex Diamondback Spotting Scope costs approx $400 and the 80mm version now costs around $500 – Check Amazon and other online retailers for current prices – link below:
I hope that I have not confused you even more, but would also like to assure you that I am sure that whichever one you do decided to go with, you will not be disappointed with the result. They are both excellent scopes in this price range and come with many of the high end components and features on scopes far more expensive than these.
Further Reading:
Have a Spotting Scope Question?
If you are looking for some advice or if you have any questions regarding a spotting scope or indeed anything on optics that I have not yet covered, I would love to try and help. Ask your question here.