The question for the BinoWizard this week comes from a reader with a maximum budget of $250 (£250) and is looking for a binocular to take on safari and then use for general use, once the holiday is over. They have narrowed their choice down to the three models above and are looking for some advice on which ones to choose:
Question:
I have spent some time looking through your fine web site.
The primary reason I'm looking to buy a good pair of binoculars is that my wife and I will be on a safari in a couple of months. I have one inexpensive pair to take (10x50 Bushnell), but I want to take a good pair also. That being said however, since this is likely the only safari we'll ever take, the binoculars I purchase should be suitable for other general uses as well.
I have narrowed my choices to 3 models:
Hawke Endurance ED 8x42 – I know you reviewed the 8x32 (I have also reviewed the 8x42 version), but I was interested in the 8x42 (~$230). Then I became aware (I even checked with Hawke) that this model will not be in stock until July. As a result, Hawke was disqualified.
Vanguard Endeavor ED 10x42 – This model got a good review. It is at the top of the range of what I intend to spend.
Vortex New Diamondback 10x42 – Vortex seems to a popular line with good specs. I noted there is the Diamondback line, which must be the 2014 model, and the New Diamondback line which apparently debuted in 2016.
I don't see how I could go wrong with any of the 3, My inclination is to go with the New Diamondback, but I would appreciate any comments you may have as to my choices, or any others you may think are better.
Answer
Firstly, thanks very much for sending in your question to the BinoWizard and as you say, I really don't think you will go far wrong with any of the options that you have placed on your shortlist as not only are quite evenly matched, but for the money they are all excellent examples within this class.
How To Choose Between Binoculars
Firstly, I would like to add some general advice on how to choose between different binoculars as I get a number of similar requests from visitors to BBR.
This method of first creating a comparison table (see below) is also how I start off looking and comparing optics myself and think that it really helps identify the differences between different models, highlighting their respective strengths and weaknesses. Then all you need to do is match those strengths to your particular needs and/or preferences.
Binocular Comparisons
In the table below are the main features and specifications of the instruments on your shortlist. I have also added a few others (in both 8x42 and 10x42 versions) that I feel are either worthy looking into or because I wanted to highlight a point. I will get into that in detail below.
Sorry you cannot see this table as your browser does not support iframes. Click here to open it up in a new tab.
As you can also see, I have highlighted in green the features or specifications that I feel are either really strong points or aspects that are above and beyond what I would expect to find in this price range
Then highlighted in red are weaker aspects when compared to others on the list. Note this does not mean that it is bad, only not quite as good as the best.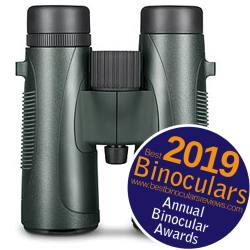 You rightly mention in your question that I have reviewed the 8x32 version, but I am not sure if you know, but I have actually also tested and reviewed the 8x42 Hawke Endurance ED. Either way, I found both to be excellent in their class. Indeed the 8x32 won best Safari & travel binocular for 2016 and the 8x42 model was my pick as the Best Value For Money Binocular of 2016!
You also rightly mention that the 8x42 Endurance ED is currently unavailable in the US (it is listed as "on back order "on most websites I looked at), however I did notice that the 10x42 model is available in limited quantities (see Amazon and Adorama on the where to buy these link below) and so that is why I have added it here. Even though I have not actually tested the model, based on the fact that the two that I have were so strong, I think it is safe to assume that the 10x42 will also live up to expectations and indeed think it may be ideal for you.
Main Features 10x42 Hawke Endurance ED:
Top Hinge Body Design
Magnesium Housing
Water & Fog Proof
Tripod Adaptable
ED Glass Elements in the Lenses
Fully Multi-Coated Optics
BaK-4 Roof Prisms
Phase Corrected Silver/Dielectric Mirror Coatings – I am not sure which, but through testing, I found the image quality to be excellent, so whatever is used, is not a limiting factor in this case
Field of View: 304ft at 1000 yards
Minimum Focus Distance: 6.6ft
13mm of Eye Relief
For me the areas on the 10x42 version that slightly disappoint are their relatively narrow field of view and less eye-relief than some of the others:
At 304ft wide at a distance of 1000 yards, it is not bad, just a little less than the best on your list. If activities birding from closer ranges is high on your list, then perhaps this may not be the best option. But other than that, these look great.
13mm of eye-relief is plenty if you don't wear glasses whilst binning. Should you do, this should be just enough, but in no way can these be described as having long eye-relief. So something to keep in mind if you wear glasses.
BinoWizard Advice:
Whilst still containing all the great components and features, the specifications of the 10x42 version could be a concern to some users. For this reason, unless I could get my hands on the 8x42 model, which should be available from July (see shopping link below), I would probably opt for one of the others on the shortlist.

Buy & Compare Prices: Hawke Endurance ED Binoculars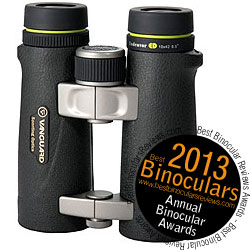 Back in 2013 and when they were listed at $280 / £260, I thought that these were great value for money, indeed they won my award as the best value for money bin that I reviewed that year.
Now listed for about $220 / £213, you are still getting a cracking binocular for a great price…
However… I would like to add that since 2013, the market has become even more competitive and as such it has driven down prices even more. This means that features that would only be the reserve of higher end, more expensive instruments back then are now found on many the best within this price bracket.
So whilst the original Endeavor ED does come with ED (Extra low-dispersion) glass, phase corrected roof prisms made from high quality BaK-4 glass and are fully multi-coated.
They use a cheaper polycarbonate shell (I think) and silver coatings on the prism. Both are fine, but not as good as the magnesium shells and dielectric coatings found on the best within this class.
The close focus distance on these is also not great, which is not a problem unless you like to view things like flowers, butterflies etc from close range.
Note: Vanguard Sport Optics have updated this model with their newer and improved Vanguard Endeavor ED II 8x42 Binoculars that does have a magnesium body and even higher quality ED glass, but at around $400, they are above your budget.
BinoWizard Recommendation:
So if it was my choice and whilst still great value for money, I would probably go for one of the other options on the shortlist, which look even better and are also listed at the same low price.

Buy & Compare Prices for Vanguard 10x42 Endeavor ED Binoculars
Vortex Diamondback 10x42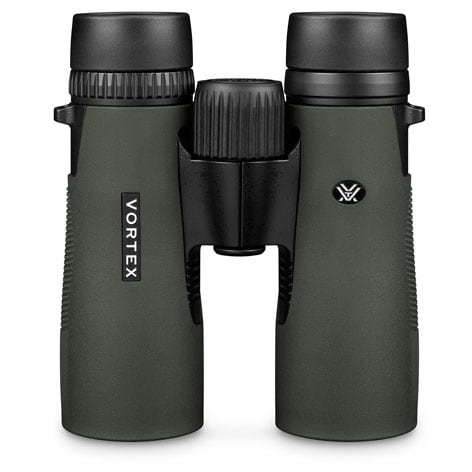 As you can see from in the table above where I have included the stats and features of both the older (2014) model and the latest 2016 versions, Vortex really have made much more than cosmetic changes to the Diamondback.
Major highlights include the magnesium chassis and dielectrically coated prisms, which is a real sign of quality and not often found at this price range.
No ED Glass
For me the fact that the Vortex Diamondback does not have ED Glass lenses is not a major issue. I have often noticed well designed non ED glass instruments reduce color fringing to a level that is equal or even less than some that do have ED glass, especially at this lower price point.
BinoWizard Recommendation:
Whilst I have not yet been lucky enough to try it out, if my past excellent experiences that I have had with Vortex binoculars that I have reviewed are anything to go by this really does look like a cracking instrument for the money.
So from your shortlist, I would probably also lean towards this binocular. However if I may, I would also like to throw another option into the ring for you to look at (see below).

Buy & Compare Prices for Vortex Diamondback Binoculars
BinoWizard Option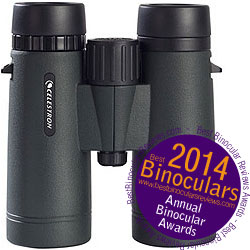 At under $200 (see where to buy below), I think you should most certainly consider the Celestron Trailseeker. The 8x42 version won my award as the best value bin in 2014 and unlike the Vanguard, it does come with an upgraded magnesium chassis and like the Vortex, not only are the prisms phase corrected, but are also dielectrically coated to ensure as much light is transmitted through the optical system as possible.
No ED Glass
Sure, like the Vortex Dimondback, these do not contain ED Glass elements in their lenses, but as I have already said I have often observed well designed non ED glass bins perform as well than instruments with ED glass at reducing color fringing. Indeed in some cases (especially in the lower price brackets) they outperform them. So for me this is a consideration, but not a major concern.
I also like the fact that both models have a very wide field of view (426ft @ 1000yds for the 8x42 and 341ft for the 10x42), which is better than the Vortex and wider than the majority in their respective magnification classes and thus will bring a smile to most users faces, but especially birders.

Buy & Compare Prices for Celestron Trailseeker Binoculars
Cheaper Option – Hawke Nature-Trek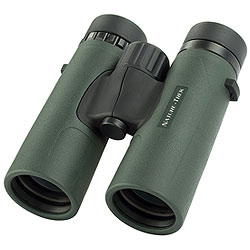 If you are looking to save a little money, at only $150 / £135, the Hawke Nature-Trek could be a good option.
However as you can see from my table above, this lower price also means that you have to make sacrifices in a number of areas (no ED glass, polycarbonate body and sliver coatings on the prisms).
So my advice as always is to get the best you can afford and depending on how often you are planning to use your bins. So if you were only going to use them on your safari and then hardy ever again on your return, this may be a good choice.
However for more frequent use, the combination of all the upgrades that you get on the more expensive models do add up and will be appreciated ever time you reach for them.
More Alternatives & Further Reading:
I hope that at least some of my advice is of help to you in making your decision. If you need or want some more info, below are some links to relevant content on BBR:
BinoWizard Feedback
Update: Below is the really nice feedback that I recieved from Steve that I think is worth sharing as it rounds off this article nicely:
Thank you for your report. It was thorough and very much influential in my decision-making process. After reading your report, I went back to the web site and read the Celestron Trailseeker 8x42 review and also watched the related video. I compared the specs on all the models under consideration and was able to make my choice. I have placed an order with Adorama for the Trailseeker 8x42 ($193; includes free expedited shipping).
The two finalists were the Trailseeker and the Vortex New Diamondback 10x42, both good binoculars. I gave the edge to Trailseeker because of 1) the field of view, and 2) the eye relief. (I wear glasses; even if I didn't, a future user of these binoculars might wear glasses and could benefit from the additional eye relief.) Coincidentally, I own a Celestron telescope and have no complaints about its quality or optics.
Thank you very much for your assistance. It's been a pleasure as well as a learning experience for me. By the way, you have the best web site I've ever encountered for reviewing products and providing value. In the end, I spent about $30 less than I would have if I hadn't used your web site for guidance, and that includes your $10 fee for personal consultation – and I will be getting what I believe is the best pair of binoculars for me.
Steve
Need Some Help or Advice?
Ask the BinoWizard Here – If you are undecided between two or more binoculars, or are confused by all the options available and don't have the time (or don't want to) read through my reviews, then please feel free to contact me for some personal optics advice.