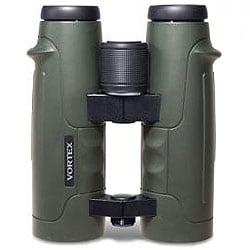 I have been trying for a while now to get my hands on a pair of Vortex Razor binoculars to fully review. Unfortunately as yet this has not been possible (hint to Mr. Vortex!), but whilst doing some research on them, I did notice that these top of the range binoculars are currently available at a good discount and are well worth looking at as an option if you are after some high end optics.
The Razor Range Come in 5 configurations: 10X42, 8X42, 12X50, 10X50 and 8.5X50.
For me it is the 8X42 Razor that really stands out with it's very wide field of view (410 feet @ 1000 yards / 137m @ 1000m), meaning that they would easily make it onto my list of wide angle binoculars and will therefore make ideal birding binoculars.
I also like the open bridge design – on binoculars that I have reviewed in the past, like one of my real favourites, the Minox 8x33 BL Binoculars, this design just feels more comfortable to hold as well giving you a more secure grip when you are carrying them about.
As you would expect with binoculars of this quality they are 100% waterproof. They have also been filled with argon gas meaning that the internal air has been replaced with argon to ensure there is no internal fogging in areas of high humidity or rapid temperature changes. Being fully waterproof also helps prevent any dust or dirt from entering the system and being fogproof helps protect the internal components from any corrosion.
High Quality Optics
All Vortex Razor Binoculars come with Phase corrected BaK-4 prisms that helps keep the light in correct color phases producing an image that is sharper and with higher contrast over the full field of view. On top of the Vortex also use dielectric high-reflective multilayer coatings on the roof prism, rather than the more common aluminum coatings often found on cheaper binoculars. The dielectric coating causes the prism surfaces to act as a dielectric mirror and boosts the light reflectivity, giving you clearer whites and a sharper, brighter, more natural vision across the entire field of view.
They all also have fully multi-coated lenses that increase light transmission with multiple anti-reflective coatings on all air-to-glass surfaces. On top of this ED Glass (extra low-dispersion glass) is used on the lenses which Vortex call theirs XD glass, but whatever the name they will increase performance even more by enhancing light transmission.
Price Range
With so many quality optical components and as you would expect for a high end pair of optics, all binoculars in the Vortex Razor range are what I would describe as High Value Binoculars, but what makes them really tempting is that they are available at a few outlets at a discount. For example:
Vortex Razor 8X42 Binoculars (list price: $849)
Currently available on Amazon for $725 or Binoculars.com for $749 – In the UK you can find them on Amazon for the excellent price of £495. This trend continues throughout the range:
Good Value For money?
Having not looked through any yet to gauge the image quality, I am a little hesitant to be too committal, but if I take into consideration all the top quality components it does look like you get plenty of "Binocular for your buck" and they compete very well with others in this price category in terms of features. Compare all High Value Binoculars ($500-$1200 / £500-£1200) that I have reviewed.
Vortex Razor Reviews
Because of these great features and all at what I believe to be a very competitive price, I am really desperate to get my hands on one to fully review (big hint to Mr. Vortex!) Until then, I hope this article has helped, the only thing I couldn't do is comment on the quality of the view through them or how they feel in the hands. For more information, take a look at my page on Vortex Binoculars that also includes a section on the Razor.