This question comes from a person wanting to choose between two very good binoculars, both similar in most aspects, apart from the price:
Question:
Based on your reviews, I am considering either the Vortex Viper HD 10x42 or the Vanguard Spirit ED 10x42. Both seem to have very similar specs and ratings (85% and 87%), but the Vortex is almost twice the price (£530 vs £270 on Amazon). Am I trying to compare apples with pears here? I'd be interested to know which in your opinion has the better optical performance, ignoring price, and which you would choose?
Answer
Many thanks for your question and yes I totally agree with you, having only recently reviewed both of them (I actually reviewed the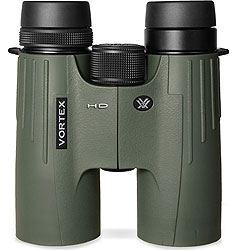 8x42 version of the Vortex Viper HD), I also thought that they were very close in pretty much every department… that is, apart from the price.
What is interesting is that the price of the 10x42 Vortex Viper HD binoculars is still very good. I say this because for same quality it still beats many of the quality European brands (see table below) and that is why I would still describe them as being good value for money. But the price of the Vanguard's is simply excellent, especially when you consider their quality of components and coatings – they are truly excellent value for money. As a general rule, Vanguard binoculars do have a reputation of producing very good value for money binoculars, but are they equal to the Vortex?
For a more informed choice, lets compare their key specifications (I have also included a few of the best binoculars that money can buy in this table):
| | | | | | |
| --- | --- | --- | --- | --- | --- |
| | Vanguard 10x42 Spirit ED | Vortex Viper HD 10x42 | Leica 10x42 Ultravid HD | Swarovski 10x42 EL | Zeiss 10x42 EL |
| Price (approx): | $300 (£300) | $600 (£530) | $2100 (£1500) | $2480 (£1650) | $2000 (£1400) |
| Weight: | 22.6oz (640g) | 24.6ozs (697g) | 26.5ozs (751g) | 27.5ozs (780g) | 26.8ozs (760g) |
| Length: | 5.7in (14.5cm) | 5.8in (14.7cm) | 5.78in (14.7cm) | 6.2in (15.7cm) | 6.81in (17.3cm) |
| Width: | 4.9in (12.5cm) | 5.3in (13.5cm) | 4.72in (12cm) | 4.8in (12.2cm) | 5.43in (13.8cm) |
| Eye Relief: | 16mm | 16.5mm | 16mm | 15mm | 16mm |
| Close Focusing Distance: | 9.2ft | 5.1ft | 9.7ft | 8.0ft | 6.6ft |
| Field of View at 1000yds: | 315ft | 319ft | 336ft | 330ft | 330ft |
| Angular Field Of View | 6.0° | 6.1° | 6.4° | 6.4° | 6.4° |
| Lens Coatings: | Fully Multi-Coated | Fully Multi-Coated | Fully Multi-Coated | Fully Multi-Coated | Fully Multi-Coated |
| Phase Correction Coatings: | Yes | Yes | Yes | Yes | Yes |
| Extra Low Dispersion Glass: | Yes | Yes | Yes | Yes | Yes |
| Waterproof | Yes | Yes | Yes | Yes | Yes |
Ignoring the price, as you can see they are very close and there is not that much to choose between them, but the Vortex does edge it as they have a slightly wider field of view, longer eye relief and closer minimum focusing distance. It is however a little bigger and heavier than the Vanguard.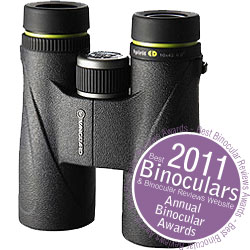 What about looking through the binoculars?
I can say that when I reviewed the Vanguard Spirit ED 10X42 and the Vortex Viper HD 8X42, I was very impressed with the view through them both. So much so that I gave them both the same score of 9/10 for Image Quality, which is outstanding.
To get this figure, and as I do with all my reviews, I compared the view through the binocular with that of a benchmark binocular in their class. This gives me good feeling of where they sit in relation to other binoculars that I have reviewed in the past. Things I look at are their brightness, sharpness, contrast, colour reproduction, amount of colour fringing (chromatic aberration) and the amount of softening of the image on the periphery of the view. So as far as the view through them, to my eyes they would be very similar.
So to make the choice: If close focusing distance and that bit extra field of view and eye relief are more important to you than the extra cash in your pocket, then I'd go for the 10X42 Vortex Viper HD otherwise the Vanguard Spirit ED 10X42 would be the choice.
Why the Price Differences?
Comparing the Vanguard and Vortex binoculars to the very top of the range binoculars next to them, you can also see that, apart from the field of view there still is not that much difference in terms of their specifications between them – so why the massive price difference?
Well I think the best way for me to explain it is is I use cars as an analogy:
The Swarovski's, Leica's and Zeiss binoculars could be compared to car brands like BMW, Ferrari and Mercedes Benz – All top of the range with plenty of quality, performance, luxury, tradition and a very long and prestigious history. They are all also (for the most part) manufactured in Europe. All also come with a premium price tag.
The Vanguard's and Vortex binoculars could be compared to brands like Subaru, Nissan, Toyota or Honda – they produce excellent cars, with plenty of performance and quality that probably equals the brands above. Yet somehow they generally lack a little of the "luxury" and tradition, don't have as long a history and often therefore come with a cheaper price tag.
So if you were just going by the specifications and price, the Vanguard's and Vortex binoculars would always come out on top. If however you want a lot of tradition, history and that sense of "luxury" and an extra bit of quality workmanship that you only really find in European countries like Germany, then you have to pay for it.
But often the choice can be just about a feeling of which one you like the look of more or which brand you relate to the most.
I hope that at least some of this helps!
Do you have a question for me?
If you have a question regarding a pair of binoculars, or want to know about a particular technical term or feature that I have not already answered or written about, I would love to try and answer it for you: Ask Me Here