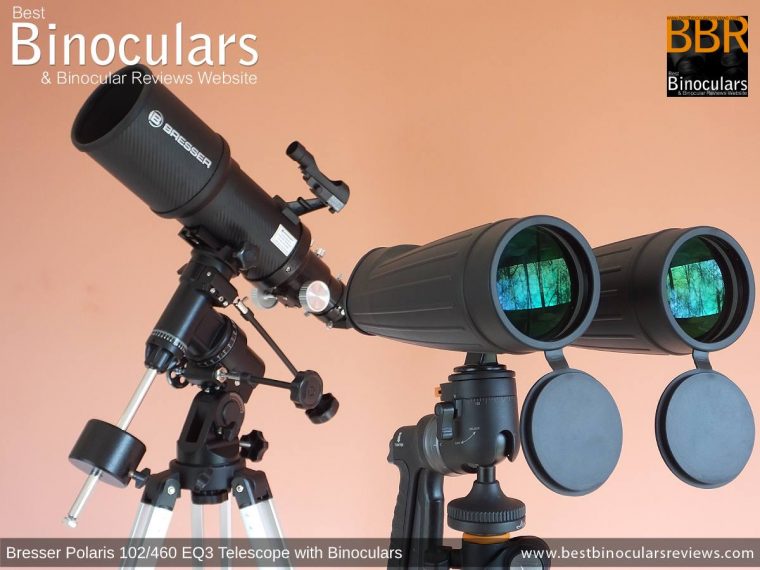 In this article, I am going to go over the reasons why I decided to get myself a telescope to complement the binoculars I use for astronomy, what Telescopes are ideal for the beginner and then the reasons why I decided to begin with the BRESSER Polaris 102/460 EQ3 Telescope.
My interest in the night sky has always been there… burning somewhat quietly in the background and up until fairly recently, I had been completely satisfied using binoculars for astronomy, but with my daughter starting to also take an interest, I decided now was the time to include a telescope into the mix.
But which one? With so many types, styles, and varying prices, the decision can seem overwhelming. So in this article, I am first going to go over the reasons why I chose to include a telescope in the first place and then take you down the thought process I had and why this ultimately led me to the BRESSER Polaris 102/460 EQ3 Telescope:
Why a Telescope?
I have a number of binoculars in my possession that are specifically designed for astronomy and as good as most of them are, they are not the same as a telescope and rather should be looked at as an instrument that compliments your enjoyment of the night sky, rather than competes against it. I started with this passion since the first time I went to an eclipse tour for my birthday with my parents and it was amazingly life changing.
Binoculars vs Telescopes for Astronomy
Most Astro binoculars have much higher magnifications than standard daytime versions, however, compared to an average telescope designed for astronomy, they are still far less powerful. This results in a wider field of view, making a binocular the ideal device for scanning the sky and just taking in the bigger picture.
The fact that you look through a binocular with both eyes also greatly adds to a sense of immersion that you feel and even though they tend to be larger and heavier than your general use, daytime binocular, they are still far smaller and more lightweight than your average telescope, making them far more suitable for taking on camping trips or even wandering around the garden at night.
A telescope, on the other hand, with it's a higher power and larger objective, can be a little more difficult to aim, but it enables me to look even further into space (back in time) and/or enjoy a more detailed view of a particular point of interest.
So, ideally, in most situations when I am observing the night sky, I would like to have both a pair of binoculars AND a telescope with me and be able to swap between them as and when the need arises.
Which Telescope is Best for Beginners?
So now that my daughter and I had decided that we definitely wanted to get a telescope, the next question was which one to get!
I have used quite a few telescopes in the past, but never actually owned one myself. So along with my knowledge in optics and binoculars, I started with a reasonable understanding of telescopes, the main types, how they work and some of their inherent advantages and disadvantages.
However, saying that, I was under no illusions in also knowing that I was in no way an expert and thus, decided that I would also seek out advice from those within the industry that I know through my dealings with them on the binocular side of things as well as reading as many reviews and information published on the web as I could find.
Main Types of Telescope
As a newbie, one of the first things you will come across is that there are a number of different types of telescope, each of which has its own benefits and drawbacks. As far as the beginner goes, there are three that you may wish to consider:
Refractor Telescopes
These are the ones that look and work the most like a spotting scope/half a binocular and thus are the type that I am most familiar with. A refractor telescope has a large objective lens at the front and of the barrel and an eyepiece at the other end.

They are generally considered to be fairly easy to use and low maintenance and you can get cheap ones, but the price increases rapidly as you increase the size of the objective lens (aperture).

Reflecting Telescopes
As their name suggests, reflectors capture light using a mirror at the rear end of the large tube rather than a lens at the front of it as on a refractor.

Comparing equal-sized telescopes (in terms of the aperture), reflectors are usually the least expensive and for this reason, can be the best option for beginners to ensure that you get a telescope with a large aperture.

A downside is that they need more maintenance as you will need to adjust the collimation from time-to-time, however, don't be too put off as this is usually pretty easy to do.

Compound (or catadioptric) Telescopes,
Lastly, you get Catadioptric telescopes that are basically a combination of the two above and use both lenses and mirrors.

Whilst more expensive than a Reflector, they are cheaper than a Refractor (like for like) and they also have the advantage of being relatively compact and lightweight.

Lookout for Schmidt-Cassegrains and Maksutov-Cassegrains that are two of the most popular designs of compound telescopes.
Aperture is MUCH more Important than Magnification
As a beginner, it is extremely important to avoid telescopes (usually cheap ones) that boast massive magnifications on the box and which have a relatively small aperture (the diameter of the lens its mirror).
This is exactly the same advice I give to those looking for their first pair of binoculars and as far as I am concerned this advice is far more important than what type/design of telescope you get.
This is because like binoculars, the aperture plays a major role in how much light the scope can collect and thus not only determining how bright the image appears but also how clear/sharp the image appears (resolving power).
A massive magnification with low light gathering ability almost always results in a dim and fuzzy view of whatever you are trying to observe which will soon put you off using the telescope.
What Size?
Here the advice at the lower end of the market is certainly to ensure you have a telescope with an aperture of more than 70mm.
However, also keep in mind that the larger the lens or mirror, the more expensive, bigger and heavier your telescope will be.
So just as with binoculars, what is right for you will depend on the balance you want to achieve between light-gathering, portability, and price.
Field of View & Magnification
Also keep in kind that larger magnifications result in smaller fields of view, which in turn make it much harder to aim the telescope at your desired point of interest. For the novice astronomer, this is also very important.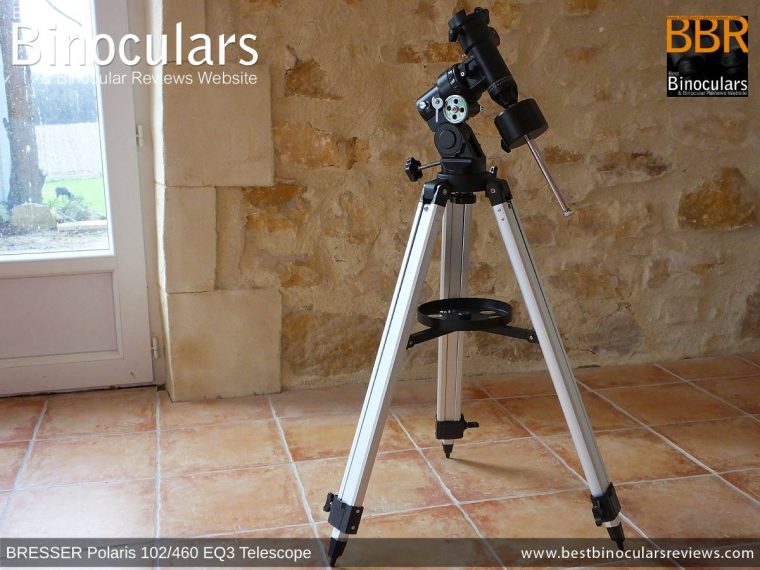 Type of Mount
Also important to consider are the different types of mounts on offer: altitude-azimuth (alt-az), equatorial and motorized.
Here once again there is no right answer but at the very lowerest end of the price scale, the general advice to stay clear of Motorized mounts (Go-To telescopes) equatorial mounts and rather stick with a simpler, but better quality alt-az mount and a sturdy tripod.
Whilst if you spend a little more money, then the option basically comes down to which one you prefer to use, rather than which is best.
Budget
Like most things and hobbies, when you get into them, you can spend a LOT of money and whilst just like binoculars the law of diminishing returns also applies, in general, in general, the more you pay the better quality you get, with the resulting benefit of better user experience and views
However, as my daughter and I are only at the start of our journey, I decided that I wanted to get a good quality telescope that would produce the results I was looking for, but at the same time as I was not sure where this would lead or indeed how long my daughter would remain interested in the night sky, I decided to keep the initial costs down to what I considered to be an acceptable level:
Thus after doing a little initial research, I decided to restrict my search to telescopes costing less than $500 / £440 / 450 Euros which I would class as being a fairly healthy budget for the beginner.
So Which Type of Telescope is Best for Beginners?
As with many things, there is no definite choice or winner here. However, if you are on a very minimal budget, I think the best advice is to stay away from cheap Refractors that will invariably have a small aperture (objective lens) and rather go for a Reflector at the same price but with a larger mirror.
As my budget was above the very cheapest and because I wanted to be able to directly compare the view with my telescope versus my binoculars for this website, I ultimately decided to go with a refractor.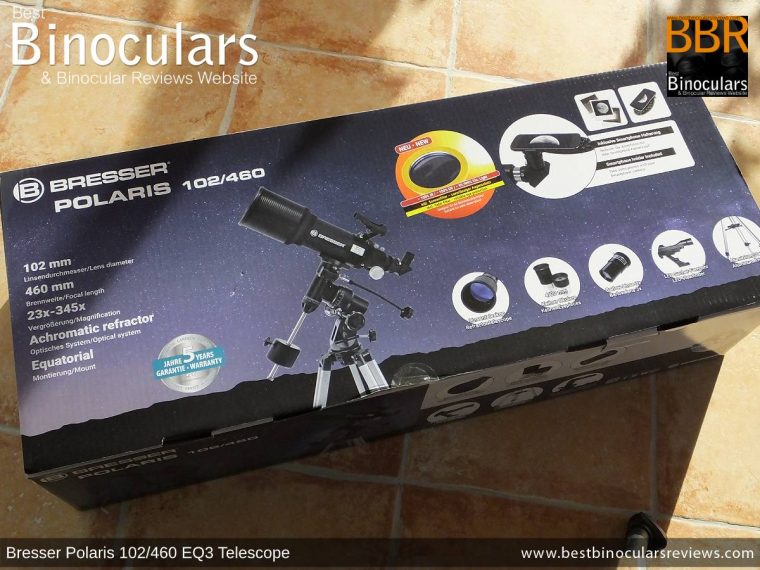 Bresser Polaris Telescope
Then after much more research and comparisons between many different brands and potential models within each brand, I ultimately ended up with the BRESSER Polaris 102/460 EQ3 Telescope as for me it ticked all the right boxes and whilst there were many reasons, below are the main ones that helped me to decide:
102mm Objective Lens
Within my lower cost price range, the advice from most experts is to ensure your telescope has an aperture of more than 70mm.
So with a 102mm objective lens, the entry-level Bresser Telescope comes in well above the recommended minimum, yet to my mind is still just about small and lightweight enough to take in the car to a more ideal location should the need arise.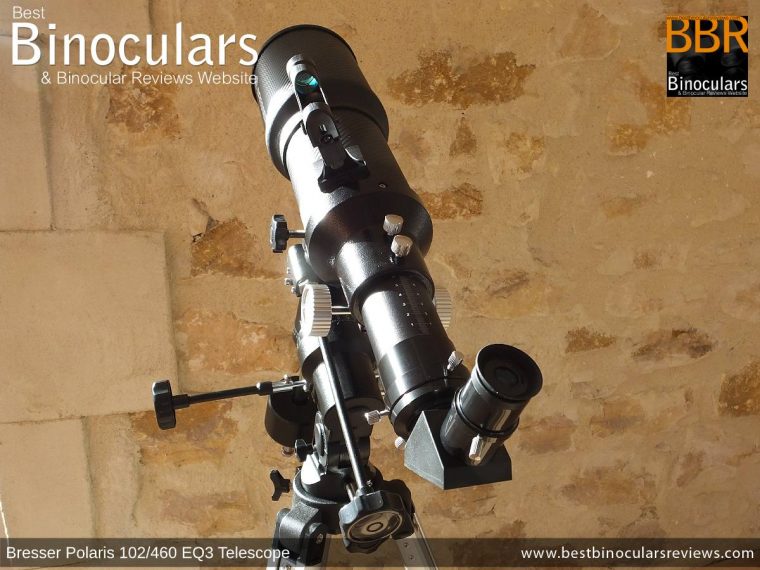 Eyepieces
I like the fact that the telescope comes with two different eyepieces (4mm & 20mm) as well as a 3-fold Barlow lens that triples the magnification for each of these.
Combined with a focal length of 460mm, it meant that I had a modest minimum magnification of 23x, right up to a theoretical maximum, but not practical 345x.
I say not practical, because as a rule of thumb, a telescope's maximum useful magnification is 2x its aperture in millimeters (50x its aperture in inches).
Thus for this 102mm BresserPolaris EQ3 Telescope, the maximum recommended magnification would be 204x.
So as this telescope can accept all 1.25" eyepieces, it meant that in the future and with a little more experience, I could easily add to my collection of eyepieces and achieve the magnifications that suite me best.
Aluminum Tripod with an Equatorial Mount
The tripod and the mount need to be both sturdy and of good quality, the importance of which cannot be understated, this is true for astronomy binoculars and especially true when using an even heavier and more highly powered instrument like a telescope.
From the research and reviews that I read, the mount supplied with the Bresser Polaris was considered excellent for this price range, which is another aspect that I most certainly kept in mind.
I will be writing a full review of the telescope and the mount in due course, so please be sure to look out for it, but on initial inspection and whilst setting up my scope, I was not at all disappointed.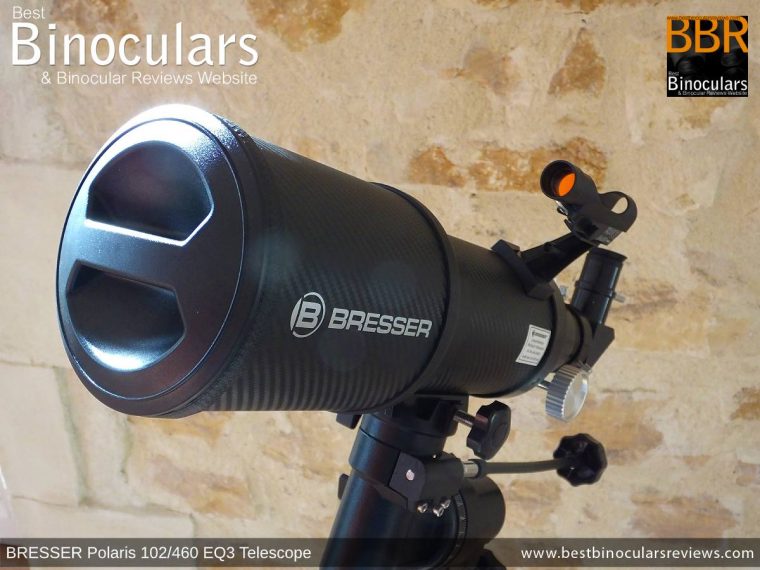 LED Finder
From my previous experiences in using telescopes, one of the biggest issues I had was with aiming it. So without the budget necessary in order to obtain a motorized mount, the fact that the Bresser Polaris comes with an included LED finder was a definite bonus.
Solar-filter, Smartphone Camera Adapter
As well as the tripod, two eyepieces, a Barlow lens, and an LED finder, Bresser also includes a Solar filter and Smartphone camera adapter.
Whilst not pivotal in my decision, both of these interested me, in particular, the Smartphone camera adapter as I do hope to be able to show you what is achievable with a telescope like this one in the future.
Further Reading
After I have had time to fully use and test this BRESSER Polaris 102/460 EQ3 Telescope with an Equatorial Mount, I plan on writing a full review and will add a link here, so stay tuned!
Cost & Where to Buy:
If you are interested, the BRESSER Polaris 102/460 EQ3 Telescope has a manufacturer's RRP of 339,00 € and currently costs around £310 in the UK: