Insect & Butterfly Binoculars
Binocular Reviews Home > Binoculars by Use > Best Butterfly Binoculars
>> Skip the blurb, show me the best butterfly binoculars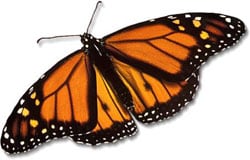 Viewing Butterflies through Binoculars
Everyone knows just how beautiful butterflies are, but by just using your eyes, you are mission out on so much detail. So for those of you who have never viewed them through a pair of binoculars, you are in for a real treat!
The traditional way of viewing these and many other beautiful insects would be to capture them, place them on a pin board and use a magnifying glass! Obviously this involves killing the creature, which in my opinion is very far from ideal. Whilst trying to get close enough to them by just using something like a magnifying glass is in most cases impossible and so by far one of the best ways to get a much better view is through a good pair of binoculars
So just what makes a good pair of binoculars for butterflies and what features do we need to look out for?
How to choose Binoculars for Butterflies, other Insects and Flowers
First I think you need to decide if you are just going to be using these binoculars for viewing small objects like butterflies from a near distance, or if you want a more all-round pair that will also work well for birds, other wildlife and many other activities. If this is the case, I would suggest take a look at good general use binoculars, that also have a close minimum focusing distance anything under 6ft (1.8m) is very good and you will be fine. To help you, take a look at the links below:
Close Focusing Distance
Without a doubt, the most important feature to look out for in a good pair of binoculars for viewing butterflies through is their close focusing distance. Close focus binoculars are essential as you want to be able to get as near to them as possible (without frightening it away). A pair of binoculars that can focus on a image at 6ft (1.8m) or less away will mean that the butterfly will fill your field of vision, bringing you as much detail as possible. A binocular with a further minimum near focusing distance will force you to back away and make the butterfly appear smaller, defeating the purpose of the binoculars. (importance 10/10)
So what is a good minimum? I would say that anything at or under 6ft (1.8m) would be fine and you can take a look at all the Close Focusing Binoculars, that I have so far reviewed - all of which have a close focusing distance of 6ft or under.
However if you want a pair of binoculars specifically for viewing objects at close range, you should try and get some binoculars that have very close focusing distances:
Pentax Papilio Binoculars
Pentax have produced a series of binoculars that are ideal for viewing things like dragonflies and butterflies. The name "Papilio" actually Latin for Butterfly and they have incredibly close minimum focusing distances.
Pentax produces the Papilio in two configurations 6.5x21 and 8.5x21 and both can focus on an object from about 1.6ft (0.5m) away and they how now been updated with a number of improvements that make the new Papillio II even more versatile:
Optical Features include:
Unique Convergent Lens Optical System enables them to compensate for parallax and prevent the misalignment of the left and right image at very close range
Minimum Close Focus: 1.6ft
Fully Multi-coated Lenses that increase light transmission with multiple anti-reflective coatings on all air-to-glass surfaces
BaK-4 Prisms - Optimize light transmission.
Reverse Porro Prisms - Generally offer a rich depth of field, compact design, and three-dimensional image
Reviews & Related Articles
Whilst it is true that the Papilio series has been designed as a special purpose close focus instrument, it is really important to note that you can use them for many other "standard uses" like birdwatching, wildlife and indeed general use and whilst like any compact you many not achieve quite the same level of image detail and brightness as you would from a standard 42mm birding binoculars they are far smaller and more lightweight and thus just easier to carry about wherever you go. This small shape and wide view also makes them an ideal companion to take along to sporting events, outdoor and indoor concerts, museums or even to stash away in your bug out bag!
I also feel that their fairly low price makes it acceptable to justify buying a pair as a special purpose butterfly binocular, even for those who are only starting to get interested in bugs and I highly recommend a pair to anyone interested in getting a much better view of butterflies, dragonflies, or flowers.
Buy & Compare Prices for Pentax Papillio Binoculars
Buy & Compare Prices: Pentax Papilio Binoculars
Alternative Very Close Focus Binoculars Worth Considering:
As well as the Papilio, Pentax also has a couple of other very close range instruments that I feel are also ideal for uses like butterfly observation, but as they are quite different to the norm, they also bring a number of other options to the table:
Pentax V Series Binoculars / Monoculars
The V Series from Pentax is a truly ingenious range of instruments that the Transformers would be proud of and is actually quite difficult to describe in just a couple of lines, but in a nutshell, at the time of writing is consists of just a couple of products, but each of these can be altered and used in a number of different ways: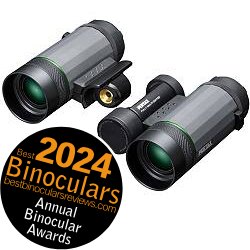 Firstly there is the VD 4x20 that is described by Pentax as being probably the World's first three-in-one binoculars and like the Papilio has an ultra close minimum focus distance of only 0.5m /1.6ft.
Starting off as a tiny, true pocket sized 4x20 binocular they can be split into half to form two separate monoculars, which can be ideal for sharing. These two monoculars can then be joined together en-on-end to for a mini 16x Spotting Scope!
Mid-High End Compacts: Approx: $249 / £244 / €245
True Pocket Sized Design
Detachable Single Hinge Body with Metal Bridge
Fully Waterproof (JIS Class 7)
Twist-Up Eyecups
Fully Multi-Coated Optics
Roof Prisms incorporating both Bak4 and BK7 Glass
Phase-Coated & Dielectric multi-layer coatings
Ultra Wide FOV: 1525ft @ 1,000 yards / 175m @ 1,000 meters
Ultra Close Minimum Focus: 0.5m /1.6ft
Eye Relief: 19mm
After extensive testing and use out in the field, I found them to be a truly ingenious as well as fun instrument that will be useful in a wide range of areas. The overall build quality is outstanding and they feel both comfortable to hold and robust as is the mechanism in which they split apart and come back together, which for me is one of, if not the most important aspects to them. Read the full Pentax VD 4x20 WP Binocular & Monoculars Review
What I like about the 6x21 VM is that not only is it a very easy to use and very compact monocular, but with the complete kit it can transform into an 18x microscope or with your mobile phone attached, a telephoto camera making it an ideal instrument to take out into the field and observe things like butterflies and flowers, but then also take a microscopic look at them both out in the field and then afterwards when back at home.
The small, ergonomic body shape and rocker focus adjuster allow for easy single handed use.
Fully Multi-Coated Optical system
Phase coated Prism
Waterproof to 1m
Close Focus Distance: 2.0ft / 70cm
Eye Relief: 21mm
Pentax VM 6x21 WP Monocular & Microscope Kit Review
Buy & Compare Prices for Pentax V Series Instruments
Eagle Optics Ranger SRT 6x32 Binoculars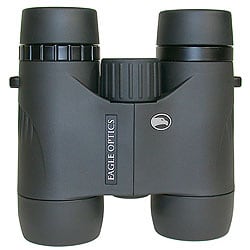 With a minimum close focus of 3 feet (0.9m), the 6x32 Eagle Optics Ranger SRT, is nice compact binocular ideal for viewing objects like butterflies from close range.
The Ranger has a lightweight, durable body, and comes with an affordable price tag, making it easier to justify getting yourself a dedicated close focusing binocular.
Optical highlights include:
Other highlights include soft rubber, multi-position eyecups and very long eye relief (19.5 mm). They also have a very wide (409 ft.) field of view and the Eagle Optics Platinum Protection unlimited, unconditional lifetime warranty.
Price Range - at the time of writing, these were available from Eagle Optics for $179.99:
Vortex Viper 6x32 Binoculars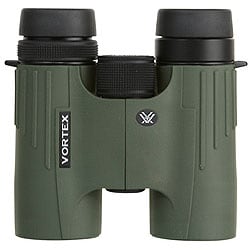 Like the Eagle Optics Ranger above, these 6x32 mid sized binoculars have an excellent minimum close focus of only 3 feet (0.9m).
According to Vortex, Viper, customers have been amazed by the bright views and sharp details delivered through superior optical engineering, which I cannot confirm, but will say that their as well as their close focusing distance, their field of view of 420 feet at 1000 yards is excellent as is their full 19.5 mm of eye relief.
Optical highlights include:
Price Range - at the time of writing, these were available from around $275 - $399 depending on where you get them, which when you consider their list pice was $549, it is a real bargain for a quality pair of optics:
Meopta MeoPro 6.5x32 Binoculars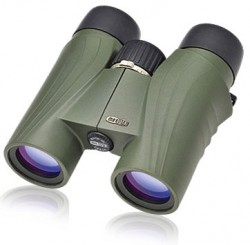 The Meopta equivalent of the Vortex Viper and Eagle Optics Ranger above, comes with a slightly higher magnification of 6.5x. This means that you will get a little more image detail, but makes the exit pupil just a little smaller.
This Meopta binocular has a minimum close focus of 3.28ft (1.1m) which is a fraction more then the two above, but still should be plenty close enough.
Other impressive features include their wide FOV of 432ft @ 1000 yards and a very long eye-relief of 22.3mm.

More Information
Price Range - at the time of writing, these were available for under $300 / £300 - check the link below for current prices:
Other Important Features
When choosing your ideal close focus butterfly binocular, take time to compare and look at these other important specifications and features on the binocular. This way you can get the best binocular for your needs in any particular price range:
Field of View
This is not as important when observing the details close up of a slow moving object, but if you also would like to use your binoculars for things like birding or for taking to a sporting event, then the field of view (FOV) becomes much more important. The FOV is basically the width of the scene that is in view when you look through your binoculars, for a full explanation see field of view in my optics glossary.
A wide field of view will make it easier to find objects especially fast moving ones, it also gives you a more immersive, big-picture experience. On the down side is often a loss of pinpoint detail that you find in high magnification binoculars. In simple terms lower magnification often means wider field of view. A field of view that is too wide will often result in distortion at the edges of the image. (importance 5/10)
Eye Relief
This is very important if you use glasses. Take a look at Eye Relief in my glossary for a detailed explanation, but basically it is the distance behind the ocular lenses where the image is in focus. If you wear glasses, you can't get your eyes as close to the lenses than people who don't and so you need a longer eye relief that basically projects the image beyond the ocular lens. If you wear glasses, you should be looking for an eye relief of at least 15mm, to see the full image full image projected.
Eye-cups are related to the eye relief as they keep the distance from the oculars to our eyes, but also help keep stray light away from your eyes while using binoculars. Many eye-cups are made from rubber and can roll up or down depending on whether you use lasses or not. The problem with these is that the constant rolling causes the eye-cups to break. Another type are eye-cups that slide rather than roll, but these can be hard to keep in place. The third type are eye-cups that twist up and down and so they can be left at any position from all the way up to all the way down, some even have click stops at regular intervals with the eye relief distance for each stop marked on the cup so you can get the perfect eye relief for your vision. (importance 8/10 if you use glasses)
Reviewed Close Focus Binoculars
Below are some recent binoculars that I have reviewed that have a near focus of less than 5.6ft. They are listed in order with the smallest minimum focus ones at the top:
Compact Porro prism binoculars with multi-coated optics and an incredibly close minimum focusing distance that is ideal for close observation of birds, flowers, butterflies, bees and other insects and objects both out in the field or in a gallery or museum.

Their compact design makes them easy to carry about and so like any other compact bin, they make great hiking, camping, and general travel companions, as well as for taking to most spectator sports.

Price: (2/6) Low Cost Binoculars
BBR Ratings:
Body Quality:
7/10

72%




Excellent

Body Stats:
8/10
Optical Quality:
6/10
Optical Stats:
8/10
Image Quality
8/10
Extras & Details:
6/10
A compact binocular that the Transformers would be proud of!

The Pentax VD 4x20 can be split in half and thus converted into two 4x monoculars, which in turn can be placed end-on-end, transforming it once again into a mini-sized, but powerful 16x Spotting Scope!

Price: (3/6) Mid Priced Binoculars
BBR Ratings:
Body Quality:
8/10

82%




Outstanding

Body Stats:
9/10
Optical Quality:
8/10
Optical Stats:
10/10
Image Quality
8/10
Extras & Details:
6/10
Updated with a fully multi-coated optical system the Pentax Papilio II is now better & more versatile than ever.

With their incredibly close minimum focusing distance these are ideal for the close observation of things like butterflies or flowers when out in the field or for use in a gallery or museum.

Other optical highlights include quality BaK4 reverse Porro prisms and aspherical lens elements for a quality and brightness of view that is impressive for a compact binocular at this price level.

Price: (2/6) Low Cost Binoculars
BBR Ratings:
Body Quality:
7/10

75%




Excellent

Body Stats:
8/10
Optical Quality:
7/10
Optical Stats:
8/10
Image Quality
8/10
Extras & Details:
7/10
With an extremely wide field of view and low power, these small, easy to carry Vixen binoculars offer a unique view of the stars and complete constellations.

This along with their exceptional low light capability also make them and excellent choice as a high quality pair of opera or theatre glasses and a host of other uses.

Price: (3/6) Mid Priced Binoculars
BBR Ratings:
Body Quality:
8/10

77%




Excellent

Body Stats:
9/10
Optical Quality:
7/10
Optical Stats:
9/10
Image Quality
7/10
Extras & Details:
6/10
The Alpen Teton binocular incorporates many metal components and magnesium chassis that protect very high-end optics at a price well below what you would usually expect to pay for an Abbe-Koenig bino.

The result is a tough, versatile instrument that delivers a high-quality image and what I consider an excellent low-light capability for a 10x42 binocular.

Price: (5/6) High Value Binoculars
BBR Ratings:
Body Quality:
9/10

87%




Outstanding

Body Stats:
8/10
Optical Quality:
9/10
Optical Stats:
9/10
Image Quality
9/10
Extras & Details:
8/10
A very lightweight and compact open bridge body that is tough as well as fog and waterproof do a great job of protecting the high quality optics contained inside these Snypex binoculars.

Components like Apochromatic lenses with ED Glass Lens Elements, fully multi-coated optics and Phase Coated, BaK-4 Roof Prisms all combine to produce an image of stunning clarity and brightness that is a match to any in this class.

Price: (4/6) Mid-High Value Binoculars
BBR Ratings:
Body Quality:
7/10

77%




Excellent

Body Stats:
8/10
Optical Quality:
8/10
Optical Stats:
7/10
Image Quality
8/10
Extras & Details:
8/10
For a mid-sized binocular, the 8x32 Opticron Discovery is ultra compact and lightweight, has a very wide field of view and extremely minimum close focus.

Add to this good quality optics and a mid range price point and you have an instrument that is ideal in a very wide range of uses and thus will appeal to a huge selection of users.

Price: (3/6) Mid Priced Binoculars
BBR Ratings:
Body Quality:
7/10

80%




Outstanding

Body Stats:
10/10
Optical Quality:
8/10
Optical Stats:
9/10
Image Quality
8/10
Extras & Details:
6/10
These 8x32 Snypex Knight D-ED binoculars come about as close as any as being the perfect general use mid-sized instrument.

The highest quality optical components like APO lenses with ED glass elements, Bak-4 Dach roof prisms with phase correction and dielectric coatings all come together to deliver an image that is as good as many high quality full sized instruments...

Price: (4/6) Mid-High Value Binoculars
BBR Ratings:
Body Quality:
8/10

83%




Outstanding

Body Stats:
8/10
Optical Quality:
9/10
Optical Stats:
8/10
Image Quality
9/10
Extras & Details:
8/10
View All Close Focus Binoculars for Butterflies