Bynolyt Binoculars
About Bynolyt Optics
To be honest I did not know anything about Bynolyt Optics until I came across their striking, sexy and very clever Eskimo advert. Well all I can say is that the advert worked on me because it prompted me to find out more about this Dutch company that produces binoculars (verrekijkers) as well as telescopes, scopes and other optical accessories.
As far as I have been able to establish, the Bynolyt brand is owned by Technolyt that supplies many water sports, optical equipment and outdoor accessories. They have been in existance for over 25 years and supply many brands including Bynolyt and Gambit to dealers throughout the Netherlands and parts of Europe.

The Bynolyt Binocular Range
The catalogue of Bynolyt binoculars is fairly extensive, they tend to focus on bird watching and nature observation and also produce a large range of marine binoculars. Below I have added some details a couple of their ranges:
Popular Bynolyt Ranges:
Bynolyt Albatross Binoculars
According to Bynolyt the Albatross is a solid and reliable workhorse under all possible conditions. The series consists of five different configurations. An 8.5 x45 and 10.5 x45 Ed version which recently replaced the 8x42 and 10x42 ED versions, and 8x32 model and two compacts, 10x25 and 8x21.
All Albatrosses are 100% waterproof and are filled with dry nitrogen gas to prevent against internal moisture of the optics.
The lenses of 45 mm and 32 models use ED flass (ED stands for Extra Extra low Dispersion or low color dispersion). As a result, the lenses have virtually no color errors and annoying color edges.
Phase correction coatings are also used on the Schmidt roof prisms and they also use theor own SHR (Super High Reflection) coatings. This is a 60-layer coating, which increases the reflectivity of the light so that therre is no loss of image brightness.
The lenses of the Albatross binoculars feature multi-coatings and tough, scratch-resistant plasma coatings and they say that up to 94% of the incident light reaches your eyes.
The 8.5 and 10.5 x45 x45 also both have a built-in tripod socket.
Sizes & Models Available:
Bynolyt Albatross 10.5x45 Binoculars
Bynolyt Albatross 8.5x45 Binoculars
Bynolyt Albatross 8x32 Binoculars
Bynolyt Albatross 10x25 Binoculars
Bynolyt Albatross 8x21 Binoculars
Price Range
Depending on the model and where you buy them, Bynolyt Albatross binoculars cost between €380 and €1000 or where available about £350 and £900 in the UK:
Bynolyt SeaRanger Binoculars
These specifially designed marine binoculars come in a number of different configurations and feature either a Liquid Filled or digital compass. All have nice large 50mm objective lenses and a 7x magnification, ideal for use on a moving platform, like a boat.
Models Available:
SeaRanger II
The SeaRanger II has been used by the RNLI for more than 10 years. They are a fully waterproof 7 x 50 binocular specifically designed for marine use. The SeaRanger has an integrated illuminated compass and built-in height/distance scale. These features make the SeaRanger a superb aid to marine navigation. The SeaRanger floats and comes complete with a bright yellow floating strap. The body of the binocular is made of non-slip rubber.
SeaRanger III
The Bynolyt SeaRanger III is an improved version of the original SeaRanger II. The SeaRanger III has larger diameter eyepiece lenses allowing more light in, resulting in a clearer, higher quality image. The SeaRanger III is by used mariners and also by professional and commercial end-users. The SeaRanger can be washed or showered and has been proven useful in applications such as CBRN and Hazmat applications.
SeaRanger IV
The SeaRanger IV has the same optical specifications as the SeaRanger III but with the addition of a digital compass. The compass display of the SeaRanger IV shows compass course and bearing (tolerance +/-3°) digitally in steps of 1°. The internal LED screen also shows a graphic view of the 8 compass points. The compass measures the forward and backward angle of inclination of the binocular (max 60°) and presents this measurement on the LED screen. The tilt compensation feature allows the binocular to be used forward/back +/-60° and sideways +/- 45°.
SeaRanger V
The new SeaRanger V has just come out and so far I have not been able to find any additional information on them

Buy & Compare Prices
Where to Buy Bynolyt Binoculars:
---
The Bynolyt Eskimo Advert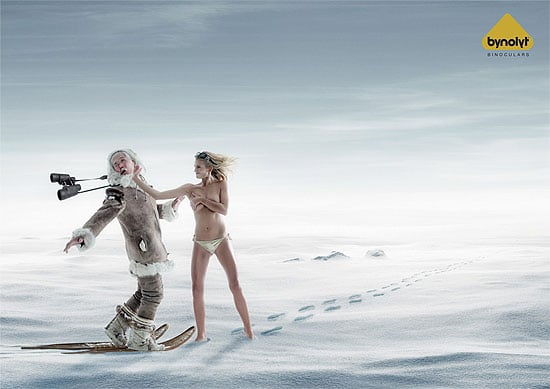 I think this advert for Bynolyt Binoculars won a few awards and whilst it may not be 100% accurate, who cares for logic if something makes you smile. Afterall advertisements are designed to catch people's attention and this campaign does that very well.
Agency: Duval Guillaume Antwerp, Belgium
Account: Patrick Clymans
Creative Directors: Geoffrey Hantson, Dirk Domen
Copywriter: Kristof Snels
Art Director: Sebastien De Valck
Photographer: Koen Demuynck

---
Bynolyt Binoculars on Amazon:
---
>Bynolyt Optics Contact Details
Technolyt
Industrieweg 35
1521 NE Wormerveer
Tel: 075-6474547
Fax: 075-6213663
Email: info [at] technolyt.nl

---