Best Camping Binoculars
Binocular Reviews Home > Binoculars by Use > Binoculars for Camping
>> Skip the blurb, show me the best camping binoculars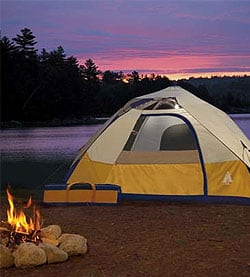 Camping Binoculars
Most people either love camping or hate it, but for me it is one of the best ways to enjoy the great outdoors. All around you are birds, mammals and other wildlife, fantastic scenery like distant islands or mountains and this is why a good pair of binoculars should form a very important part of everyone's camping equipment.
So what makes a good pair of binoculars for camping and what features do we need to look out for? Here is my guide to the best camping binoculars:
How to choose Binoculars for Camping
First decide what you will mostly be using your optics for. Then decide what features are important on a pair of binoculars that you need for the outdoors and rate them in importance. Then see if we can find binoculars that have most or if possible all the features that we are looking for in our price range:
If you main interest is bird watching or hunting and you are just going camping to do some more of your favorite activity, you are better off getting more specific binoculars that are ideal for your specific needs. If you are going on a camping safari holiday, you should look at binoculars for safaris. If however you are going camping to enjoy all that is around you then you are going to need good all round binoculars. This means that they will be good for birding and general wildlife observation as well as scanning terrains and be able to handle the conditions that the outdoors can throw at us.
Size and exit pupil
So what size of binocular to choose? This will largely depend on what type of camping you do, if you are backpacking, you will obviously need a compact lightweight pair, if however you go camping with a caravan, motorhome, RV or campervan size is not as important. Although no matter how you go camping, compact binoculars are always easier to carry around with you than full size binoculars, yet compact binoculars usually have a smaller exit pupil which means that they do not work as well in poorer light conditions, a consideration if you are going to be doing things like viewing forest birds. Look out for an exit pupil of at the very least 2.5 preferably nearer 4. You can work out the exit pupil by dividing the objective lens size by the magnification or power of the binoculars so a set of 10x28 binoculars would have an exit pupil of 2.8mm. Exit pupils range in size from around 7mm (7x50, 8x56) to 2mm (10x21). (importance 7/10)
Magnification
Getting closer to what you want to look at is the main reason for getting binoculars, so you may wonder why not just go for the largest magnification possible? The more magnification or power of your binoculars means that they get harder and harder to hold steady. Greater magnifications also mean narrower field of views, and less apparent depth of focus. A few things can be done to make the binoculars steady, like a tripod or even electronically powered stabilization, like the excellent range of Canon Stabilized Binoculars but even 10x may be too difficult for some people to handle.
In a pair of good "all round" binoculars, a magnifications of 8x to around 10x is a good compromise. One of my favorite outdoors binoculars has a magnification of 10.5x.
7x or 8x binoculars work well in all types of terrain and in a wide variety of situations, forested areas to open fields. The images tend to be brighter with wider fields of view than higher powered binoculars. The wider field of view makes it easier to follow fast moving objects like birds as well as quickly scan the landscape. With 10x or stronger binoculars you will get more detail on anything you are focused on. Good for identifying birds or watching raptors on the wing, waterfowl, and large birds or wildlife, and work best in wide open areas. You need a fairly steady hand, especially when using a high-power compact binocular which are often so light that it takes very little hand tremor to affect your view. (importance 5/10)
Field of view
Your field of view is fairly important and is not something that many people think of. Basically it is the width of the scene that is in view when you look through your binoculars, for a full explanation see field of view in my optics glossary. A wide field of view will make it easier scan a terrain for things of interest, making it easier to locate birds and animals. On the down side is in loss of pinpoint detail that you find in high magnification binoculars, that have a far narrower field of view. A field of view that is too wide can often result in distortion at the edges of the image. In simple terms lower magnification often means wider field of view, but in general what you are looking for is the widest field of view as possible in your chosen magnification. This is a good way of deciding between two pairs of camping binoculars of the same magnification, take a look at which has a wider field of view. (importance 6/10)
Water and Fogproofing
Just how important waterproofing will largely depend on the type of camping you do and what kind of conditions you go out in. If you are camping in the highlands of Scotland and will be out in all conditions, waterproof binoculars are almost essential. Generally most quality binoculars will be fine in light rain and humidity. Fog proof binoculars mean that their barrels are filled with nitrogen or argon gas to prevent internal fogging caused when subjecting your optics to temperature extremes. This can be an important feature in places with high humidity. Fog and waterproof binoculars will also help to prevent sand, dust and other small debris from entering the system, so very important in dry dust places as well! For more information read my article on waterproof and fogproof binoculars (importance 5/10
Ease & Speed of Focusing
Any type of observation where your subject is fast moving (like birding), ease of focusing is important, but often overlooked. What you are looking for is the speed at which you can focus the binoculars onto your subject as slow focusing can often mean missing what you were after. Binoculars with good focusing mechanisms will go from close focus to infinity in one full turn of the focus ring or less. Most binoculars use a linear focusing gear. If the gear ratio is slow (so more turning of the dial), they will focus easily on close range objects, but will be harder to focus on long range objects. If the gear ratio is fast (so less turning of the dial), they will be difficult to focus on close range objects as micro adjustments will be difficult but excel at long distance. Look out for a new innovation where binoculars have a variable speed focusing gears. This will ensure that the focus is slower close in and faster farther out. Another consideration are auto focus binoculars, or probably more accurately described as focus free or always in focus binoculars where by once you have adjusted them to your eyesight, they will be permanently in focus from a given distance to infinity. If you want to learn more read my article on self focusing binoculars.
(importance 4/10)

Weight
A light and compact binocular will be easier to carry around with you all day, especially if you are going to be doing a lot of walking or hiking. However heavier well balanced binoculars resist moving, so are often easier to hold steady, this is especially true if you are using larger magnification binoculars of 10x or more. The objective lens size usually affects the weight and size of a pair of binoculars the most, so what I would do first is decide what size of binocular you want first (compact binoculars, mid size binoculars or full size binoculars) and then compare the weights and dimensions of the binoculars in this group to find what you are looking for, but to be honest the materials used in most good quality binoculars these days mean that once you have decided on the size of binoculars you want, the weights between different models will not make too much difference. (importance of weight within a particular size of binocular 2/10)
Balance
A well balanced pair of binoculars sit nicely in your hands, making them easier to hold steady. This is unfortunately is not something you can compare without trying them yourself, having said that if you are going for a quality pair of binoculars, all will be pretty well balanced and you will probably not go wrong here. Well balanced binoculars should put very little stress on your arms, wrists, and hands when you hold them up to your face. A badly balanced pair, will strain your muscles making viewing for long periods a task as well as making harder to keep steady. (importance 5/10)
Eye Relief
This is very important if you use glasses. Take a look at Eye Relief in my glossary for a detailed explanation, but basically it is the distance behind the ocular lenses where the image is in focus. If you wear glasses, you can't get your eyes as close to the lenses than people who don't and so you need a longer eye relief that basically projects the image beyond the ocular lens. If you wear glasses, you should be looking for an eye relief of at least 15mm, to see the full image full image projected.
Eye-cups are related to the eye relief as they keep the distance from the oculars to our eyes, but also help keep stray light away from your eyes while using binoculars. Many eye-cups are made from rubber and can roll up or down depending on whether you use lasses or not. The problem with these is that the constant rolling causes the eye-cups to break. Another type are eye-cups that slide rather than roll, but these can be hard to keep in place. The third type are eye-cups that twist up and down and so they can be left at any position from all the way up to all the way down, some even have click stops at regular intervals with the eye relief distance for each stop marked on the cup so you can get the perfect eye relief for your vision. (importance 8/10 if you uses glasses)