Canon Binoculars: Canon Stabilized Binoculars
Binocular Reviews Home > Canon Binoculars
Canon are one of the biggest brands in the world and even though Cannon's range of binoculars is a small part of their business, Canon Optical Binoculars and in particular their Image Stabilized binoculars not only innovative, but are one of the most respected brands in the world of optics.
Image Stabilization Binoculars
(Image Stabilisation Binoculars)
Depending on which side of the pond you live on you either spell it "Stabilization" or the UK spelling of "Stabilisation", but what ever the case there are currently there are only three makers, including Canon who make binoculars with image stabilization technology. Canon stabilized binoculars were not only pioneers in this exciting area of binoculars, but today are pretty much the market leaders in image stabilization binoculars.
How Do Canon Image Stabilization Binoculars (IS) Work?
One of the first questions many people ask is how do canon IS binoculars work and more importantly do IS Binoculars actually work? The answer to whether image stabilization in binoculars works, is most certainly "Yes." I was a little sceptical at first, but canon IS binoculars are not just a gimmick and sign of just how serious Canon are about their image stabilization binoculars is that all of their current binoculars, apart from one compact version have their image stabilisation technology incorporated into them. Check out this video that demonstrates just how well >> Image stabilization works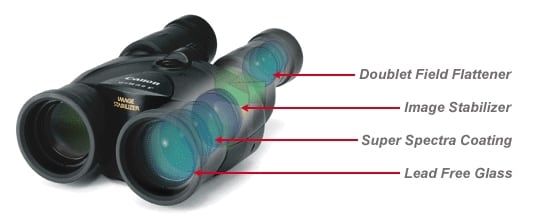 Vari-Angle Prism Image Stabilization
As for how Canon stabilized binoculars work, the technology was initially developed for their camcorder products and then later incorporated into their binoculars. Canon IS Binoculars use Vari-Angle Prism type of image stabilization. Inside the binoculars, there are two sensors detect horizontal and vertical shaking respectively. The two Vari-Angle Prisms in both the left and right telescopes are controlled by a microprocessor to instantly adjust refraction angle of the incoming light.
This system is used in all Canons IS Binoculars. On top of the binoculars there is a button and if you are looking through the Canon stabilised binoculars and want to stop image shake, you just press and hold the button. Because of the micro computer, Canon IS binoculars do need batteries and this does add to the weight of the product, although having said that the excellent Canons 10x30 IS weighs only 600 grams. The advantages of this system compared to other stabilized binoculars are that they are compact, light and you get an immediate response after the image stabilizer is activated (the system is activated as soon as the button is pressed) and the image is stable even when panning.
Other types of image stabilization in binoculars include the Gyro type and the Mechanical type.
Canon IS Binoculars
The range of Canon stabilized binoculars includes the Canon 8x25 IS, Canon 10x30 IS, Canon 12x36 IS II, Canon 15x50 IS All Weather, 18x50 IS All Weather and the 10 x 42L IS WP
New Canon IS Binoculars with Enhanced Image Stabilization Announced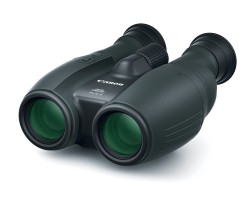 Canon have announced that are releasing some new binoculars that feature enhanced image stabilization that they call "Lens Shift Image Stabilization Technology".
This new technology will feature in the following new configurations: 14x32 IS, 12x32 IS and 10x32 IS and are initially set to have and estimated retail price of $1449.00, $1399.00 and $1349.00 respectively.
For more details, you can read the full press release here.

So other than image stabilization, what other technologies do Canon incorporate into their binoculars?
Doublet field-flattener lens
All of Canon's IS series binoculars use the worlds first doublet field-flattener lens. This is Canons exclusive optical design with two field-flattener lenses. By using the two lenses, Canon has managed to achieve a wide field of view of 67° (12x36 IS, 15x50 IS, 18x50 IS), with unrivalled sharpness. These lenses are normally reserved only for high grade binoculars but Cannon have used them in their entire IS range.
Canon All Weather Binoculars
Whilst Canon's binoculars are not completely waterproof, their 15x50 IS advertised as being ALL WEATHER meaning they are designed with a sealed construction that suits them for outdoor use, even in the heaviest rain conditions. As they say, they are built for ALL WEATHER action, but probably best if you don't go swimming with them! The 12x36 IS is water resistant and not part of the ALL WEATHER series, but you can still use it in a light drizzle. Even if it gets wet, it is still easy to hold, because it is covered by a rubber material.
Where to Buy Canon Binoculars: