Best Binocular Harness for Hunting 2023
BBR Home > Hunting > Best Hunting Bino Harness
When considering which hunting binocular harness is best for you and your particular needs, there is no cookie-cutter solution that will apply in every instance.
However, that doesn't mean that you can't make a more informed decision when purchasing.
So following on from my overall guide to the Best Binocular Harness for general use, in this guide I take a look at what aspects to look out for when choosing a harness for hunting, pointing out the specific needs and considerations for hunters. I also offer up a selection with reviews of what I believe are the best binocular harness for hunting in a range of categories and price points.
Please note if specifically want harness that can also carry a rangefinder, take a look at my guide to the Best Binocular and Rangefinder Harness.
Quick Links: Best Hunting Bino Harness 2023
---
---
---
---
---
---
---
---
Points to Consider Before Making a Purchase
There are some items you can purchase based on the recommendations of others, but when it comes to a bino harness for hunting, there can be several factors to consider and keep in mind.
This isn't to say that a particular harness is of a lesser quality or less functional when compared to another, but choosing the right one can depend on your specific needs, as well as your tastes.
For example someone's idea as to the best binocular harness for bow hunting in Wisconsin in winter may be quite different in terms of design and style to to that of a rifle hunter operating in the wide open and sometimes very hot bush somewhere in Southern Africa. Even the camo requirements can be different.
Is a Binocular Hunting Harness Necessary?
We all have a different approach to life in many aspects, and hunting is no different. It's not uncommon to hear about many different methods that make for the best hunt.
The truth is that everyone is different, and what works for one doesn't necessarily work for another.
So, while some are happy with the binocular strap itself, others will find that there is a lot of pull after long periods of time, which can lead to discomfort and even pain in some instances.
The main appeals of binocular harnesses is that they distribute weight evenly, making for a more weightless feel and they free up your hands to perform other tasks.
There are other reasons as to why binocular harnesses are popular with hunters, photographers and explorers globally, and that's the protection harnesses can offer. While some offer a basic carrying function, others will include a pouch that ensures your equipment is protected. In this regard, a purchase of a harness can seem like a good investment when compared to the price of your binoculars.
Ascertaining as to whether a binocular hunting harness is necessary will depend on your circumstances, but they certainly help with lightening the weight, freeing up your hands as well as offering quick access and much better protection for your instrument.
Look for Value as Well As a Bargain
It goes without saying that buying new equipment is one of the most enjoyable aspects of outdoor activities, so many will want to ensure that they're getting good value for money. However, there is a difference between good value and too good to be true. For example, those new to life in the great outdoors may not have much to spend, so will be looking for the cheapest option available.
There is plenty of choice available when it comes to finding your ideal hunting harness, you just need to ensure that the solution you choose is up to the task at hand.
Opting for a harness for binos that is unknown within the industry could mean that you end up still struggling to carry your gear and could have to make a further investment in a more reliable harness.
Consider Your Needs
Regardless of whether you're hunting, or looking to explore the more rugged parts of the world, a reliable harness will serve many different needs. To ensure you purchase the best binocular harness for hunting, you will need to identify your general needs beforehand.
For example, the location can make a wealth of difference as to what kind of harness you will opt for:
If you're often hunting in the mountains or often climb over steep rocky terrain, then it's likely you will want to protect your binoculars from potential impacts.
Similarly, if you're hunting in a warmer or hot climate, then it may be worth considering a more lightweight harnesses with thinner straps and back-plate that includes more perforations for better ventilation.
Camouflage is not only for style but in certain cases choosing the right camo binocular harness for your environment is an important aspect to keep in mind.
Will You Be Carrying Other Gear?
When exploring the great outdoors, many of us will approach it in different ways. With so many different goals, it stands to reason that some may need more equipment than others.
Hunters that travel over large distances carrying lightweight gear may find that a simple straightforward harness is all that's needed for their outdoor endeavors.
However a hunter out in the wild in harsh conditions may need a little more flexibility, and may be looking for some additional features, like a hook and loop system or full case that allows for more protection and the carrying of ammunition and laser sights for example.
While a regular bino harness can be used in conjunction with other items like a backpack, this can be costlier, and can weigh you down depending on the solution used.
Some may need to purchase additional accessories, but it can be more cost-effective and reliable than mixing and matching, especially if you're looking for convenience.
What's Your Budget?
While the dangers of choosing inferior products have been highlighted, that doesn't mean that there aren't some great deals available.
Of course, many will have a set budget, and may be perplexed as to how they should find the best solution for them.
Having an idea of how much you have available in the first instance can make the process a lot easier, as you will be able to scale down your search to binocular holders that fall within your price range. Once you have a better idea of what's available, the easier the selection process will be.
Hunting Binocular Harness Reviews
Based on all the advice and considerations listed above and on experience, below are my selections as to the best bino harnesses for hunting along with quick roundup reviews and where possible links to full in-depth hands-on reviews to that product:
Top Pick: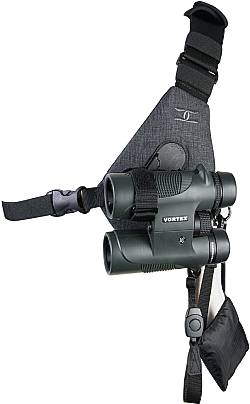 Right from my very first test with the Skout "Sling Style" Harness from Cotton Carrier, it immediately became my all time favorite bino harness.
In terms of just how easy it is to fit, slide on and off, it's price, the level of comfort it provides and the extremely wide range of size and styles of binoculars that will carry, the Skout is in my opinion almost impossible to beat.
Indeed, I tried it using some mid-sized 32mm binoculars, full sized 42mm's, large 56mm binoculars including the Steiner HX 15x56 and the Steiner Shadowquest 8x56, both of which are very popular large hunting binoculars.
Then lastly I even tested it using a pair of very large 70mm binoculars and this ingenious system was able to carry it in comfort without any problems.
Thus for me, the only time you would not want to use the Cotton Carrier Skout Sling Style harness would be if you need the extra protection that a full bag type of harness provides.
For more, take a look at my Cotton Carrier Skout Binocular Harness Review which contains a detailed guide that includes photos, video demonstrations, fitting instructions, my experience after using them and where to buy.
Where to Buy & Prices
Currently retailing for around $79 / £79, I think they offer really good value for money, especially when you consider it can also be used to carry your camera and is super easy to swap between different pairs of optics.
Athlon Optics Binocular Harness
Most hunters will want or need to ensure that they are mobile, comfortable and as discreet as they can be when glassing a target. The Athlon Optics Binocular Harness has you covered in these and most other important areas:
It is waterproof and thus ideal in wet and snowy/blizzard conditions.
The harness is designed to reduce the strain that using a standard binocular strap can present during a long hunting trip. It is also fully adjustable and can be altered to allow for maximum comfort.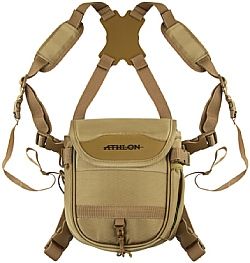 The flip cover is magnetic, and snaps shut without raising alarm. The cover can also be held open using the same magnet system, allowing hunters to have easy access to their binoculars with one hand while still holding onto their bow/rifle or rangefinder with the other
A side pocket, stretch cord, clip and hook make it a versatile option for carrying licensing as well as other accessories and makes this a great binocular and rangefinder harness solution. Indeed Athlon's own rangefinder comes with a case that fits perfectly to this harness, but so will most other rangefinder cases if you already have one.
Whilst not the most spectacular on on the market, the neutral earth tone desert-tan color is a great general use camo that will work well in a variety of environments and seasons.
Strengths
Easy Adjustment & Customized Fit
Waterproof & Protective
Silent Access
Additional Storage great for rangefinders etc.
Great Value for Money binocular chest pack
Weaknesses
Sweaty Chest in Hot Climates
Bulky compared to simple harness straps without a case
Review
As I type this, I have this Athlon Bino harness in for testing and have been using it for about a week, my look out for my full review which will be up soon.
Price:
Costing about $50 this Athlon Bino Harness looks to be a real bargain and most certainly one of, if not the best value full binocular chest harness on the market:
S4 Gear Lockdown X Bino Harness
The Lockdown and Lockdown X Harness systems from S4 Gear bridges the gap between simple suspender type straps and full chest pack harnesses and so will suit hunters who want protection for their bins, but also don't want to add to much more weight and bulk onto themselves.
The unique design of the S4 Gear bino harness offers a number of advantages over the others on this page.
Firstly the lightweight pouch that holds your binoculars is moldable and thus you can make it perfectly fit the shape of your particular instrument which means there is no movement or bouncing around of your bins once they are locked in.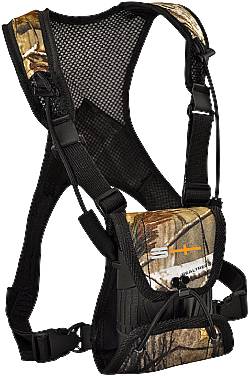 Access to your bins for glassing is super quick and easy. Simply undo the elastic strap on the front of the pouch and you are ready to go. No opening a lid and then reaching inside of a case.
The design of the attachment cords (ShockCords) as S4 Gear calls them is also different to other harnesses in that there is no tension, so you get the bonus of a tethered instrument that you can't drop, but at the same time tension free glassing for more free movement and flexibility.
Lockdown vs Lockdown X
S4 Gear offer two different styles of straps with their optics deployment system.
The standard S4 Lockdown Harness (shown on the right on the image below) has a thin strap that goes down the middle of your back. This covers less surface area on your back and so is probably a better choice in hot climates.
The Lockdown X on the other hand is far more substantial and thus a better option for improved comfort and so ideal if you have larger, more heavy binoculars.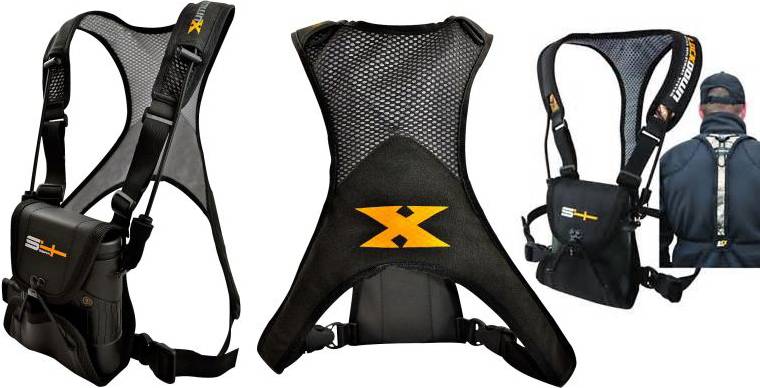 Colors
Depending on your tastes and needs, you can also choose the S4 binocular harness in a blue color, black or a Realtree Camo color which is depicted on the right.
Sizes
S4Gear offer the Lockdown in two different sizes. A Micro for optics of between 4.5" and 6" in length and a standard size that will take binoculars of between 5.75" and 7.5" in length.
Note: The design means that you do not need to worry about the width as you would with a full case.
Strengths
Protective cover for your binoculars without being bulky
Lightweight, Low profile design
Unique design enables tension free glassing
Extremely well made
Very Adjustable with great Quick Release System
Breathable mesh on the rear
Weaknesses
No room or pockets to carry extra gear
Review
My full S4Gear LockDown Binocular Harness Review
Price:
Depending of the exact design and color option you go for the S4 Gear Lockdown Harness cost between $30 and $70 (£40 and £55 in the UK) at the time of writing this review - you can check current prices in your country with the links below:
Bushnell Deluxe Binocular Harness
If you prefer the design of a binocular chest strap as opposed to a pouch, then the Bushnell Deluxe may be for you. Although it's designed for carrying binoculars, it can also aid photographers, who also need quick and easy access to their equipment, without spooking the target.
More than many others, this particular Bushnell bino harness ensures that your binoculars are kept just below your chin, so they can be grabbed at a moment's notice.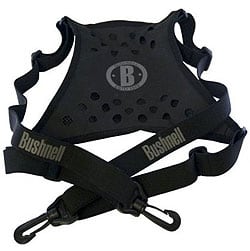 The straps are made of elastic, and can be altered to suit almost anyone's build. So not only will the harness help distribute the weight of the binoculars so it's a less cumbersome ordeal, but it will also help you stay cooler on warmer hunts thanks to its perforations.
Whilst there are strengths like being more lightweight and less cumbersome, having a more of a standard binocular chest strap design means that there are some limitations, depending on what you're looking for.
For example, other than keeping them close to your chest, there's no added protection for your binoculars, nor is there any additional storage.
However, if you're looking for a straightforward lightweight, no fuss and cost-effective solution to help lighten the load, then the Bushnell Binocular Harness could be what you're looking for.
Strengths
Lightweight yet Comfortable
Simple but effective design
Easily to sit and very adjustable
Good in hot conditions
Weaknesses
Lack of case means no extra storage or protection
Price:
With a current retail price of less than $13 / £23 this Bushnell Deluxe Bino Harness is a great, cheap option that performs the required task without fuss:
Vortex GlassPak Binocular Harness
While some of us may only require a solution for carrying our binoculars, there will be those who want to ensure they are able to carry other gear and paraphernalia more easily and currently retailing for under $40, for the money, this harness is hard to beat.
If so, a basic bino harness may not fulfill your needs and this is where designs like this Vortex binocular harness that comes with a full case and a few additional features comes to the fore.
For example: There is a rear zipper mesh pocket that can hold important documents, maps, money, or even your cell phone and also helpswith reducing sweat. There are also side mesh pockets that can hold all sorts of items, whether it be a laser sight, keys, knife, or a lens for your camera.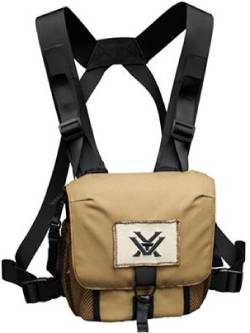 The Vortex GlassPak is about being prepared, regardless of whether you must show documentation, or you need to take that perfect shot without disruption.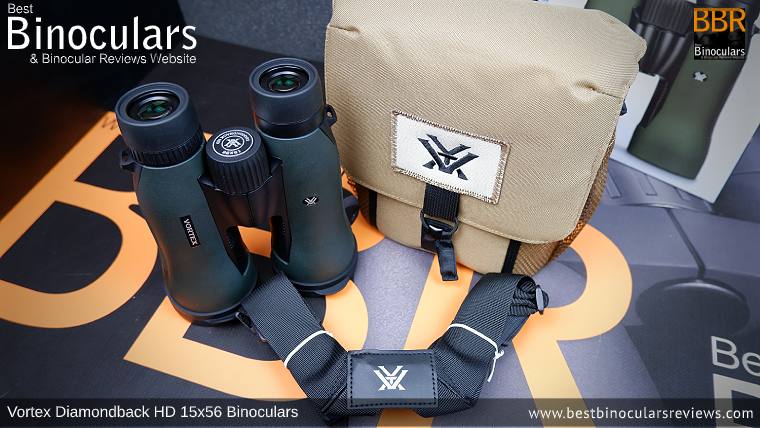 For more details and photos check out my Vortex Diamondback HD 15x56 binoculars Review which this harness comes as a included accessory!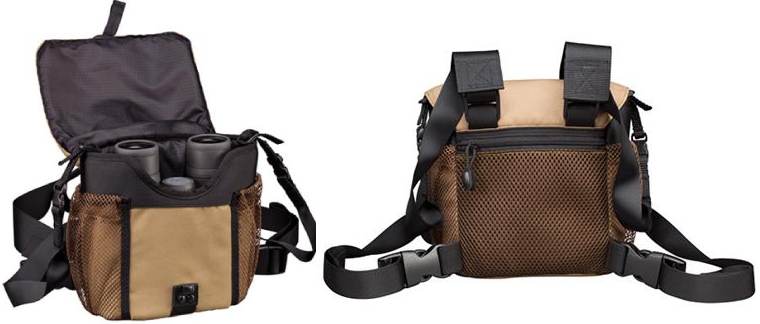 Retrieving your binoculars is easy thanks to the unhooking mechanism that the harness employs. Some may not find the opening and closing as swift as other harnesses, but for others it may offer the perfect sweet spot between accessibility and protection when the pouch is closed.
Note: Some larger binoculars may be a little snug at first and the case may require some "breaking in", but when settled and moulded to the shape, the process of removing and replacing becomes much easier.
Strengths
Plenty of Storage Space
Can be used for Binoculars or a Camera!
Extra pockets great for storing your phone, GPS, maps, pocket knife or rangefinder
Will accept large 56mm binoculars like the new Vortex Diamondback HD 15x56 binoculars.
Rear mesh pocket helps with sweat - good attention to detail
Well padded offering plenty of protection
Weaknesses
A little bulky compared to the simple bino suspender designs
Too much space for small and even mid-sized binoculars
Price:
At around $40 the Vortex Optics GlassPak Harness for Binoculars is for me an excellent value for money full cover harness & case from a trusted hunting optics brand that well worth considering:
Nikon Binocular Harness
Although their simple bino harness lacks the whistles and bells of others, the Nikon Bino Harness does do what it was designed for: it gives hunters and adventurers alike quick and easy access to their binoculars, whilst keeping them snugly against your chest when not in use.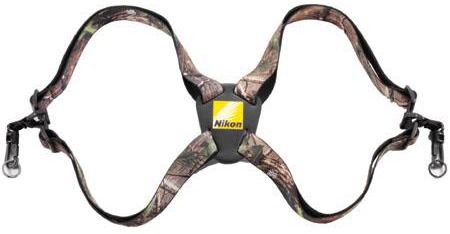 Again, it's a case of personal preference, but if you're looking for a straightforward, lightweight approach to carrying your binoculars comfortably, then this could be a worthy contender. Although basic, Nikon's binocular chest strap is robust and the thick elasticated straps make it comfortable to wear, but at the same time don't cover too much of your body like some designs so is great for hot, sweaty conditions.
What's more, your binoculars can be easily detached for more freedom of movement should you wish.
The Nikon Binocular Harness will only serve some, as it offers no pouch or any additional storage, so those looking to carry some additional weight may need to look elsewhere.
This isn't to say the Nikon Binocular Harness is a bad investment, the wide straps are comfortable, it does what it's designed to do and does it well, you just need to ensure that it meets your requirements.
Nikon offer their harness in a neutral black and a more deluxe RealTree Camo version.
Strengths
Robust thick elasticated straps
Lightweight & Comfortable to Wear
Great for hot climates
Quick and easy to put on or take off
Cost-Effective Straightforward Solution
Weaknesses
Hunters with loads of extra gear may prefer the full binocular chest pack design
Price:
Costing around $25 / £23 the Nikon Binocular Harness is a quality inexpensive, simple to use, lightweight carrying solution perfect for lightweight hunting needs:
Kuiu Bino Harness
Kuiu is a company that has hunting in it's genes, so they know from first hand experience what is required and is why I believe the Kuiu is up there with the best hunting binocular harness in the business.
Their binocular chest pack harness comes with a selection of camouflage designs sporting the famous Kuiu logo and a bunch of features important to the hunter:
The very high quality and well designed case section allows for just about any brand of binoculars to be held securely. With two size options available you can be sure that you will also be able to get one that can accommodate larger instruments - up to 56mm bins.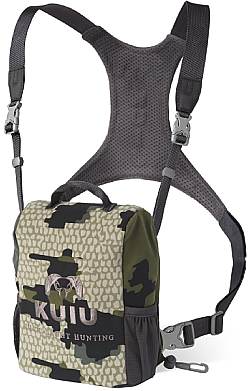 The larger capacity of both sizes as well as the adjustable height and the molded lid allows for various designs of bins and of eyecups and makes sure that there is no sag and that your instrument fits snugly inside without bouncing around.
The Kuiu bino harness also includes fleece line construction for added protection and to keep noise down when taking out or replacing your binos.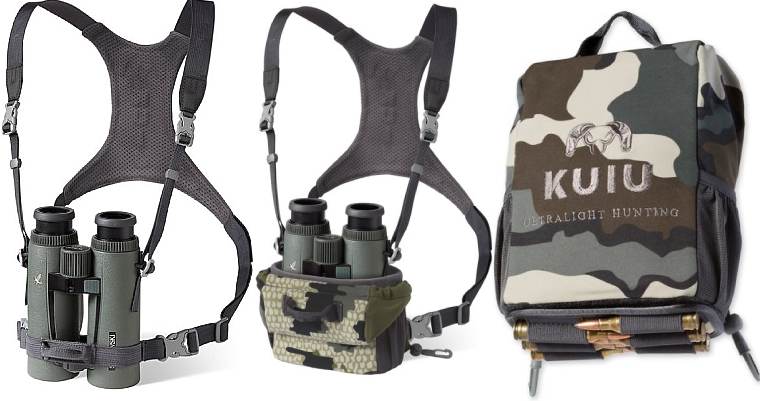 A Velcro (hook and loop) attachment system on the underside allows for the addition of more storage, such as an ammo holder and rangefinder case. Note these accessories must be purchased as an added extra.
So whilst this solution may differ from more conventional and simple binocular holders and indeed many other full case designs, I feel that it not only looks great, but is in my opinion one of, if not the best camo binocular harness currently on the market.
For more details and the relative strengths and weaknesses of the Kuiu Harness, take a look at this article on the Kuiu vs Badlands Bino Harness.
Strengths
Hunting Heritage you can trust
Versatility: Carry your bins in the full case
Included rain cover
Offers Goof level of security and comfort
Silence & camouflage is forefront with different camo options available
Velcro underside for fixing rangefinder and ammo holder.
Air Mesh Space on the back panel for better air circulation
Weaknesses
Aesthetics won't be to everyone's taste
More bulky & less lightweight than simple straps, but to be fair is one of the most lightweight and streamlined case type harnesses.
Less protection than full covered case harnesses
Price:
Depending on the size you choose the Kuiu bino harness for sale at around $90 / £90, which is one of the more expensive options out there, but you are paying for an extremely high quality and well made American product:
Badlands Bino X Binocular Case
This is another top full cover camo bino harness that sports the binocular chest pack design, which enables it to cater to the demands of the modern-day hunter who has expensive bins to protect and possibly other gear to carry onboard as well.
Silence is ensured with the Badlands Bino Harness via a magnetic clasp that secures the pouch together. this neat feature still allows for one-handed access during more tense moments.
The standout feature of the Badlands Bino X Hunting case is its emphasis on support. The padded shoulder straps just add an additional layer of comfort not seen in some other binocular holders, and make light work of distributing weight.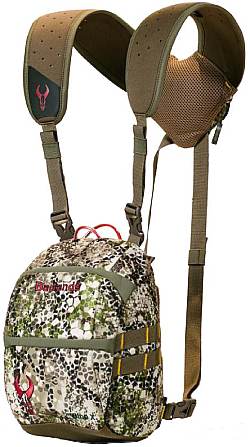 I also really like the high level of protection for your instrument that you get with the Badlands binocular chest pack as well as the extra storage space, which if you carry even more gear that you require quick access to like a laser rangefinder or even ammunition, this is an important feature to keep in mind.
Regardless of whether you're out hunting, or just exploring the rough terrain, the Badlands Bino X case will ensure that you're never making an unnecessary racket, while ensuring your binos aren't subjected to the harsh elements and coarse surroundings.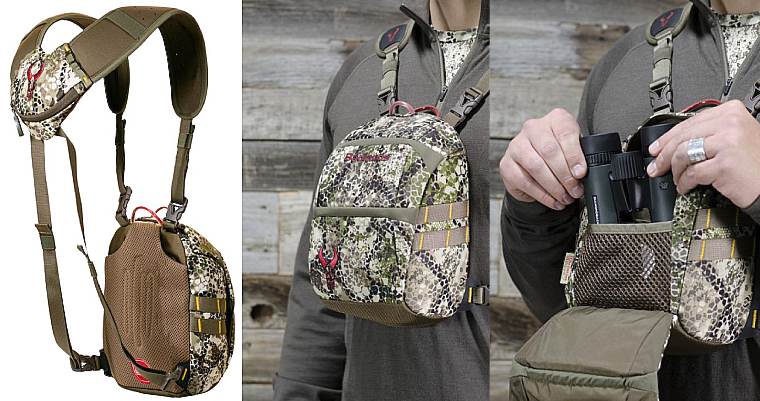 Strengths
Super Wide & Comfortable Shoulder Straps
Great Camo - designed with hunters in mind
Unique Design Magnetic Closure
Chest Pack offers storage and extra protection to your Binoculars
Backpack Friendly Harness
Weaknesses
This Design & Camo Style Won't Be to Everyone's Taste
Bulky compared to simple bino suspenders
For more details and the relative strengths and weaknesses of the Badlands Bino Harness, take a look at this article on the Kuiu vs Badlands Bino Harness.
Price:
At the time of writing the Badlands Bino X Camouflage Hunting Binocular Case was on sale for $99.99 making it one of the most expensive options and will suit those who value the highest quality over value for money:
Conclusion
Evidently there is a lot of choice when it comes to choosing which harness for hunting is best, and what are drawbacks for some models can be strengths on others.
Because all the products I have listed above all do a sterling job of reducing the strain carrying binoculars bring, protecting your device and freeing your hands, it seems unfair not to highlight one that I think stands out and because everyone has their own preferences and needs, this I feel is impossible.
Full Chest Pack Harness
For a very high end, full cover solution it boils down to the Kuiu vs Badlands Bino Harness and which you choose will largely come down to personal taste. Whilst if you want more bang for you buck, then the Athlon Optics harness is my choice and is why it is my top choice:
It may not offer any more than some of the other solutions and the choice is not clear cut, but the Athlon Optics harness is well rounded, regardless of your needs. It has a basic but professional aesthetic and function, waterproof material and plenty of storage to protect your wares.
The neutral sandy color will offer good camouflage in most environments and serves all the required uses with ease. I also feel that it is extremely well priced and thus offers great value for money.
Simple Suspender Straps
The Nikon RealTree Camo harness is my selection as the best binocular harness for hunting if you require a simple lightweight strap. Whilst it is one of the cheapest, it looks great, is very well made, robust and super easy to use.
Best of Both
For the best of both worlds and a really neat way of getting the comfort and support offered by a standard harness, but also the protection you get from a case, but without the bulk, then the clear winner is the S4 Gear Lockdown Binocular Harness.