Best Night Vision Monocular Reviews 2023
BBR Home > Night Vision > Best NV Monocular
With optics in general, but even more so when we are talking about NV, a monocular with it's single lens and barrel has a couple of important advantages over a binocular's two lenses:
1) Size Matters
The first and most obvious one is size. As it is basically half a binocular, a night vision monocle is far more compact and lightweight and thus easier to carry about as well as pack away.
2) Cost
The second big benefit a NV monocular has over a bino is that they are cheaper. This is because the manufacturer only has to make half a device using far less components and so they cost a whole lot less to make.
So if you are looking to save a few dollars, a cheap night vision monocular is the way to go.
Best Night Vision Monoculars
Before we get to the reviews and recommendations, I think we should quickly reflect as to just what constitutes being "the best":
As well as two main advantages over binoculars that I have already mentioned, a top night vision monocular has to be a number of things:
Lightweight
Compact
Cost less than an equal quality NV binocular
Function better than others within it's class
Thus in this article I will use these points as a guide to select and go through some of the very best night vision monoculars is a range of uses generations and categories as well as provide links to my complete hands-on reviews of many of them.
Categories
Best Gen 1 | Best Gen 2 | Best Gen 3 | Best Gen 4 | Best Cheap Digital | Best Digital
Winners: Best Night Vision Monocular 2023
---
---
---
---
---
---
Night Vision Monocular Reviews
Below are my top nite monocular recommendations in their respective categories.
Firstly there are the "standard" devices that use Image Intensifier Tubes to magnify any available residual light taken in by the objective lens and which is then projected onto the eyepiece for you to see. If you need more information, be sure to check out my Complete Guide to Night Vision and How it Works.
With each of them I have written a mini review of the product based on their main features and specifications. Then if you prefer to go into more depth many contain links to my full hands-on review of the instrument:
Best Gen 1 Night Vision Monocular
There is no doubting good quality higher generation NV instruments do offer improved performance, but if you are on a tight budget or only plan to use your instrument infrequently, then you really should not discount a Gen1 NV Monocular.
I have had some really good results in this class and have been very pleasantly surprised on a number of occasions. In fact there are some, like the one below that deliver an image that matches many average Gen 2 instruments that cost a whole lot more.
But you do need to be careful as in this category more than all the others you also get a far higher proportion of poor quality devices.
The Gen1+ LN-NVM5-HR from Luna Optics, combines a powerful 5x magnification with a large 50mm objective lens, this is ideal if you need just that little more reach than many lower powered devices can offer, but still want to maintain as bright and image with as much detail as possible.
The slight downside here is that the larger lens makes the device a little larger and thus less portable.
The 5x power has it's obvious advantages, but just remember that it also means you cannot use it as a goggle for on the move use.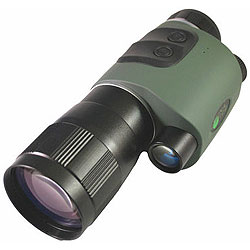 Main Specs & Highlights
Waterproof Body
High Resolution Generation-1+ Intensifier Tube
Powerful 5x Magnification
15°Angular Field of View
50mm Objective Lens
Built-in IR illuminator
Light gain: Min 500x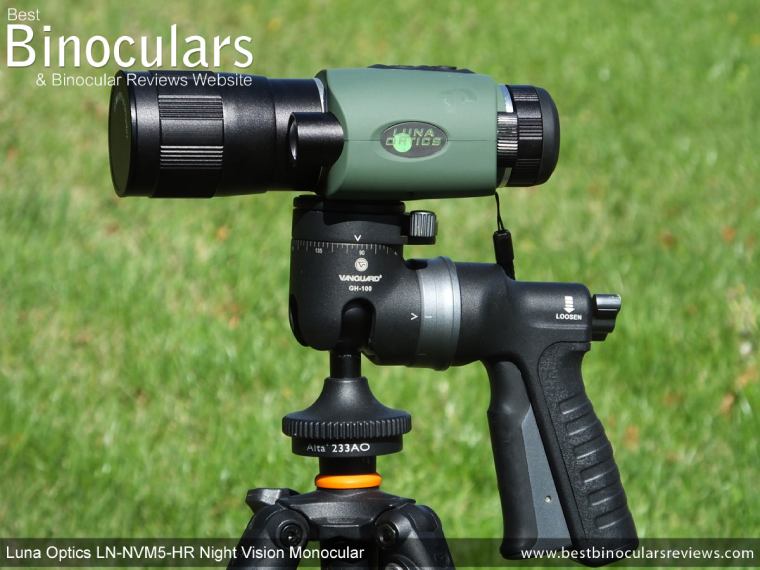 Powered by a single 3v CR123A battery, the Luna Optics LN-NVM5-HR Night Vision Monocular has many of the same features as that of higher generation devices.
This includes a built-in IR illuminator for use in complete darkness, a waterproof body that is both tough and tripod adaptable.
Whilst testing this device I thought that both the image quality In terms of clarity) and brightness on all but the very darkest nights was very good especially if you keep in mind the high powered 5x magnification and easily a matches or beats any others in this class.
I also thought that the power and effectiveness of the built in IR was impressive and in my experience is as good or better than any others I have used in this class.
With the tethered lens cover and included wrist strap and tripod mounting thread,Luna Optics show a good attention to detail.
Price:
For about $240 / £160 these really are bargain in my eyes and a fraction of the cost of higher Gen products:
Best Gen 2 Night Vision Monocular
When you are talking about "real" image intensifier instruments and thus ignoring digital devices, then Generation 2 night vision devices are where you get a really good sweet spot between performance and price and is why for most civilians this is the best and most popular category.
Even here there are quite large differences in performance and thus when doing your research, try and look for devices that are advertised as using the better quality Gen 2+ intensifier tubes which deliver a brighter and better quality view even in the darkest nights.
Below is my top pick and a device that is a real favorite of mine for a number of reasons:
The Gen2+ Luna Optics LN-EM1-MS night vision monocular, is light and compact enough to be comfortably carried anywhere.
The unit features all-glass multi-coated optics providing bright image and a very wide Field Of View and a built-in 2-power level IR illuminator allowing for short distance observation even in complete darkness.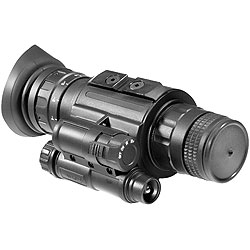 Important Facts
Generation-2+ Intensifier Tube
26mm Objective Lens
Magnification: 1x
Very compact and lightweight aluminium body
Built-in 2-power level IR illuminator
Multicoated optics
Weight 12oz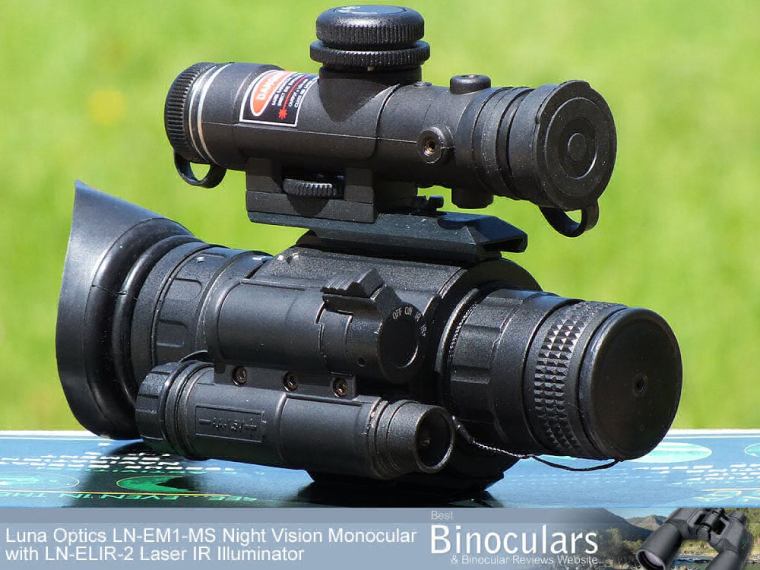 When I tested these my impression was that the build quality was very high and loved how the very compact and lightweight design makes them not only really easy to carry about in your hands, but also very easy to pack away in you bag and take wherever you are going.
It operates on just one AA type battery and can also be accessorized with optional head-mask to be uses as a NV goggle, larger magnification lenses and extended range IR illuminators.
The Gen 2+ tube and low magnification produce an incredibly bright image which is even more incredible when you consider the relatively small 26mm objective lens.
I loved using and testing the Luna Optics LN-EM1-MS Night Vision monoculars and if I had not known, I would have guessed they were a Gen 3 instrument.
It is for this reason as well as their compact size I would say that these monoculars are ideal for most night time wildlife observation as well as home, farm and industrial security needs.
Price:
For under $1600, I feel the Luna Optics LN-EM1-MS Elite Night Vision offers great value and performance against other Generation 2 and 2+ monoculars and is one of the main reasons I selected it for this list:
Best Gen 3 Night Vision Monocular
Whilst buzz is about Gen4, make no mistake Generation 3 Night Vision devices offer an extremely high level of performance, indeed it is what most military and law enforcement units were and indeed still use.
The beauty here is that the price of a good Gen 3 monocular is considerably lower than that of Gen 4 (often about half the price), yet in terms of night vision performance the difference is relatively minor.
N-Vision Optics GT-14 Night Vision Monocular
The GT-14 from N-Vision Optics is a tough, take anywhere instrument ideal for a wide range of night time operations.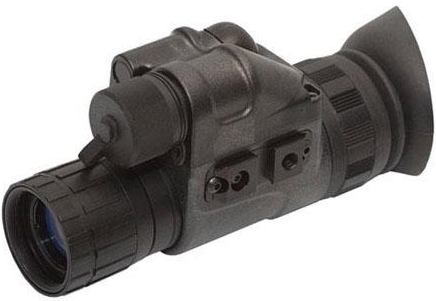 Important Features & Specs
Generation: 3
Magnification: 1x
Field of View: 40°
25mm Objective Lens
Automatic Brightness Control
Submersible and shockproof
Onboard IR illuminator
Hand-held, helmet-mountable, weapon-mountable
In ocular indicators
Dimensions: 4.7 x 2 x 2.7"
Weight: 11oz
Major Versatility
Like many of the others on this list, the GT-14 can be hand-held and used as a standard monocular, it can also be head/helmet mounted as used as a single-eye NV goggle and you can also weapon-mount it to use as a night scope.
What also stood out for me was the ease at which you can attach it to a camera (photo or video) to record any activities.
On top of all this you can obtain extra 3x or even 5x telephoto lenses to increase the unit's magnification.
Then also available the N-Vision optics dual mount adapter which enables you to mount two GT-14 monoculars together and thus convert it into a dual tube binocular!
Price:
At around $2700, this N-Vision Optics monocular is not only cheaper than just about any other 3rd generation monocular, but cots less than many Gen 2+ instruments as well as thus I feel offers great balance between performance and price:
Best Gen 4 Night Vision Monocular
It was not that long ago that as a civilian, it was completely unheard of to own this level of Night Vision device, so the fact that today we can go out and get the very best and latest technology is great.
However getting your hands on the latest and best does come at a price and so whilst the performance does improve it is the case of diminishing returns. Meaning the closer you get to the top, the more you have to pay for ever smaller improvements.
ATN NVM14-4 Night Vision Monocular
Make no mistake this generation 4 night vision monocular is not only one of the best in it's class, but in my opinion is up there with the very best in any class and for any use.
Like the Luna Optics LN-EM1 above the ATN NVM14 has the same really compact chassis design with a durable and robust construction.
Main Specs & Highlights
Generation: 4
Magnification: 1x
Built-in Infrared Illuminator
Lens Diameter: 27mm
Field of View: 40°
Dimensions: 4.7" x 1.9" x 2.7"
Weight: 9.9oz
Power: 1 x 3V (CR123A)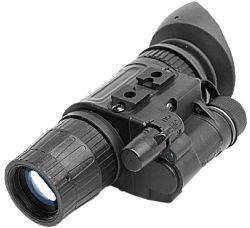 The beauty of this design is it's versatility: All models within the ATN NVM14 series can obviously be hand-held, but add to this the ability for them to be easily head-mounted, helmet-mounted or fitted onto your weapon.
The 1x magnification and the high quality, steady and bright view you get through this device means makes it possible for you to use it whilst moving. This includes driving in the darkest of nights when only star on moonlight is available.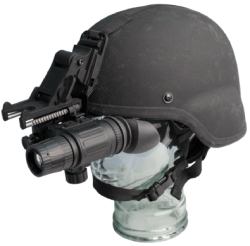 If the conditions are really bad, you can also switch on the on-board Infrared light, which acts like a torch, providing the device with a light source for you to see in complete darkness.
However the beauty of the NVM14 series from ATN is that should you need some extra image detail (magnification), you can also get a telephoto lens that attaches to them to give you up to 8x power.
With lower quality devices, you find that you have to often change the brightness levels depending on the situation, so for instance in places where there are other light sources like street lights, this can become a real pain.
The NVM14-4 NV monocular gets around this as it has a onboard system that automatically adjusts the brightness and so keeps the IIT brightness at a constant level.
There are also a bunch of other important features including an automatic system that protects the unit from bright light that can damage other NV devices.
Price:
You can expect to pay around $5200 for the ATN NVM14-4.
As with many things in life, you get what you pay for and a Gen 4 device at this level does not come cheap, but if you want or need the very best then I highly recommend the NVM14-4 as is beats most of it's direct competition in terms of price:
Best Cheap Night Vision Monocular
If you are careful, and choose wisely it is possible to get a good monocular with night vision for around $150 / £150 which if you consider all the technology involved and which was used seriously by the military not that long ago, then it is pretty incredible.
I have used and tested quite a few low cost devices over the years and to date, this once is still my top choice:
With the 3x42 NOXM42-AL from Night Owl you get an inexpensive and compact monocular that I feel still performed to a surprisingly good level and which i think is as good or better than any with in this price and generation class.
Features:
Generation-1 Intensifier Tube
Magnification: 3x
Field of View: 19°
Large 42mm Objective Lens
Compact and lightweight design
Weight: 13.4 oz
Dimensions: 6.5in x 3.79in x 2.33in
Built-in IR illuminator
All-glass optics Resolution:
35 lp/mm on center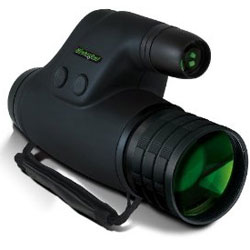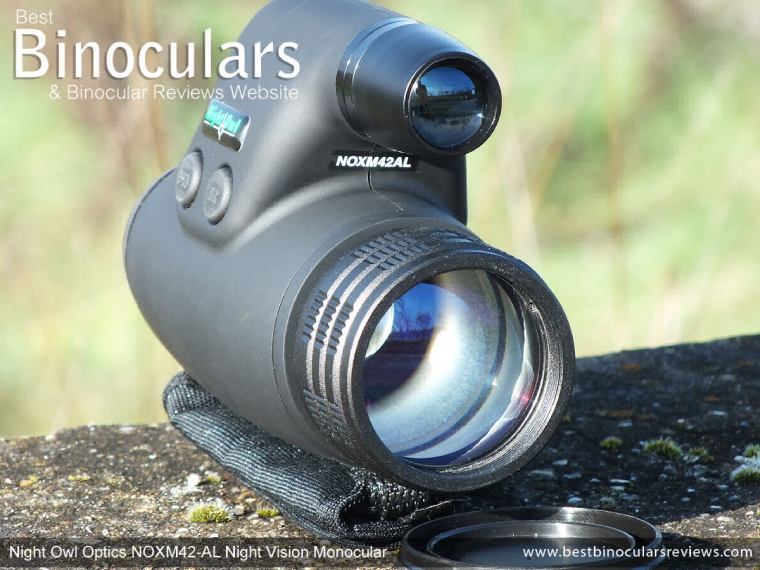 Compared to all other monoculars with similar size objectives and within this sort of price range, these are in my opinion as good or better than any I have used. I therefore highly recommend them if you are looking for a compact, take anywhere as well as comparatively cheap night vision monocular.
Strengths:
Low price, lightweight and compact design that is very comfortable to hold.
The large 42mm objective lens is a real feature and much bigger than many of it's competitors. This means that this monocular is able to capture more available light and thus plays a crucial role in image quality and brightness:
Despite the low price, they look to be very well made and in my experience produce an image with as much detail and as bright as any monocular in this class.
Another really big highlight for me was just how few blemishes you see on the screen which once again is a big improvement to what I have experienced in the past.
The fact that it comes with an onboard IT illuminator is good and not always the case at this price point.
Weaknesses:
Whilst I know that most NV devices are not waterproof, it is a slight shame as this would make them even more useful in all weather conditions.
The carry case is also very basic and it would have been nice to have one that had even some padding for protection.
Read my full Night Owl Optics NOXM42-AL Review
Price:
The Luna Optics LN-DM50-HRSD will currently (at the time of writing) set you back about $450 / £530 - you can check current prices in your country following the links below:
Best Digital Night Vision Monocular
Digital devices are an interesting option because not only are they cheaper, but they also make recording what you see through your monocular very easy as many come with built-in image and video recording capabilities.
Performance
In terms of performance, a good quality digital NV monocular produces a cleaner image (less screen blemishes) than most Gen 1 devices and is in my experience about equal to most Gen 2+ to Gen 3 instruments in terms of being able to produce a bright image in very low light conditions.
Below I have listed a couple of my favorite digital night vision monoculars (in different price categories) and are ones that I have no hesitation in whole heartily recommending within their class:
There is so much to like about this device and it can perform so many tasks that it is quite difficult to know where to start!
Is it a night vision monocular that you can also record with or a video recorder that you can use at night? I guess how you look at it will depend on how you mostly use it. Either way, I think for the price, this is an excellent device and one which I really enjoyed testing:
Main Features & Specifications:
Record Still Images & Video
Magnification: 5x - 20x
40mm Objective Lens
Built in Infrared illuminator
Tripod Mountable
High-Resolution - Compares well to G2+ NV devices
Max Viewable Distance: 250m (820ft)
Manually adjustable brightness/exposure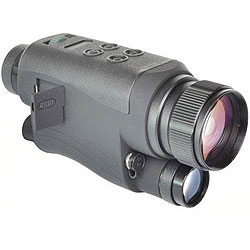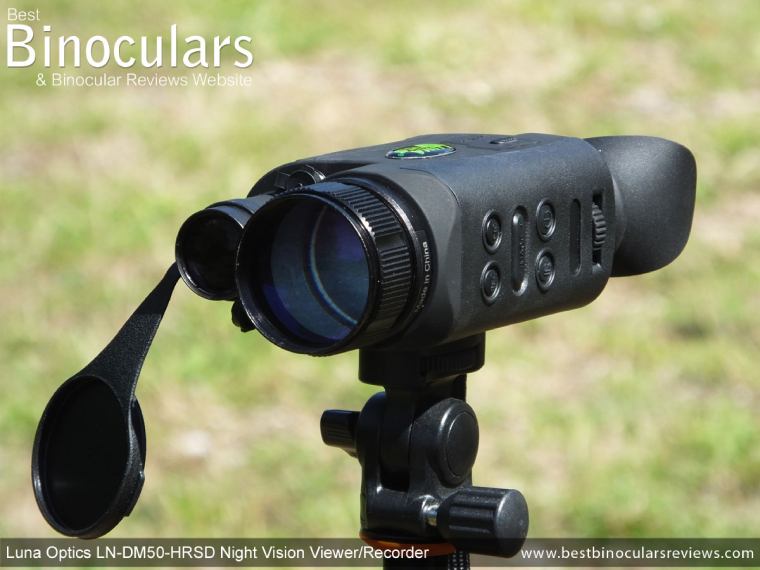 In my opinion, one of the strongest aspects to this Luna Optics LN-DM50-HRSD is having a device that you can not only use to view what is going on at night, but very easily record what you are seeing.
You get a large zoom range (5x - 20x) without having to purchase extra lenses and means you can quickly find and lock onto what you want to see using the 5x power and then zoom in to get a better view.
When I tested it, I thought overall build quality was excellent and it has a nice solid feel to it. The performance in the dark is also excellent and easily up there with the best Gen 2+ and even some Gen3 night vision devices that I have used, which if you take into account that you can now also take an image or a video without having to purchase any extras is great.
The IR is powerful and works really well, especially at short, to mid range distances and whilst it may outperform most at longer distances, it still is not quite as powerful as a specially designed extended range IR Illuminator.
Read my full Luna Optics LN-DM50-HRSD Review
Price:
The Luna Optics LN-DM50-HRSD will currently (at the time of writing) set you back about $450 / £530 - you can check current prices in your country following the links below:
Conclusion
The Night Vision Monocular market has really exploded over the last decade or so and as such there is a massive range of options available.
In some ways this is great as it has pushed manufacturers to supply the higher level technologies and so what was once only a military night vision monocular is now available to the public. Add to this the extra competition, which has driven down prices.
However on the down side, it also means that there are a lot of substandard products on the market, which combined with the large amount of options can make it very difficult as a consumer to know what to get and which one is right for your needs.
How Much to Spend?
The price range between a cheap Gen 1 or digital device when compared to a top level Gen 4 device is also vast and so even just deciding on what budget to go for can be difficult.
My advice would be to take into consideration how often you are going to use the device. If it is infrequent and just for a bit of fun, then a good quality Digital or Gen 1 / Gen 2+ device will be more than fine for most users and uses.
If however you need the best view and low light performance as possible and you will be using your NV frequently, then Gen 3 and Gen 4 is your best option.
I hope that my guide to the best night vision monocular of 2023 as well as my reviews have been of some help to you and as always I really appreciate your feedback or any comments that you may have.