Night Owl Optics
Best Binocular Reviews Home > Night Vision > Brand Details > Night Owl Optics
About Night Owl Optics
Whilst the technology for Night Vision was initially pioneered and indeed accelerated by the military and security services, companies like Night Owl Optics have been on the front line, taking these technologies and making them far more accessible to civilians for recreational as well as home security uses.
Night Owl Optics are committed to producing very high quality, innovative products at the forefront of technology, but at the lowest possible prices and it is in this way that they hope to maintain their position as one of the sectors leaders.
Range of Products
Night Owl Optics produces a good selection of night vision goggles, monoculars and binoculars that work in the "standard" way by amplifying whatever light is available from sources like the moon, stars and man-made ones using a light intensifier tube that converts photons into electrons, which are then amplified & then cast onto a phosphorous screen returning them into visible light.
Then they also have a couple of digital night vision viewers as well as their series of iGen digital night vision monoculars that use their own patented technology for picture processing that they say outperforms Gen 1 & Gen 2 devices and even matches some Gen3 night vision products, but which cost far less.
iGen 20/20 Digital Night Vision Viewers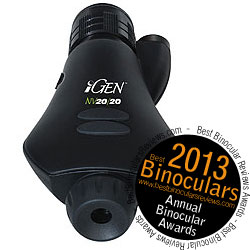 The Night Owl Optics iGEN® Night Vision Viewers contain their flagship devices and the ones that they are most excited about... and with good reason:
This is because they are at the cutting edge of the new night vision technology that does not use tubes.
Most night vision monoculars and binoculars use intensifier tubes that converts the collected photons into electrons and then amplifies them, changing them back to visible light by bombarding them onto a phosphorous screen.
However these Digital Night Vision monoculars with iGEN technology developed by Night Owl Optics uses a "special" technique for processing images, superior optics and a "technology" that they say can detect very low light levels.
The result according to the company is that these 20/20 viewers perform better than Generation-2 technology and even match some Gen-3 products - with the added bonus that they cost a whole lot less.
Another advantage is that you get an image that is of a superior quality without any of the blemishes or spots that you see created by the photocathode or phosphorescent screen on standard intensifier tube devices.
All iGen 20/20 models include an on-board IR (infrared) illuminator which project invisible light to us, but allow them to use the light to create an image even when it it completely dark.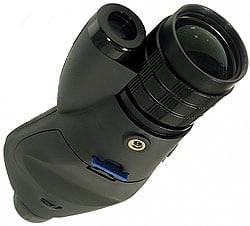 Sizes & Models Available:
Currently there are two models of the iGen 20/20 available, which are basically the same performance wise, but one (NOIGM3X-IC) has the ability to capture images and store them on a standard memory card that is inserted on the underside of the body (see image on right).
iGen 20/20 Night Vision Viewer (Model No: NOIGM3X)
Price Range
Depending on the model they range in price from about $400 - $600 in the US or £700 - £800 in the UK, which when you consider they rival Gen3 devices in terms of performance is impressive:
Night Owl Optics Night Vision Binoculars & Monoculars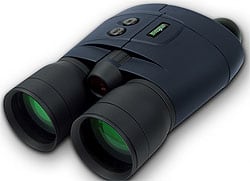 The Night Vision series from Night Owl Optics basically groups all their Gen 1 night vision binoculars and monoculars together. As such there are quite a range of models, magnifications, styles and prices.
What they do have in common is that they all use Gen-1 technology that amplifies any available light from sources like the moon and stars. As well as this all binoculars and monoculars in this series come with an on-board infrared illuminator that enables the device to be used when there is no external light source.
NOB5X - 5x Night Vision Binoculars
Like standard binoculars used in the day, the high powered NOB5X has a single, centrally located focussing wheel which makes locking onto your target far less time consuming as on most other night vision binoculars where you have to focus each lens individually. Other highlights include the powerful onboard IR illuminator and the use of two very high spec image intensifier tubes.
Marine Night Vision Scope
An interesting model is the series is the NONM4X-MR, a Marine Night Vision Scope with a 4x magnification that is 100% waterproof and thus is ideal for all marine and sea rescue applications.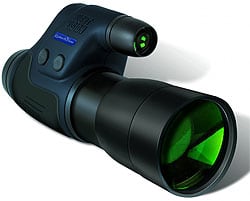 Galactic View Star Gazer
This 60mm Monocular comes with an impressive 6x magnification which is up there with the the most powerful night vision devices.
Most high power night vision devices tend to produce a fairly dark, low quality image as the amount of light that reaches the intensifier tube diminishes in proportion to the optical magnification
What is impressive is that Night Owl say that despite this high power and by using cutting edge optical designs, the Galactic View Star Gazer can still produce an excellent quality image with a high amount of light amplification.
All Models In the Series:
Binoculars
NOB3X - 3x Night Vision Binoculars
NONB2FF - 2x Night Vision Binoculars
Monoculars
GVIEW - 6x Galactic View Star Gazer
NOXM50 - 5x Night Vision Monocular
NONEXGEN-W - 2x Night Vision Monocular
NONM3X-G - 3x Night Vision Monocular
NONM4X-I - 4x Night Vision Scope
NONM4X-MR - 4x Marine Night Vision Scope
Price Range
Night Owl Optics Tactical Series
The Tactical Series consists of their top end night vision goggles, with both a monocular and binocular version available that use high standard gen-1 image intensifier tubes.
Designed to be worn on your head with the mask this leaves both your hands free; they can also be detached and used as a standard handheld device.
The head mask also features a mount that enables you to quickly flick the goggle up and out of your field of view.
With no magnification these devices can be used whilst walking or even driving a vehicle, the BG1 presents the user a non-magnified 1-to-1 image with a wide field of view.
Tactical Series Models:
NOBG1 Tactical Night Vision Binocular Goggles
NOTMG1 Tactical Night Vision Monocular Goggles
Price Range
Night Owl Optics xGen Night Vision Viewers
This affordable series Consisting of two models, the xGen and the xGenPro Digital Night Vision viewers.
The xGen pro features a digital zoom that can be adjusted from 3x to 6x and works best at a distance of 100 yards or less.
Whilst the standard model comes with a 2.1x magnification and works best at distances of 70 yards or less.
Both come with an on-board infrared illuminator and so can be used in total darkness.
xGen Models :
Price Range
Costing less than $150 in the US or £250 in the UK, these really are an affordable NV option:
---
Where to Buy Night Owl Optics Devices:
---
Featured Reviews
Below are some featured reviews I have written on Night Owl Optics night vision equipment: View >> All Night Owl Optics Devices reviewed.
This budget friendly Gen1 night vision monocular from Night Owl Optics uses a 42mm objective lens, has a 3x magnification and an on-board infrared illuminator for use in complete darkness.

Lightweight and compact, it has a built in handle strap for more comfort and better handling and is an ideal low cost choice for safaris, camping, wildlife viewing, hunting and security applications.

Price: (3/6) Mid Priced Night Vision Monoculars
BBR Ratings:
Body Quality:
7/10

70%




Excellent

Body Stats:
8/10
Optical Quality:
6/10
Optical Stats:
8/10
Image Quality
7/10
Extras & Details:
6/10
A high performance digital night vision monocular that comes with a built in Infrared emitter for use in total darkness.

The iGen can also capture still images and record video to an external device.

Exposure and gain control ensure plenty of flexibility and the best possible image in all ambient light conditions.

Price: (5/6) High Value Night Vision Monoculars
BBR Ratings:
Body Quality:
7/10

73%




Excellent

Body Stats:
7/10
Optical Quality:
8/10
Optical Stats:
7/10
Image Quality
8/10
Extras & Details:
7/10
The Gen1 NOB5X with its massive 5X magnification and large 50mm objective lenses ensure a close up view, yet with still a bright image.

Built in IR Illuminator ensure that it can be used even in complete darkness and is perfect for security, hunting, general wildlife observation and camping trips.

Price: (4/6) Mid-High Value Night Vision Binoculars
BBR Ratings:
Body Quality:
7/10

73%




Excellent

Body Stats:
8/10
Optical Quality:
7/10
Optical Stats:
8/10
Image Quality
8/10
Extras & Details:
6/10
View >> All Night Owl Optics Devices reviewed on The Best Binoculars & Reviews website.
---
Night Owl Optics Devices on Amazon:
---
Night Owl Optics Contact Details
US Head Office:
Address:
1465-H Henry Brennan
El Paso
TX 79936
Tel: 1 800 444 5994
UK Distributor
Company: Body Armour & Tactical Ltd.
First Floor
21-23 High Street
Histon, Cambridge CB249JD
Tel: (44) 7971 965460 / (44) 1223 502133
Email: admin [at] bodyarmourtactical.co.uk