Vortex Rangefinder Binoculars & Monoculars
About Vortex Ranging Optics
As well as a huge range of "standard" binoculars, Vortex Optics offer a good selection of rangefinders that are primarily aimed at the hunting market, but which can be used for other applications like security and in some cases may be suitable for marine use.
Vortex binoculars with rangefinders come in two types:
1. Binoculars & monoculars that use a fiber reticle with scale markings on it that you use to work out the distance of an object.
2. Laser rangefinder binoculars and dedicated rangefinder monoculars that simply display the distance to the object that you are focussing. The onboard receiver works out the distance by measuring the time it takes from when the laser light was emitted, to when it returns.
Many people assume that because they are more expensive, a laser rangefinder is better than the reticle ones. Whilst they do have their advantages, there are also case where a reticle rangefinder is actually the better choice.
For more details on this and the differences between the two types, please take a moment to read the BBR guide to Rangefinder Binoculars.
Vortex Fury HD Laser Rangefinder Binoculars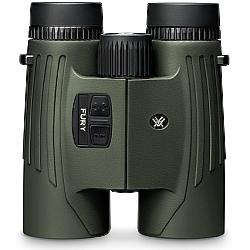 One of the companies latest additions, the Vortex Fury HD Rangefinder binoculars are squarely aimed at the top end of the market and combine the very best optics with a very high specification laser ranger and for the price is in my opinion one of the Best 10x42 Laser Rangefinder Binoculars currently on the market.
Optics
Optically, the Fury HD matches that of their popular, Vortex Viper HD binoculars, which as you can see boasts an impressive array of high end features:
The HD optical system is fully multi-coated meaning all air-to-glass surfaces have been treated with and an anti-reflection material which makes for a brighter and better quality view.
Other optical features include an super hard exterior lens coating that is designed to better protect your lenses.
The roof prisms are phase corrected and I believe to be dielectric coated which is on a par with the very best.
Laser Rangefinder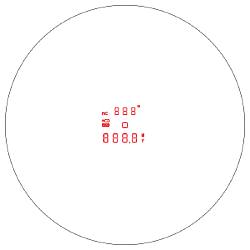 When turned on, the illuminated display appears in the right eyepiece and you can set the range to use either yards or meters. It runs using the commonly found CR2 battery size and is accessed on the underside of the body.
The controls are located on the right side of the central bridge and are positioned so that you can easily navigate the menu system and hold the binocular to your eyes with just one hand. This is important because it leaves the other free to hold onto your rifle or bow, ready to use.
The rangefinder on the Vortex Fury has a "reflective range of between 10 and 1600 yards, which equates to a real maximum range when observing deer for example of about 1000 yards, which is pretty standard for a laser rangefinder.
Modes include Vortex's HCD (Horizontal Component Distance) which offers both rifle and bow hunters the information you require to compensate for the angle when ranging to take an accurate shot.
You also have a line of sight range and a scan mode that provides continuous distance readings as you pan across a landscape. This can also be useful as you follow an animal that is moving.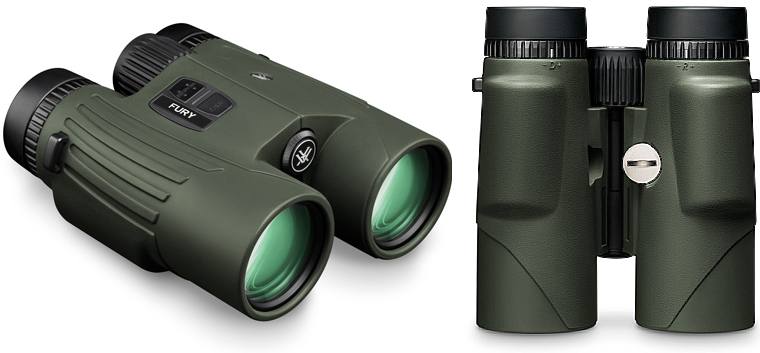 Chassis & Exterior
Whilst they do not mention what the chassis is fashioned from, I can confirm that it is fully O-ring sealed which ensures that it is completely waterproof as well as acts as a barrier to prevent dust from entering the system.
The interior air is also replaced with nitrogen in the factory. this dry gas prevents internal fogging of the lenses.
As with almost all modern binos, these have a rubber armor exterior coating that improves grip, adds protection and reduces reflection and muffles sound, both of which can be important for hunting and security users.
The Fury HD is also easily attached to a tripod in the normal way by simply removing the dust cap on the front of the hinge and then screwing in a tripod adapter.
Extras
The Fury Laser Rangefinder binocular comes with Vortex Optics bulletproof unconditional and unlimited lifetime warranty which included the optics and the onboard rangefinder, so not only protects you and your purchase, but I think also shows just how much faith they have in this product.
Reviews
For more details, take a look at my mini-review of the Vortex Fury HD 10x42 Binoculars.
Sizes & Models Available:
The Fury is currently only available in a 10x42 configuration.
Model
Eye Relief
Close Focus
Field of View
1000 Yards
Interpupillary
Distance
Height

x


Width
Weight
10x42
16 mm
20'
314
54-69 mm
5.7 x 5.9"
31.8 oz

Related Blog Posts & Downloads
Video
The video below produced by Vortex provides a good overview of the binocular and the rangefinder functions:
Price Range
Currently the Vortex Fury HD Rangefinder binoculars cost about $1200 in the US, take a look at the link below to check prices and to buy in your country
Buy & Compare Prices for Vortex Fury HD Binoculars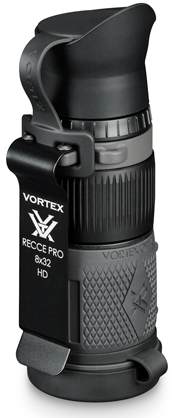 In my opinion the top end Vortex Recce Pro HD Rangefinder monocular is of the very best monoculars currently on the market. With a fairly large 32mm objectives that capture a good level of light, it still manages to be compact and weight at just 11oz. This combined with the built-in carry clip means they can easily be attached to any belt or most hunting packs webbing.
Indeed because of how small and lightweight it is, I can think of cases where you may even consider taking these along with your binoculars and attaching it to your bino harness for when you need to range an object.
Optics
The optics on the Vortex Recce Pro HD monocular matches that of their high end binoculars at the level of the Viper HD, which is excellent news:
As you would expect from a high end device, the optics are fully multi-coated and the lens uses an extra low dispersion (ED) glass element for improved resolution and less color fringing. I believe the prism is both phase corrected and dielectric coated, however they do not confirm this in their product details.
Exterior lenses are also treated with an ultra hard coating that protects them from scratching and repels water and oil which keeps the view pristine for longer, requiring less vigorous cleaning. All of which ensures the view is as good as possible for as long as possible.
Mil Reticle Rangefinder
The rangefinder on the Vortex Recce Pro uses a Mil based reticle that includes quick ranging silhouettes means that you can not only calculate the distance to an object, but also just use these markers to gauge the distance by hovering over the one that fits:

Chassis & Exterior
The body is fully waterproof and Argon purged to prevent internal lens fogging.
I really like the large focus wheel that makes one handed adjustment possible. There is also a reticle adjustment dial to keep it in focus and the fold down winged eyecup enables it to be used with or without glasses.
Extras
A small feature, but I also like the tethered lens cover. This just ads a layer of protection to the optics and the fact that it is tethered means you never have to search around to find it after use.
Like the Fury Laser Rangefinder binocular, this rangefinder monocular comes with the Vortex Optics unconditional and unlimited lifetime warranty.
Review:
Sizes & Models Available:
The Vortex Recce Pro HD is currently only available in a 8x32 configuration.
Model
Eye Relief
Close Focus
Field of View
1000 Yards
Height

x


Width
Weight
8x32
14.5 mm
5ft
400ft
6.2 x 2"
11oz

Related Blog Posts & Downloads
Video
The Vortex promotional video is well worth looking at if only to get a better understanding of the size and overview of the features and exterior components.
Price Range
With a current retail price of around $299 / £290 the Vortex Recce Pro 8x32 HD monocular is not what you would call cheap, but if you consider the very high level of components and coatings, they are far less expensive than an equivalent rangefinder binocular.
Buy & Compare Prices for Vortex Recce Pro HD Monocular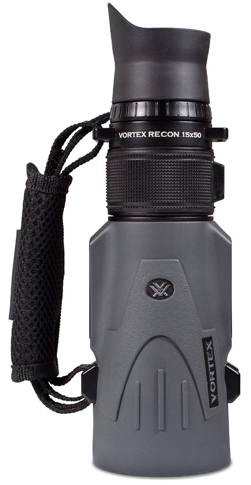 Whilst not as compact or lightweight as the Recce Pro HD (see above), the large 50mm objective lens on the Vortex Recon R/T monoculars along with some very high end optical components and coatings ensure that you get a very high quality and bright image even in low light conditions.
Optics
Once again, Vortex Optics have incorporated their very high end optical system into this rangefinding monocular:
Fully Multi-Coated Optics
ED (Extra-low dispersion) Glass lens elements
Phase corrected prism
Ultra hard exterior lens coatings
Mil Reticle Rangefinder
Both the Vortex Recon R/T monoculars use the same design of Mil based reticle as that of the Recce. This means that the reticle rangefinder makes it possible to calculate the distance to an object using the simple formal as well as quickly ascertain it using the included and really handy silhouettes (see image on the Recce above for an example).
Chassis & Exterior
As with the Recce, the Recon R/T is O-ring sealed and filled with Argon gas for both water and fog proofing.
As with most modern optics, the exterior consists of a rubber armor that adds protection, grip and a level of camouflage and sound muffling to the device which for hunting purposes is often an important factor.
Focusing is achieved via a large focus ring and there is also a smaller reticle focus ring just behind it to make sure that your ranging is as clear and accurate as possible.
The flared eye-cup can rotate to cater for either left or right eye users and shows a good attention to detail from Vortex. This cup can also be folded down for use with glasses.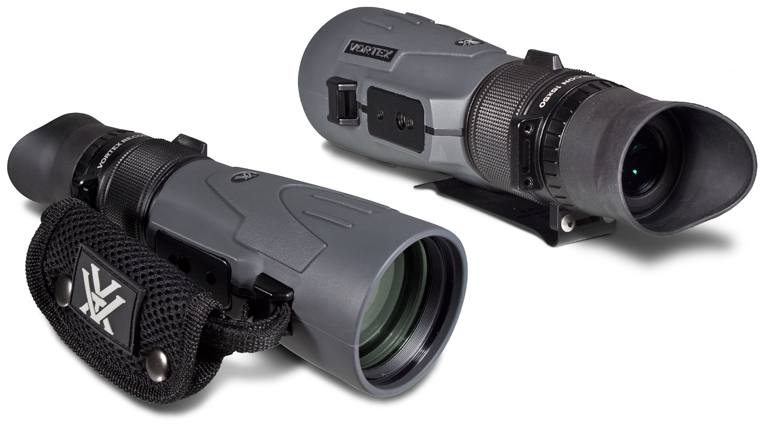 Extras
The recon RT comes with a standard thread mount recess that enables you to fix it to a tripod and it also has a utility clip making it easy to fix to your belt or pack webbing.
The ambidextrous hand strap makes it more secure and easier to use single-handedly.
Like all the other Vortex Rangefinder binoculars and monoculars this series is included in their VIP lifetime warranty scheme.
Review:
Sizes & Models Available:
The Vortex Recon R/T monocular comes in a 10x50 or high powered 15x50 setup, which is ideal for those who require long distance ranging and observation and a great alternative where distances are greater than what you can accurately get readings from a laser rangefinder:
Model
Eye Relief
Close Focus
Field of View
1000 Yards
Height

x


Width
Weight
10x50
19.5 mm
12ft
280ft
7 x 3"
15.2oz
15x50
16mm
12ft
215ft
7 x 3"
15.2oz

Related Blog Posts & Downloads
Video
For a good overview of the features and to get a perspective of the size of the Vortex Recon R/T Monocular, I suggest that you take a quick look at the video below:
Price Range
The 15x50 Vortex Recon R/T monocular has an MSRP of $699.99 and the 10x50 is set at $689.00 - however they can now be purchased for about $599:
Buy & Compare Prices for Vortex Recon R/T Monocular
---
Where to Buy Vortex Binoculars:
---
Featured Vortex Binoculars
Below are a few featured Vortex Binoculars that I have fully reviewed: View >> All Vortex Binoculars reviewed.
For the most part, these high power, long range binoculars from Vortex manage to achieve that very difficult balancing act of a reasonably priced, reasonably high performance binocular that delivers a bright, high-quality image in combination with a high magnification.

As well as the instrument, the level and sheer number of included accessories is also impressive...

Price: (4/6) Mid-High Value Binoculars
BBR Ratings:
Body Quality:
8/10

80%




Outstanding

Body Stats:
8/10
Optical Quality:
8/10
Optical Stats:
7/10
Image Quality
8/10
Extras & Details:
9/10
Ideal for nature lovers, wildlife observers and hunters alike. Vortex Optics new flagship binoculars, the Razor UHD uses the very highest level of body and optical components and coatings to deliver a truly superb performance.

Highlights include an APO Lens System, Phase Corrected Abbe-Koenig Roof Prisms that deliver an extremely high quality image with a wide field of view. Optics are protected by an Argon purged, waterproof Magnesium Chassis.

Price: (6/6) Expensive Binoculars
BBR Ratings:
Body Quality:
9/10

92%




The VERY Best

Body Stats:
7/10
Optical Quality:
10/10
Optical Stats:
10/10
Image Quality
10/10
Extras & Details:
9/10
Very High powered monocular with a large 50mm objective lens and high-quality optics ideal for long range hunting & security uses.

The Vortex Recon RT 15x50 Monocular is a third of the weight of the equivalent size and powered binocular as well as being half the size and thus is ideal if size and weight are an important factor.

Price: (3/6) Mid Priced Monoculars
Premium quality optics combined with an very high 18x magnification and a tough outer body that Vortex a well known for, these just might be the ultimate long-range binocular ideal for hunters of big game in wide open spaces as well as general long range observation.

Price: (5/6) High Value Binoculars
These reverse Porro prism compact Vortex binoculars perform at a level that way exceeds their budget level price tag.

Highlights include an image quality and brightness that really surprised me and a build quality with a level of components that matches and even surpasses many mid level instruments.

Price: (2/6) Low Cost Binoculars
BBR Ratings:
Body Quality:
7/10

70%




Excellent

Body Stats:
6/10
Optical Quality:
7/10
Optical Stats:
7/10
Image Quality
8/10
Extras & Details:
7/10
This Vortex Monocular combines some excellent and innovative features, high end HD optics and a tough, lightweight, take anywhere exterior and all at a very competitive price.

The Vortex Recce Pro HD 8x32 monocular is designed to meet and indeed exceed the expectations of even the most discerning hunters.

Price: (3/6) Mid Priced Monoculars
View >> All Vortex Binoculars reviewed on The Best Binoculars & Reviews website.
---
Vortex Rangefinder Binoculars on Amazon:
---
Vortex Optics Contact Details
USA
2120 West Greenview Drive,
Middleton, Wisconsin 53562.
Phone: (800) 426-0048
Email: info@vortexoptics.com
Fax: (608) 662-7454

---