Having looked very carefully at all their instruments, the features, components and the stats, it is in my opinion that the best value for money range from Athlon Optics is the Midas series. Indeed I felt so strongly about it that I wrote about it here.
Then if we take it a step further and have a close look at each of the models from within the Midas series, I feel that best is this 8x42 configuration, which in my mind also makes it without question one of the best value binoculars currently on the market.
Why I hear you ask? Well, let's take a closer look at let's see if by the end you agree with me:
Athlon Midas 8x42 Binoculars Review
Currently retailing for well under $300 in the US, this puts them within the mid-range price category here on BBR. However, if you take a quick look at the impressive list of their main features below, you will see that these Athlon Midas binoculars contain just about every high-end component and coating as that of most mid-to-high value ($300 - $500 / £300 - £500) and even some top specification instruments:
Main Specs & Features
BaK-4 Roof Prisms

Phase Correction Coatings
Dielectric Coatings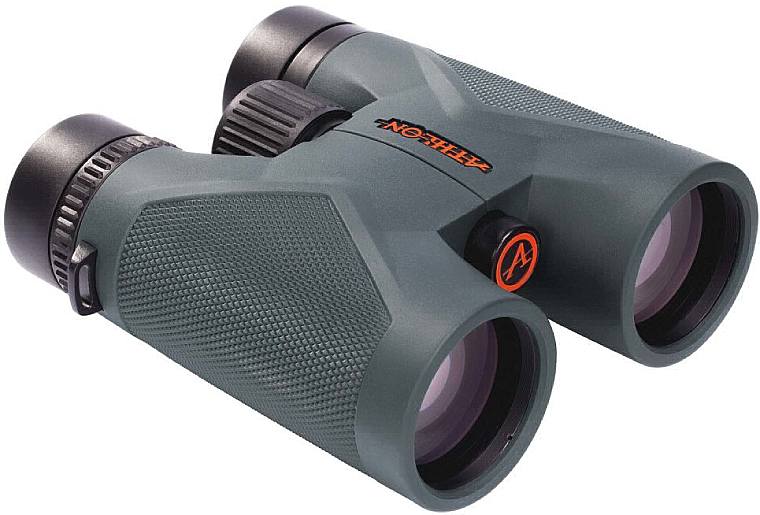 The Body
Shape & Design
Overall these have a very typical single bridge body shape that is very commonly used on modern roof prism binoculars and at first glance look to be no different than the vast majority of others out there. In general, this is a good thing, as the reason that this design is so prevalent is that it has been tried and tested and so, on the whole, is functional and comfortable.
Designed with Purpose
However once I began to look a little more closely, I noticed that whilst still quite obviously an Athlon binocular, they look quite different to the other ranges within their stable and I also noticed there are a number of subtle variations to the basic single bridge roof prism shape.
This peaked my interest and through some research, I actually discovered that these small changes are not simply there by accident or for aesthetics. Instead, it seems that Athlon sought out an industrial designer to see if they could improve on a classic by taking a fresh look at it from a professional designers point of view.
The lead designer who worked on the Midas series is called Matus Chlpek who holds a Masters degree in Industrial Design (You can find his website here and please note the design process images below have been used with his permission).
The first step he and Athlon took was to ascertain what the focus was in terms of where these binoculars would be primarily be used. With the Midas, the target is most certainly outdoor sports like general wildlife observation, birding, and hunting.
Next, they conducted a lot of market research and looked into the variations of instruments aimed at this market. From there they were able to give binoculars a number of tags like sleek, functional, rugged, stylish, tactile and durable. From this list, they took the ones that they wanted to portray in the Midas.
Matus also noticed that when he handed a person a pair of binoculars they naturally held them in one of two ways. Either lightly in their fingertips or more firmly in their palms. It is details like this that he says that he kept in mind as he started to come up with a design:
Midas Binoculars - Initial Designs & Idea Development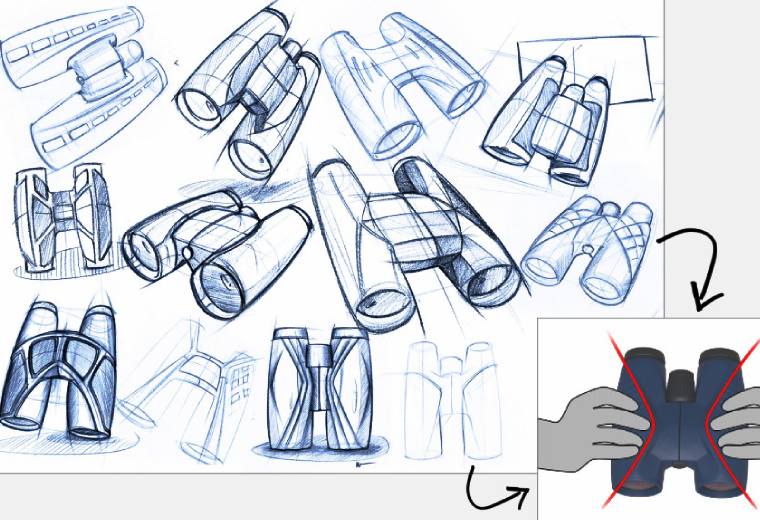 From this initial design phase, a number of clay mock-ups where made. This made it quicker and thus easier to test different shapes to make sure that what they were creating was as ergonomic and functional as possible.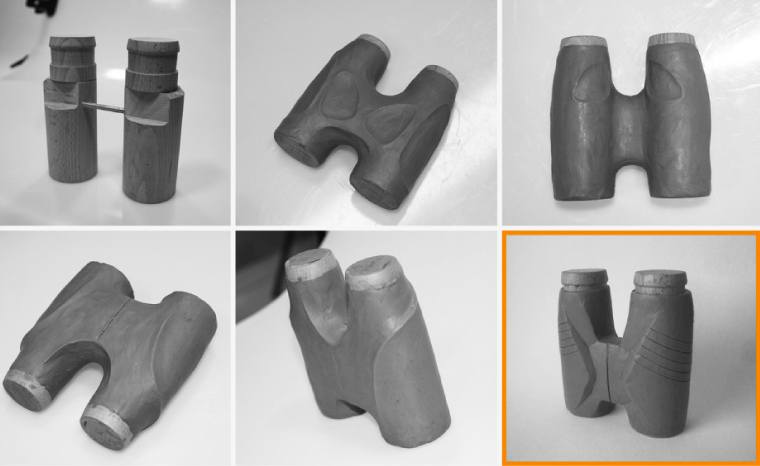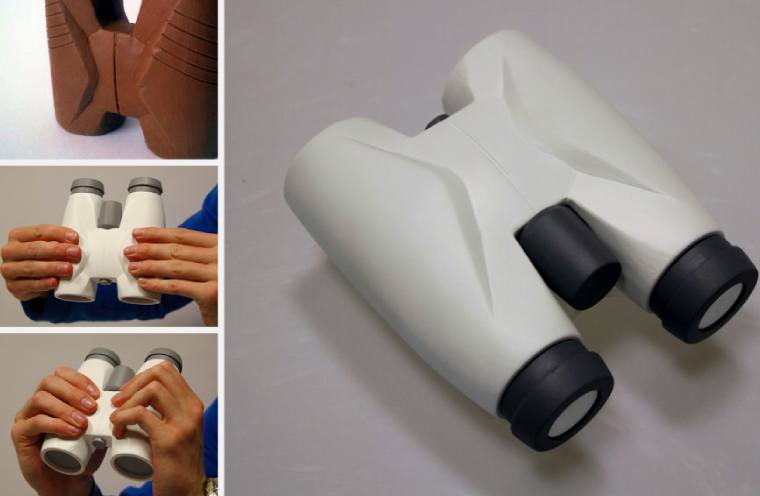 From there it was a matter of fine-tuning the design and taking a very look at the fine details. So, for example, different patterns were compared for the grip texture. Here not only the level of grip had to be considered, but also what is possible and economical in terms of their manufacture: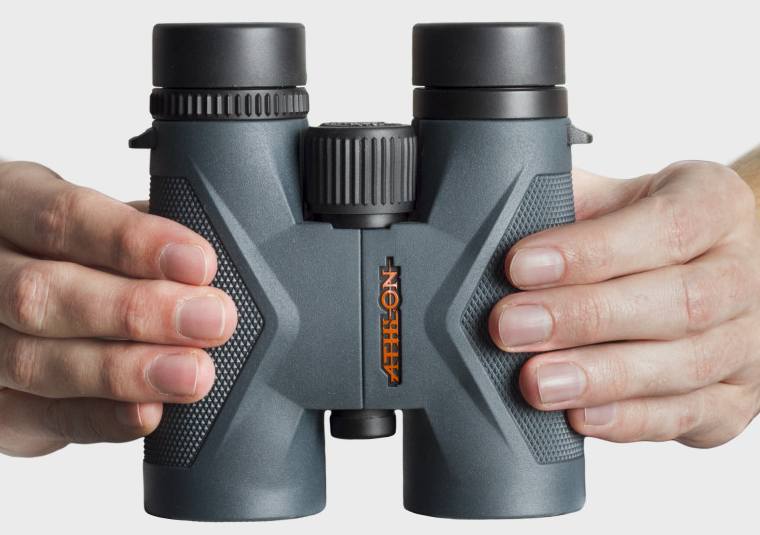 Award Winning Design
The result is the pair of Athlon Midas binoculars that you see above and which I hasten to add went on to win a Red Dot Award in 2016. What I find really interesting is that Athlon Optics do not mention any of this process and the amount of thought and really hard work that went into the Midas in any of their marketing!
Body Materials
At this price point, it would have been easy (and acceptable) for Athlon to follow the majority and use a polycarbonate shell that is cheaper to produce.
However for the Midas, they have opted to use a magnesium chassis which is a little heavier, but certainly more robust and less susceptible to temperature-related expansion and contraction which can cause minor optical misalignments.
As you would expect, the outer surface is encased in a rubber armor. This protects the unit, adds grip and as it is less reflective and muffles sound, it increases the stealthiness of these binoculars, which for hunters, wildlife observers, security users and even some birders is important.
Weight & Dimensions
Despite the heavier magnesium chassis, the Athlon Midas 8x42 binocular weighs only 25oz (709g), which for a 42mm binocular is on the lighter end of the scale.
In terms of the outer dimensions, these are fairly typical, so not to much to add here.
Inter-Pupillary Distance (IPD)
By opening and closing the central hinge, you can adjust the distance between the eye-pieces so that it hopefully matches that of the distance between your eyes. This is known as the IPD range and on these Athlon Midas binoculars, it has a minimum of 5.6cm and a maximum of 7.3cm.
As you can see in my article on the Interpupillary Distance & Binoculars this is fairly typical for a full-sized binocular and so should be fine for the majority of users.
Water & Fog Proof
O-ring sealed, the interior is airtight and thus both impervious to dust and water, although Athlon does not stipulate at what depth. However for use in bad weather or if you were to accidentally drop them in a stream they will survive no problem.
Interestingly Athlon Optics use Argon gas and not the more common Nitrogen in the interior to prevent the fogging of the lenses. This potentially has a number of benefits. For example, the larger Argon molecules mean that they are less likely to escape over time. You can read more on this in my article on fog & waterproof binoculars.
Tripod Adaptable
These and all Athlon Midas binoculars are tripod adapter, meaning that the front dust-cap (with the A logo) can be removed and a tripod adapter screwed into it and then fixed onto your tripod.
Optics
Whilst the body design and the material used on the Athlon Midas ED binoculars is impressive, it is their use of high-end optical components and coatings at this relatively low pice range that impresses me the most:
ED Glass
To start with, the 42mm objective lenses each contain lens elements made from glass that has extra low dispersion abilities. Thus used correctly this ED glass is able to better direct the individual wavelengths of light and thus deliver a sharper image with fewer anomalies.
Next and as we would expect to find at this level is the whole optical system has been treated with anti-reflection coatings and not just some of them as is the case with lesser products.
Prisms & Prism Coatings
The roof prisms are made from BaK4 glass. However very important to mention is that they have a number of coatings added to them.
Firstly they are phase corrected. These coatings are added to eradicate something known as phase shift that is peculiar to the roof prism design. Many roof prism instruments are left untreated and result in a lower quality image.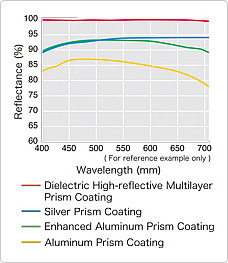 Secondly the surface on the roof prism that does not reflect 100% of the light has dielectric mirror coatings applied to it.
This is really very remarkable and worth elaborating on, especially this price point. As is demonstrated on the graph to the right, this material reflects far more light than that of the cheaper alternatives like silver or aluminum that many binoculars at this price point will be using.
This results in a brighter image for sure, but also one that displays colors more precisely, which for birdwatchers, in particular, is super important.
Exterior Lens Coatings
Finally, the outer lens surfaces have the same protective coatings applied to them as the top of the range Athlon Cronus binoculars.
They call them their XPL Coating (Xtra Protective Layer coating) and as the name implies, the tough material is less likely to scratch than unprotected lenses. However as well as this, these coatings repel dirt and oil and thus stay cleaner for longer. It also means that when you do have to clean your lenses, less pressure needs to be applied, which further reduces the chance of you marking the glass.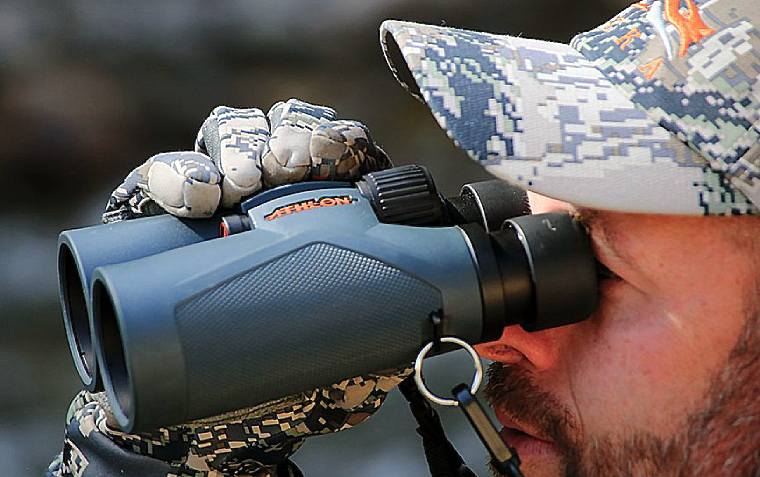 Optical Stats
Whilst the materials and optics used on all the models within the Midas series is what I feel makes them so impressive when you consider they are far less expensive than the so-called "higher specification" ranges out there. However, it is the optical stats, especially the field of view that makes the Athlon Midas ED 8x42 binoculars so very impressive:
Field of View
With an angle of view of 8.1°, this translates to a massive field of view that is 426ft wide when measured at a distance of 1000 yards away ( 144m @ 1000m)
For an 8x42 binocular this is impressive and ranks them with many of the best very wide angle binoculars, on the market.
The advantages to a wide view are numerous but includes making it easier to locate your potential target and then follow it. If in the case it is small and fast moving and at close range, this is really important and is why, especially birders, appreciate a wide FOV, but for hunters and general wildlife observers it is also important.
A wide view is also great for scanning wide open areas.
Close Focus
The minimum focal distance is stipulated as being 2 m /6.5 ft, although, it is in my experience almost all manufacturers err on the side of caution and most can focus at closer distances. Although even if this is not the case with these, the advertised distance is on a par with most 8x42s.
Eye Relief
Along with the adjustable twist-up eyecups, the 17mm of eye-relief is adequate and should be enough for those who wear glasses.
Accessories
Athlon includes the usual selection of accessories: A soft carry case, tethered objective lens covers, a rain-guard for the ocular lenses, a cleaning cloth, and a neck strap.
Lifetime Warranty
Another important aspect to these is the included Athlon Optics Lifetime Warranty, which states that they will replace or repair your binocular should it get damaged by normal use and at no cost to you. this shows they have real confidence in their product.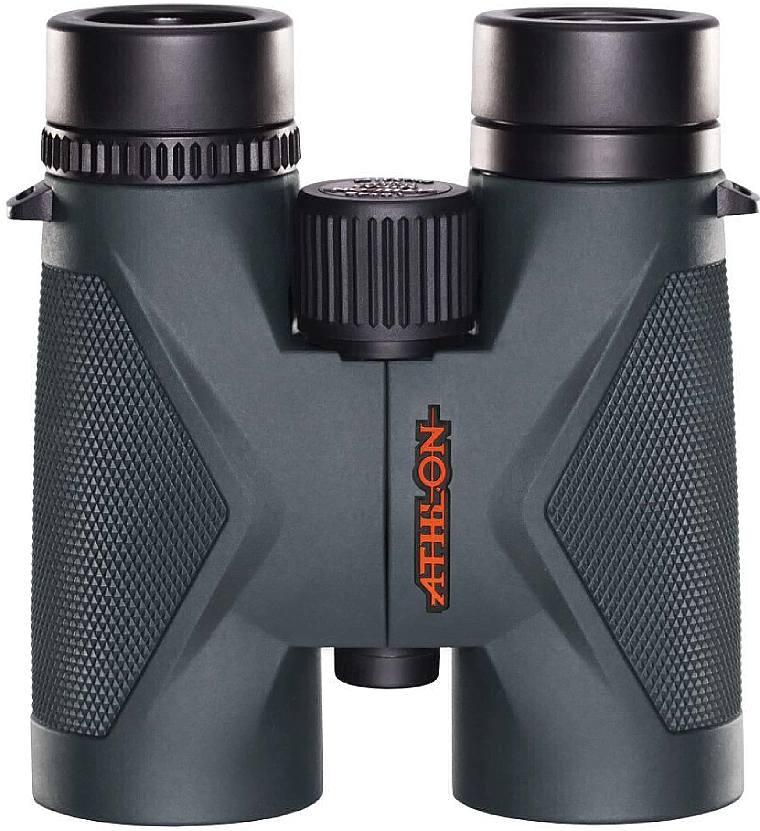 Comparisons
in the table below I have listed the main features of these Athlon Midas 8x42 ED binoculars alongside a small selection of other 8x42 binoculars within the same price range in the BBR database:
Open table in full-screen mode to view the full results with more instruments.
Conclusion
So there you have it, as I started this "mini" review explaining, in my eyes these are not only the best value Athlon binoculars but I feel are up there with the very best value binoculars currently on the market.
For the price, you really are getting a bargain and many, many more features and components than the vast majority of their direct competitors.
Ideal uses for the Athlon Midas 8x42 binoculars include birdwatching, wildlife observation, and near range hunting, specifically in areas like forests or woods where light levels may not be optimal.