Introduction
Primarily designed to be used as a binocular for astronomy, these large aperture, but not hugely expensive Levenhuk Bruno Plus 80mm binoculars have the potential to be very effective in many long-range scenarios here on earth during the day.
For example, these look like an ideal binocular to set-up on a tripod on your porch, especially for those lucky enough to have a great view of the ocean, mountains or a lake and then at night also be able to go out at night and observe the moon, planets, and stars.
So to see just how well they actually performed take a look at my full review below:
Levenhuk Bruno Plus Binoculars
As well as this 20x80mm model, Levenhuk also makes the Bruno Plus in a smaller, lower powered 15x70mm configuration.
The reduced magnification helps them produce a wider field of view and so whilst you do lose some reach and image detail, the advantage is that you will be able to observe larger star clusters in their entirety without having to pan the view about.
Slightly cheaper than the 20x80 Bruno Plus, the 15x70 model also lacks the tripod adapter rail, however they are tripod adaptable in the normal way and this (along with the smaller lenses) does make them considerably more lightweight and thus are easier to hand hold for short periods, making them a good choice for long distance terrestrial observation as well as astronomy.
Levenhuk Bruno Plus 20x80 binoculars Review
Important Specs & Features: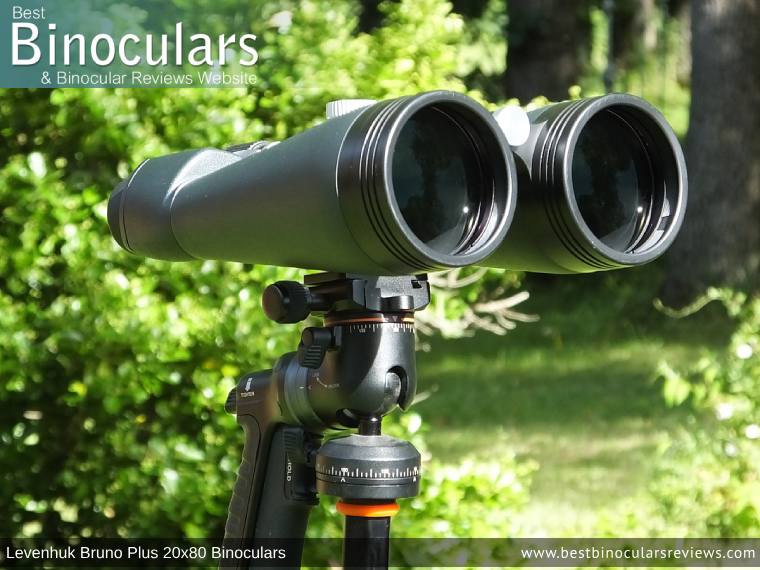 The Body
Design
These Levenhuk binoculars have a fairly standard porro prism shape and design for an instrument of this type.
The rubber coating on the exterior is thin and made from a comparatively hard rubber which certainly provides the instrument with less impact protection than if it was thicker and made from a softer rubber.
These characteristics also make for a surface that offers up less grip, however, the fine texture that is imprinted into it does go some way in countering this.
The main housing on these Levenhuk Bruno Plus binoculars is made from Aluminum and whilst this may not be quite as lightweight as a magnesium one, it is certainly more robust than the plastic shells used on some that you will find at this price level.
Sealed
The body on the Levenhuk Bruno Plus binoculars is fully sealed (class IPX6) and thus makes them waterproof and thus are fine for use in all weather conditions. Remember that this seal also prevents dust from entering the system.
The interior is also filled with Nitrogen gas, which prevents the internal lenses from fogging as it is completely moistureless.
Focusing
Many astro binoculars that use an individual eyepiece focusing, whilst these Levenhuk Bruno Plus 20x80 binoculars have a more standard centrally located focus wheel that adjusts the focus of both barrels simultaneously.
The advantage here is that you get a much larger focusing range, a closer minimum focus and it is quicker to make focal adjustments.
Calibration
To calibrate these binoculars to allow for any difference in your right/left eye vision, there is a diopter adjustment wheel which is positioned on the right eye-piece. This has a range of ±6 which is good and means that these will accommodate a larger selection of users.
I also like the fact that the dial is quite tight which will prevent it from moving too easily by accident.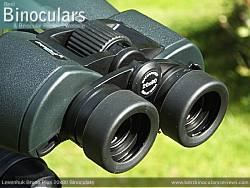 Eyecups
Another good feature that these have are twist-up eyecups. For whatever reason, many lower cost and mid-range porro prism binoculars will use the more simple and less customizable fold down/up rubber cups.
This is especially true on many astronomical binoculars and so for me, it is a feature on these that is well worth mentioning, especially if you wear glasses where the likely hood of you having to adjust the eye-relief is very high.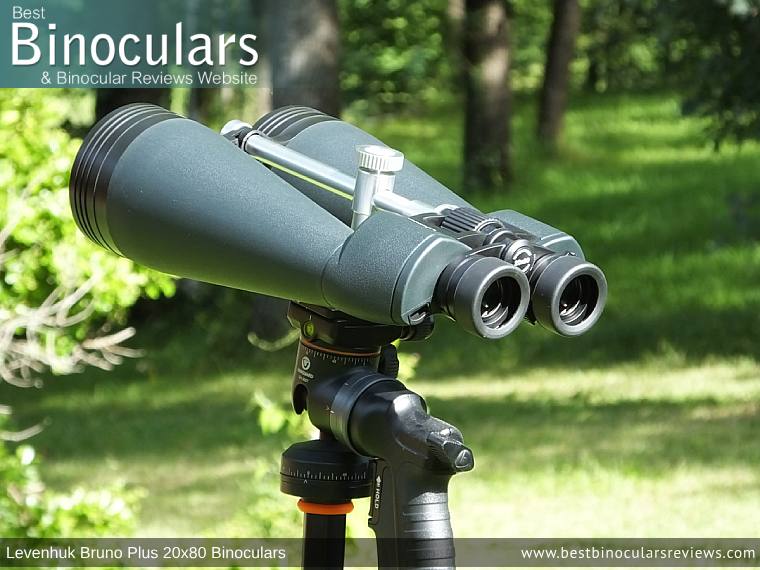 Tripod Adaptable
The Levenhuk Bruno Plus 20x80 binoculars have a tripod mounting bar with a slideable post that allows you to easily attach these binos to any standard tripod and position it at the ideal position for your needs.
I found this very easy to use and when tightened and attached to my Vanguard ABEO Pro tripod and Pistol Grip ball head was very sturdy and easy to use both for astronomy and terrestrial use.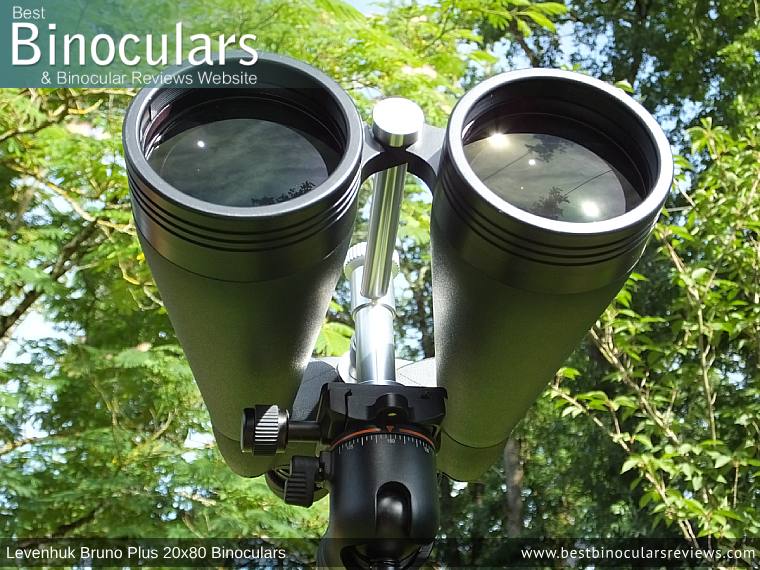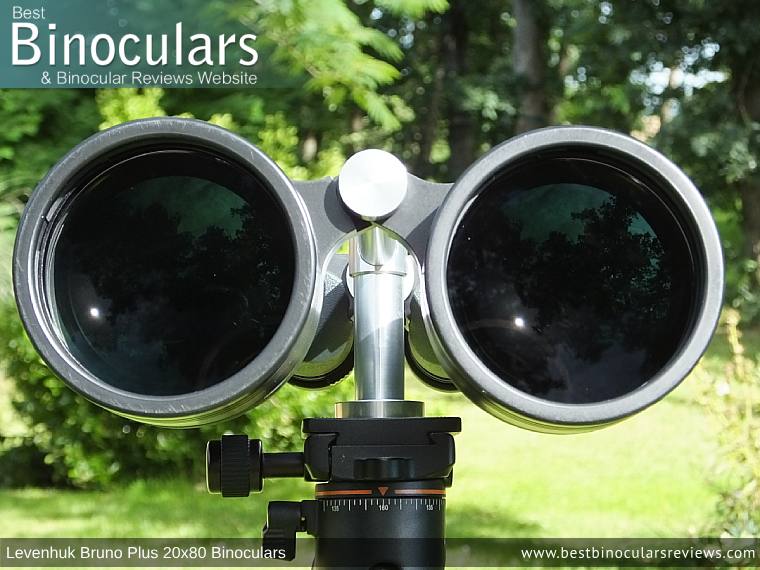 The Optics
The Bruno Plus has 80mm objectives, which according to Levenhuk are created using 2 elements arranged in 1 group. The outer lens is positioned a full 15mm back from the end of the barrel, which is really deep. This offers them more than an adequate amount of protection and in the same way as a lens hood on a camera, helps stop flaring from light in certain directions.
The eyepieces on the have 5 lens elements, which are arranged into 3 groups, with the outer surface measuring 24mm. This is certainly on the larger end of the scale and thus amongst other benefits makes it easier to line your eyes up with them, which in turn in combination with the eye-relief, makes it easier to achieve the full image without any black rings forming on the edges.
Optical Coatings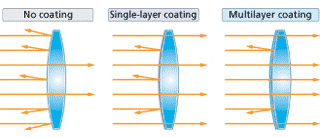 Anti-Reflection Coatings
The optics on these Levenhuk binoculars are fully multi-coated, which is both good to know and important:
The amount of glass surfaces that have anti-reflection coatings added to them is one of the key features of what to look for when buying binoculars and really makes a difference to both the image quality and brightness. You can also read more on Anti-Reflection Lens Coatings here.
Optical Stats
Field Of View (FOV)
The one mediative aspect to higher magnifications is that by its very nature it results in an image that has a narrower field of view.
The advantage of a high power is obviously more image detail and a further reach, whilst in regards to astronomy the disadvantages of the narrower view are that it can make locating a specific point of interest more difficult and if you are wanting to view large star clusters or constellations, you may have to pan the view about rather than just being able to view it all at once in its entirety.
The result is that these 20x80 Levenhuk Bruno Plus binoculars have a view that is 61 yards wide at 1000 feet / 56m wide at 1km. This translates to an angle of view that is 3.2°, which has to be said is not at all bad for a 20x magnification.
Close Focus
For such a large and powerful binocular, the minimum close focus distance of only 16 feet is good, however, these are still not the right option should you enjoy studying things like insects from close range.
Eye-Relief:
The eye-relief on these Levenhuk binoculars is a full 18mm, which in unison with the good quality, multi-positional twist-up eyecups makes them an excellent option should you like or have to wear any form of eye-wear whilst using your binos.
The Image Quality
For this Levenhuk Bruno Plus 20x80 binocular review, I tested and used these a number of times both during the day and at night looking at the stars, planets like Venus and the moon and below are my thoughts on the image quality:
Image Brightness
In the day and in good light ambient light conditions and despite the very high power, the image is every bit as bright as you would expect a large aperture binocular to provide you with.
In low light and even though the 20x80 configuration delivers a 4mm exit pupil which is not massive, this trend continues. They looked equal to my personal 15x70 binoculars and once again whilst it is difficult to compare because of the massive difference in power, the image brightness looks to me to equal that of a good quality mid-range 8x42 binocular.
For astronomy, the brightness was greater than I expected for binoculars with a 20x magnification and I was expecting them to be less bright than my 15x70's that have a larger 4.6mm exit pupil, however, to me, the looked to be about the same.
Because of this and the high power, the detail that I was able to get whilst looking at the moon was particularly impressive and would highly recommend them as a superb option for viewing the moon with binoculars.
Colors & Contrast
Both contrast and color reproduction are not as conspicuous when using a binocular for astronomy, so here these comments and observations are mainly intended for long-range terrestrial use during the day:
Whilst the colors are vibrant enough, I thought that rather than being completely neutral, there was a very slight yellowish tint to the view. The amount to my eyes was very minimal and really only noticeable when I was comparing the view against other binoculars, so is not something I would be overly concerned with.
Whilst somewhat difficult to compare it with lower powered devices, the level of contrast in the image looked to me to be normal. So not so strong as to make the image look artificial and at the other end of the scale, not too washed out.
Color Fringing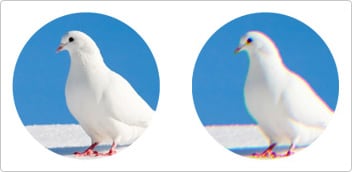 Largely the result of chromatic aberrations, the level of color fringing is also often far more prominent on higher powered instruments.
Thus whilst the level is higher than your average mid to high range 8x or 10x42 binocular, the difference is minor.
So sure, very expensive instruments that use much higher quality optics and ED glass lens elements may perform better, but at this price range, I was impressed.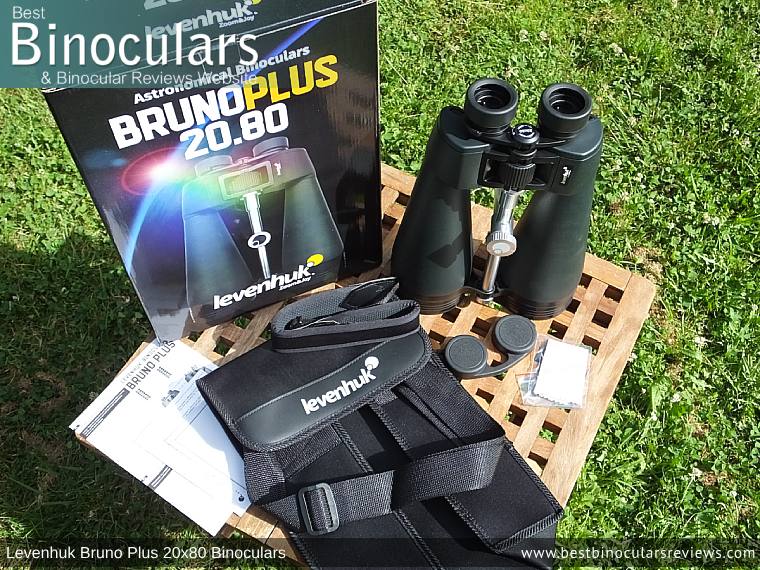 Included Accessories: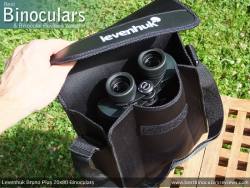 Carry Case
The soft carry case is particularly flimsy, indeed it comes folded flat in the packaging.
With only a very thin amount of padding, it really will not protect the binoculars should they be dropped when being carried inside it.
It does have it's own carry strap, which can be adjusted for length, but is un-padded and so not the most comfortable way to lug about such a large instrument.
The binoculars do fit easily inside and I personally would only really use it for longer-term storage to keep dust a bay.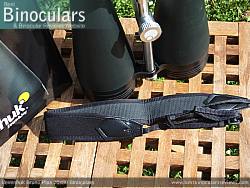 Neck Strap
Whilst not at the level at which I would expect from a high end binocular, the provided neck strap is of a good standard in comparison to most others at this price range.
It is well padded and reasonably wide and so whilst it is never going to be comfortable to carry about such a large binocular around your neck, this strap certainly does not make it worse.
Cleaning Cloth
As with most binoculars, Levenhuk supply these with a basic cleaning cloth. often described as a lens cleaning cloth, I personally would only use them on the body of the instrument and rather use a more specialist lens cleaning kit for the glass.
Objective Lens Covers
As a user who has often dropped their lens covers, it would have been nice had these had some sort of way to tether the lens covers to the instrument. this is especially true when you are in the dark and have to search around for them whilst sitting out in a field somewhere.
Having said that the soft rubber covers themselves fit nicely into the ends of the barrels and thus it will take a bit for them to fall out by accident.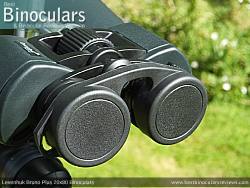 Ocular Lens Covers
The rain-guard or ocular lens cover is very typical and works well enough.
They do have a couple of loops on the side of the cover that you can use to thread the neckstrap though to help prevent you from misplacing it. However, if you set up the binocular onto a tripod, it is unlikely that you will also have the neck-strap attached and thus like the objective covers, these to will be unattached.
Warranty
Levenhuk offers a comprehensive lifetime warranty on all their binoculars which is made all the more impressive considering the low price point an many of their instruments.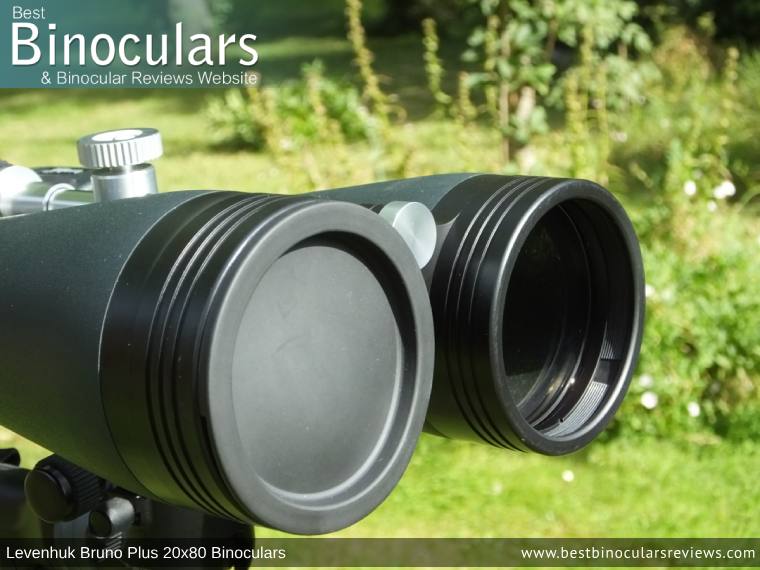 Review Conclusions:
To be honest, at this price range, my expectations were quite low. This is because it is difficult, even with a large budget to produce a good quality view when the magnifications are so high. However, I was very impressed with these Levenhuk Bruno Plus 20x80 binoculars that easily exceeded my expectations in with the quality of the view and the general build quality and materials that they have used.
Strengths
Features like an aluminum frame (not plastic) and twist-up eyecups (not fold down ones), a central focus wheel mechanism (not individual eyepiece focusing), really does make a difference and certainly set these apart from most other long range and astronomy binoculars at this price level in my experience.
The large 80mm objective lenses in unison with the fully multi-coated optical system and simple but effective porro prisms are obviously very effective in not only collecting, but also transferring light to your eyes as the image is both bright and of a high quality, which considering the very high 20x power is really impressive.
Weaknesses
At this price point, there is always going to have to be some sort of compromises. Thankfully and cleverly Levenhuk has made most of these in non-essential areas that do not affect the function of or views through the binoculars.
Firstly the carry case is very basic and for a binocular of this size is far too lightly padded. Thus it only offers the most basic level of protection and certainly does not add to the appearance of your purchase.
The objective lens covers are also very basic, and whilst they fit well, it would have been a little nicer had they had some sort of tether to the instrument itself as I often found myself searching around in the dark looking for them after a little moon and stargazing.