Levenhuk Atom Binoculars
The Atom series from Levenhuk contains a wide selection of models, including tiny roof prism double hinge pocket bins and these larger 50mm porro prism models that come in a variety of magnifications. One thing that is common to all however is their very low price point.
So whilst the classic design of a full sized porro prism instrument like these Levenhuk 10x50 Atom binoculars may not win you any points for being trendy, the shape and the prisms they use inside do offer a number of distinct advantages, especially if you are in the market for a cheap binocular.
I will get into the advantages of it's body design in the review below, but for now I would like to emphasise that for an instrument at this price point opting for one that uses porro prisms is often a wise choice as they require less exacting tolerances and no specialized coatings to achieve the same level of performance as that of a roof prism.
After extensive testing and research, you can read my full 10x50 Levenhuk Atom binocular review below:
Important Details:
50mm Objectives
10x Magnification
Fully Coated Optics
BK-7 Porro Prisms
Tripod Adaptable
Diopter Adjustment
Field of View: 345ft @ 1000yds
Minimum Focus Distance: 52.5ft
12mm Eye-Relief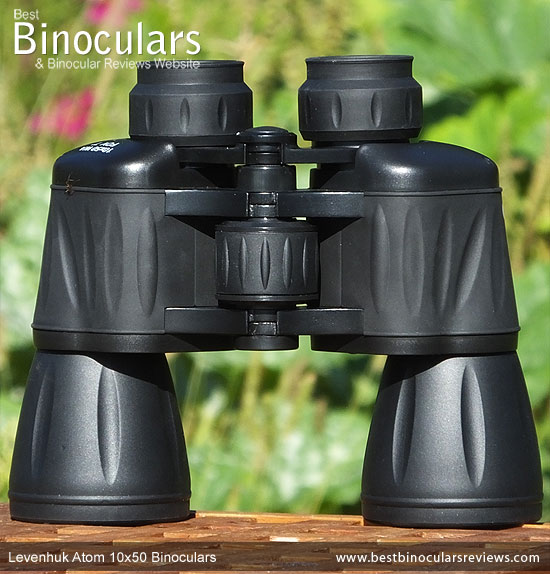 The Body
Shape
As I touched on in the introduction, these sport the very classic and I guess now iconic shape for a binocular, which is primarily down to them using a porro prisms.
Aside from just housing the prisms, this shape generally makes for a very comfortable and well balanced pair of optics to hold onto and these Levenhuk Atom's were no different and for me they just feel great in the hands.
The trade off being that this design is less streamlined and compact than most 50mm roof prism bins.
Exterior
Apart from the rear and front face plates and the bridges most of the chassis is covered in a black rubber coating. As it is quite a hard rubber, it only slightly improves the grip, but will be far longer lasting and less likely to perish than the softer coatings sometimes used.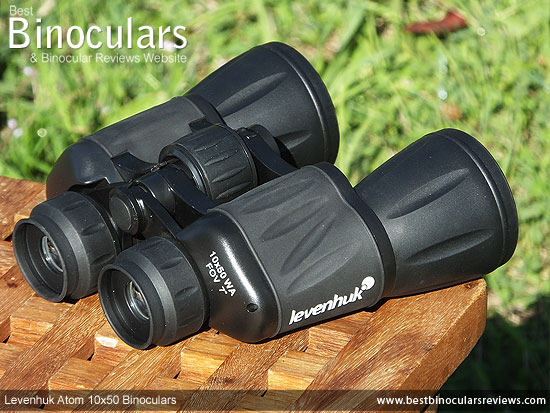 Chassis
Levenhuk make no mention of the materials used for the housing, but from what I can see, it looks like a combination of aluminium and polycarbonate plastic.
Weatherproofing
Once again no mention is made to these being sealed and so because this aspect is not highlighted in their marketing, I feel it is safe to assume that these Levenhuk Atom binoculars are neither water nor fog proof.
At this price level this is not uncommon as it is one of the sacrifices that are often made to keep production costs down.
I think in light rain this will not be a problem, it is more that you need to look after them more and remember to keep them stored properly away from dust as this can sometimes also get inside.
Interpupillary Distance (IPD)
Opening and closing the central hinge adjusts the distance between the eyecups. It is in this way that you can set up the bin to match the distance between your eyes.
With a minimum setting of 5.6cm and a maximum of 7.2cm, this Atom has an fairly typical interpupillary distance (IPD) range for a full sized bin and so should be fine for most adults and teenagers.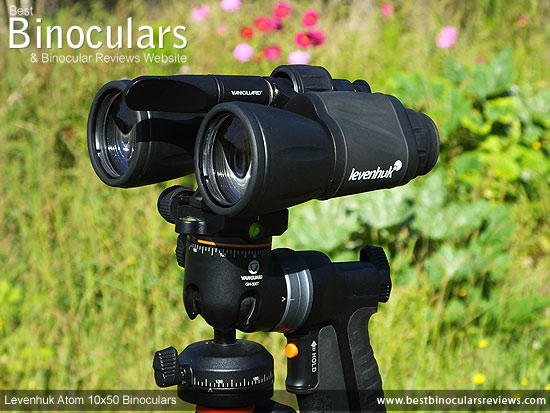 Tripod Adaptable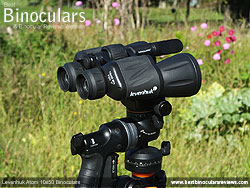 As you would expect on a bin of this size, you can easily fix them to a tripod using almost any normal tripod adapter by simply unscrewing the dust cap on the front hinge and then screwing in the adapter.
Not only does this ensure a completely steady view, but this can be very useful in situations like at a hide when you want to keep your optics trained on a specific area over longer periods.
It is also almost essential should you want to get the best quality photos when digibinning.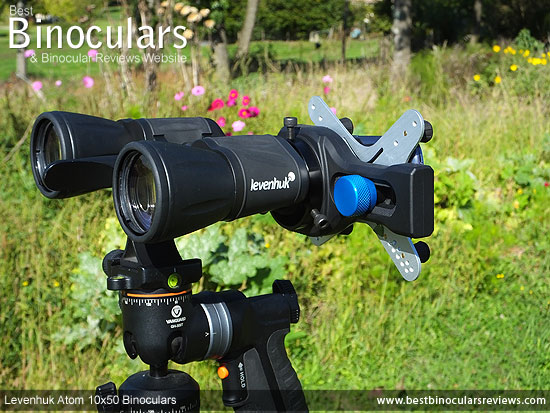 Focusing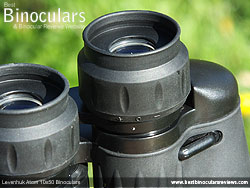 These have a fairly typical centrally located focus wheel that is nice and large, is rubber coated and protrudes well up above the body to make reaching and tuning it straightforward, even whilst wearing gloves.
It takes less than half a turn to go from minimum close focus to it's maximum, which is a lot less than most and makes for very rapid focus adjustments.
On most bins this gearing would probably be too aggressive as it would make fine tuning the focus quite difficult. However because these have such a relatively long minimum close focus distance, you are not having to move through as much distance to go from one end to the other and so whilst still aggressive, it is not overly so.
Diopter Adjustments
You can make dioptric corrections by turning the right eyecup, which independently changes the focus on this side from the other. This is an important step in calibrating your binoculars to accommodate your particular vision.
Unless you share your bins, in theory this only needs to be carried out once and so the best diopters consist of a separate ring under the eyecup that can be locked or at least is not easily turned by accident.
Whilst I understand that once again it is technically easier and thus cheaper to produce, by having the whole eyecup turn means that it is quite easily moved by accident. For this reason if your particular setting is not neutral, I would strongly suggest that you make a mark with a pen or etch it with a knife also that it is easy to return.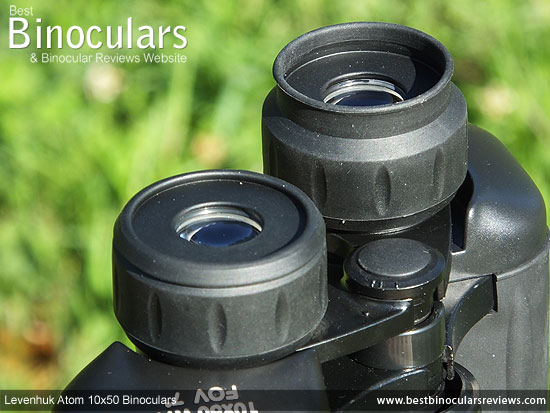 Eyecups
The best eyecups can be twisted up and down as this makes them far more adjustable as well as potentially longer lasting than the simple fold up/down rubber ones on these, that do sometimes perish along the fold line.
Having said that, as far as this type goes, these are pretty good in that they are both comfortable and made from a tough rubber that to me looks like it should not perish quite as easily as that on some.
Body Quality Score: 6/10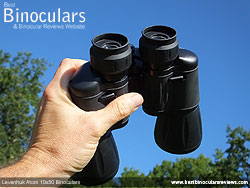 Dimensions
As you can see in the table below, in terms of their dimensions, these are fairly typical for a 50mm porro prism bin and so not too much to mention here.
For interest and to give you a sense of perspective this type of bin tends to be a fair amount larger than your standard 42mm roof prism binocular.
You can also see it is a little larger than the average roof prism binocular with the same sized 50mm objective lens, which is one of the trade-offs of this shape and using this type of prisms:
Weight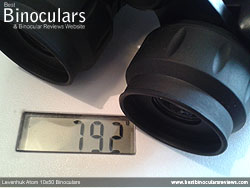 Whilst Levenhuk Sport Optics do not mention the weight in their marketing of this Atom, they should.
For a 50mm bin, they felt quite light to me and so as you can see from the image on the right, I weighed them and indeed at 792g (without lens covers or neck strap) these weigh substantially less than most other similar instruments.
Important to keep in mind that this will probably be partly down to them using a little more plastic parts than the metal ones on higher end products.
Body Stats Rating vs other full sized Bins: 7/10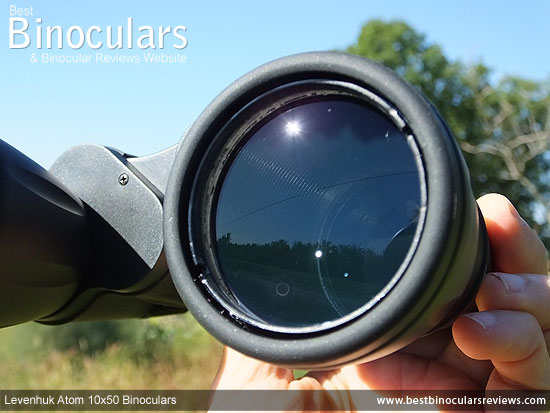 The Optics
50mm Objective Lenses
Combining slightly larger diameter 50mm objective lenses with a 10x magnification potentially allows these a binocular like these to compete in terms of image brightness and low light performance with an 8x42 binocular, but you get a little more reach (image detail)
Whilst it is easy to understand that larger objective lenses can capture more light, this can also be explained with the size of exit-pupil that these create:
10x50's will usually deliver a 5mm (50 ÷ 10 = 5) tube of light exiting the eyepiece. If we compare this to an 8x42 binocular with it's 5.25mm exit pupil (42 ÷ 8 = 5.25), you can see that both will supply your eyes with a similar amount of light.
Obviously many other factors like the quality of the glass and the coatings also play a part, but with this set-up the potential for a bright image is there.
Prisms
The shape of this bin and the reason the eye pieces are not in line with the objective lenses the result of them using what are known as porro prisms to correct the image.
These porro prisms in the Levenhuk Atom binoculars are made from a glass known as BK-7, which in this price bracket is quite typical.
However whilst it is cheaper, this standard of glass has a higher bubble count and a lower refractive index meaning that more peripheral light is "lost" than the BaK-4 glass prisms that are most commonly used.
Optical Coatings
I started this review by emphasizing one of the advantages of using porro prisms is that they do not require specialized coatings on them to achieve the same quality and brightness as that of roof prism made from an equal quality glass.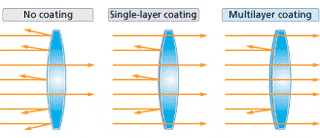 This generally makes this type of bin easier and cheaper to make as the only other coatings required are the anti-reflection coatings that increase transmittance levels on the glass surfaces to which they are applied.
Depending on how many layers are used on how many of the optical components this can make a noticeable difference to image quality and brightness.
The Levenhuk 10x50 Atom binocular is described as being Fully-Coated, which means that they have a single layer coating on all surfaces. Whilst this is not quite as good as Fully Multi-Coated (that have multiple layer coatings), it is better than Coated bins that only have a single anti-reflection coating added to the exterior lens surfaces.
Optical Components Quality Rating: 6/10
Optical Stats
As is demonstrated in the table below, apart from their field of view which is excellent, their other stats like the near focus distance and eye-relief do fall somewhat short of many other similar products:
Optical Stats Rating compared to other 10x Binoculars: 7/10
Image Quality
Colors & Contrast
Whilst perhaps not quite as vivid as the best, I thought that color reproduction was good. By this I mean the image looks perfectly normal and without any tinting or hues that you can often find on cheap binoculars that use lower quality glass.
Likewise the contrast was not brilliant, but was good.
Image Brightness & Low Light Performance
With big 50mm objective lenses that deliver a large 5mm exit-pupil with it's 10x power, I would expect most 10x50 binoculars to offer up a nice bright image and perform reasonably well in low light.
However with cheaper glass and fewer anti-reflection coatings that on higher specification binoculars, I was not sure just how well this particular 10x50 was going to perform.
Compared to my much higher quality 10x42's that I use as a benchmark for all reviews of similar sized bins, these looked to me to be pretty much equal during the day in good light.
Indeed even in fairly poor light there was not a massive difference in the brightness, but the colors did just look that much better on my benchmarks in these conditions. So whilst not quite up to the best, I would not describe these as being anywhere near bad in this area.
Softening& Image Flatness
On the whole the image looked nice and flat without any obvious errors that can make it look like the image is either curving inwards or outwards.
The level of softening on the edges of the view is once again a little more than the best, but not what I would call enough to be a problem.
Color Fringing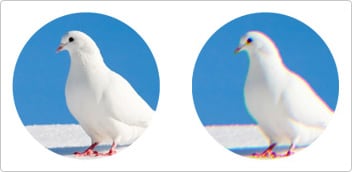 For me probably the strongest aspect of the view through these was just how little color fringing I could see. This remained true even when going to the extremes like focusing on a dark telephone cable against a bright blue sky.
In this area these are as good as many much more costly instruments and even on a par with some that use special ED glass that is designed to limit fringing.
Image Quality Rating: 6/10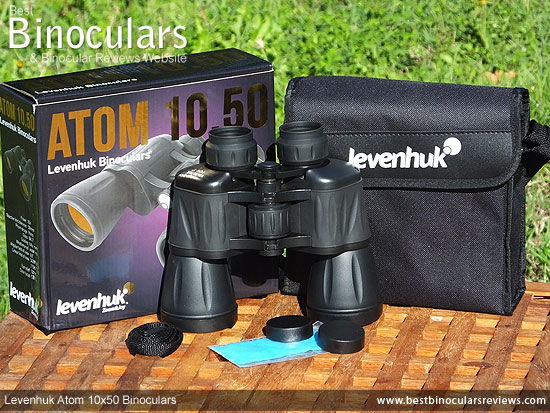 Supplied Accessories:
In their effort to keep the final cost to the consumer down, it is common for cheap binoculars to be supplied with less of the normally included accessories or to have lower quality, and rather basic ones: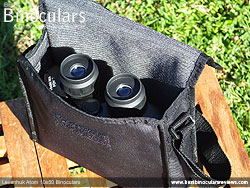 Carry Bag
The Levenhuk carry bag is what I would describe as being very basic, but is not poorly made as the materials look decent enough as does the stitching.
However the amount of padding is very minimal and thus does not provide any impact protection, but what there is will keep the instrument that is contained within protected from scratching, light rain and free from dust etc.
The size of the bag is good for the Levenhuk 10x50 Atom binoculars as they are easy to replace, yet will not shift around inside.
The bag has a simple flap over lid which has the Levenhuk logo sewn onto it. It is held close with a strip of Velcro and whist this works to a point, it provides a less secure closure than a Zip for example and unless you are very careful, it can make enough noise when opening it to startle nearby birds etc. The advantage of Velcro is that it makes it very quick to open as well as secure.
It also has it's own shoulder strap that can be adjusted for length. Made from threaded nylon, it is completely un-padded. I must also include that on my sample pair there was one small area that was a little frayed with a few loose stitches.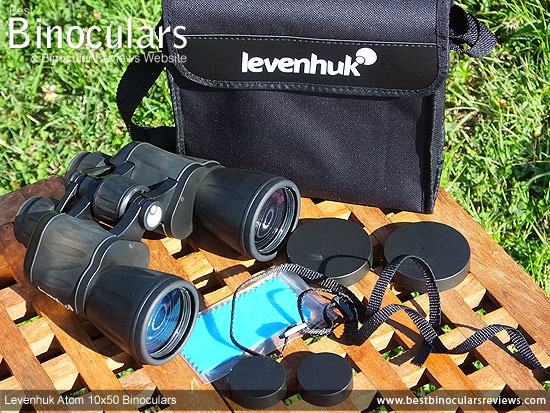 Carry Strap
Whilst I fully understand and appreciate that the accessories on a cheap instrument like this cannot match that of a high level product, but I do still think that the one supplied with this 10x50 Atom is too cheap.
Basically it is just a simple and extremely thin nylon cord that is completely un-padded. For a cheap lightweight compact at this price this perhaps would be just acceptable, but for a large and far heavier bin, I feel that they have gone a little too far here and you are probably better off not using the strap at all.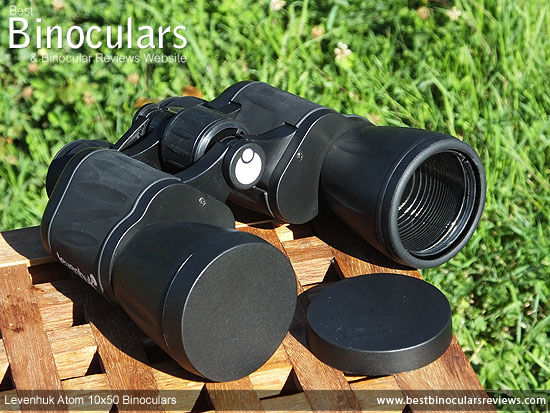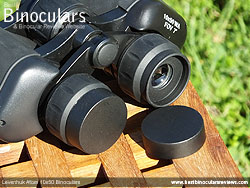 Lens Covers
Both the objective and ocular lens covers come in the form of simple plastic cups that fit over the barrels/eye-cups.
These all have a good fit and thus wont fall off to easily, yet are easy to take off and replace. They also do a good job of protecting and keeping the lenses clean when attached.
For me it is just a pity that they are not or cannot be tethered to the bin as you have to find a safe place to put them when using your bins, so that they are easy to find when you want to replace them. A good place to do this is the carry bag of course, but you do have to be strict with yourself otherwise if like me you are in grave danger of leaving them behind somewhere!
Lens Cloth
You will also find a simple cleaning cloth contained within the box. This is not made from a microfiber material and so is fine for cleaning the body and maybe very lightly on the lenses in an emergency.
If you can, you will be far better served by using a genuine optical cleaning kit, which can cost under $20/£15 and you can also use with all your other optical & glass gear as well (cameras, phones, tablets etc).
Warranty & Manual
One extra that is excellent is the international Levenhuk lifetime warranty on these bins.
The generic Levenhuk Atom manual is in the form of a large folded sheet. It contains the main specifications for all Atom binoculars as well as very basic information on how to use, clean and care for your optics.
You will also find a quality control inspection card within the box that states these have been checked before leaving the factory and thus should not contain any defects. There are also instructions on what to do should there be any.
Extras & Attention to Detail Rating: 4/10
Levenhuk 10x50 Atom Comparisons
Final Thoughts:
On the whole these Levenhuk Atom 10x50 binoculars are in my opinion better than what their price tag suggests and so from that point of view, I think you are getting some good value for money. However you should also keep in mind that there are also a number of areas where these fall short, even when compared to higher specification optics.
So if $50 / £50 is your absolute maximum budget then these cheap binoculars are far better than having nothing at all and I think they are a good option when compared to most other similar priced bins that I have come across, especially those using roof prisms. However if you can stretch your budget a little and get to the Low Cost range ($50 - $130 / £50 - £130), you do get a better all round product.
Strong Points: Their brightness and performance in poor light is good and for a 10x binocular their very wide field of view is excellent. Indeed in this areas, this Levenhuk binocular matches some of the very best and thus for birders these qualities make these and excellent low cost option should you want a little more reach than you get with a 8x bin.
In general the build quality of the actual bin is pretty good and better than what I would have expected at this level. They feel like a tough, hard wearing instrument, unlike some of their direct competition which are not much more than cheap plastic toys.
Weak points? At this very low price point, there are always going to be areas where the manufacturers have had to make tough decisions to keep the cost down and so whilst I could list the many areas where the Levenhuk Atom 10x50 binoculars don't compare to higher end and more expensive equivalents, if they were to improve them in these areas, then these too would have to cost more.
So below are their weaker points that in my opinion fall short of what I would expect to see in this class:
Whilst still very basic, the quality of the extras like the carry case, cleaning cloth and lens covers are about what you would expect to see at this price, but I really feel that they have skimped too much on the neck strap and they should have a wider and possibly even light padded strap for this size of bin.
For rubber fold up/down eyecups, the ones you get on this Atom are actually not bad. But it would have been nice to have had twist-up/down cups as well as a little more eye-relief that would have made these bins a better option for eyeglass wearers.
Their minimum focus distance is not near at all. For most people this will not be an issue, but should you like or want to view objects at closer ranges, these Levenhuk binoculars will not be the right choice.