Levenhuk Karma Plus Binoculars
The low costing series of Karma Plus binoculars from Levenhuk sits just below their Karma Pro range and whilst at first they may seem to be quite similar, there are a number of differences (some of which are more important than others), which is reflected in these PLUS models having a lower price than the PRO models.
So to see exactly what these differences are and how they affect the usability and optical performance, I decided to try out the 8x32 Karma PLUS and compare my findings to the 8x32 Karma PRO that I have previously tested:
Levenhuk Karma PLUS 8x32 Binoculars
Low Cost Bins - approx $75 / £65
Single Hinge Mid-Sized Body Design

Dimensions: 13x12.7x4.8cm / 5.1x5x1.9in

Fully Sealed & Nitrogen Filled Chassis
Optics:

32mm Objective Lenses, 8x Magnification
Multi-Coated
BaK-4 Roof Prisms

Aluminum
Not Phase Corrected

Field of View: 357ft at 1000yds
Min Focus Distance: 13ft
Eye Relief: 17.8mm
IPD Range: 5.6cm - 7.4cm
Levenhuk Karma PLUS 8x32 Binocular Review
In this review I not only tested these Levenhuk Karma Plus 8x32 Binoculars as I would in any other review I do, but also paid particular attention in comparing and testing them directly against the equivalent and high specification Karma PRO model to see what, if any the differences make:
The Body
Color
Levenhuk have gone for a light grey color for the exterior of the Karma Pro series, which is not often seen. In my opinion this color not only looks great, but is still camouflaged and sets it apart from the hoards of black or green bins out there.
Shape
Like the Karma Pro, the Karma Plus has a fairly standard shape for a mid-sized roof prism binocular, but on close inspection the two models do use different chassis designs.
For example the Karma Pro has it's focus wheel slightly encased within the shell, whilst this Karma Plus's wheel is far more exposed. The benefits of each design depends on how you look at it: A more enclosed focus wheel is more protected, but at the same time is less accessible, which if you wear thick gloves in winter can be a minor issue.
There are also a number of other minor changes that are more stylistic than anything else, but I think that whilst they share almost identical overall dimensions, the important point to take away is that the two use a different chassis, which is something that I really was not expecting to see.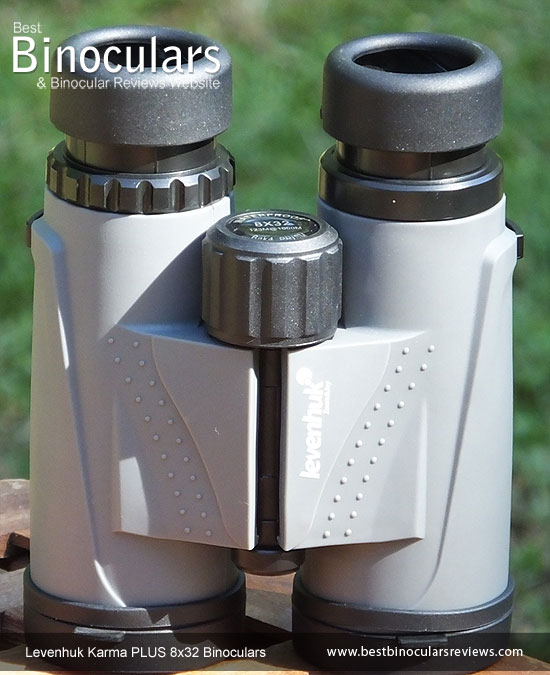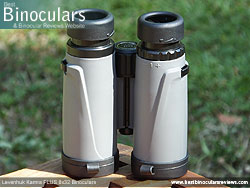 Rubber Coating
The rubber coating on the Karma Plus is hard and very smooth. These particular qualities mean that there is far less grip offered by this surface than those that use softer more textured rubber coatings.
Note: This is another departure from the Karma Pro that has a more textured rubber coating.
Levenhuk have also not added any thumb indents on the underside of the body, a very minor detail that I often see on other bins.
Chassis Material
I had assumed that like most others in this price range the Levenhuk 8x32 Karma Plus binoculars would have a chassis made from a polycarbonate plastic. However I was informed by them that it is in fact made from "plastic steel". To be honest and after doing some research, I am still unsure of exactly what they mean, as to my knowledge, Plastic Steel is a brand of putty. So if anyone can help out here, that would be most appreciated. Perhaps they mean a mixture of plastic and metal parts?
Tripod Adaptable
Whilst on my sample it was extremely hard to unscrew the first time, the dust cap on the front face of the hinge can be removed and the exposed thread will accept a normal tripod adapter making is simple to attach these Levenhuk Karma Plus 8x32 binoculars to a tripod.
Eye-cups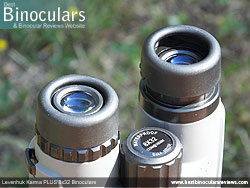 With the Karma Pro, I was happy to report that they had twist-up eyecups as many low cost bins revert to simple rubber eyecups that can be folded up/down to change the eye-relief. Whilst these are cheaper to produce, they are no match for a well made twisting eyecup.
Well the great news is that not only do Levenhuk also use twisting eyecups on the PLUS models, but they are also really good, especially when compared to the majority of others at this price level:
Whilst not made from metal as you get on higher end bins, the housing feels to be nice and robust and the twist-up action works well with only a very minimal amount of free play that is so minor as not to be a factor.
I also really like they positive way they click into each of the fixed stops and the fact that they have four of them (two intermediate) is impressive as it gives you ample options to ensure that your eyes sit at the perfect distance behind the ocular lenses eliminating the dark rings around the edges of the view that you often get on lower cost optics.
Add to this 17.8mm of eye-relief and it makes these bins an ideal choice should you wish or need to wear eye-glasses.
The shape of the rubber on the eye-cup is different to that which is used on the Karma Pro, as it is a little more rounded on the Karma Plus, something which I prefer as it feels a little more comfortable when you push them firmly against your face.
Inter-Pupillary Distance (IPD)
As with the Karma Pro, you can adjust the distance in between the eyecups on these 8x32 Levenhuk Karma Plus binoculars from a minimum of 5.6cm, right up to 7.4cm.
For a mid-sized bin this Inter-Pupillary Distance (IPD) range is good and whilst they may not suit those with really wide faces, the minimum setting should enable older children to adjust them to fit. This along with their low price point makes them perfectly suited as a child's first serious pair of binoculars.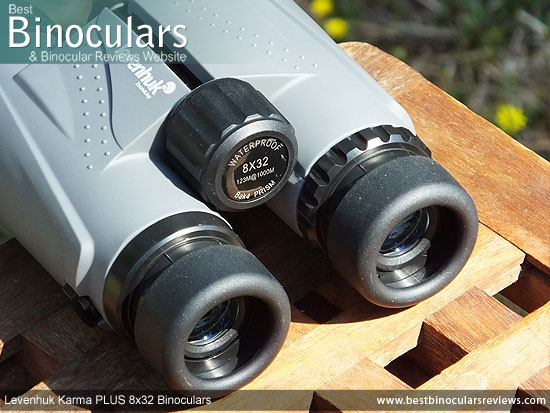 Focus Wheel & Focusing
Whilst it still takes two complete turns to go from close focus to infinity, the focus wheel on the Karma Pro is completely different to that used on the Karma Plus.
Measuring 32mm in diameter, it is larger and more in-line with what I usually see. Made from plastic, it's design is also very typical of that used within this price range with a simple rubberized track improving the grip level.
Most importantly was the fact that on my sample it turned very smoothly, but with some resistance to prevent accidental movement. I also detected no free play or looseness to the mechanism, something that is not only very annoying, but can make it hard to make precise focus adjustments.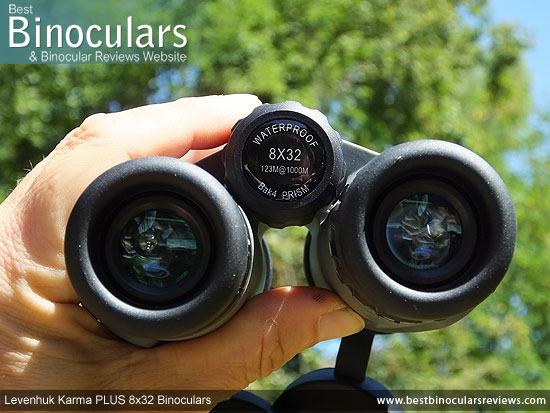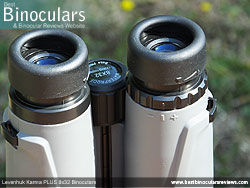 Diopter Adjustment
The diopter ring used on the Levenhuk Karma Plus 8x32 binoculars is also different to that used on the Pro series and is more typical for those found at this price level.
Used to calibrate the bins to match your particular vision, I would describe this one as being very basic (no printed scale and it cannot be locked) but it is functional.
Rating for Body Construction Quality: 6/10
Weight
Levenhuk do not provide an official weight along with the rest of the specifications for the Karma PLUS 8x32 binoculars, but I measured it at 18.9oz / 537g, which as you can see from the table of similar bins below is about the same as the Karma PRO and about average compared to most others within this size category:
Dimensions
The official dimensions are exactly the same as the Karma PRO, which as you can see is in keeping with most mid-sized 32mm binos.
BBR Rating for Body Stats compared to Mid Sized Bins: 7/10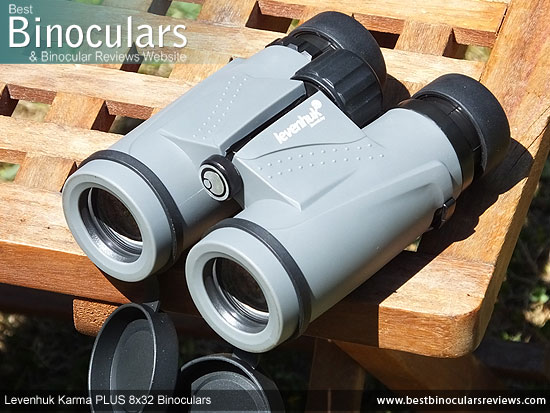 The Optics
When comparing the Karma PRO and these Levenhuk Karma PLUS binoculars, it is the differences in the optics, their coatings that are in my mind the most important. In this section I will highlight the similarities and the differences between the two and discuss the potential consequences and then in the next couple of sections see how and if these play out in the real world:
Lenses
Objective Lenses
As is the case with most manufacturers, Levenhuk do not describe the exact makeup of their objective lenses, so I can't comment.
What I can say other than stating the obvious in that they have a diameter of 32mm, is that at 5mm, they are set quite shallow within the ends of the barrels. This design offers the lenses less protection than if they were deeper - from both physical damage, as well as rain, dust and indeed sunlight where deeply set lenses can be less prone to lens flaring.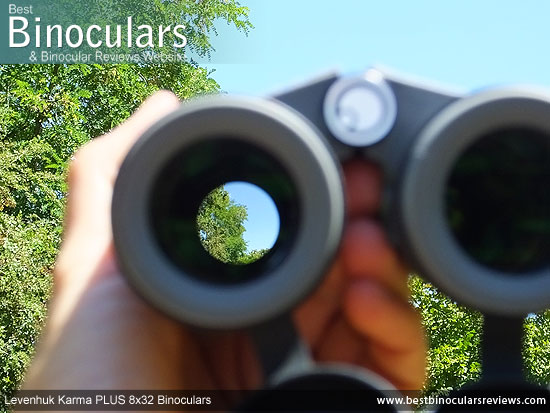 Eyepieces
The design of the eyepieces and their lenses on these two bins is very different:
These Karma Plus binoculars have a design that consists of 3 lens elements arranged into 3 groups, whilst the Karma Pro has higher specification eyepieces with 4 elements in the three groups.
This potentially means that these Plus's might not be able to direct the light quite as well and thus potentially have a lower resolution image and can also affect things like the field of view and close focus distance - see Optical Stats Section below for details.
It is also worth pointing out that the exterior ocular lens measures 17mm in diameter on the 8x32 Karma PLUS, which is quite a lot smaller than that on the Karma Pro (20mm) and indeed in my experience is on the smaller end of the scale for a mid sized bin.
Prisms
It is quite common at this price level to find bins with prisms made from cheaper BK-7 glass, which does have it's benefits, but for the use in binoculars is usually considered to be not the ideal option.
Thus it is great to see that the roof prisms on these Levenhuk Karma Plus binoculars are made from BaK-4 glass which is the same used on the higher spec'd Karma Pro.
Optical Coatings
Anti-Reflection
The amount of optical surfaces that are treated with a material that has anti-reflection properties is super important and in my experience can make a real and observable difference to the quality and brightness of the image produced.
Here it is important to take note of the exact wording when manufacturers describe what they have done.
Really cheap binoculars will sometimes be advertised as coated - this usually means that only the exterior lens surface on the objective and ocular lens has received a single layer of this material.
These Karma PLUS bins have been multi-coated, which implies to me that the exterior lens surfaces on the ocular and objective lenses have multiple layers of this material applied to them which is better.
However the best option and what you get on the Karma PRO bins are fully multi-coated optics - this implies that every exterior surface throughout the whole optical system has had multiple coatings which is far superior. For more take a look at this section on Anti-Reflection Lens Coatings on Binoculars.
Prism Coatings
Levenhuk do not mention what coatings are used on the prism surface to increase it's reflectance in their marketing.
My assumption due to their price was that it will most probably be aluminium, however after contacting them, I was informed that they actually use silver which is more expensive, but has a higher level of reflectivity.
Dielectric coated prisms are the best as they transmit almost all of the light resulting in a brighter, higher quality view, but they are far more expensive and so are only found on higher end products.. However as you can see on the table below the fact that these use silver coated prisms in this class is excellent.
Also worth pointing out is that the prisms on these (nor the Pro's) have not been phase corrected. This is another coating added to higher specification optics that can improve image resolution. However as you can see from the table below this is usually only found on more expensive products:
Optical Components Quality Rating: 5/10
Optical Stats
It is in their optical stats where we really see the difference between the Karma Plus and the Karma Pro and these will largely be down to the differences in the make-up of their eyepieces:
Field Of View (FOV)
At only 357ft wide at a distance of 1000 yards the field of view you get when looking through this binocular is a little on the narrow side for an 8x binocular.
This fact is highlighted on the table below where they rank near the bottom when compared to other similar sized 8x bins that I have tested. Also worth pointing out that there are even some 9x and 10x mid sized bins that have a wider view:
Close Focus
A minimum focusing distance of 13ft is also not great for a mid-sized 8x binocular and so I would not suggest you get these if you find yourself often observing objects like birds, butterflies or flowers from closer ranges.
Eye-Relief:
The 17.8mm of eye-relief is very good and as I have already discussed, this combined with the twist-up eyecups that work really well should mean that most eye-glass wearers should be able to use them and still see the full view.
Optical Stats Rating: 6/10
Image Quality
For this review, I compared the view through these Levenhuk Karma Plus 8x32 binoculars against my mid-sized benchmark bins (8x32) and the Karma Pro 8x32 binoculars, which I found particularly interesting:
Image Brightness
During the day and in well lit sunny conditions, I did feel that both my much higher quality benchmark 8x32 bins and the Karma Pro's looked to be very slightly brighter, but the difference was very small. Indeed I did feel that it may have just been in the difference of the colors and sharpness of the image (see below) and not the image brightness.
In poor light, just after the sun had set, I was then definitely able to notice that these were delivering a view that was less bright than the other two.
Contrast & Color Reproduction
Whilst it is not really noticeable when you look through the Karma Plus on it's own, when I compared the view against the Karma Plus and my benchmark, I could see that the image through these bins has a very slight brownish tinge to it and was ever so slightly less vivid than the other two.
Image contrast was ok, but once again, to my eyes was marginally less pronounced than the others.
What I would like to stress here is that these differences are really small and without a direct comparison, you most probably would never notice it at all.
Color Fringing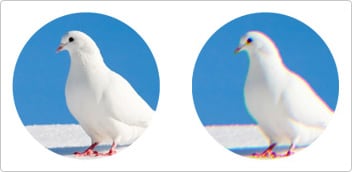 Levels of color fringing that are the result of chromatic aberrations were equal to that on the Karma Pro and well within acceptable amounts, so no issues here.
Image Flatness & Softening
The level of softening around the edges of the view is very minimal and on a par with far higher specification binoculars. This is excellent.
The image also looked nice and flat and I never noticed any obvious distortions that can sometimes make the image look like it is curving inwards or outwards.
Image Quality Rating: 6/10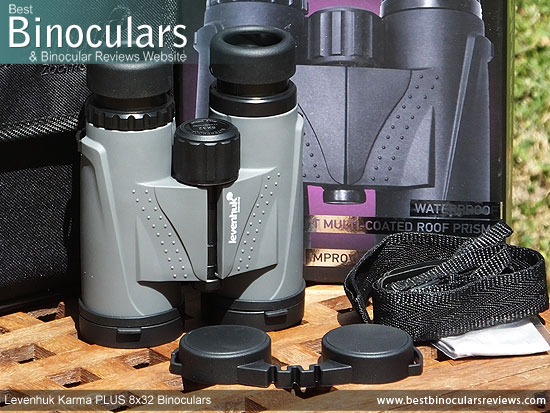 Included Accessories: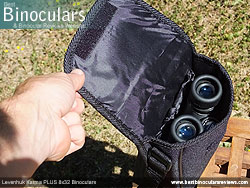 Carry Bag
Whilst different to the one that you get with the Karma Pro, the difference is very minor. In fact the only point worth mentioning in this regard is that the shoulder strap on this bag lacks the sliding shoulder pad that you get on the Pro bag.
The bag itself looks to be well made with good stitching and the fine weave of the material will provide a good amount of shelter from light rain and dust etc.
The padding is quite lightweight however and so there is less cushioning than you find on some cases.
The bins fit nicely within the bag and you can easily close the flip-over lid, even with the eye-cups extended and the covers on.
The lid is held close with Velcro, which makes for quick access, but is a less dependable closure than say a Zip. You may also need to be careful to not make too much noise when ripping open the Velcro is some instances, like when close to wildlife/birds.
The case has a separate pocket internally and a belt loop on the rear, although you cannot remove the carry strap which if you like to carry the bag on your hip can get annoying.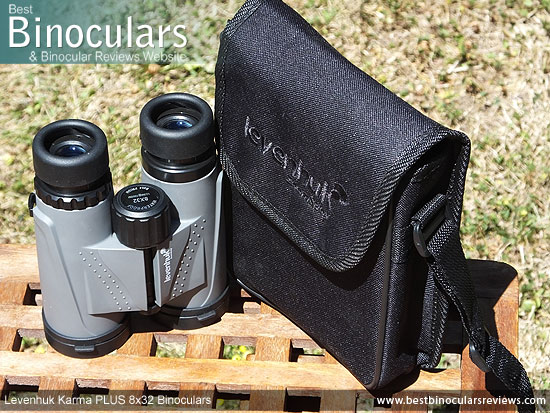 Neck Strap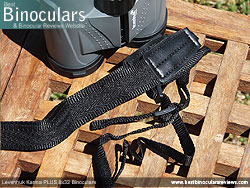 Same as that which you get with the Karma Pro, the included neckstrap is very basic, which to be honest is usual at this price point:
This simple and un-padded strap looks to be made from woven nylon and is not shaped or curved to fit around you neck and shoulders as better one are.
You attach the strap to the bins in the normal way by threading the thinner sections through the eyelets on the side of the instrument.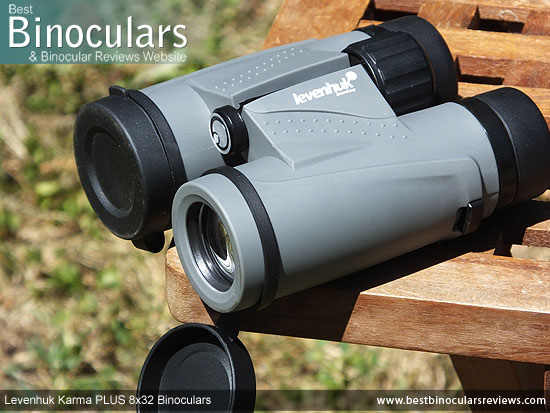 Lens Covers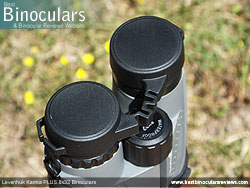 The objective and eye-piece covers are exactly the same as on their more expensive option and both made from a soft rubber/plastic type of material.
They both have a good fit and don't come away too easily.
The rain-guard can be threaded through the neck strap and the objective covers are attached to the bin with rubber loops in the normal way to keep them close at hand and easy to replace as soon as you are done looking through the bins.
Cleaning Cloth
The Levenhuk Karma PLUS 8x32 binoculars come with a simple cleaning cloth which pretty standard and fine for very light usage on the lenses. However will always recommend that you get a reasonable lens cleaning kit to ensure that you don't mark the lenses.
Extras & Attention to Detail Rating: 6/10
Levenhuk Plus 8x32 Comparisons:
Review Conclusions:
On the whole and when taking into consideration their low price point, these Levenhuk Karma PLUS 8x32 binoculars are decent Mid-sized bins.
For occasional or casual use or as a first time bin for an older child then these will be more than adequate and I think a good buy. However they do fall a little short in some areas that may be important for some more specialized uses. If these areas that I have pointed out below are critical to you and your needs, then in my opinion if you can afford the small amount of extra cash, it is well worth trading up to get the Karma Pro.
Strong Points:
I like the feel and look of the exterior, which on the whole looks well made and at least as good as any others that I have seen at this price level.
The instrument is well balanced and the shell is sealed, making them waterproof. This along with fogproofing is not something to be taken for granted at lower price levels.
The inclusion of a silver mirror coating on the prism is at this price not that common and so is most certainly a good point.
Weak points:
It is a pity that these are only Multi-Coated. Sure many at this price range will have the same level of anti-reflection coatings, but there are a few that are fully multi-coated and thus do produce very slightly better quality/brighter views.
Their field of view is on the narrow side, for some uses like some types of birding, this may be an issue.
Likewise their minimum focus distance is on the long side and as such not ideal if are looking to observe objects at close range - butterflies, flowers etc.