Levenhuk Karma PRO Binoculars
Containing nine models, the new Karma PRO range from Levenhuk consists of their highest specification products within their Karma series and as such contain a number of improvements when compared to their standard Karma and Karma PLUS binoculars.
Aimed at a wide variety of uses, all Levenhuk Karma PRO binoculars use roof prisms and vary in size from the compact 25mm versions, right up to the large 50mm models. In terms of cost, all models within the Karma PRO range are what I would consider to be low cost binoculars ($50 - $130 / £50 - £130) and by looking closer at their main set of features seem that they have the potential to offer a good value for money purchase:
Levenhuk Karma PRO 8x32 Binoculars
Below are the most important features relating to the mid-size 8x32 model that I received from Levenhuk to test and then review:
Low Cost Bins - approx $95 / £80
Single Hinge Mid-Sized Body Design

Dimensions: 13x12.7x4.8cm / 5.1x5x1.9in

Waterproof & Nitrogen Filled Shell (fog proof)
Optics:

32mm Objective Lenses, 8x Magnification
Fully Multi-Coated
BaK-4 Roof Prisms

Aluminum & Silver Coatings
Not Phase Corrected

Field of View: 387ft at 1000yds
Min Focus Distance: 6.6ft
Eye Relief: 17.5mm
IPD Range: 5.6cm - 7.4cm
Levenhuk Karma PRO 8x32 Binocular Review
After spending a really good length of time (actually more than a couple of weeks), using them both out in the field and testing in the office, below are my detailed thoughts and opinions on the Levenhuk Karma Pro 8x32 Binoculars:
The Body
Shape
On initial inspection, the 8x32 Karma Pro binocular looks to have a typical single bridge body shape used by many roof prism bins, This in many ways is a good thing as it is tried and tested and proven to be easy to use and comfortable to hold.
However there are also a few small tweaks and twists in the design that I feel are worth noting and will go through in more detail below: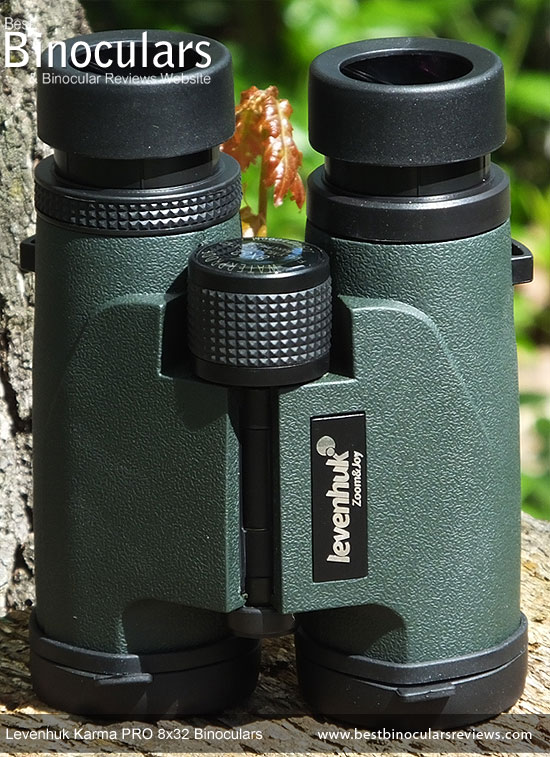 Body Materials
Levenhuk list the body materials used as being both plastic and metal. From this and from what I can see, it looks like most of the main chassis is plastic, which at this price level is very typical. Metallic parts will probably include the main hinge and some other small parts within the body itself.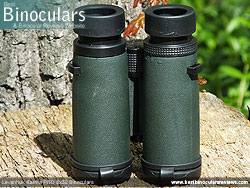 The dark green rubberized coating fits tightly to the chassis underneath, unlike some that can actually move about, so this good.
It is also a hard rubber which has the benefit of being more robust and likely to be less susceptible to perishing than the softer rubbers that I sometimes see. However on the negative side, being so hard it will not absorb as much energy from impacts and provides less grip than soft rubber coatings.
To help with this last point, Levenhuk have added a fine texture to the outer surface which also makes it a less reflective surface. This is a very small point, but can be important if you need to remain out of sight.
Tripod Adaptable
As with the majority of modern bins, the Levenhuk Karma PRO 8x32 binocular is tripod adaptable. By this I mean that the dust cap located on the front face of the central hinge can be unscrewed. You can then easily screw in a standard tripod adapter which you then fix onto your tripod.
Eye-cups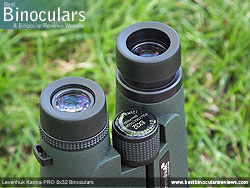 Many cheap binoculars will have simple folding rubber eyecups. These work, but for the most part are inferior to well made and obviously more expensive to produce twist up/down eyecups.
So it is for this reason that it is great to see that Levenhuk have not been tempted to save production costs in this area as whilst they are made from plastic, the eyecups on the Karma Pro sample that I tested were pretty good.
Sure they will not be as robust as metal ones and there was a fraction of free play, but the mechanism worked really well and they clicked nicely into each of the four fixed stops (fully twisted in and out as well as two intermediate stops).
These two intermediate fixed stops along with an excellent 17.5mm of eye-relief give you plenty of flexibility and distance to play with in order to get your eyes the perfect distance behind the ocular lenses to ensure you get the entire uninterrupted view and makes them a good choice for those who wear glasses.
Inter-Pupillary Distance (IPD)
Levenhuk 8x32 Karma Pro binoculars have an Inter-Pupillary Distance (IPD) range of 5.6cm up to 7.4cm.
Whilst not quite as wide ranging as some, they should still be adjustable enough to match the distance between the majority of users eyes. This includes older children where the small size of the mid-sized instrument and low cost make them a good option as a first serious pair of binoculars.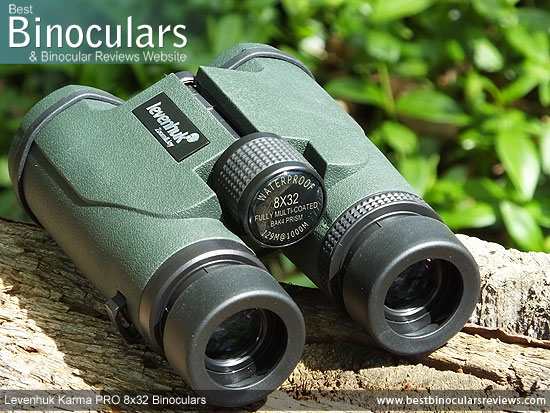 Focus Wheel & Focusing
At 29mm in diameter the focus wheel is a few millimeters smaller than most that I come across on full sized or even mid-sized bins. However as I say it is only by a few millimeters and does not really make it noticeably harder to locate or turn.
More importantly the action was nice and smooth on my test sample and without any free play.
Levenhuk have also added a rubber track around it that helps with grip, which when you are wearing gloves in winter can help.
To move the focus from the extremes of near to far (or vice versa) takes just over two complete rotations (720°) of the wheel. This is relatively a lot and means it takes a little longer to make large focus adjustments than those that are higher geared. On the positive side, it makes fine adjustments that fraction easier.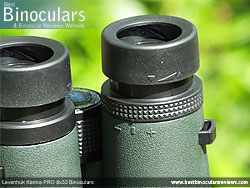 Diopter Adjustment
Designed so that you can adjust the focus of one side of the binocular independently of the other, the diopter is there so that you can calibrate the instrument to allow for any imperfections in the vision between your eyes.
On these Levenhuk binoculars, the diopter is located in the traditional place near the right eye-piece.
Whilst it is not lockable, ratcheted and lacked any sort of scale markings like you see on the best, it worked well enough on my sample.
Rating for Body Construction Quality: 6/10
Weight
As you can see from the table below, the Levenhuk Karma PRO 8x32 binoculars are about average in terms of their weight when compared to a selection of other mid-sized bins that I have tested. However, compared to others with plastic bodies, they are amongst the heaviest and heavier than many that have metal chassis:
Dimensions
In terms of their overall size they are there or thereabouts for a mid sized bin. Easier to pack away and carry about than your average full-sized 42mm bin, but with improved light gathering capabilities than your typical compact binocular for improved optical performance, especially in low light.
BBR Rating for Body Stats compared to Mid Sized Bins: 7/10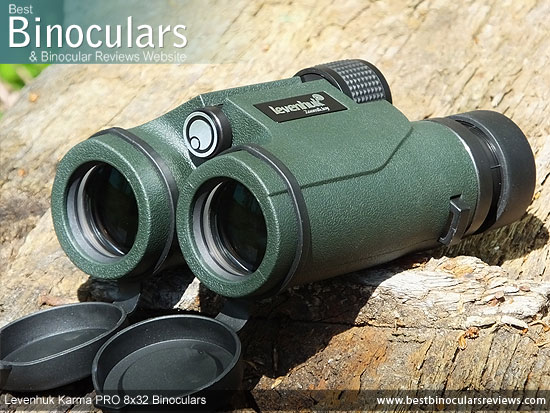 The Optics
Lenses
Ocular
Levenhuk advertise the Karma PRO as having uniquely designed eyepieces containing four optical elements, arranged into three groups. They say that this improves the image quality, which may be the case, but without any further information, I can't really comment.
I can ad that the exterior lens on the eye-piece has a 20mm diameter, which is about average for a binocular in this size class.
Objective
As for the objective lenses, they as their name indicates have a diameter of 32mm, which is the most commonly used dimension on mid-sized binoculars, combining a good surface area to capture light with, but not being too large as to make the instrument too bulky.
As for the make-up of the elements in the lenses, there is no information provided, except to confirm that whilst they will most probably use a low dispersion element to better direct the wavelengths of light, ED (extra low dispersion) glass is not used on these.
Prisms
Many cheap binoculars will use BK-7 to make the roof prisms with, however Levenhuk have opted for the more expensive BaK-4 glass which on a binocular is generally deemed to be superior.
Optical Coatings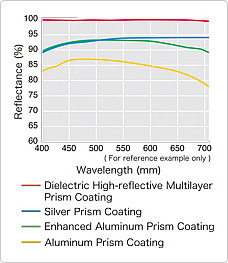 Anti-Reflection
The optics on the Levenhuk Karma PRO binoculars are fully multi-coated with an anti-reflection material which is also great news as it is common to find cheap binoculars with only fully coated or multi coated optics that save on production costs, but do not transmit as much light and/or transmit it less perfectly for a lower resolution, less bright image. For more take a look at this section on Anti-Reflection Lens Coatings on Binoculars.
Prism Coatings
Whilst understandably at this price level (see comparison table below), it is still always a shame to discover that the prisms have not been phase corrected as this treatment of the roof prism helps to ensure a higher definition of image.
Levenhuk do advertise these as having aluminum and silver coatings which to be honest confuses me a little as I can't understand how they use both as it is usually one or the other, or in the case of top end binoculars dielectric coatings (see table below).
Optical Components Quality Rating: 6/10
Optical Stats
Field Of View (FOV)
These Levenhuk Karma PRO 8x32 Binoculars provide you with a view that is 129 meters wide at a distance of 1000 meters away (387ft @ 1000yds).
As you can see from the table below, whilst this is a little off the widest view out there, they compare well with most other similar sized 8x instruments:
Close Focus
The 6.6ft (2m) close focusing distance on these Levenhuk's is very good and makes them more versatile as they can be used for the occasional study of birds, insects, flowers from close ranges.
Eye-Relief:
Even though they just miss out (by 5mm) being added to my list of binoculars with very long eye-relief, the 17.5mm of eye-relief is very good. Combined with their more than acceptable eye-cups I feel they make a great option if you wear glasses whilst using bins.
Optical Stats Rating: 8/10
Image Quality
Image Brightness
Comparing view through these Levenhuk binoculars against my benchmark and much higher quality 8x32mm binoculars, I was only able to notice an improvement in brightness in very poor light conditions. During the day, I really did not see an obvious difference.
If you consider the price difference between the two, this is pretty impressive and as such I would rate the image brightness on these as good (not excellent) overall, but very good within their price range.
Contrast & Color Reproduction
Both the contrast as well as the reproduction of colors in the image looked nice and neutral to me which is a good thing as many cheap binoculars will display a slight tinting of the image due to the use of lower quality glass.
Color Fringing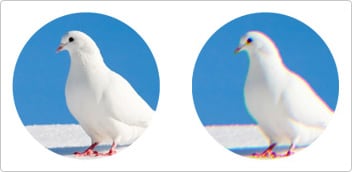 Whilst evident and a fraction more than the best optics, the amount of color fringing caused by chromatic aberrations along the edges of objects was no more than I would expect to see and nothing to be to concerned about as you will not get better at this price level.
Image Flatness & Softening
I was never aware of any obvious image distortions that can make the image looked curved.
Image softening on the edge of the view was very minimal. Indeed this is a true strong point regarding the view through these Levenhuk Karma Pro binoculars as the tiny amount is a match for almost any bin out there - no matter the cost.
Image Quality Rating: 7/10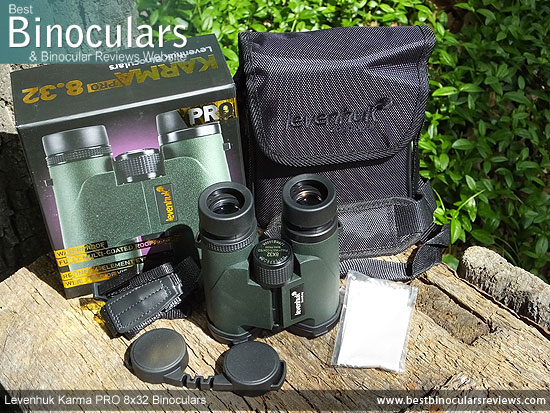 Included Accessories:
This is one area where manufacturers of low cost and in particular cheap binoculars often save money and the quality of the carry case, neck strap and lens covers usually falls well below that of higher end products. This is perfectly understandable as manufacturing costs have to be kept down somewhere and I would much rather see a chunk of savings on non essential items rather than on the actual instrument itself.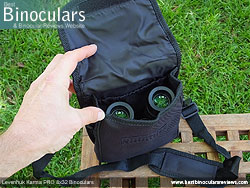 Carry Bag
Of all the accessories included with Levenhuk Karma Pro, the carry bag is the highlight. Whilst it still fails below the level of the better ones supplied with mid and high end optics, it is easily one of the better ones at this price range.
A soft case, the amount of padding should be just adequate to protect the optics from everything but the gravest impacts.
I found that the binos had a good fit within the case, not too tight or loose and you can still easily close the lid with the eyecups extended and lens covers attached.
The bag has it's own nylon strap that can be adjusted for length and also has a lightly padded shoulder slider for a little more carrying comfort.
Should you not wish to carry the bag on your shoulder, you can also thread your belt through the loop on the back and carry it on your hip. However please note that the neck strap cannot be removed.
The flip over lid is held closed with a Velcro strip and whilst this makes for very quick access, it is not the most secure closure. You will also need to be careful regarding noise should you not want to scare away birds/wildlife or give your location away when opening it.
Internally there is a separate pocket, which is ideal for storing the lens cloths, keys, money etc.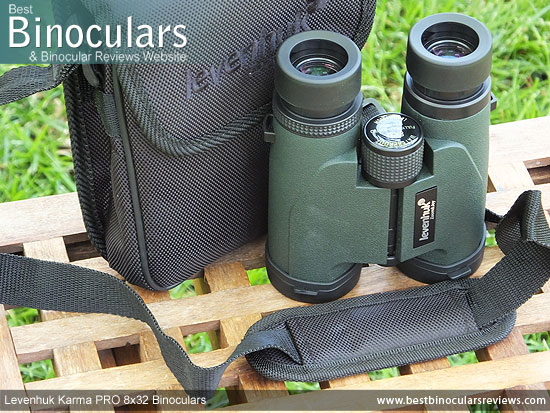 Neck Strap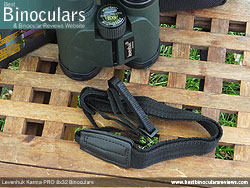 Like many in this price bracket, the neck strap is basic.
Made from woven nylon, it does not contain any logos, or padding and is not shaped or curved to fit around you neck and shoulders as some of the better ones are.
The connection between the thicker neck section and the thin cords is made from a fake leather and whilst also basic, the stitching on my sample looked as though it would last.
The strap itself connects to the instrument in the standard way by threading it through the loops on the side of the binos and then back on itself and through a slider which you can then use to adjust the strap length.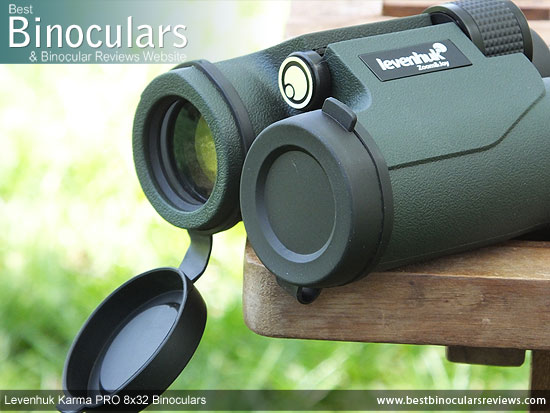 Lens Covers
Both the objective and ocular lens covers are typical for a bin at this level.
Made from a soft rubber they both fit nicely making them simple to replace, but don't fall away too easily.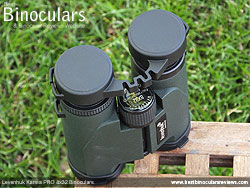 I like it that the objective covers are tethered to the instrument, however it would have looked neater had the covers fitted into the ends of the barrels, rather than over them.
The flexible bridge between the two cups works on the ocular lens cover works well as it permits you to attach it no matter what your IPD setting is.
Cleaning Cloth
A simple cleaning cloth is also suppled with the Levenhuk Karma PRO 8x32 binoculars - ideal for cleaning the body or if you have to, carefully wiping the lenses when out in the field. However I would suggest a specialist lens cleaning kit for the best results.
Extras & Attention to Detail Rating: 6/10
Levenhuk Pro 8x32 Comparisons:
Review Conclusions:
Mid-sized binoculars, with a good quality, wide view, tough hard wearing exterior and a very affordable price tag. Overall I found the Levenhuk Karma Pro to be good to very good in almost all areas and is a more than capable instrument that competes with the best in this class:
Strong Points:
The main specifications are impressive - a nice wide field of view, good close focus and plenty of eye-relief which makes this a very versatile mid-sized binocular and ideal for a wide range of uses and applications.
One the whole the build quality is good and as good or better than what I would expect within this price bracket. Good examples are the twist-up eye-cups and focus wheel that work well, are nice and smooth and have robust mechanisms.
Whilst not a match for high end optics, the image quality is good and lacks any noteworthy distortions or imperfections that are quite commonly found on low cost binoculars. A highlight in this area is the almost non existent image softening along the edges of the view which is really impressive.
Weak points:
Whilst the quality of the carry case and lens covers are pretty decent, especially when comparing them to others in this price level, I would have like to have seen a better quality neck strap to finish the accessories off a little better.
I could be very critical and say that the Aluminium mirror coatings are a weakness, but to be fair most of the bins at this price range will have the same. Still there are some at this level that will use the slightly higher reflective Silver mirror coatings.
Ideal Uses: Size and weight wise, these offer themselves as a good option for pursuits like camping, hiking and especially for taking on safaris where you need a good performance product that is also easy to transport.
For things like birdwatching general wildlife observation and hunting, features such as their wide view and tough exterior will certainly help.
These same strong points listed above mean they are also ideal as the bin to carry to most outdoor sporting events where size, weight and a wide FOV are important.
Their low cost, close minimum IPD setting, relatively small size, low weight also make these Levenhuk Karma PRO 8x32 binoculars a good option as a first 'serious' binocular for children.