A short while back I got my hands on a pair on the full sized porro prism Levenhuk Sherman PLUS 8x42 binoculars which after testing, I came to the conclusion that for cheap binoculars they were in general a good buy and that you were easily getting you moneys worth.
This introduction to the Sherman range within the Levenhuk stable piqued my interest and as such I decided it would be interesting to try out one of their slightly higher specification PRO models:
Levenhuk Sherman Pro 8x32 Binoculars Review
Main Details:
Low Cost Binoculars, approx: $130 / £130
Mid Sized Porro Prism Body Shape

Fully Sealed & Water Proof
Tripod Adaptable

Fully Multi-Coated BaK-4 Optics with Porro Prisms
Field of View:

142m @ 1000m / 426ft at 1000 yards
Real field of view: 8.1°

Minimum Focus Distance: 16ft
18mm of Eye Relief
Weight: 24oz / 680g
Dimensions: 7.2in (18.2cm) x 4.4in (11.2cm) x 2.3in (5.8cm)
The Body
Porro Prism Body Shape
These Levenhuk Sherman Pro 8x32 binoculars have what many will recognise as a traditional and iconic body shape with the most distinctive feature being that the objective lenses are positioned further apart than that of the ocular lenses.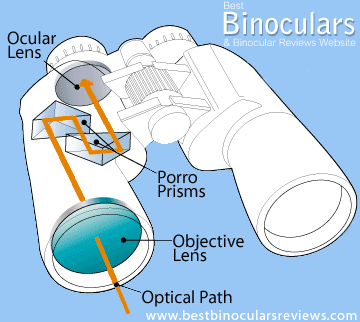 Indeed all the models within the series of Levenhuk Sherman binoculars have this basic shape. For the benefit of those who don't know why, the reason for this and indeed why many bins (especially older generation ones) have this distinctive shape is because they all use porro prisms within them. Rather than trying to explain it, you can see for the diagram on the right, this body shape is actually the result of the shape of prism where the light exits it in different plane to that at which it enters it.
As well as a number of optical benefits to using a porro prism which I go over in the optics section below, this body design generally makes for a very comfortable and ergonomic shape to hold onto when glassing, which I found to true with this 32mm Levenhuk Sherman Pro binocular.
However on the negative side, it does generally make for a binocular with a less compact shape than those that use roof prisms. More of this in the dimensions section below.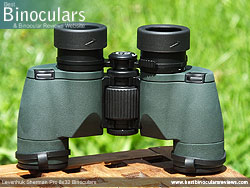 Exterior
Apart from the bridge, almost all of the external surface on the Sherman Pro binocular consists of a really hard rubberized material.
The hardness of this rubber certainly makes it tougher and thus is also most probably longer lasting than a softer rubber, but also means that you get less cushioning protection for the shell and optics under it.
Another potential drawback to this hard rubber is that on some instruments it makes for a more slippery surface to hold onto. However Levenhuk have mostly countered this with a fine embossed texture on it which certainly raises the grip level and I had no issues here, even in wet conditions with gloves on.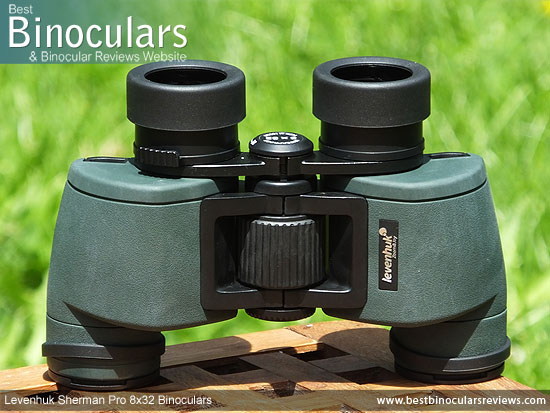 Chassis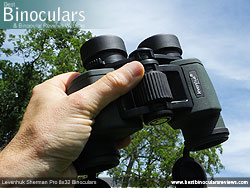 Not taking into account the bridge that connects the two barrels, at this price level the vast majority of bins these days will use some sort of plastic for the main part of the chassis that is hidden under the rubber armour. So as Levenhuk do not specify what they have used, I would have guessed this to be the case on these.
However on picking them up, you immediately feel that these are in no ways a lightweight pair of binoculars, which leads me to assume that most, if not all the chassis is metallic, which I would guess to be some sort of aluminium alloy because magnesium alloy ones are on usually only found on far more expensive instruments.
Waterproof
In the description of this Sherman PRO, Levenhuk point out that it is "completely waterproof" and that "neither rain nor snow can harm them."
However as they do not quantify this with a standard or duration at a specific depth, I would refrain from taking them into the pool with you!
Also worth reminding you is that a sealed bin like this not only prevents moisture from getting inside, but will prevent dust from getting through as well.
Fogproof
The air inside is also replaced with nitrogen, which is moistureless and thus protects the inner glass surfaces from fogging up which can occur to unprotected instruments when subject to rapid temperature changes.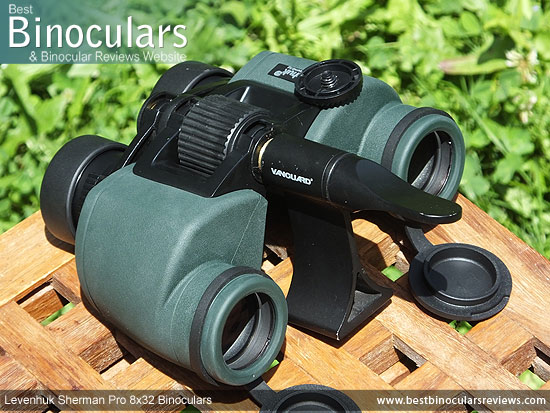 Tripod Adaptable
The Levenhuk Sherman Pro 8x32 binocular is simple to attache to a tripod, all you need to do is unscrew the dust cap from the central hinge and it revels a thread that will accept almost any tripod adapter.
Eye-Cups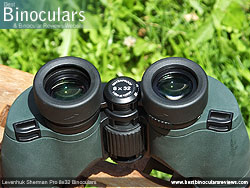 Many, low cost porro prism binoculars will have simple rubber eyecups that you have to fold down to reduce the level of eye-relief. So it was a really nice surprise to see that these instead have the much better and more customizable twist-up/down eyecups.
What is more, I found that the ones on my sample worked really well and by that I mean the action as you twist them up and down felt robust and lacking any sort of free play.
They also have two intermediate click stops in between the two extremes which potentially (see below) gives you plenty of flexibility to ensure that you get your eyes the correct distance from the ocular lenses in order to see the full view without any dark rings forming on the edges.
One point to mention here is that I found that I had to twist the eye-cups inwards to the second click stop in order for me to get a the full field of view even when pushing them firmly against my face. I find this a little strange as you only normally need to do this if you wear glasses. Thus I either have a strange shaped face for these particular bins that makes my eyes sit a little further back from the lenses than normal, or I do believe that Levenhuk have built in too much eye-relief to the cups than what is necessary.
The problem with this and why I believe you actually get less than the advertised 18mm of eye-relief is that by testing them whilst wearing glasses, I was unable to get the full view, even by fully twisting in the eye-cups. For most people this will not be a problem, but if you do wear glasses whilst binning and thus need a good amount of actual eye-relief then this will be an issue for you.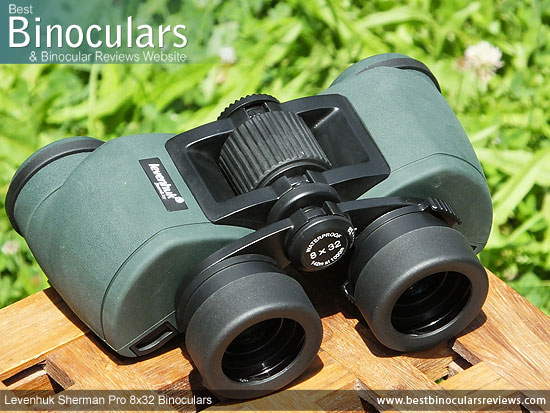 Focus Wheel
Unlike most modern bins (especially roof prism ones) that place the focus wheel right at the back almost in between the eyepieces, these porro prism Levenhuk Sherman Pro binoculars have positioned the large focus wheel between the barrels within the center of the main hinge.
This design does mean that you need a slightly greater reach to get to it which was just about fine for me and what I would describe as my average adult male hands, but may be an issue for those with small hands, especially children.
However this design combined with what I would say is a wheel that is just a little on the tight side, did make it a tad more difficult to turn that what I would have preferred.
I would describe the focus mechanism gearing as being super aggressive on these Levenhuk binoculars. Indeed it is exactly the same as on the 8x42 Sherman PLUS as it only requires a ¾ (270°) turn of the wheel to shift the focus from infinite right up to the minimum close focus distance. The advantage of this is that makes large adjustments super quick, but on the flip side, this along with the tightness of turning the wheel did mean that for me the fine adjustments were just that little bit more tricky to get dead right.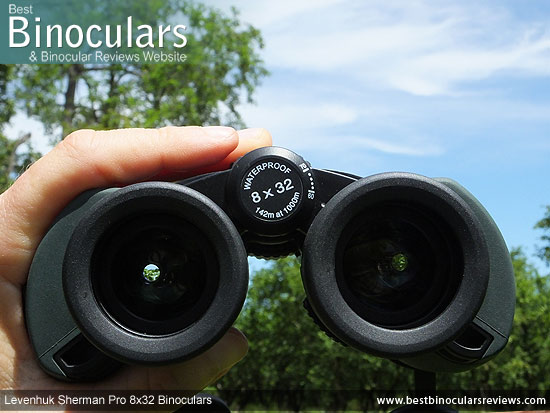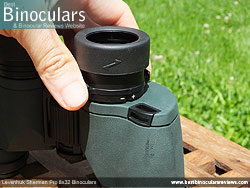 Diopter Adjustment
As with the larger 8x42 Sherman Plus, the diopter adjustment is located under the right eyecup. This adjustment plays an important roll in setting up the bins to your particular vision, especially if you have differences between your left and right eyes.
Unlike on some premium bins, the ring is not lockable, but it is tight enough so accidental movement is not too easy.
The absence of a scale or markings is a shame, however it is fairly simple to make your own mark, should your setting not be on neutral.
Body Quality Score: 6/10
Weight
Weighing in at 24oz / 680g, you can see from the table below these are most certainly up there with the heavier mid-sized binoculars on the market:
Dimensions
Likewise their dimensions, especially their width of 7.2in / 18.3cm makes them some of the widest 32mm bins you'll find. However it is important to remember that this is a porro prism shaped instrument which is quite different to the roof prism design of most of the others on the list.
This if you are searching for a 32mm bin that is both lightweight and compact then these will probably not make for the ideal choice
However something that is worth keeping in mind and a positive aspect to this wide design is that it means the objective lenses sit further apart, which in turn helps improve the stereoscopic view for better depth perception.
Body Stats Score: 6/10 vs all 32mm's & 7/10 vs Porro Prism 32mm bins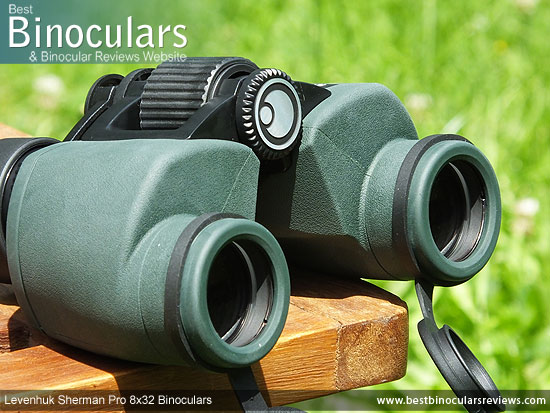 Optics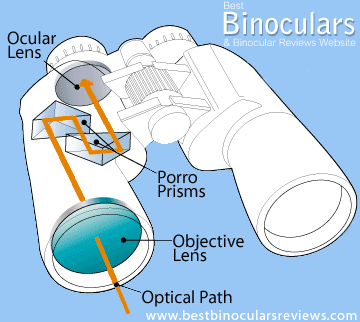 If you are looking to get the best possible optical performance possible within this cheap / low cost price range, it is often a good idea to to go with a porro prism binocular and not a roof prism one.
I say this due to the fact that the design of this type prism is such that all the light that enters it, exits it without needing any sort of specialized (and expensive) highly reflective material added to any of the surfaces on the prism as is the case with a roof prism.
On top of this, the porro prism is also not affected by the phenomenon of phase shift like the roof prism is and so once again it does not have to be treated to correct this.
So because roof prisms do require a number of these extra coatings to match the performance of a porro prism, you find that in order to save money, most cheap roof prism binoculars will either not have these coatings or use cheaper and thus less effective materials for it, which means their performance is reduced.
This is important to keep in mind as in this section of my review of a roof prism binocular, you will see me going on about all the coatings on the prisms or lack of them. Whilst for a porro prism bin like these Levenhuk Sherman Pro's, most of these are not even necessary:
Eyepieces
Whilst Levenhuk don't put a name as to what design of the eyepiece, they do tell us that the eyepieces on the Levenhuk Sherman Pro 8x32 binoculars are made up using five different lens elements that are arranged into three groups:
Individual lens elements are often cemented together to better manipulate the wavelengths of light and thus produce a higher quality image and although you do get triplets where three elements are cemented together, they are far less common than doublets. So this to me most probably means that the eyepiece arrangement is such that there are two doublets and a singlet lens contained with in it and thus possibly some variant of a commonly used eyepiece known as an Erfle.
For interest, the external ocular lens has a diameter of 22mm, which on a mid sized bin is good as it makes it easier to line you eyes up with them as well as a number of other benefits compared to smaller ones.
Objective Lenses
According to Levenhuk, each of the 32mm diameter objective lenses is made up of two elements in one group, which means that the two elements are cemented together.
Prisms
As I have already mentioned, these Levenhuk Sherman Pro binoculars use porro prisms and not roof prisms to correct the image inside the device, which they say is made using BaK-4 glass and not the inferior BK-7 glass that is also commonly used on cheap binoculars.
Optical Coatings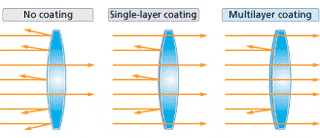 Anti-Reflection Coatings
As I mentioned at the start of this Optics section, because of the porro prisms used in the Sherman Pro, these bins don't require a number of coatings on the prisms, however to improve transmittance and thus brightness and image quality, special anti-reflection coatings are still needed on the optics.
Cheap bins will often skimp on these to save money and only coat some optical surfaces in the system with either single or if you are lucky use multiple coatings, but still on only some and not all optical surfaces within the instrument.
The good news here is that the Levenhuk Sherman Pro 8x32 Binoculars are Fully Multi-Coated which tells us that every single optical surface from the exterior objective lens, right through the bin to the exterior ocular lens has been treated and thus these will most certainly perform better than many other chap binoculars that are either only coated or multi coated, but not Fully Multi-Coated.
For more on this, you can refer tot this article on Anti-Reflection Lens Coatings.
Optical Components Score: 7/10
Optical Stats
Field Of View (FOV)
This 8x32 Levenhuk Sherman Pro binocular has an angle of view of 8.1° which is really impressive and makes them a truly wide angle binocular.
Another way of looking at this is as a distance of how wide or high the image is at a particular distance. Thus these have a Field Of View that is:
426ft wide/high at a distance of 1000 yards
142m at a distance of 1000 meters
To put this into perspective, take a look at the table below showing the FOV of a number of other 8x binoculars that I have tested:
Eye-Relief:
Levenhuk advertise these as having 18mm of eye-relief which is good.
However I need to mention here, that I found that I had to twist the eye-cups inwards to the second click stop in order for me to get a the full field of view even when pushing them firmly onto my face. I find this a little strange as you only normally need to do this if you wear glasses. Thus I either have a strange shaped face for these particular bins that makes my eyes sit a little further back from the lenses than normal, or I do believe that Levenhuk have built in too much eye-relief to the cups than what is necessary and that the point at which you get the best view through these is less than the advertised 18mm.
The problem with this and why I believe you actually get less than the advertised 18mm of eye-relief is that by testing them whilst wearing glasses, I was unable to get the full view, even by fully twisting in the eye-cups. For most people this issue will not be a problem, but if you do wear glasses whilst binning and thus need a good amount of actual eye-relief then this could be a problem.
Close Focus
The close focus distance is 16ft (5m) on the 8x32 Levenhuk Sherman Pro, which I feels is a little on the long side, but is also totally understandable when you take into consideration the wide FOV. For most this will once again not be an issue should you like viewing objects such as butterflies, dragonflies or flowers at close range, then these are certainly not the best option.
Optical Stats Score: 7/10
Image Quality
The good use of the relatively simple but good quality BaK-4 porro prism design combined with fully multi-coated optics directly contributes to these having what I would describe as an image quality and brightness that is very good for a mid-sized binocular in this low cost price point:
Colors & Contrast
Here there is not much to say, which is a good thing as it means both the colors and the level of contrast in the image look normal and true to life. On cheaper bins like these, it is quite common for me to notice a slight, usually yellowish tint to the image due to the lower quality of glass/coatings used, but happily I can say that this was not at all evident to me whilst looking through the Levenhuk Sherman Pro 8x32 binoculars.
Image Brightness
Whilst not as bright as my alpha 8x42 binoculars under any circumstances, I was impressed how well these compared against my mid range 8x32 and indeed my 8x42 benchmarks.
In what I considered to be average light conditions (overcast day), these all looked about equal and it was only in really bad light at sunset when I could notice that the 42mm binocular was performing better than these, whilst the two 32mm's were to my eyes equal.
Color Fringing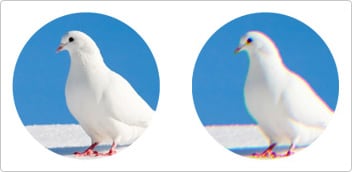 The amount of color fringing that I observed through these Levenhuk Sherman Pro 8x32 binoculars was no more than what I would consider to be normal for an 8x binocular and really nothing to be concerned about. Which once again is actually impressive when you take into account that these cost a fair bit less than "normal".
Image Distortions & Blurring
To me the image looked flat and I could not find any sort of image distortion (like curving etc) in the view.
Also well worth highlighting is just how little softening I could see right at the edge of the view, indeed the image remains sharp almost right to the edge, which is better than on a lot of bins that i look through.
Score for Image Quality: 8/10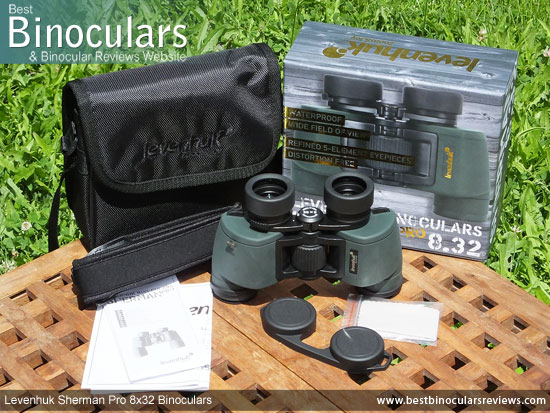 Included Accessories:
As to be expected and just like almost every instrument that I have tested within this low cost category, the level (in terms of quality and general luxuriousness) of the accessories does not match that with which you get on high end instruments.
However having said that and as you will see as I go through each item individually in more detail below all are perfectly functional, of a good overall standard and in my experience equal to the best that you can hope to find at this level.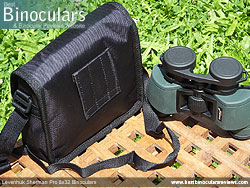 Carry Bag
Made from a woven nylon type of material, this Levenhuk carry bag looks to me to be tough, reasonably weather proof and with good quality stitching and thus I would say will be long lasting within reasonable limits.
Whilst reasonably generic looking, the Levenhuk logo has been embroidered onto the fold over lid which a small thing, but is more than you usually get at this level.
The flip over lid is held closed with a strip of Velcro, making access very quick, but is not as secure as a Zip and unless you are careful, the ripping sound when opening it can startle wildlife.
The inside surfaces are of a finer woven fabric making them softer and more friendly to the instrument and it's lenses, but on the whole I would describe this bag as being very lightly padded, which does make it lightweight, but does not provide as much cushioning or impact protection than more heavily padded cases.
On the rear face you find a belt loop which is nice if you like to carry the bag on your hip. This bag also comes with it's own carry strap, it is un-padded, but does have a slider so you can adjust the length. However one slightly annoying aspect is that you cannot remove the strap (without unstitching it), which means if you do like to carry the case using your belt, you are stuck with a carry strap flapping about and getting in the way. This maybe a small issue, but I can't understand what so many overlook this detail.
The bins do fit nicely inside and you can easily close and fasten the lid of the case even with the eyecups extended, lens covers in place and neckstrap attached to the binos (see image below) - This is an aspect that I do like as believe it or not this is something that does often get overlooked.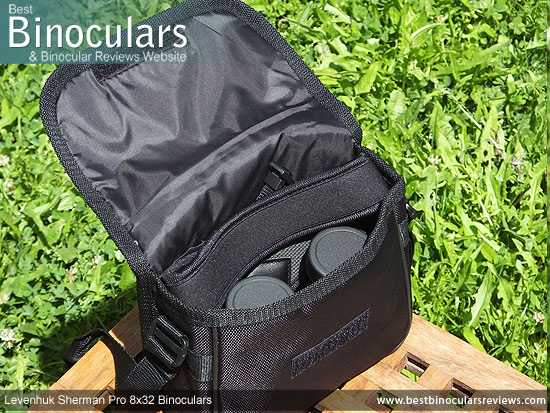 Lens Covers
The eye-piece cover (rain-guard) fits well over the eye-cups, is made of a soft plastic/rubber and has a flexible bridge which permits you to replace and store them without having to open up the hinge on your binoculars. This maybe a small thing, but this can get annoying on binoculars don't allow this especially if you have to do it often.
Whilst the fit of the objective lens covers is perhaps a tad too tight, that s far preferable than having them come away too easily. I also very much like that they are tethered to the instrument and that they fit into the ends of the barrels, is a far neater solution than most others that fit over the ends of the barrels.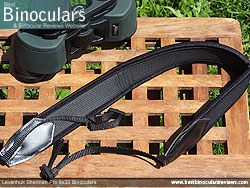 Neck Strap
Whilst very generic looking, the unbranded neck strap is certainly one of the better quality ones provided at this level.
The padding is nice and thick and I like the textured neoprene underside that offers up plenty of grip to help stop the strap from sliding about over your neck and shoulders.
Connection to the bin is achieved in the normal way by threading the thin nylon cords of the strap through the eyelets on each of the barrels and then back through a slider so that you can adjust the strap length.
Compared to the best, some small details are missing. For example quick release clips to make it easier and quicker quickly remove the strap to hand carry it, or fix it to a harness.
Cleaning Cloth
The supplied cleaning cloth is typical at this level and is fine for cleaning body or perhaps occasional light use on the glass, but I suggest purchasing a lens cleaning kit for thorough lens cleaning.
Instructions
Levenhuk supply their bins with a very basic and generic set of instructions written in a wide selection of languages and all contained on a single sheet of paper. Not much to say here except that they and most other manufacturers should do better.
Warranty
These Levenhuk binoculars come with a lifetime warranty and all their accessories have a 2-year warranty, which I feel is really impressive and really not something you often find at this low cost level
Extras Score: 6/10
Levenhuk Sherman PRO 8x32 Binocular Comparisons
Review Conclusions:
In my opinion an considering these Levenhuk Sherman Pro 8x32 binoculars cost around $130 / £130, you are getting a good value to performance ratio and for certain you could do a whole lot worse at this price level:
Strengths:
Very wide field of view which has many advantages
Twist-up eyecups on a low cost, mid-sized porro prism binocular is good as many will have simple folding rubber cups that are far less precise if you need to customise your setting
The quality of the frame and exterior armour is really good and even though it is heavy, I like that you get a solid metal chassis
Good quality Bak-4 glass porro prisms combined with fully multi-coated optics at this price level is not always a given
Good image quality and brightness for a mid sized (32mm) bin at this price level, which almost certainly is a result of the simple (porro prism) yet good quality optics used
The Lifetime Warranty offered by Levenhuk on what is a low cost product is great to see
Weaknesses:
Close focus distance is not close at all - if observing butterflies, dragonflies or even birds from closer ranges is a particular interest of yours, this will be an major issue
Heavy when compared to most other mid-sized binoculars out there
As with many bins at this price level, the accessories are a little on the basic side
Focus wheel for me was a fraction too tight and hard to reach for my liking. Not a major issue, but something to keep in mind if you have small hands
Ideal Uses